Sweet Potato Hash is a delicious and healthy breakfast recipe that is so easy to throw together. Full of simple ingredients like eggs, jalapeños, onions, and red bell pepper, this dish is topped with a spicy sriracha mayo and a sprinkle of cilantro for ultimate flavor. This recipe works great as a Paleo option, so you can feel good enjoying it.
Sweet Potato Hash Recipe Recreation
Much of the inspiration for the recipes on Evolving Table come from dishes I have tried and absolutely LOVED at restaurants.
This sweet potato hash with eggs is the perfect example of bringing a restaurant favorite to my home kitchen and now yours, too.
After taking a good, hard look at the menu description (oftentimes snapping a quick photo to remember!), I go home and get to work recreating the tastes, textures, and presentation of the dish.
It's surprisingly easy to make, and you can't beat the flavor…Healthy veggies, tender sweet potatoes, and a quasi-fried egg on top. (If you prefer white potatoes, try this Breakfast Potato Hash recipe.)
Plus, this one-pan recipe is the perfect big breakfast for a busy morning.
If you're loving sweet potatoes for breakfast, put these Sweet Potato Hash Browns on the menu.
Sweet potato recipes are always a favorite in my house, especially when they include Roasted Sweet Potato Cubes, Instant Pot Sweet Potatoes, or Easy Skillet Sweet Potatoes!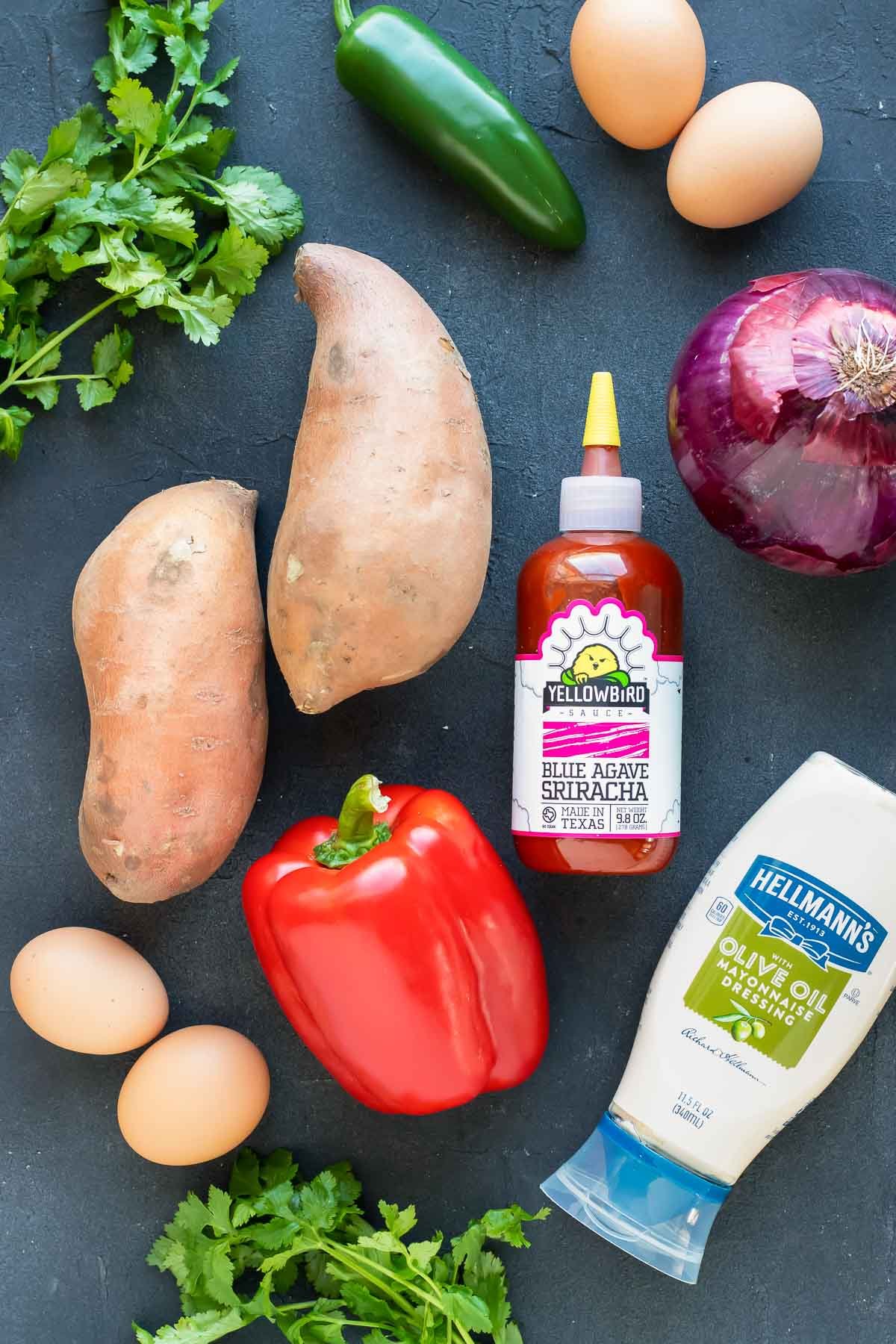 Ingredients
The ingredients you will need in this crispy sweet potato breakfast hash recipe include:
Bacon. Pork bacon has the most flavor, but turkey bacon or vegetarian bacon can also be substituted. However, you may have to use additional oil since they will not produce as much grease as pork bacon.
Jalapeño. If you do not like spicy food, simply leave it out.
Red onion. A sweet or white onion will substitute for a red onion.
Red bell pepper. Yellow or green bell peppers will work, too.
Garlic cloves. Garlic powder or garlic paste can be substituted, but fresh garlic will taste the best!
Corn. Both canned and frozen corn will yield similar results.
Eggs. Organic, pasture-raised are preferred. Fresh eggs make a difference. (I like to get some from our neighbor down the street, too!)
Cilantro. Not totally necessary, but it gives this dish SO much added flavor and complements the sweet potatoes perfectly.
How to Make Sweet Potato Hash
Below, you'll find the simple steps to make this sweet potato hash recipe:
Prep the Potatoes
Use a vegetable peeler to remove the skin from the potatoes.
Then, cut each one into ½-inch cubes.
Make sure potatoes are cut to similar sizes so they all cook at the same rate.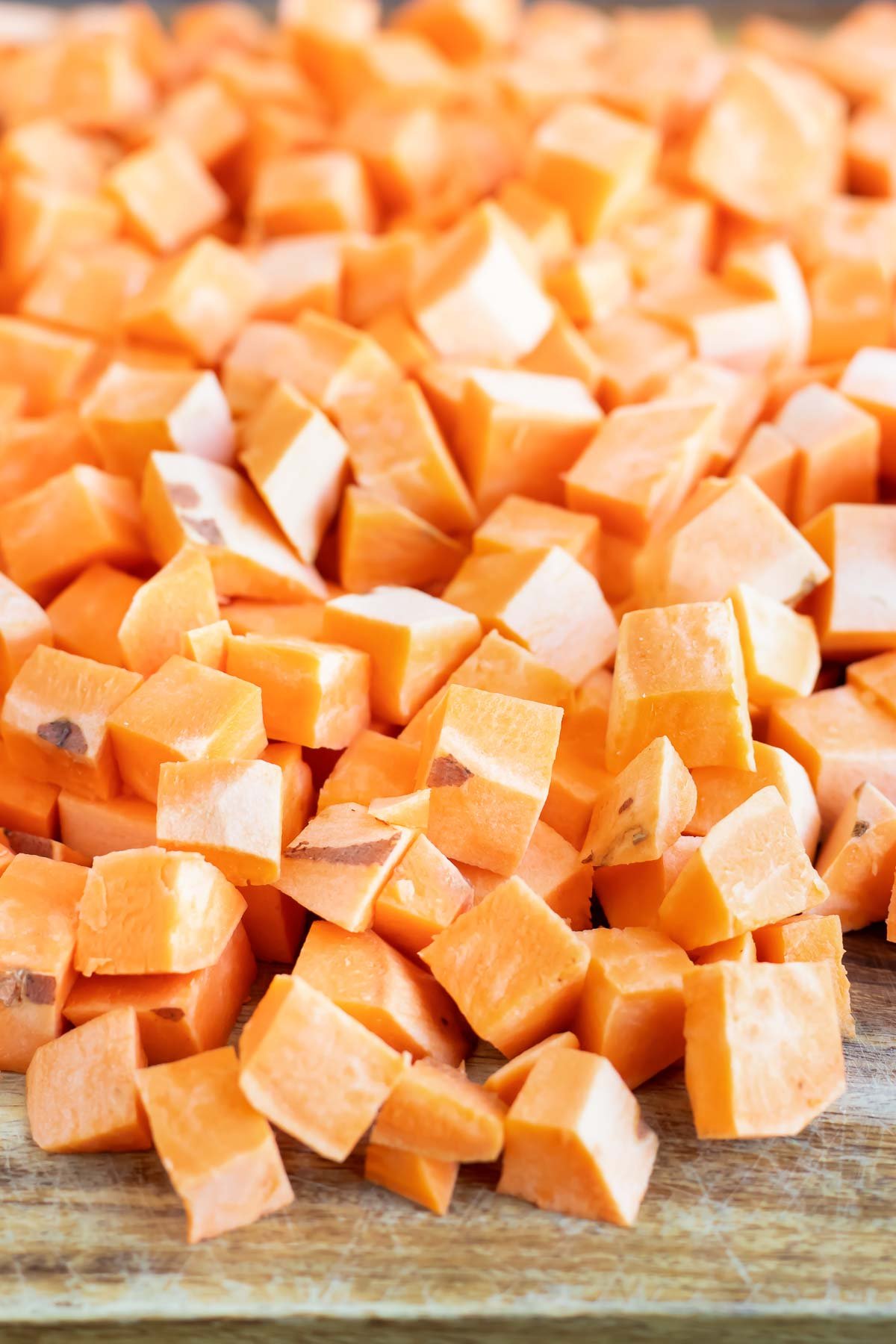 Make the Sriracha Mayo
If you have not tried sriracha mayo yet, you are in for quite a treat!! The spicy flavors of sriracha sauce combine with the creamy texture of mayonnaise, making it a condiment you will want to keep on hand at all times. And this sauce recipe could not get any simpler!
In a small bowl mix together ¼ cup regular mayonnaise with 1-2 teaspoons Sriracha sauce, depending on your desired level of spice.
Whisk together until smooth. Store in the refrigerator for up to 1 month between servings.
Once you have whisked together your sriracha mayo and adjusted it to your desired level of spiciness, it'll be all ready to drizzle on top of this recipe!
Learn more about how to make a larger batch of Sriracha Mayo.
Cook's Tip: To make the sauce drizzle more easily, place it in a Ziplock bag and cut a small hole in the corner to make a piping bag. (See picture below.) Drizzle away!
Cook the Bacon
Slice the bacon into small pieces.
Place the meat in a large pan or cast-iron skillet. Over medium heat, cook for about 6 to 8 minutes, until it is cooked through.
When the bacon is done to your preference, remove it with a slotted spoon to a paper towel-lined plate to drain.
Pour the bacon grease into a cup, but reserve about 2 tablespoons in the pan.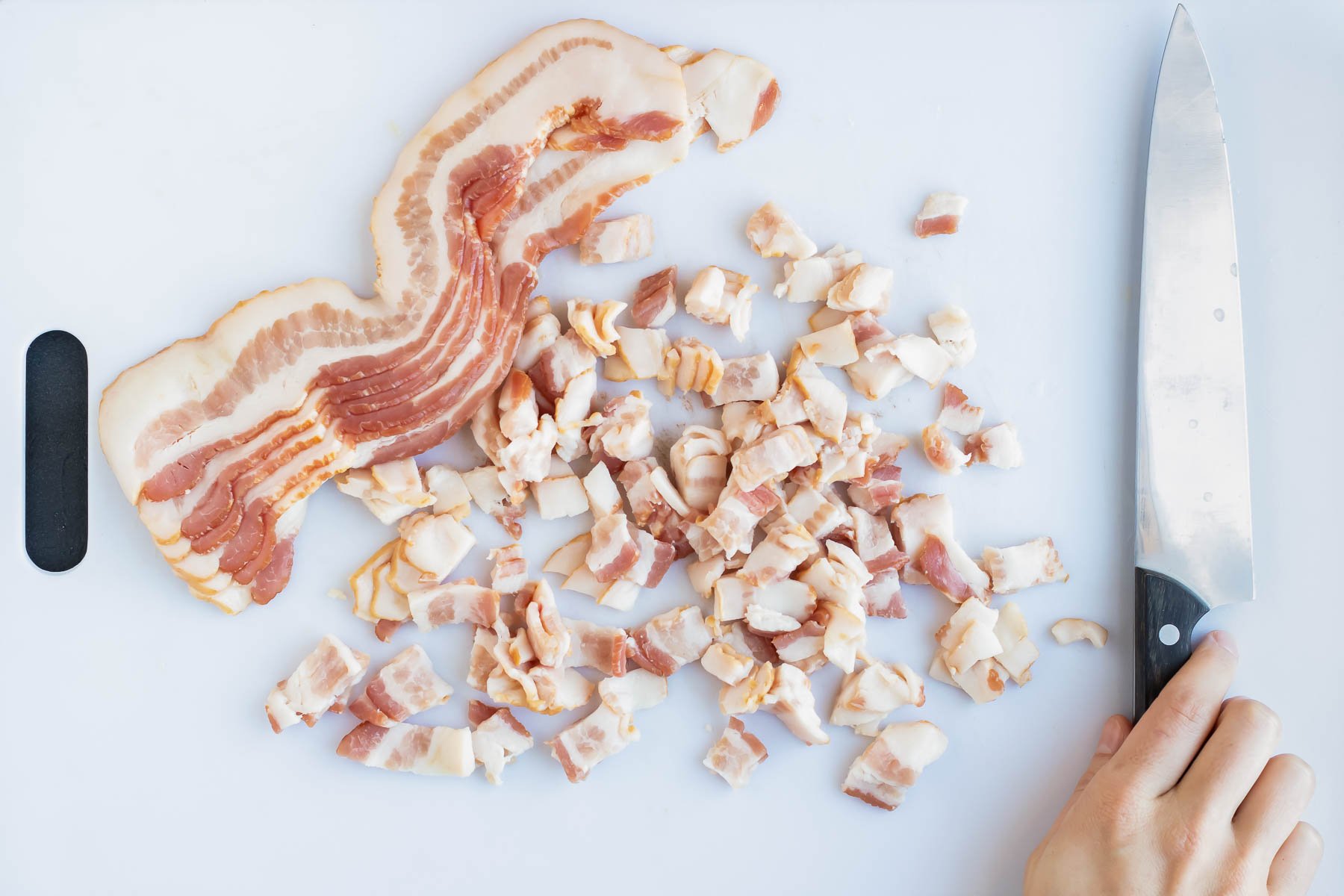 Cook the Veggies
Put the onion, jalapeño, and bell pepper with the reserved bacon grease in the same skillet. Cook over medium heat for 4 to 5 minutes.
Add the garlic and sauté for one more minute.
Finally, toss the sweet potatoes into the pan. Mix everything together and allow the dish to cook for another 7 to 8 minutes. The cooking time will vary based on the size of the veggies.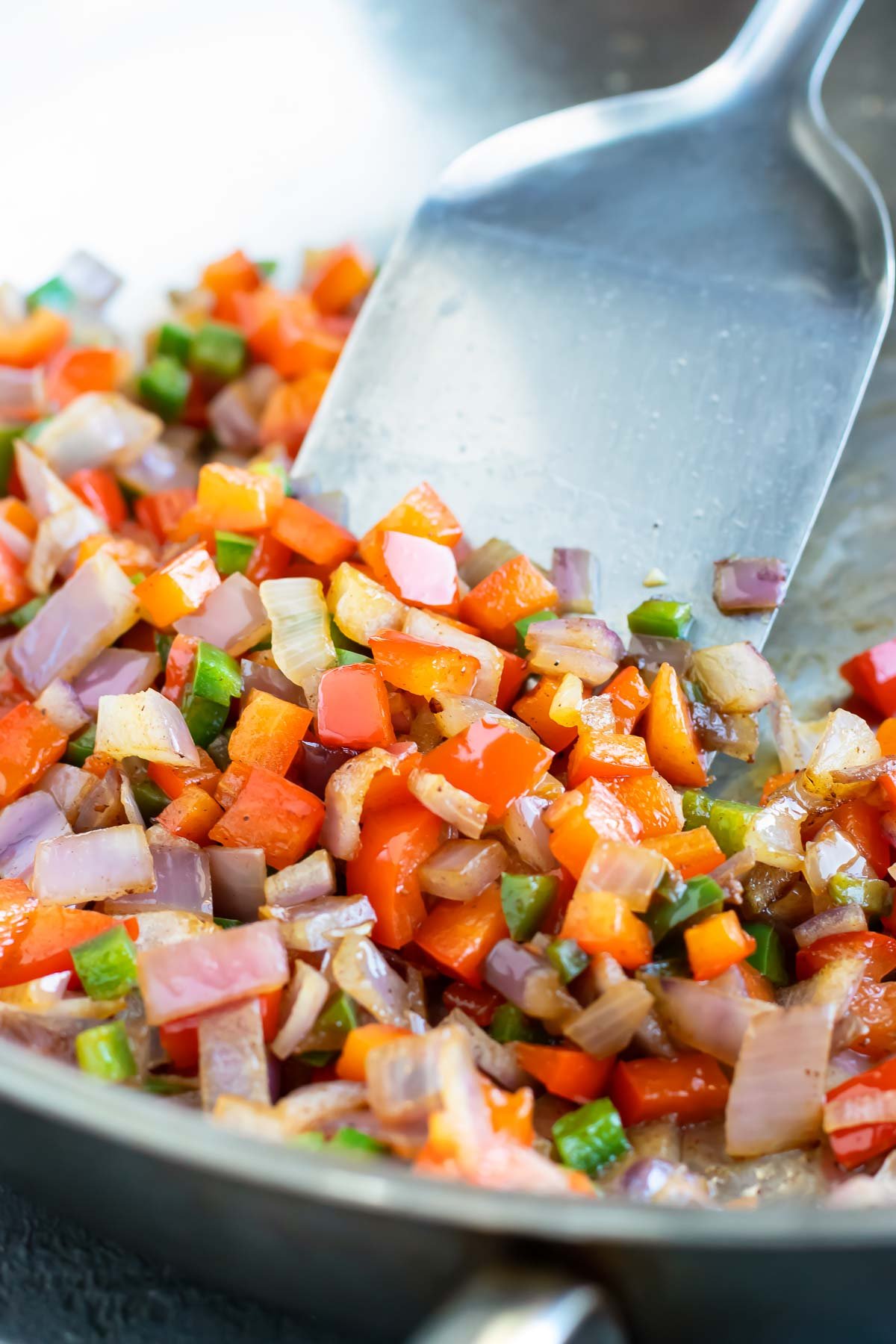 Add the Eggs
Make 4 wells of equal size in the center of the hash in separate places. Crack the eggs into the holes in the top of the hash, cover the skillet with a lid, and cook for 4-5 minutes, or until eggs are done to your liking.
In the last couple of minutes, add the bacon back in so it can warm up.
Serve with sriracha mayo and chopped fresh cilantro.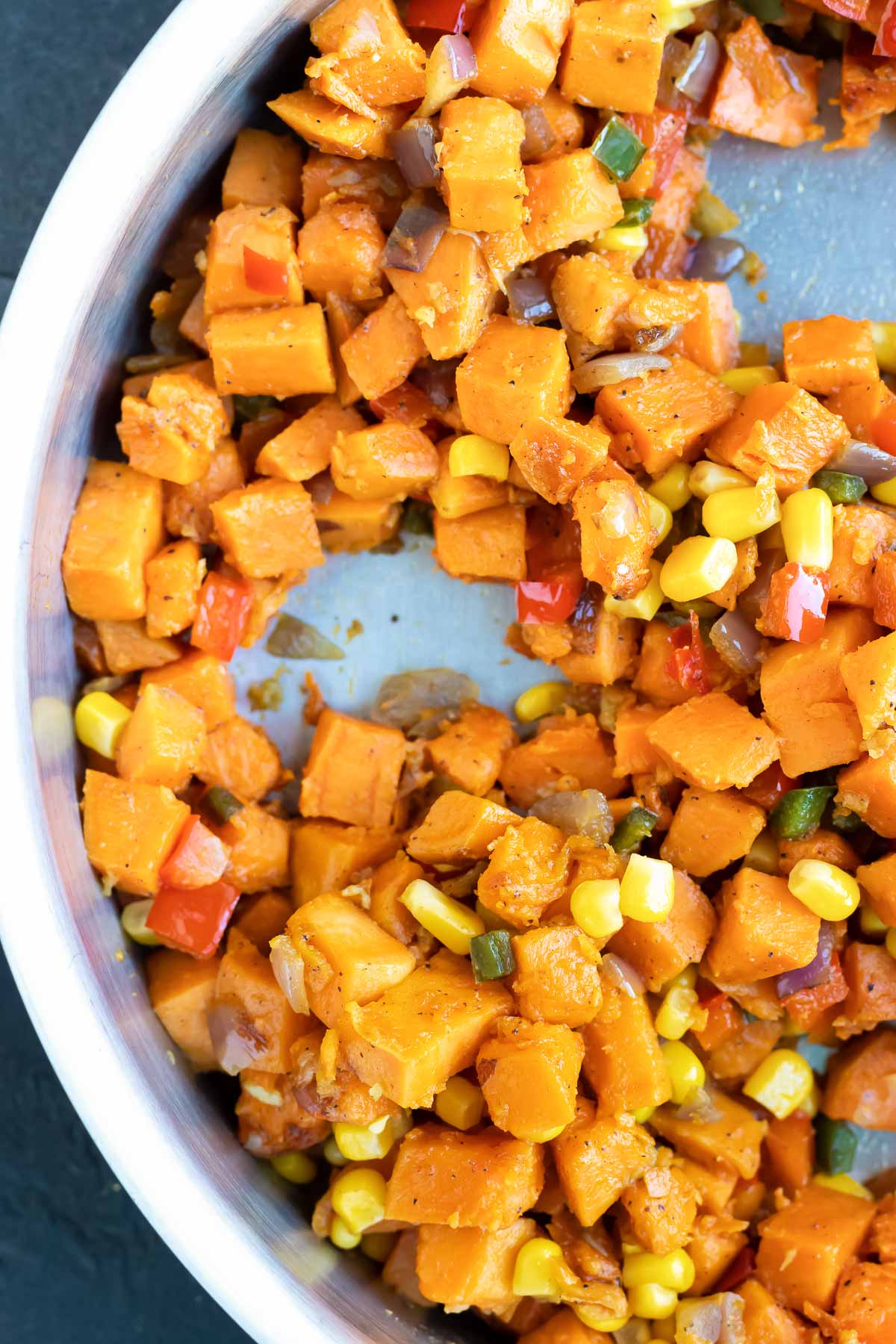 Meal Prep and Storage
To Prep-Ahead: You can easily prep the veggies up to 2 to 3 days ahead of time, store them in an airtight container or bag.
To Store: Let the hash browns come to room temperature and store in a sealed container for 1-2 days. It is best to not add the eggs if you know you are saving some for later and add them when you reheat.
To Freeze: If you plan on freezing this recipe, do NOT add the eggs before freezing. Store leftovers in a freezer-friendly container for up to 3 to 4 months. When reheating, simply heat up the hash until almost cooked through and then add the eggs.
To Reheat: The best way to reheat this recipe is either in a covered skillet for about 10 minutes on medium-low or on a baking sheet in a 300°F oven for 10-15 minutes.
Dietary Modifications
This recipe is already gluten-free and dairy-free as written. Here are some adjustments and substitutions you can make to help it fit your other dietary requirements.
Paleo: Leave out the corn and use a sugar-free hot sauce.
Whole30: Skip the corn and stick with a Whole30 approved mayo.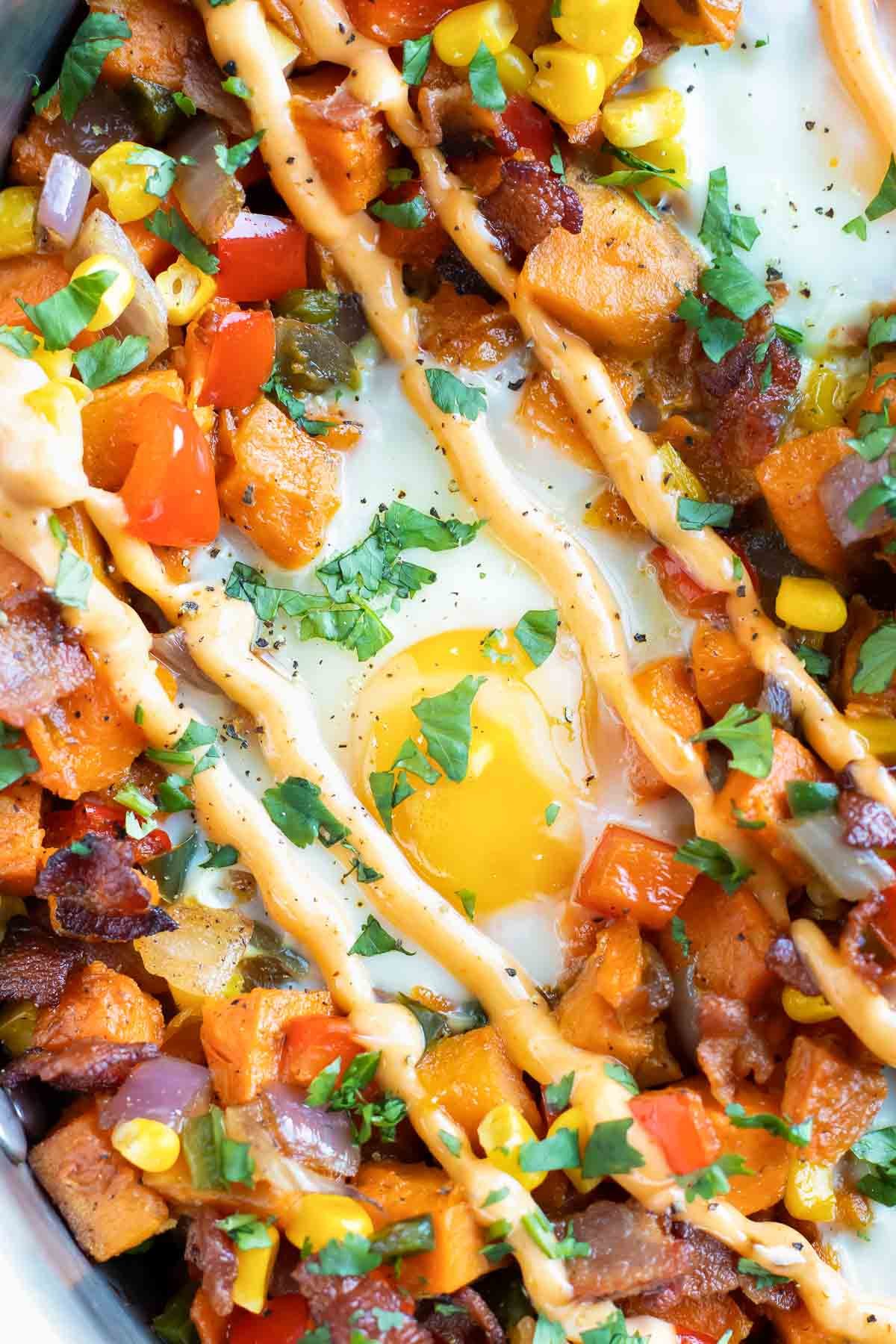 What is a good breakfast hash?
Traditionally, breakfast hash is a combination of delicious ingredients prepared in a skillet. Most often, there is a potato base with bacon, onions, and peppers. To top it off, some eggs are cracked on top.
Is sweet potato hash healthy?
Sweet potato hash can be a super healthy breakfast option. When it's made with good-for-you ingredients, like sweet potatoes, peppers, onions, and eggs, you can feel good about starting your day with it.
Can I freeze sweet potato hash?
You can definitely freeze a sweet potato hash. However, be sure to freeze the dish without the eggs for the best results.
Expert Tips and Tricks
Same size. Be sure to cut the sweet potatoes as evenly as possible so they cook consistently.
Change it up. You can use just about any veggies you like in this dish.
Follow the steps. Though it might be tempting to cook everything together, take this recipe one step at a time.
Don't rush. Give this hash time to cook so the sweet potatoes soften.
Some like it hot. Take the heat up or down by leaving out the jalapeños or adding in chili powder.
Top it off. The sriracha mayo is the perfect balance to this dish, so don't forget it.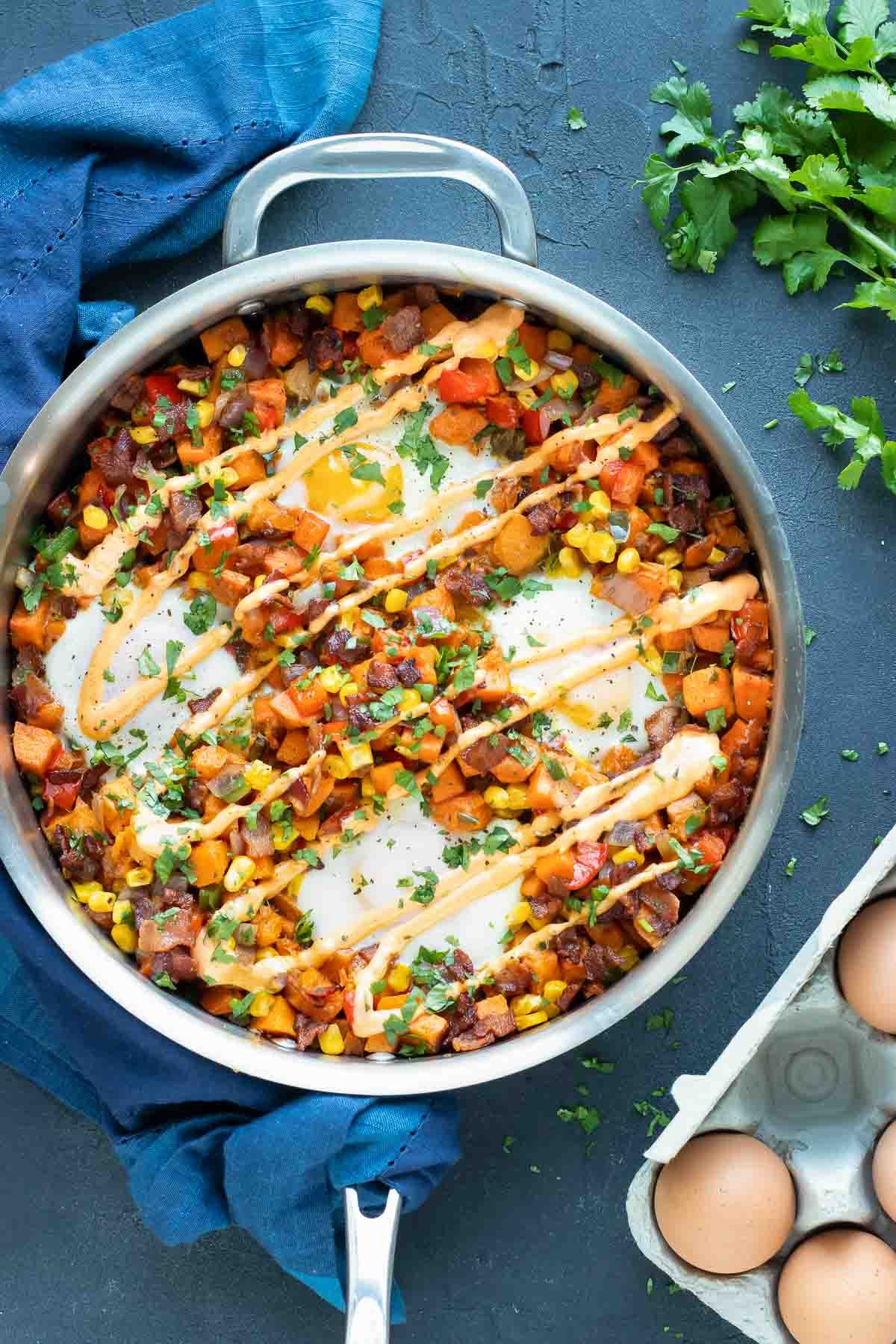 Other Breakfast Recipes with Eggs
Eggs are truly one of the most versatile foods. They can be prepared in so many ways.
Classic Deviled Eggs are always a crowd pleaser. Did you know you can make Air Fryer Hard Boiled Eggs and Instant Pot Hard Boiled Eggs?
There are so many healthy breakfast recipes with eggs, as well. Mini Quiche is the perfect appetizer. Impress your friends and family with Quiche Lorraine and Quiche Florentine.
Go for some south-of-the-border flavor with these Easy Migas Tacos.
More Breakfast Hash Recipes
This simple yet delicious dish can be made in so many ways. Try one of these breakfast skillets next.
For a super easy version, go with this Sheet Pan Breakfast Hash.
Channel some Irish energy with this Corned Beef Hash and Eggs recipe.
And don't miss this classic Breakfast Potato Hash with Bacon and Eggs.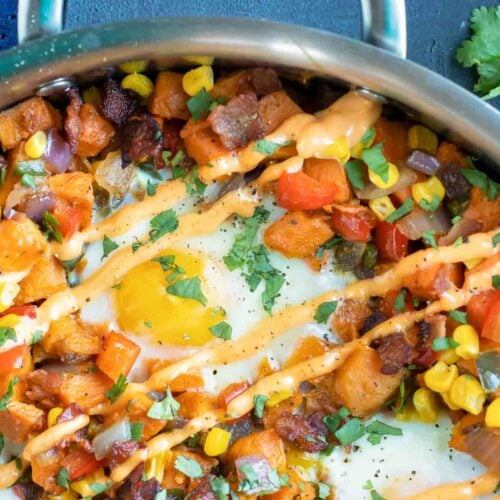 Sweet Potato Hash with Eggs
Sweet Potato Hash is a delicious and healthy breakfast recipe that is so easy to throw together. Full of simple ingredients like eggs, jalapeños, onions, and red bell pepper, this dish is topped with a spicy sriracha mayo and a sprinkle of cilantro for ultimate flavor.
Ingredients
4

oz.

bacon

cut into ½-inch pieces

1

jalapeño

finely diced

½

red onion

finely diced

1

red bell pepper

finely diced

1 ½

lbs.

sweet potatoes

peeled, cut into ½-inch cubes

2

cloves

garlic

crushed

¾

tsp.

salt

to taste

¼

tsp

pepper

to taste

½

cup

corn

canned or frozen

4

eggs

2

tsp.

sriracha sauce

¼

cup

mayonnaise

¼

cup

cilantro

finely chopped
Instructions
In a large skillet over medium heat cook bacon pieces until cooked through, about 6-8 minutes. Set aside on a paper towel-lined plate and pour bacon grease into a measuring cup. (You should have about ¼-⅓ cup)

Add 2 tablespoons bacon grease back into the skillet with the jalapeño, red onion, and bell pepper.

Sauté vegetables for 4-5 minutes. Add crushed garlic and sauté for 1 minute.

Add an additional 1-2 tablespoons bacon grease or olive oil to the skillet with the cubed sweet potatoes. Stir until well combined and cover skillet with a lid. Cook over medium heat for 7-8 minutes, or until potatoes are almost cooked through.

Mix in corn until well combined. Make 4-5 holes in the hash to let some of the skillet show through and crack one egg into each hole. Cover skillet again and cook for 5-6 minutes or until eggs are cooked to your desired doneness.

Add the bacon back in during the last couple of minutes of cooking to warm up.

While eggs are cooking whisk together the Sriracha sauce and mayonnaise in a small bowl. When ready to serve, drizzle sriracha mayo over the hash* and sprinkle with chopped cilantro. Enjoy!
Recipe Notes
To make the sriracha mayo drizzle more easily, place it in a Ziplock bag and cut a small hole in the corner to make a piping bag. Drizzle away!
Nutrition Facts
Sweet Potato Hash with Eggs
Amount Per Serving
Calories 459
Calories from Fat 234
% Daily Value*
Fat 26g40%
Cholesterol 188mg63%
Sodium 858mg37%
Potassium 814mg23%
Carbohydrates 42g14%
Protein 13g26%
Vitamin A 25455IU509%
Vitamin C 50.9mg62%
Calcium 82mg8%
Iron 2.1mg12%
* Percent Daily Values are based on a 2000 calorie diet.