Sweet Potato Hash is a delicious and healthy breakfast recipe that is made with eggs, full of jalapeños, onions, red bell pepper, and then topped with a spicy Sriracha mayo and a sprinkle of cilantro. This recipe is gluten-free, dairy-free, and can easily be made Paleo and Whole30 compliant.
Sweet potatoes are always a favorite in our house, especially when they are made into Roasted Sweet Potato Cubes, Instant Pot Sweet Potatoes, or Easy Skillet Sweet Potatoes!
Sweet Potato Hash Recipe Recreation
Much of the inspiration for the recipes on Evolving Table come from dishes I have tried and absolutely LOVED at restaurants.
After taking a good, hard look at the menu description (oftentimes snapping a quick photo to remember!) I go home and get to work recreating the tastes, textures, and presentation of the dish.
This sweet potato hash with eggs is the perfect example of bringing a restaurant favorite to our home kitchen and now yours, too.
Favorite San Antonio Spot + Sweet Potato Hash
When the hubby and I were attending dental school in San Antonio, TX we lived just north of downtown. Right down the road was one of the BEST casual eateries in the city that had two of our favorite dishes – these Blackened Fish Tacos and this sweet potato hash recipe.
What is that restaurant, you may be wondering? If I tell you, you have to PROMISE to keep it a secret. <– Totally kidding! I'm pretty sure Guy Fieri has already done an episode featuring it!
The restaurant is called The Cove. It has an incredible outdoor patio, live music, and TONS of fabulous recipes. You seriously CANNOT go wrong with anything you order there!
How to Make
Sweet potato hash is a quick and easy breakfast recipe while also being super filling and full of flavor. The steps to make it include:
Peel sweet potatoes and cut into

½

-inch cubes.

Make sure potatoes are cut to similar sizes so they all cook at the same rate.

Cook bacon pieces in a large skillet until cooked through. Remove from skillet and let drain.
Sauté onion, jalapeño, and bell pepper in the same skillet over medium heat for 4-5 minutes. Add garlic and sauté for an additional minute.
Toss in sweet potatoes, mix together, cover, and cook for 7-8 minutes.
Make 4 wells in the center of the hash in separate places. Crack eggs into the areas, cover the skillet with a lid, and cook for 4-5 minutes, or until eggs are done to your liking.
Serve with sriracha mayo (see below to learn how to make it!) and chopped fresh cilantro.

Ingredients
The ingredients you will need, as well as possible substitutions, in this breakfast has recipe include:
Bacon – Pork bacon has the most flavor, but turkey bacon or vegetarian bacon can also be substituted. However, you may have to use

additional oil

since they will not produce as much grease as pork bacon.
Jalapeño – If you do not like spicy food, simply leave it out.
Red onion – A sweet or white onion will substitute for a red onion.
Red bell pepper – Yellow or green will work, too.
Garlic cloves – Garlic powder or garlic paste can be substituted, but fresh garlic will taste the best!
Corn – I have used both canned and frozen corn with similar results.
Eggs – Organic, pasture-raised are my personal preference. (We like to get some from our neighbor down the street, too!)
Cilantro – Not totally necessary, but it gives this dish SO much added flavor and compliments the sweet potatoes perfectly.
How to Make Sriracha Mayo
If you have not tried sriracha mayo yet you are in for quite a treat!! The spicy flavors of sriracha sauce combine with the creamy texture of mayonnaise making it a condiment you will want to keep on stock at all times. And this sauce recipe could not get any simpler!
How to make:
In a small bowl mix together ¼ cup regular mayonnaise with 1-2 teaspoons Sriracha sauce, depending on your desired level of spice.
Whisk together until smooth. Store in the refrigerator for up to 1 month between servings.
Learn more about how to make a larger batch of Sriracha Mayo.
Quick Drizzling Tip
Once you have whisked together your sriracha mayo and adjusted it to your desired level of spiciness, it's time to drizzle it on top of this recipe!
Cook's Tip: To make the sauce drizzle more easily, place it in a Ziplock bag and cut a small hole in the corner to make a piping bag. (See picture above.) Drizzle away!
Making a it Paleo & Whole30
While this recipe is not technically Paleo or Whole30 compliant, there are a few small changes you can make so that it is:
Leave out the corn.
Make sure to purchase Paleo and Whole30 compliant bacon.
Use a Paleo and Whole30 compliant mayonnaise with a sugar-free hot sauce for the sriracha mayo.
How to Store, and Reheat
While this sweet potato hash recipe definitely tastes the best right out of the skillet, there are a few ways you can store it and save it for later:
Refrigerating: Let the hash browns come to room temperature and store in a container for 1-2 days. It is best to not add the eggs if you know you are saving some for later and add them when you reheat.
Freezing: If you plan on freezing this recipe I would advise you to NOT add the eggs before freezing. When reheating, simply heat up the hash until almost cooked through and then add the eggs.
Reheating the Leftovers: The best way to reheat this recipe is either in a covered skillet for about 10 minutes on Medium-Low or on a baking sheet in a 300-degree oven for 10-15 minutes.
If you plan to save some for leftovers it is best in all cases to store the sriracha mayo and cilantro separately for best results.
Other Recipes like this:
Black Bean & Sweet Potato Tacos | Vegetarian
Skillet Brussel Sprouts and Sweet Potatoes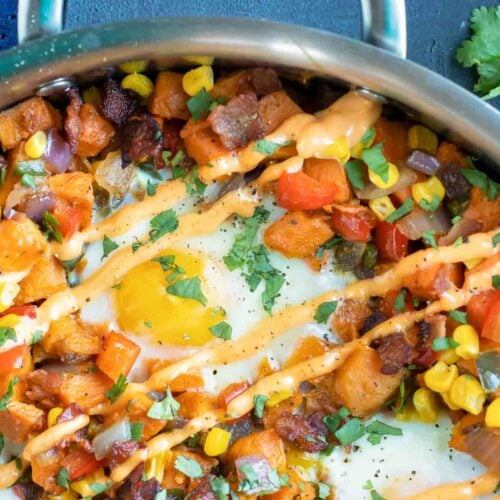 Sweet Potato Hash with Eggs
Sweet Potato Hash is a delicious and healthy breakfast recipe that is so easy to throw together. Full of simple ingredients like eggs, jalapeños, onions, and red bell pepper, this dish is topped with a spicy sriracha mayo and a sprinkle of cilantro for ultimate flavor.
Ingredients
4

oz.

bacon

cut into ½-inch pieces

1

jalapeño

finely diced

½

red onion

finely diced

1

red bell pepper

finely diced

1 ½

lbs.

sweet potatoes

peeled, cut into ½-inch cubes

2

cloves

garlic

crushed

¾

tsp.

salt

to taste

¼

tsp

pepper

to taste

½

cup

corn

canned or frozen

4

eggs

2

tsp.

sriracha sauce

¼

cup

mayonnaise

¼

cup

cilantro

finely chopped
Instructions
In a large skillet over medium heat cook bacon pieces until cooked through, about 6-8 minutes. Set aside on a paper towel-lined plate and pour bacon grease into a measuring cup. (You should have about ¼-⅓ cup)

Add 2 tablespoons bacon grease back into the skillet with the jalapeño, red onion, and bell pepper.

Sauté vegetables for 4-5 minutes. Add crushed garlic and sauté for 1 minute.

Add an additional 1-2 tablespoons bacon grease or olive oil to the skillet with the cubed sweet potatoes. Stir until well combined and cover skillet with a lid. Cook over medium heat for 7-8 minutes, or until potatoes are almost cooked through.

Mix in corn until well combined. Make 4-5 holes in the hash to let some of the skillet show through and crack one egg into each hole. Cover skillet again and cook for 5-6 minutes or until eggs are cooked to your desired doneness.

While eggs are cooking whisk together the Sriracha sauce and mayonnaise in a small bowl. When ready to serve, drizzle sriracha mayo over the hash* and sprinkle with chopped cilantro. Enjoy!
Recipe Notes
To make the sriracha mayo drizzle more easily, place it in a Ziplock bag and cut a small hole in the corner to make a piping bag. Drizzle away!
Nutrition Facts
Sweet Potato Hash with Eggs
Amount Per Serving
Calories 459
Calories from Fat 234
% Daily Value*
Fat 26g40%
Cholesterol 188mg63%
Sodium 858mg37%
Potassium 814mg23%
Carbohydrates 42g14%
Protein 13g26%
Vitamin A 25455IU509%
Vitamin C 50.9mg62%
Calcium 82mg8%
Iron 2.1mg12%
* Percent Daily Values are based on a 2000 calorie diet.