Healthy and easy, this Curry Chicken Salad Recipe is the perfect option for summer picnics. Simple ingredients like rotisserie chicken, mayonnaise, hummus, curry, raisins, apples, and cashews combine for a delicious Indian dish. Make the absolute best sandwiches or opt for low-carb lettuce wraps at your next potluck.
There are 2 schools of thought when it comes to making chicken salad at home:
The classic way – with mayonnaise, mustard, dill, and grapes. (AKA – this Chicken Salad with Grapes recipe!)
The Indian-inspired way – with curry powder, raisins, and crunchy cashews.
Growing up I only ever knew of the first way. It wasn't until I married my husband and had his mom's incredible curry chicken salad that I was enlightened to the other way I had been missing out on!
The curry powder brings not only a gorgeous and bright color, but also a subtle depth of savory flavor.
Then toss in some sweetness with raisins and crisp apples, and saltiness with cashews to really amp up the flavor and texture game.
You can serve it up as a chicken salad sandwich (or on a croissant for extra buttery-ness!) or in a lettuce warp to keep it low-carb. Or take a bite right out of the bowl with crackers or celery stalks.
No matter what you choose, you're sure to have your friends and family begging you for the recipe at your next summer picnic or potluck!
Ingredients
The simple ingredients you need to make this Curry Chicken Salad Recipe include:
Chicken. You need 4 cups total of cooked chicken. A 1-¼ pound rotisserie chicken usually yields about this much, and it gives you a mix of white and dark meat. You can also make Instant Pot Shredded Chicken instead or even bake chicken breasts and use those.
Mayonnaise. Regular fat versions are best for full flavor. Low fat options have added sugar. Duke's and Hellman's are recommended.
Hummus. Yes, we replace half of the creamy mayo with a healthier alternative. Be sure to get a plain or garlic flavored variety. Don't worry, it's still smooth and delicious.
Curry powder. You can use mild, medium, or even spicy if you want a kick. Taste it before adding to be sure it has the flavor you like.
Mustard. Dijon is the best and recommended. But you can use yellow or even stoneground if that's what you have on hand.
Apples. These need to be finely diced. Leave the skin on for added color and crunch. Get your favorite kind so you enjoy the taste.
Cashews. You need coarsely chopped nuts that are roasted and salted. Be sure to use a fresh jar for the best flavor.
Raisins. These add a bit of sweetness and a variety of texture. You can sub cranberries, but it will make the salad a bit tarter. Or even leave them out if you're wanting to keep it low-carb.
Celery. Finely dice one to two stalks of celery to add a fresh crunch to each bite.
How to Make
These are the steps to follow to make this Curry Chicken Salad recipe:
Shred the Chicken
Whether you made Instant Pot Shredded Chicken or simply bought a roast chicken, you need to shred the meat before putting the salad together.
First, pull the chicken off the bones and place it in a large bowl. Once the meat is cool to the touch, use your hands or two forks to carefully pull it. It should come apart very easily.
Continue to stir and shred until there are no more large chunks of chicken.
Note – it's quite a bit easier to shred the chicken while the meat is still warm, so do this as soon as you get home if you happen to buy it from the store!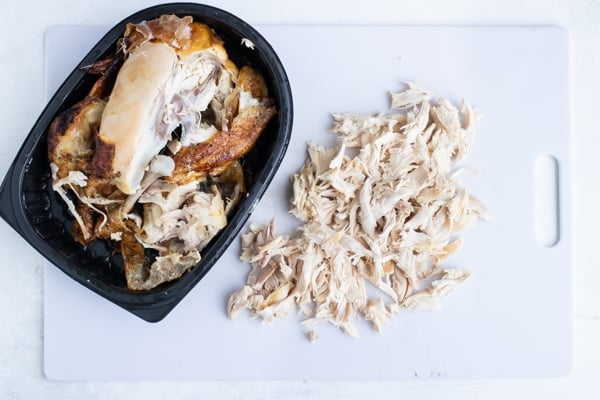 Whisk and Mix
In a small bowl, combine mayo, hummus, Dijon mustard, and curry powder. Whisk well until sauce ingredients are well-blended. Add salt and pepper to taste.
Carefully pour the sauce over the chicken in the large bowl. Use a spatula to thoroughly coat all the meat.
Toss Together
Add raisins, diced apples and celery, and chopped cashews and green onions to the sauced chicken.
Gently stir everything together until it's combined well. Be careful not to mix too hard or you'll squish the fruit.
Serve it Up
This Curry Chicken Salad recipe is amazing in so many different ways. Pile a big scoop on bread for a sandwich. For extra buttery flavor, opt for a croissant!
Or, to keep your meal low-carb or gluten-free, grab some Bibb, butter leaf, or your favorite variety and make lettuce wraps.
Meal Prep and Storage
To Prep-Ahead: This salad is delicious when made one day ahead of time. Make it the day before and keep in the fridge until ready to enjoy.
To Store: Place chicken salad in an airtight container and keep it in the refrigerator for up to 3 to 4 days.
To Freeze: It is not recommended to freeze this dish as the mayo will separate upon thawing and drastically alter the flavor.
Dietary Modifications
The recipe you'll find below is already gluten-free and dairy-free as written. Here are some adjustments and substitutions you can make to help it fit your other dietary requirements.
Keto and Low-Carb: Leave out the apples and raisins. You can replace with more nuts like almonds or peanuts if you'd like. Serve it in a lettuce wrap or with some Parmesan cheese whisps.
Nut-free: Omit the cashews. To keep the crunchy texture, add more celery.
Whole30: Make sure the mayo, mustard, and raisins are Whole30 approved, and do not use the hummus.
FAQs
Can you add curry to chicken salad?
Yes! Traditional chicken salad is delicious as is. However, adding curry powder and subbing apples and raisins for grapes and tossing in some cashews creates an incredible, savory dish that will keep you coming back for more.
What goes well with curry chicken?
Curry chicken, including this salad recipe, is a flavorful dish that is delicious with bread like Naan, over rice, or with a salad.
How can I make my chicken curry salad better?
If you want to add a little something extra to your curry chicken salad, try it with additional spices like garlic powder or turmeric, or other veggies like red onion and cucumber.
Expert Tips and Tricks
Plain, ole' roast chicken. If you buy a rotisserie chicken, be sure it is natural flavored to avoid conflicting flavors.
Keep it even. Chop the fruit, veggies, and nuts in consistent sizes so each bite is perfect!
Be safe. As this dish has a mayo base, do not leave it at room temperature for more than 2 hours. If it is over 85℉, then this salad should not be out for more than 1 hour.
Go low. If you are looking for a low-carb option, serve this up with crisp Bibb or butter leaf lettuce instead of bread.
Some like it hot. Be sure the curry powder you have suits your heat preference. Add a little and then taste. You can always use more if you need!
What to Serve with Chicken Salad
This Curry Chicken Salad goes well with so many sides, try one of these recipes with it:
More Summer Picnic Recipes
Like Curry Chicken Salad, each of these recipes are perfect in the summer:
Curry Chicken Salad Recipe
Healthy and easy, this Curry Chicken Salad Recipe is the perfect option for summer picnics. Simple ingredients like rotisserie chicken, mayonnaise, hummus, curry, raisins, apples, and cashews combine for a delicious Indian dish.
Ingredients
4

cups

chicken

cooked, shredded, about 1 ¼ lbs.

⅓

cup

mayonnaise

⅓

cup

hummus

plain

2

tsp.

Dijon mustard

1 ½

tsp.

curry powder

½

– ¾ tsp. salt

to taste

½

tsp.

black pepper

to taste

1

cup

apples

finely diced

¾

cup

cashews

roasted, salted, coarsely chopped

½

cup

celery

finely diced

4

green onions

finely chopped

½

cup

raisins

Bread, croissants, or Bibb lettuce wraps
Instructions
Whisk together the mayonnaise, hummus, mustard, curry powder, salt and black pepper in a large bowl.

Add in the shredded chicken and toss until it is well coated.

Mix in the diced apple, chopped cashews, diced celery, chopped green onion, and raisins until everything is combined.

Serve immediately as lettuce wraps or a sandwich, or refrigerate for a few hours to serve chilled. Enjoy!
Recipe Video
Recipe Notes
Each serving is roughly 1/2 cup of chicken salad and does not include bread or lettuce wrap.
Nutrition Facts
Curry Chicken Salad Recipe
Amount Per Serving
Calories 220
Calories from Fat 108
% Daily Value*
Fat 12g18%
Cholesterol 42mg14%
Sodium 167mg7%
Potassium 422mg12%
Carbohydrates 13g4%
Protein 16g32%
Vitamin A 112IU2%
Vitamin C 3mg4%
Calcium 24mg2%
Iron 2mg11%
* Percent Daily Values are based on a 2000 calorie diet.