Hoping to learn how to freeze soup without the freezer burn? Whipping up a big batch of soup is the easiest weeknight dinner, and this method makes the most of your leftovers. You'll save time and stock up on meals with these tips and tricks for freezing all your favorite make-ahead soups!
There are so many resources out there that tell you to store your soup in plastic containers, glass containers, or even glass Mason jars. But which way works best?
The Best Way to Freeze Soup
The best way to freeze soup is to store it in a gallon-sized, freezer-safe Ziploc bag. These simple steps break down why this method works so well.
1. Place Ziploc bag in a glass measuring cup
Once your soup is completely cooled at room temperature, place it in the fridge for a few hours to get it chilled. When its temperature is lower than 40°, pull out your freezer-friendly resealable bag. Then, roll the bag's edges over a large measuring cup.
Why go through all of this effort for soup? Letting your soup cool the right way allows all of the chopped foods in it to keep their form. If you don't do this, the soup will freeze unevenly. When it's ready to be thawed, it will be mushy.
2. Ladle in the soup
Now that your soup is cooled and your bag is ready to go, ladle it in. You can either put the whole batch in one bag, or you can make smaller servings using multiple bags.
Before sealing the bag, make sure to squeeze out as much excess air as possible. This will prevent the formation of ice crystals that cause freezer burn. Don't forget to use a permanent marker to label your bag with the name of the soup and the date.
3. Lay it flat and freeze
This step is what makes this method the best way to freeze soup.
Lay your soup-filled bag flat on a baking sheet and put it in the freezer. After a few hours or even overnight, you'll be able to stack each one like books on a shelf. Doing this also ensures even freezing. These packets will take up less of your freezer space, and they'll be easily organized without much effort.
What containers are better for freezing soup?
In addition to using bags, you can also put soup in a freezer-safe container. Should it be glass or plastic? There are pros and cons to each, depending on your purpose. Is it for make-ahead individual lunches, or dinner for the whole family?
Let's take a look into which storage containers render the best results.
Freezing in Glass Containers
Glass is better for the environment because it can be recycled. Only certain plastics are cleared for recycling, and those that aren't end up in a landfill. Glass also has a longer lifespan if properly cared for. It keeps its shape and durability under most conditions, whereas plastic can melt and warp in the microwave or dishwasher.
Glass can be a healthier material because it does not release chemicals into your foods when heating up. Even BPA-free plastics, when hot, may still leech chemicals into your food. And with freezing, plastic can contaminate nearby foods that sit in your freezer.
Freezing in Plastic Containers
Plastic is better for children. When you send your child off to school with soup, transporting food in plastic is lighter, making it easier to carry. Also, glass is prone to shattering when backpacks are thrown on the floor or bumped into in the hallway.
Plastic isn't as bulky as glass. Plastic containers are easier to stack and they don't slide around because of the grooves on the lids. This material also shrinks with the cold, so it's possible that you could fit more in your freezer than if you used glass. Plus, you won't break a plastic container when you're maneuvering it around.
Ultimately, if you're not using a plastic bag, it's up to you to decide how you would like to freeze your soup.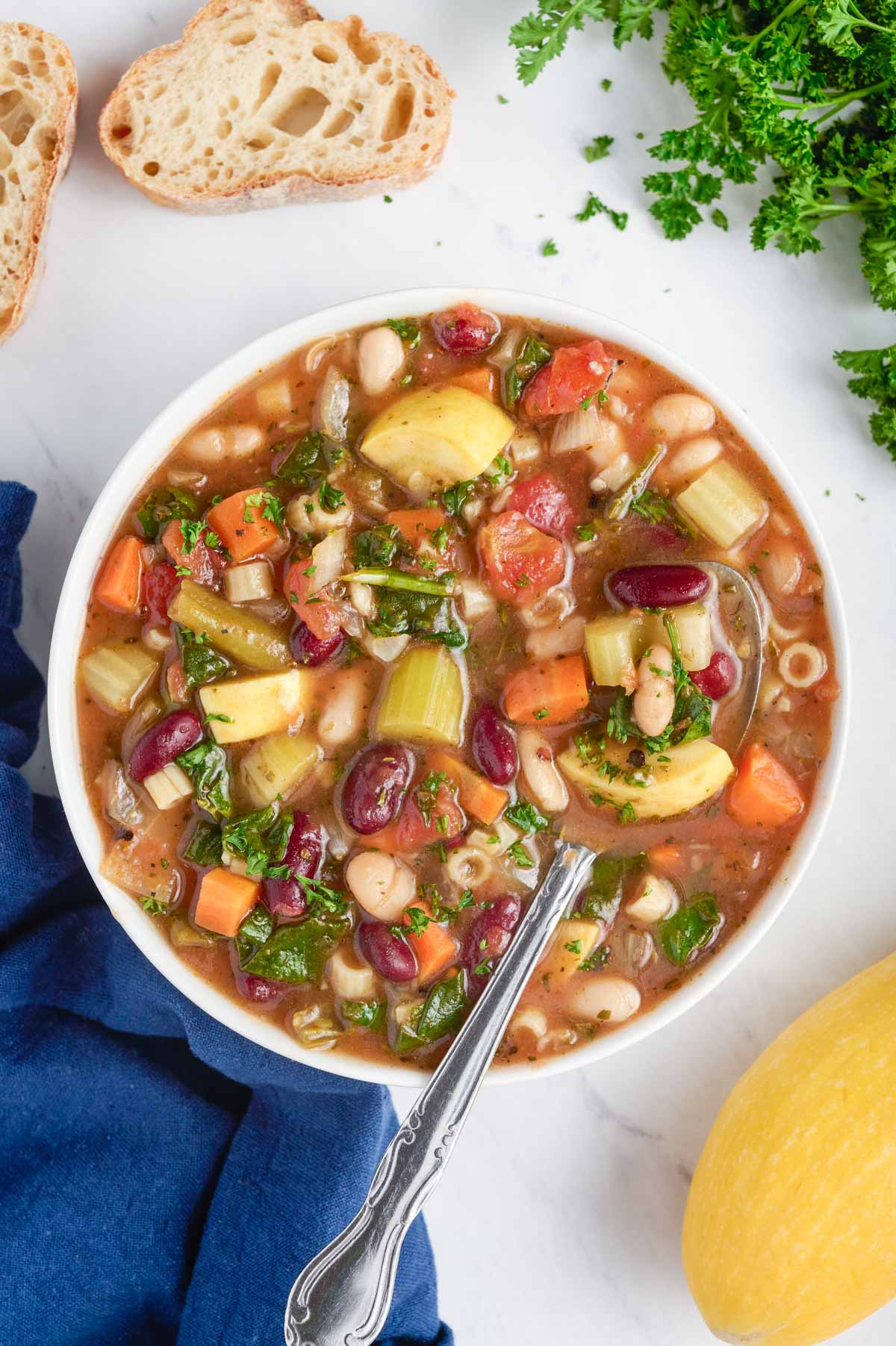 Thawing and Reheating Soup
When you are ready to reheat and eat your soup, there are a couple of options on how to prepare it.
Reheat in the Microwave
Use this method only when you are thawing a soup in a glass container, specifically in a glass Mason jar. This is the perfect method for thawing out individual portions. Use the defrost setting on low for 5-10 minutes without the Mason jar lid. Once it's no longer frozen, warm up your soup on high.
Reheat on the Stovetop
First, let the soup thaw in the fridge for 1-2 days. Then reheat your soup on the stove over medium-high heat, adding water or broth to match the consistency you'd like. Let it simmer for a little bit before adding your pasta or dairy, if that's what the recipe calls for.
If you forget to pull out your soup a day or two before you want to eat it, have no fear! You can thaw it in a warm water bath until it loosens from the sides. That'll make it easy for transferring it to a pot on the stovetop. With this technique, reheat the soup over low heat until it thaws out completely.
How long will soup last in the freezer?
Homemade soups lasts about 3 months in the freezer. Those that contain more vegetables or are broth-based can last up to 6 months. If you're ever on the fence about any soup due to smell or texture, it's best to toss it. When in doubt throw it out!
What soups do not freeze well?
Soups with starches like carrots, rice, and cubed potatoes do not freeze well. Chicken noodle or potato soups fall into this category. The starches soak up all the liquid (even when you've let your soup cool in your fridge), and will be soggy once defrosted. To prevent mushy soup, puree the potatoes or add the pasta and rice after you've thawed your soup.
Avoid freezing dairy-based soups that contain creams. Dairy has a grainy texture when it's thawed, so the best time to add dairy products like heavy cream or milk is when you are reheating your soup. To do this, separate what you want to freeze and only add dairy to what you'll eat the day you make your soup.
Freezer-friendly Soup Recipes
For the best freezer-friendly soups, start off with this Chicken Taco Soup. Make sure to add the sour cream topping after you've thawed it out. You can also try this Crock Pot Chicken Tortilla Soup, adding the tortilla strips once you've reheated it. You'll also love a big batch of Cabbage Soup with Vegetables.
For a quick and easy soup prep for the freezer, make this Instant Pot Chicken Vegetable Soup. Add the milk-cornstarch slurry after you've thawed this Zuppa Toscana Soup. Or make some restaurant classics and save for later with this Olive Garden Minestrone Soup, Italian Wedding Soup, and Olive Garden Chicken Gnocchi Soup.