Slow Cooker Chicken Tortilla Soup is the BEST easy weeknight dinner recipe. Quickly add chicken, Mexican taco seasoning, broth, salsa, canned corn, and beans to a Crock-Pot in the morning and come home to a healthy meal! Finish it off with crunchy tortilla chips, avocado, cilantro, and sour cream for a dish the whole family will love.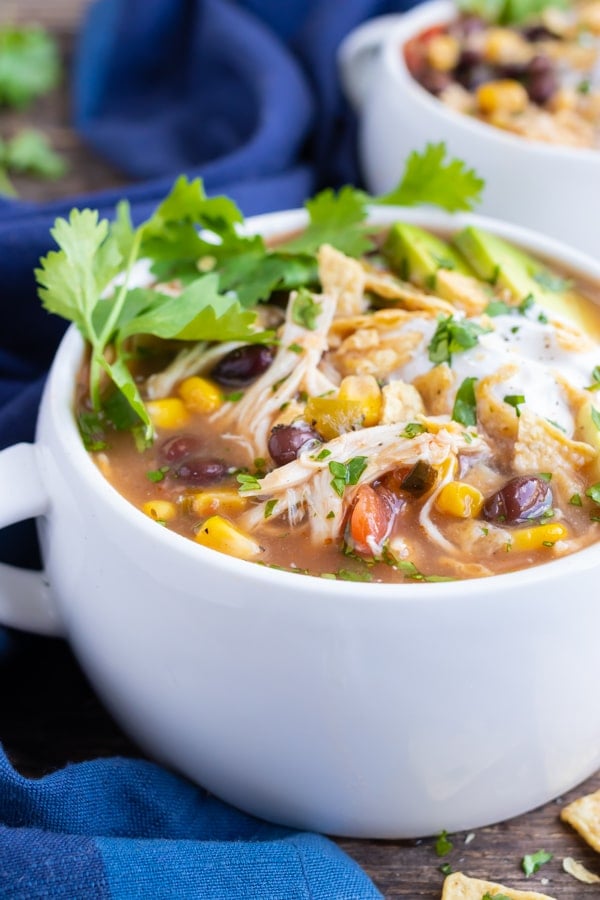 Cooler weather and busy schedules mean that soup recipes start appearing on the dinner table.
And this Crock-Pot chicken tortilla soup is BY FAR one of the BEST soup recipes out there.
(Or slow cooker, if you like to call it that!)
It's super easy to make quickly on your way out the door in the morning. I'm talking throw in some chicken, broth, seasonings, canned corn, beans, a jar of salsa, and go!
When you return home in the evening you'll be welcomed by an intoxicating aroma.
Once you dig in to this flavor packed soup (thanks to the homemade taco seasoning) you'll see why it's one of our favorite weeknight recipes.
As if that isn't enough to make it the perfect soup, it's HEALTHY too! Yup, it's made with all whole food ingredients, no heavy cream here!
So set it, forget it, and have this comforting meal ready waiting for you when you get home, you deserve it!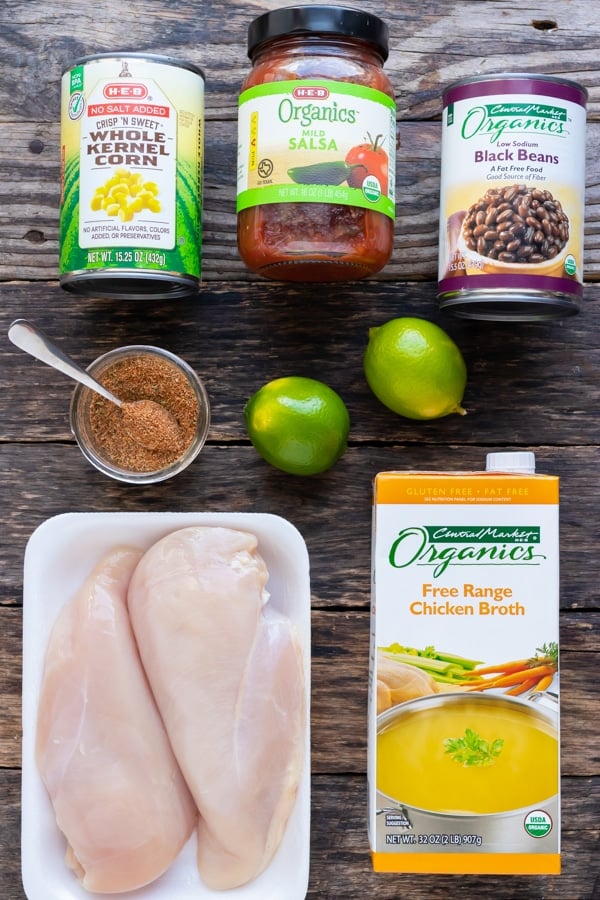 Ingredients
The simple ingredients you need to make crock-pot tortilla soup include:
Chicken Breasts. This is the best cut since it consists of lean meat that tenderizes easily while slow cooking. You can also use chicken thighs for a richer result.
Salsa. A medium salsa, instead of diced tomatoes, gives the bulk of the tomato flavor and spice to this soup. Homemade Roasted Tomato Salsa is another great option!
Taco Seasoning. Homemade taco seasoning mix is the quickest way to give your recipe authentic Mexican flavor. If you don't want to make you own, there are many store bought packets available to choose from.
Corn. Both canned sweet kernel corn and frozen corn will work great.
Black Beans. Canned beans are used in this recipe. Make sure you rinse and drain them before adding into the soup!
Lime. Fresh juice from a lime gives the taco soup a bit more acidity. Lemon can be substituted if that is what you have on hand.
Tortilla Chips. These are for serving, you definitely don't want to forget these for amazing crunch!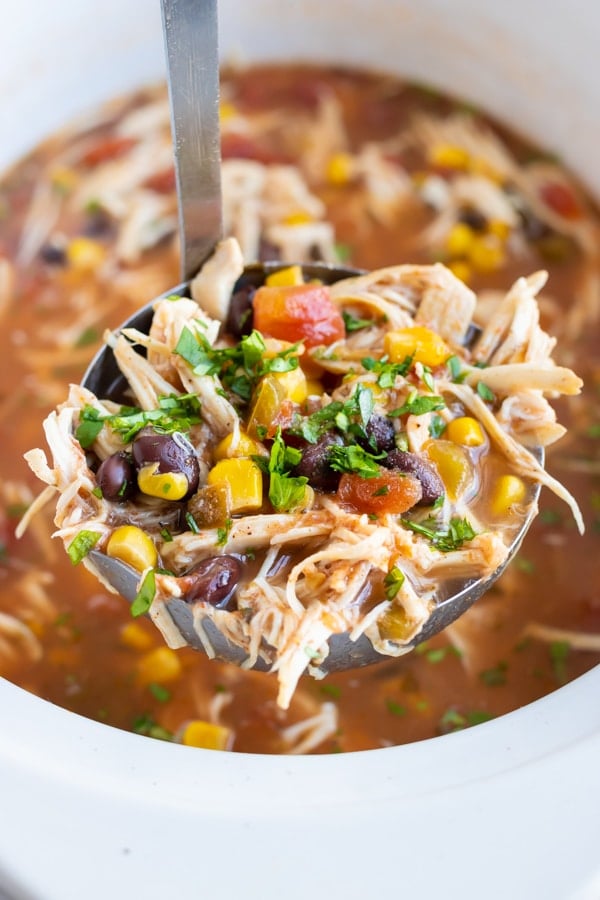 How to Make Chicken Tortilla Soup in the Slow Cooker
The basic steps for making slow cooker tortilla soup are simple to follow. Please see the recipe card below for more detailed ingredient amounts.
Add Ingredients to Slow Cooker
Fill the crock-pot with the ingredients, making sure to follow this particular order: start with the chicken, then pour in the broth and salsa (be sure to lift up the chicken so it gets underneath and doesn't burn to the bottom of the pot). Next add in the seasoning, corn, and beans, mixing the seasoning into the corn and beans so the flavor spreads throughout.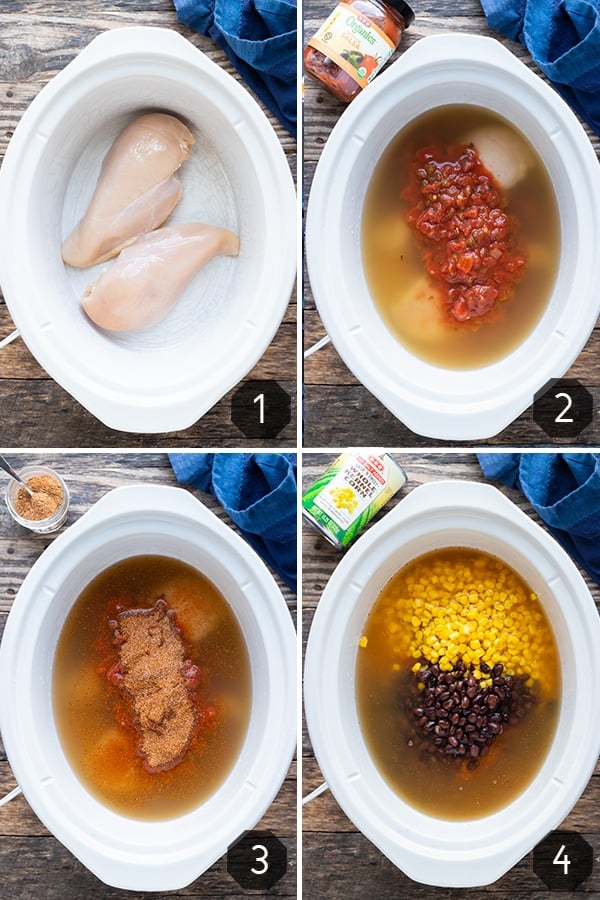 Cook in Crock-Pot
Set your slow cooker to high for 4-6 hours, or low for 6-8 hours. This timing is for a 6-quart crock-pot, the soup may be done a little earlier if you have an 8-quart one.
Shred Chicken
Either pull apart in the pot using two forks, on a cutting board with your hands (you will need to let the chicken cool down first!), or add it to a stand mixer. Do this during the last 30 minutes of cooking, then return the chicken to the pot so it can soak up the flavor of the soup.
Serve with Chips
But wait! Where does the "tortilla" come in? Right at the end!
Add some crushed tortilla chips to the top of the soup just before serving. They will get soggy if they sit in the liquid too long, so it is best to add them as you eat.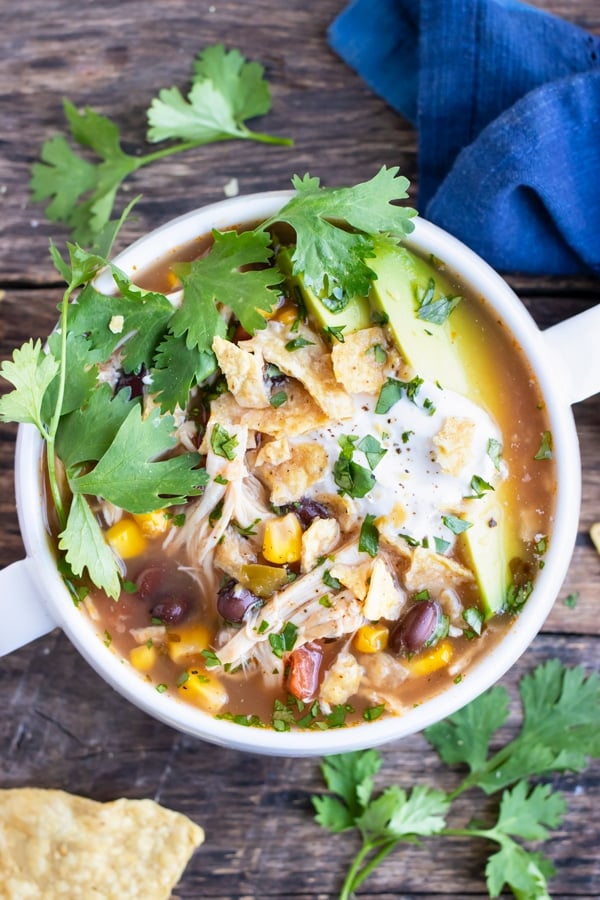 Serving
While this slow cooker tortilla soup recipe tastes incredible on its own, adding a variety of toppings can make it even better!
Here are a few of my favorite finishing touches for tortilla soup:
Crushed tortilla chips <– A must!!
Sliced Avocados
Sour Cream – Or dairy-free sour cream by Tofutti.
Shredded Cheese – Cheddar cheese, Mexican blend, or Monterrey Jack all taste great!
Fresh Cilantro
Sliced Jalapeños
Meal Prep and Storage
To Prep-Ahead: Since the flavors will continue to get better over time, this is a great soup to make in advance. Just wait to add the tortilla chips and toppings until serving.
To Store: Leftover soup will last in an airtight container in the refrigerator for 3-4 days.
To Freeze: This recipe freezes extremely well. Seal in a freezer-safe container for up to 6 months.
To Reheat: Warm in a pot on the stovetop over medium-low heat, or microwave, until heated through.
Can I Make this in the Instant Pot?
This Crock-Pot tortilla soup can easily be made in the Instant Pot. You can either check out how in this Instant Pot Chicken Tortilla Soup post, or read the quick directions below!
Instant Pot Instructions:
Add all of your ingredients to a 6-quart Instant Pot.
Lift the chicken breasts to make sure there is some liquid underneath them.
Set the Instant Pot to High Pressure and cook for 8 minutes.
Allow a Natural Pressure Release of 10 minutes.
Once chicken is cooked, shred and let sit for 10 minutes in the soup before serving.
FAQs
What Size Slow Cooker Should I Use?
Slow cookers are an extremely affordable kitchen appliance that are well worth the space they take up in your kitchen. They come in various sizes, but I would highly encourage you to get at least a 6-QT Crock-Pot.
This will give you plenty of room to make big batches of White Chicken Chili and Buffalo Chicken Meatballs.
Should I use a Crock-Pot liner?
Slow Cooker liners are a great option to use if you want to make clean-up a breeze. They can be thrown away after each use and keep your Crock-Pot sparkly clean!
Can I use Rotel in place of salsa in tortilla soup?
You absolutely can! Make sure to get the Rotel with green chilis, and use the same amount.
How can I make chicken tortilla soup creamy?
Stir in some sour cream or add a bit of milk. You can even do this with vegan and dairy-free alternatives.
How can I change the spice level of this soup?
This main dish is about a 3-4 out of 10 on the spice scale. To reduce the heat, pick a mild salsa and decrease the cayenne pepper in the DIY taco seasoning. For more heat, find a hot salsa, increase the cayenne pepper in the homemade taco seasoning, and add sliced, fresh jalapeños.
Expert Tips and Tricks
Make it from scratch. Mixing up homemade taco seasoning gives the best flavor.
Shred then soak. Return the shredded chicken to the soup at least 30 minutes before serving so it can absorb the juices.
Spice it up. Choose a medium or hot salsa, and add a little extra cayenne pepper to the taco seasoning.
Tons of toppings. Get creative and try avocado, jalapeños, cilantro, sour cream, and more.
Prep in advance. This soup improves with time, refrigerate or freeze for an easy make-ahead meal.
More Healthy Soup Recipes
Comfort food can be healthy too, believe it or not! Warm up with any of these cozy recipes:
Instant Pot Chicken Vegetable Soup
Slow Cooker Chicken Tikka Masala
Instant Pot Chicken Noodle Soup
Instant Pot Chicken Wild Rice Soup
Slow Cooker Chicken Tortilla Soup Recipe
Slow Cooker Chicken Tortilla Soup is the BEST easy weeknight dinner recipe. Finish it off with crunchy tortilla chips, avocado, cilantro, and sour cream for a dish the whole family will love.
Total Time
6
hours
10
minutes
Ingredients
1 ½

lbs

chicken breasts

16

oz.

jar salsa

mild or medium*

5

cups

chicken broth

3

Tbsp.

homemade taco seasoning*

½

tsp.

salt

to taste

15

oz.

can black beans

rinsed and drained

15

oz

can whole kernel corn

drained

3

Tbsp.

lime juice

or lemon juice
Toppings:
Tortilla chips

optional

Cilantro

optional

Green Onions

optional

Avocado
Instructions
Place chicken breasts on the bottom of slow cooker.

Pour salsa and chicken broth into the

slow cooker

and make sure to pick up chicken breasts so some liquid gets underneath them.

Add beans, corn, seasoning, and lime juice to the slow cooker. Give liquid a good stir, cover, and cook for 6-8 hours on low or 4-6 hours on high.

Towards the last 30 minutes of cooking, shred the chicken. Let continue cooking for the last 30 minutes.
Recipe Video
Recipe Notes
Use mild salsa if you do not like spice and medium salsa if you like your soup a bit more spicy.
If you don't want to make an entire taco seasoning batch you can substitute the mix for the following:

1 Tbsp. cumin, 1 tsp. chili powder, 1 tsp. paprika, ¼ tsp. garlic powder, ⅛ to ¼ tsp. cayenne pepper, ½ tsp. black pepper
Use 1 – 1 ½ teaspoons of salt total.

To Store: Leftover soup will last in an airtight container in the refrigerator for 3-4 days.
To Freeze: This recipe freezes extremely well. Seal in a freezer-safe container for up to 6 months.
Nutrition Facts
Slow Cooker Chicken Tortilla Soup Recipe
Amount Per Serving
Calories 202
Calories from Fat 27
% Daily Value*
Fat 3g5%
Cholesterol 54mg18%
Sodium 971mg42%
Potassium 712mg20%
Carbohydrates 20g7%
Protein 23g46%
Vitamin A 365IU7%
Vitamin C 15.3mg19%
Calcium 41mg4%
Iron 2.5mg14%
* Percent Daily Values are based on a 2000 calorie diet.