A coconut flour pumpkin bread recipe that is refined sugar-free, gluten free, dairy free, grain free and Paleo.  
Do you want all things pumpkin without throwing your nutrition totally out of whack?!  Recently I have discovered that sugar is not my friend.  It is a very tight line I walk.  A little too much sugar and my stomach hates me.  Not enough sugar/carbs and I do not have enough energy to run at the intensity I desire.
Finding healthy substitutes for classics that I love has been quite a challenge… especially when it comes to Pumpkin Season!!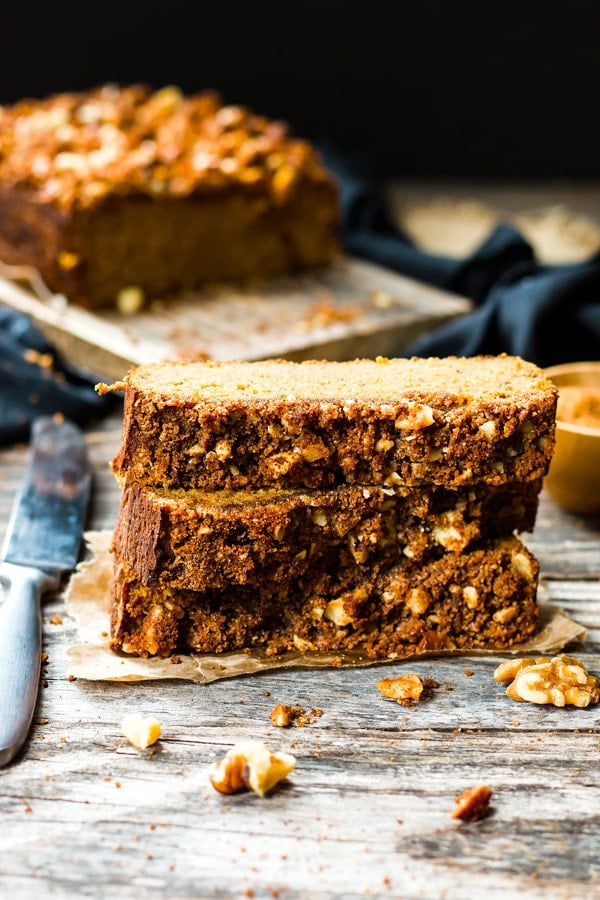 If you have been around the site over the past few weeks you might have seen a few other healthy, refined sugar-free pumpkin recipes such as this Healthy Vegan Pumpkin Caramel Dip and these No-Bake Pumpkin Pie Balls.  Both recipes are absolutely awesome.  Quick, no baking required, and taste like Fall!
However, neither of these recipes completely appeased my Fall-loving heart.  The house simply did not become overwhelmed by the fragrance of pumpkin!  Until… this fabulous coconut flour pumpkin bread happened.
A few attempts were made as I tried to conquer the art of cooking with coconut flour.  Have you ever tried making coconut flour pumpkin bread?!  Were you successful?
A few facts about baking with coconut flour:
Coconut flour absorbs A LOT of liquid!!  Many recipes that use it call for extra eggs or liquid to balance it out.
Coconut flour contains tons of nutrition and fiber!

1/4 c. coconut flour contains 4 grams fat, 4 grams protein, 16 grams carbohydrates and 10 grams fiber!!

If you are replacing flour in a recipe make sure to only substitute 20% for coconut flour.

And also increase the fat/liquid content by 20%!
Per usual, Cohl and I almost got into a tiff over who got the last piece of this coconut flour banana bread.  Needless to say, I will probably be making another loaf to bring with us this weekend to our favorite music festival of the year… Utopiafest!!
Who will you be making this Coconut Flour Pumpkin Bread for?!  
I would love to hear in the comments section below!
Happy Pumpkin Bread Snackin'!
Coconut Flour Pumpkin Bread with Crumb Topping
** THIS RECIPE WAS REVISED ON 1/11/17. ** A coconut flour pumpkin bread recipe that is refined sugar free, gluten free, dairy free, grain free and paleo.
Total Time
1
hour
5
minutes
Instructions
For the Pumpkin Bread:
Preheat oven to 350 degrees.

In a large mixing bowl combine maple syrup, oil, and eggs. Mix by hand until just combined.

Add pumpkin puree and vanilla and mix until incorporated.

In a separate, medium-sized bowl combine coconut flour, soda, powder, cinnamon and pumpkin pie spice.

Add dry ingredients into pumpkin puree mixture and stir by hand. Mix until all ingredients are just incorporated, making sure not to overmix.

Line a 9 x 5 inch loaf pan with parchment paper on the bottom and spritz with non-stick cooking spray. Fill pan with pumpkin bread batter.
For the Crumb Topping:
In a medium-sized bowl combine coconut sugar, flour, oil and cinnamon. Using the back of a fork, cut in the sugar and flour into the coconut oil until it just starts to stick together. Add walnuts and continue to do this until mixture starts to clump together.

Sprinkle crumb topping over the pumpkin bread batter. Press crumb topping lightly into the batter.

Bake pumpkin bread in preheated oven for 45-55 minutes, or until a toothpick inserted in the center comes out clean.

Let bread cool for at least 30 minutes before cutting into it. Serve warm or at room temperature. Pumpkin bread tastes awesome toasted with a little butter!
Recipe Notes
**The bread will still be pretty moist (Pumpkin is SUPER moist!)  If you would like it a bit drier, cut a piece and either let it sit at room temp for a while or toast it.**
Nutrition Facts
Coconut Flour Pumpkin Bread with Crumb Topping
Amount Per Serving
Calories 228
Calories from Fat 135
% Daily Value*
Total Fat 15g 23%
Cholesterol 62mg 21%
Sodium 129mg 5%
Potassium 116mg 3%
Total Carbohydrates 18g 6%
Protein 3g 6%
* Percent Daily Values are based on a 2000 calorie diet.
Want more recipes like this Coconut Flour Pumpkin Bread?
No-Bake Pumpkin Pie Balls {Vegan}
Healthy Vegan Pumpkin Caramel Dip
Pumpkin Muffins with Maple Syrup