Remoulade Sauce is a classic Cajun dip recipe that is sure to give your favorite seafood dishes a spicy kick! Mayonnaise and mustard are whisked together with a few other simply seasoning ingredients to make this creamy sauce. Serve it immediately with some homemade crab cakes and fried fish or store it in the refrigerator until ready to use!

Remoulade Sauce Recipe
Spicy, creamy, and full of Cajun flavor – this remoulade sauce recipe is the perfect dip to accompany just about any dish!
Whether you're serving up crab cakes at a party, need a dip for Baked Potato Wedges, or simply want to add a bit more flavor to your Blackened Salmon.
You can't go wrong with this recipe!
While yes, it is made with 10 ingredients, they are all super easy to find at your local grocery store.
And trust me when I say, don't leave any of them out! They each bring a special and unique flavor to this sauce that you don't want to miss.
(But if you still have trouble locating any of them, there are a few simple swaps you can make.)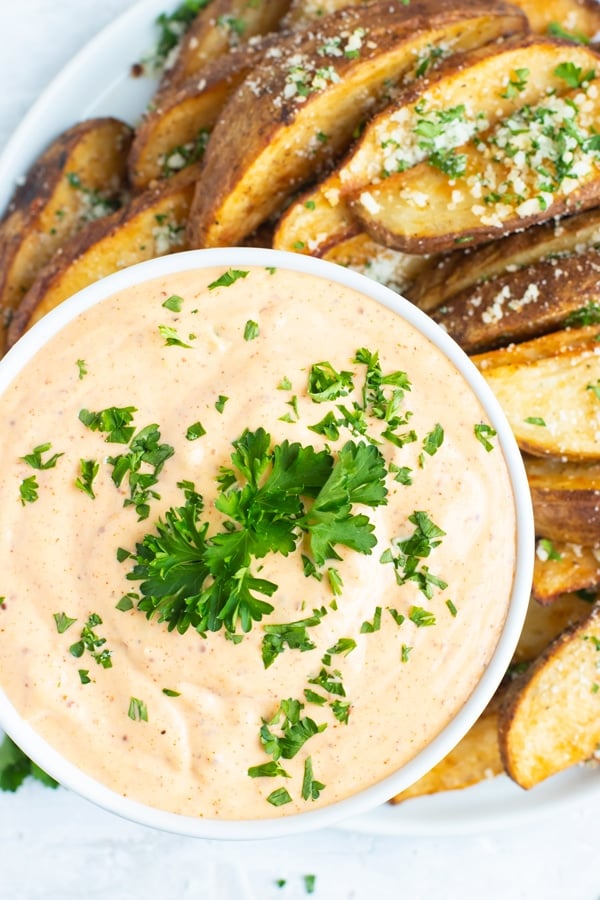 What is Remoulade Sauce?
Remoulade sauce is a traditional Louisiana sauce with a mayonnaise base. Oftentimes you will find it also includes Creole mustard, paprika, garlic, and Cajun or blackened seasoning. In the recipe below it also gets a bit of kick from Louisiana-style hot sauce and a tang from pickle relish and prepared horseradish.
Remoulade sometimes gets confused with tartar sauce. Tartar sauce is made with a few of the same ingredients, mayonnaise and pickles, but does not have the spicy components that remoulade contains. (i.e. Cajun seasoning, hot sauce, or paprika.)
You can tell the difference between the two sauces by their variation in color. Remoulade sauce will typically have more of a red hue while tartar sauce is more of a white color.
Remoulade sauce is made up of a few simple and easy-to-find ingredients:
Mayonnaise – Duke's mayo is my go-to, but Hellmann's and even an avocado oil-based kind will work great.
Mustard – Creole mustard is used in this recipe, but spicy or regular mustard will work great, too.
Pickle relish – You can use dill or sweet.
Lemon juice – Adds a bit of freshness
Paprika and Cajun seasoning – These spices give it the flavor we know and love!
Horseradish – Make sure you do not leave this ingredient out! It's super important when giving authentic flavor.
Hot sauce – A Louisiana style is best. (Such as Tabasco sauce.)
Fresh garlic – Feel free to sub ¼ teaspoon garlic powder if you do not have a clove.
How to Make
Once you have gathered all of your ingredients, simply place them in a medium-sized bowl and whisk until well combined.
You can also mix them together in the jar or glass container you'll be storing it in.
Refrigerate sauce for 1-2 hours or up to 24 hours before serving. (This step is critical so make sure you don't skip it!) Letting the sauce rest for a few hours allows all of the flavors to meld together before serving.
Adjusting the Spice
As mentioned previously there are a few ingredients that give this Louisiana-inspired sauce it's spicy flavor. This particular recipe is about a 3 on a scale of 1-10.
If you are not a huge fan of spice you can make the following adjustments:
Decrease the amount of hot sauce or leave it out completely.
Make sure you buy a mild Cajun or blackened seasoning. Also, blackened seasoning tends to be a little less spicy than Cajun seasoning blends.
And don't forget to double-check that the paprika is not "hot."
Want to make it spicier? Try these additions:
Mix in some finely chopped jalapenos.
Sprinkle in some additional cayenne pepper.
Add in extra Cajun seasoning
How Long Does It Last?
Homemade remoulade keeps well in the refrigerator for up to two weeks. Store it in an airtight container for best results.
Store-Bought Brands
While I am obviously a huge proponent of making this easy recipe from scratch, there are a few brands that sell prepared remoulade sauce if you are short on time:
My word of caution with purchasing store-bought is the quality of ingredients used. Many of them use only soybean oil (and not a mix of oils) and high fructose corn syrup.
If you would like to be more in control of the types of ingredients used (like an avocado mayonnaise or using relish without a ton of added sugar) then stick to making this recipe at home!
How to Serve
There are so many dishes and recipes you can serve with this flavorful sauce:
Blackened Salmon – or just about any other fish!
Baked Potato Wedges – This makes a delightful dip for some crispy potato fries.
Blackened Shrimp Tacos – You can add this on top of the blackened shrimp for an epic combo!
Fried Chicken Tenders – It makes the perfect adult dip for chicken tenders!
Crab Cakes – Whether Maryland or Louisiana-style, they both taste great with this spicy dip!
Fried catfish, po' boys, or just about any other Louisiana recipe that needs a little kick!
Remoulade Sauce Recipe
Remoulade Sauce is a classic Cajun dip recipe that is sure to give your favorite seafood dishes a spicy kick! Mayonnaise and mustard are whisked together with a few other simply seasoning ingredients to make this creamy sauce.
Ingredients
1

cup

mayonnaise*

3

Tbsp.

Creole mustard

or spicy

2

Tbsp.

pickle relish

dill or sweet

1

Tbsp.

lemon juice

1

tsp.

paprika

1

tsp.

Cajun seasoning

2

tsp.

prepared horseradish

1

clove

garlic

crushed

1

tsp.

Worcestershire sauce

1

tsp.

hot sauce

such as Tabasco
Instructions
Combine all ingredients in a medium-sized bowl and whisk to combine.

Store remoulade sauce for 1-2 hours or overnight so the flavors can meld together for best taste.

Serve remoulade sauce with baked potato wedges, over fried fish, with crab cakes or chicken and enjoy!
Nutrition Facts
Remoulade Sauce Recipe
Amount Per Serving
Calories 83
Calories from Fat 72
% Daily Value*
Fat 8g12%
Cholesterol 4mg1%
Sodium 117mg5%
Potassium 15mg0%
Vitamin A 210IU4%
Vitamin C 0.5mg1%
Calcium 3mg0%
Iron 0.2mg1%
* Percent Daily Values are based on a 2000 calorie diet.