Homemade Blackened Seasoning is quickly made in only 5 minutes and can be stored for over a year! This recipe mixes paprika, dried herbs, cayenne pepper, garlic powder, and onion powder into the best DIY spice blend. Use this easy Cajun seasoning to flavor fish, chicken, potatoes, and vegetables for a spicy kick.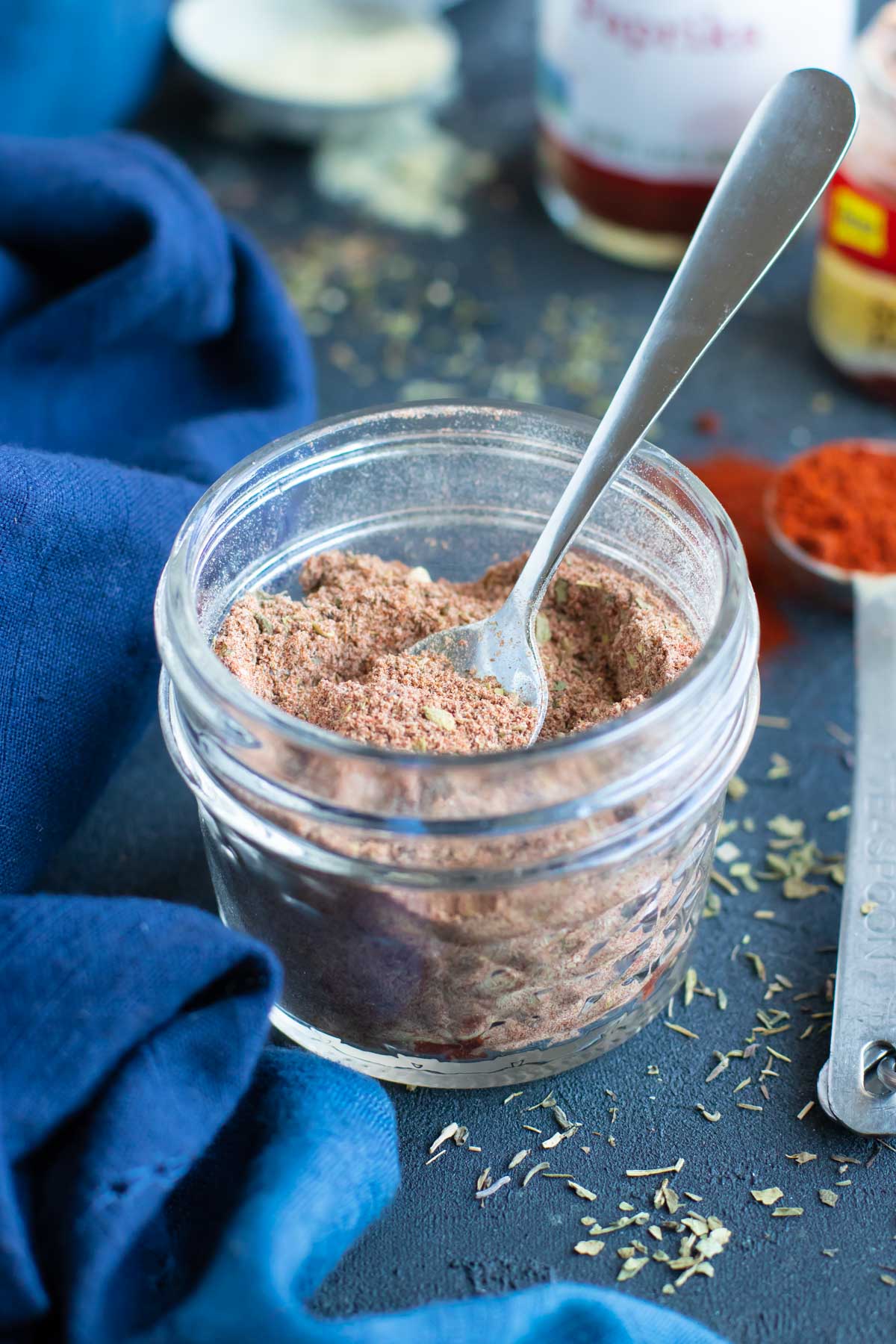 My first foray into making homemade seasoning mixes at home occurred when I was out of Taco Seasoning.
After a bit of testing and tweaking, I soon realized how simple it was to whip up your own homemade seasoning mixes and store them for use later! Next came Italian Seasoning, and this Chili Seasoning.
Recently I found myself turning to the spices that make up the typical Cajun seasoning blend. After my third night of pulling down ALL of the spices and dried herbs out of the cabinet, I decided to just make a big batch of this blackened seasoning recipe, instead.
Since then it has appeared on potatoes, chicken, shrimp, and even a tray full of roasted vegetables. And man does it save a lot of time and mess to not have to mix up a new batch of spices every single night!
And bonus! Making this version at home you can be sure it is gluten-free, sugar-free, and can have low or no sodium.
Ingredients
The simple ingredients you need to make this Blackened Seasoning recipe include:
Paprika. Standard paprika was tested but you can use half smoked paprika for an extra kick.
Garlic and onion powder. Both are absolutely necessary. Try not to substitute one for the other.
Black pepper. Any ground black pepper you have will work great.
Thyme, basil, and oregano. Feel free to swap out these dried herbs with each other if you do not have them all on hand.
Cayenne pepper. Adjust the cayenne pepper level according to your spice preference. Or, use red pepper flakes if you do not have cayenne pepper.
Salt. This is optional but will enhance the other spices. Leave it out to keep the sodium level low.
How to Make Blackened Seasoning
The basic steps for making Blackened Seasoning are simple to follow. Please see the recipe card below for more detailed ingredient amounts.
Add Ingredients
Measure out each of the spices and seasonings into a medium-sized bowl. This will give you the room needed to make sure everything mixes evenly.
Whisk
Stir all of the ingredients together until they are thoroughly combined. A whisk is the best tool for this.
Transfer to Storage Container
When storing homemade seasoning mixes it is best to place them in an airtight container and keep them in a cool, dry space. A spice cabinet (NOT over the stove!) or a dry pantry will work great.
This recipe will last for up to 1-2 years. As time goes on the dried leafy herbs will lose their potency.
You do not want too much open air space in the container, so choose one that just barely fits all of the mix.
These 4-ounce mason jars are great to use!
FAQs
What is Blackened Seasoning?
Blackened, or blackening, seasoning is a spice blend that is typically used in Cajun cuisine and can be a bit spicy. It is very similar to "Cajun" and "Creole" seasoning so it can be used interchangeably in recipes. You can buy it at the store (Emeril's is a great store bought one!) or you can make it at home.
Which is spicier, Cajun or blackened?
Cajun seasoning includes more red pepper or cayenne pepper resulting in a spicier blend.
Is blackened seasoning healthy?
If bought in the store you will want to make sure you double check the label. Some store bought mixes may contain sugar, gluten, MSG, or other stabilizers and anti-caking agents. Homemade versions are easy to make gluten-free, sugar-free, and low or no sodium.
Expert Tips and Tricks
Give it some smoke. Use half smoked paprika and half regular to elevate the flavor.
Mix it good. A whisk helps to evenly distribute the ingredients.
Keep cool. Store the seasoning away from heat and moisture to extend the shelf life.
Fill 'er up. The less air in the storage container the fresher it will stay.
Recipes with Blackened Seasoning
This blackened seasoning can be used for chicken, salmon, tilapia, steak, shrimp, potatoes, or grilled vegetables with outstanding results. It is hands down the best recipe and will liven up just about any boring dish!
You can swap out the seasoning ingredients for equal parts of this mix in the following dishes:
Best Blackened Seasoning Recipe
Homemade Blackened Seasoning is quickly made only 5 minutes and can be stored for over a year! Use this easy Cajun seasoning to flavor fish, chicken, potatoes, and vegetables for a spicy kick.
Ingredients
1

Tbsp.

paprika

1

Tbsp.

garlic powder

1

Tbsp.

onion powder

1

Tbsp.

black pepper

1

tsp.

thyme

dried

1

tsp.

cayenne pepper

1

tsp.

basil

dried

1

tsp.

oregano

dried

1

tsp.

salt

optional
Instructions
Add all ingredients to a medium-sized bowl and whisk to combine.

Store blackened seasoning in an air-tight container (like these 4-ounce mason jars!) for 1-2 years.

Use it to season chicken, salmon, tilapia, steak, shrimp, potatoes, or any other recipe that needs a spicy kick!
Recipe Video
Recipe Notes
This recipe makes approximately 6 tablespoons of blackened seasoning.
Nutrition Facts
Best Blackened Seasoning Recipe
Amount Per Serving
Calories 18
% Daily Value*
Sodium 324mg14%
Potassium 169mg5%
Carbohydrates 3g1%
Protein 1g2%
Vitamin A 1665IU33%
Vitamin C 2.6mg3%
Calcium 44mg4%
Iron 1.5mg8%
* Percent Daily Values are based on a 2000 calorie diet.