A Louisiana classic recipe for Shrimp Creole that is loaded with stewed tomatoes, the holy trinity of onion, bell pepper, and celery, jumbo shrimp, and gets a spicy kick from some hot sauce! Serve this easy Cajun shrimp recipe over a bed of white rice for your next Mardi Gras celebration. Prep it ahead of time or quickly whip it up in less than 45 minutes when you're ready to eat!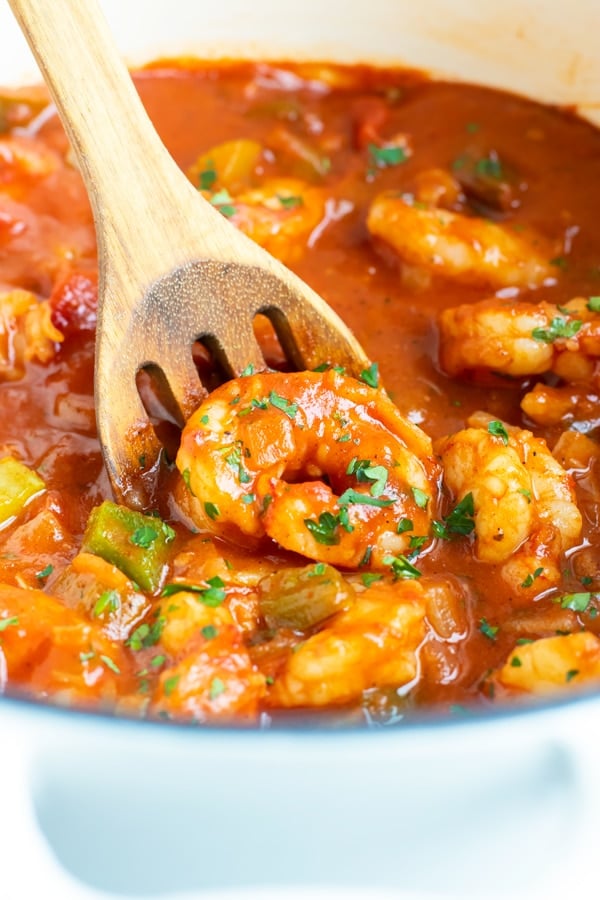 Shrimp Creole Recipe
With Mardi Gras right around the corner, and king cakes in every grocery, I cannot help but cook up all of the Louisiana-inspired recipes… especially this quick and easy shrimp creole! (It's seriously the BEST!)
My entire life I lived in a small town in Southern Texas on the border between Texas and Louisiana. You can just IMAGINE how incredible and fresh the seafood was!
Ever since moving to Austin 5 years ago I have found it quite difficult to find good Cajun or Creole food that satisfies my cravings. So instead, I have learned how to recreate some of my favorites at home.
From Blackened Salmon and Shrimp and Sausage Gumbo to Cajun Jambalaya and Cauliflower Dirty Rice… you can bet that these are all LOADED with the flavors you know and love and are not watered-down-versions of the classics.
This Shrimp creole recipe will deliver a TON of spicy and unique flavors WITHOUT taking a ton of your time, too. In less than 45 minutes you can have this healthy Cajun dinner ready to enjoy.

Ingredients
While some of the ingredients can be swapped out for various alternatives, there are a few important ingredients that you want to make sure to include:
Holy trinity – Celery, bell peppers, and onion are essential to create the flavors typically found in Cajun and Creole recipes.
Stewed tomatoes – Unlike other canned tomatoes, stewed tomatoes have a bit of sugar added to them. If you are on a Whole30 or Paleo diet you can substitute these for diced tomatoes, but just know the taste and flavor will be slightly different.
Tomato Sauce – Make sure when selecting your tomato sauce you get the regular tomato sauce, not the Italian-style.
Blackened seasoning – The spice level of your dish will change drastically depending on the type of blackened or Cajun seasoning you use. (See below for different seasonings that will work well.) If you are unsure of how spicy your seasoning blend is, add half of the amount suggested and add more as needed.

Best Shrimp to Use
The main star of this Cajun recipe is, of course, the shrimp. While some of you may not be able to tell the difference between wild and farm-raised, or fresh versus previously frozen, a few of your guests might. When selecting your shrimp for this recipe I suggest:
Buying wild shrimp. This not only makes a huge difference in the taste, but also in the quality of the shrimp you are eating.
Look for fresh shrimp. Fresh shrimp have a WAY better taste and texture than previously frozen. However, if you cannot find wild AND fresh shrimp, I would opt for the wild and previously frozen.
Medium-large sized is best. Look for a 20/24 count shrimp. This means there are 20-24 shrimp in one pound. Much larger or smaller and you will need to adjust the cook time accordingly.
Blackened and Cajun Seasonings
As mentioned previously, the spice level of your dish will depend largely on the type of seasoning blend you use. A few that I recommend include:
Homemade Blackened Seasoning – This blend was tested in this recipe and came out wonderfully! A not-too spicy, but still FULL of flavor.
Slap Ya' Mama Cajun Seasoning – They have both a regular and a hot blend. This seasoning was also tested and works wonderfully in this recipe.
Emeril's Blackened Seasoning – I have not personally tested this blend, but it is one of the few that does not have MSG and will probably taste great in here, too!
How to Make
The process of making shrimp creole is rather simple and can be done in under an hour. These are the basics steps you will follow: (See the full instructions in the recipe card at the bottom.)
Saute the "holy trinity" of celery, onions, and bell peppers in a large Dutch oven.
Add canned stewed tomatoes, tomato sauce, a few spices, and bay leaves.
Bring to a boil and then simmer for 20 minutes.
Next, remove the bay leaves and add the shrimp, hot sauce, and Worcestershire sauce.
Continue simmering until the shrimp are cooked through.
Cook's Tip: You can tell shrimp are done cooking when they turn from translucent to opaque and their tails begin to curl. Make sure you do not overcook your shrimp or else they will become rubbery.

Serve, Store, Reheat
If you would like to serve this shrimp creole recipe the authentic New Orleans way then you will want to pile it on top of a bed of white rice with a sprinkle of fresh parsley. A toasted baguette or gluten-free biscuits on the side would be a nice touch, too.
This recipe is also pretty low in carbs and can be kept that way by serving it over a bit of sauteed cauliflower rice.
Store in the Refrigerator: This recipe will refrigerate well if kept in an airtight container for up to 2-3 days. (Seafood does not last quite as long as other meats or produce.)
Store in Freezer: While the shrimp's texture will definitely change a bit if this recipe is frozen, you can still do it. Simply bring it to room temp, refrigerate for at least 3-4 hours, and then transfer to the freezer in a freezer safe container. It will freeze well for 3-4 months.
Other Cajun Recipes to Try
Easy Blackened Shrimp Tacos with Cilantro Lime Sauce
Cajun Shrimp and Sausage Gumbo
Sausage & Chicken Cajun Jambalaya
Easy Shrimp Creole Recipe
A Louisiana classic recipe for Shrimp Creole that is loaded with stewed tomatoes, the holy trinity of onion, bell pepper, and celery, jumbo shrimp, and gets a spicy kick from some hot sauce!
Ingredients
2

Tbsp.

olive oil

or butter

½

sweet onion

diced

1

green bell pepper

diced

3

stalks celery

diced

3

cloves

garlic

crushed

1

15-oz.

can stewed tomatoes

1

8-oz.

can tomato sauce

¼

tsp.

chili powder

¾

tsp.

blackened seasoning

or Cajun seasoning

½

tsp

salt

to taste

2

bay leaves

1

Tbsp.

tapioca starch

or cornstarch

2

Tbsp.

water

1 - 1 ¼

lb.

shrimp

peeled, deveined, 20-24 count

1

Tbsp.

Worcestershire sauce

1

tsp.

hot sauce

Louisiana style

Rice or cauliflower rice

optional

Fresh parsley

optional
Instructions
In a large pot or Dutch oven over medium heat add oil, onion, bell pepper, and celery. Sauté for 5-6 minutes, or until onions are translucent. Add crushed garlic and continue sautéing for 1 minute.

Add stewed tomatoes, tomato sauce, chili powder, blackened seasoning, salt, and bay leaves. Stir until well mixed.

Bring ingredients to a boil and then reduce heat to low. Cover and simmer for 20 minutes.

In a small bowl whisk together starch and water until well combined.

When done simmering, remove bay leaves from pot and stir in starch-water slurry.

Add shrimp, Worcestershire, and hot sauce. Continue simmering, uncovered, for 5-6 minutes or until shrimp are cooked through.

Serve shrimp creole over white rice or cauliflower rice with fresh parsley and enjoy!
Recipe Video
Nutrition Facts
Easy Shrimp Creole Recipe
Amount Per Serving
Calories 255
Calories from Fat 81
% Daily Value*
Fat 9g14%
Cholesterol 285mg95%
Sodium 2050mg89%
Potassium 687mg20%
Carbohydrates 18g6%
Protein 25g50%
Vitamin A 765IU15%
Vitamin C 45mg55%
Calcium 234mg23%
Iron 4.8mg27%
* Percent Daily Values are based on a 2000 calorie diet.