Cajun Jambalaya is full of andouille sausage, chicken, the holy trinity, and has all of the flavors of an authentic Louisiana recipe! This easy one-pot meal is gluten-free and makes a healthier Cajun dinner or Mardi Gras recipe.
Want a few other easy Cajun recipes? You might also enjoy this Shrimp Creole, Shrimp and Sausage Gumbo, Remoulade Sauce, and this Cauliflower Dirty Rice.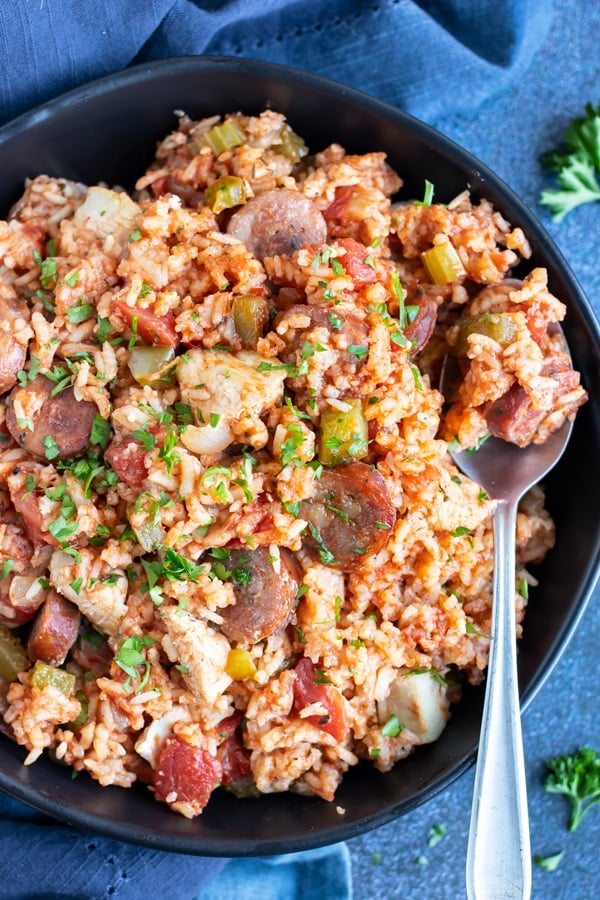 Chicken and Sausage Cajun Jambalaya
Cajun blood runs deep within my veins.
My feet start tapping when a song I know comes on,
the dance floor always calls my name,
summertime means I turn a nice golden brown,
and I am a HUGE fan of Dirty Rice, shrimp, jambalaya, and sausage gumbo.
I grew up in a small town called Orange, Texas — just enough miles within the border of Texas and Louisiana to truly call myself a Texan.
My mom was born and raised about 25 miles outside of New Orleans, Louisiana.
My Nanny and Papa, aunt, uncle and cousins still live in the same little town where she grew up.
Quick and Easy Dinner Recipe
Every year we visit for Christmas. And every Christmas we "Texas-folk" get to experience authentic Cajun cooking.
My Nanny will order in catering from this incredible restaurant down the street and we will all pig out on crawfish etouffee and sausage and chicken jambalaya. It's truly incredible!!
Now that my husband and I live in the heart of Texas, finding true Cajun food is kind of difficult.
With Mardi Gras and Fat Tuesday coming up, I start to crave comfort foods that remind me of home!
Ingredients
While it may initially seem like there are a ton of ingredients, chances are you probably have most of these on hand. Or, you can easily find them at your local grocery store.
Chicken – One pound of chicken breasts are cut into 1/2-inch cubes.
Sausage – Andouille links are cut into bite-sized pieces for a spicy kick.
Long Grain White Rice – Make sure you use white rice and not brown. Brown rice requires more liquid and will not full cook.

Cook's Tip: Make sure you rinse the rice thoroughly under running water for 1 minute before using. This helps to prevent it from clumping together.

Holy Trinity – A combination of celery, onion, and bell pepper are sauteed together to give this jambalaya it's base of flavor.
Seasonings – Fresh garlic, dried basil, thyme, and cayenne pepper are combined to form an authentic Cajun seasoning mix.
Broth – Regular sodium chicken broth was tested in this recipe. If you are watching your sodium intake you can just reduced sodium broth and adjust the salt to taste.
Worcestershire Sauce – A secret ingredient that adds an authentic flavor. Don't leave this out!
Tomatoes – A combination of canned diced tomatoes and tomato paste are used in this recipe.
How to Make Jambalaya
This recipe is relatively simple to make and so easy to clean up since it's made in one pot!
Not to mention it makes a TON of food and is great for feeding a crowd.
Step-by-Step Instructions:
Cook sausage for 2 minutes in a large Dutch oven. Add chicken cubes and cook until almost cooked through. Remove meat from the pot and set aside.
Add diced celery, onion, and bell pepper to the pot with olive oil. Saute until vegetables are tender. Add crushed garlic during the last 1-2 minutes of cooking.
Whisk together seasoning ingredients in a small bowl. Add seasonings, tomatoes, and meats into the pot.
Pour broth into the Dutch oven, scraping the bottom to release any bits that are stuck. Add rice and stir to combine.
Bring contents to a boil and then reduce heat to low.
Cover pot with a lid and simmer for 30-40 minutes, or until rice is cooked through.
Serving and Storing
How long can I store leftovers?
Leftover jambalaya will last for up to 3-4 days if stored in an airtight container in the refrigerator or up to 4-6 months in the freezer.
What is the best way to reheat this dish?
Reheating rice dishes can be a bit tricky. The best way to warm up leftover jambalaya is to add it to a large pot or skillet with a bit of oil and a touch of water. Warm it up slowly over medium-low heat until it is heated through.
You can also warm up it up in the microwave in a microwave-safe dish.
Can I make this recipe vegetarian?
Jambalaya can easily be made vegetarian by leaving out the chicken and sausage and using vegetable broth. You can choose to add tofu in place of the meat or leave it out completely.
The BEST Gluten-Free Recipe
Here are just a few reasons why this is hands down the BEST dish for your Mardi Gras gathering:
Need a recipe to feed a crowd? This recipe will make a TON of food!! It is perfect for your upcoming Fat Tuesday gathering or potluck gather.
It makes great leftovers. Like I said above — you will have a LOT of food. So if you're not having a party, you and your family can enjoy this easy rice dish for days. Simply add a touch of water or broth before reheating and enjoy
There are no hard-to-find or gluten-filled seasoning ingredients used. Most Cajun jambalaya recipes call for a seasoning mix such as Tony's. Unfortunately, most seasoning mixes contain traces of wheat. This recipe teaches you how to mix up your own seasonings so you don't have to go on a grocery-store-hunt!
What to Serve with It?
Jambalaya is hearty enough that it can absolutely be a meal on its own.
However, if you'd like a few more vegetables, here some side dish ideas to try:
Lemon Garlic Roasted Asparagus
Massaged Kale Salad with Avocado
Honey Oven Roasted Broccoli with Garlic
Sausage & Chicken Cajun Jambalaya
Cajun Jambalaya is full of andouille sausage, chicken, the holy trinity, and has all of the flavors of an authentic Louisiana recipe! This easy one-pot meal is gluten-free and makes a healthier Cajun dinner or Mardi Gras recipe.
Ingredients
2

Tbsp.

olive oil

divided

1

lb.

chicken

cut into ½-inch pieces

12

oz.

andouille link sausage

cut into ½-inch slices

1 ½

tsp.

salt

divided

¾

tsp.

pepper

divided

2

cups

sweet onion

finely chopped

1

cup

celery

finely chopped

1

cup

green bell pepper

finely chopped

2

cloves

garlic

crushed

1

tsp.

thyme

dried

1

tsp.

basil

dried

¼

tsp.

cayenne pepper

1

Tbsp.

Worcestershire sauce

gluten free

6

oz.

can tomato paste

15

oz.

can diced tomatoes

with juice

2 ½

cups

long grain white rice

rinsed and drained

4 ½ - 5

cups

chicken broth

Fresh parsley

finely chopped
Instructions
In a large pot, or Dutch oven, add 1 tablespoon oil and sausage. Cook for 2 minutes.

Add chicken and continue cooking over medium heat for 8-10 minutes, or until it is cooked through.

Remove meat from the pot and set aside.

Drizzle another tablespoon of olive oil into the Dutch oven and then add onion, celery and bell pepper. Cook for 6-8 minutes, or until vegetables are almost tender. Add garlic and saute for an additional 2 minutes.

Place chicken and sausage back into the pot.

In a small bowl combine salt, pepper, thyme, basil and cayenne pepper. Toss to combine.

Add seasoning mix, Worcestershire, tomato paste, and diced tomatoes to the meat and veggies. Stir to combine.

Next, place rice and 4 ½ cup broth in the pot. Stir to completely combine.

Bring contents to a boil and then reduce heat to low. Cover the pot with a lid and let simmer for 30-40 minutes.

Check on the jambalaya at 25 minutes and see if it needs additional liquid. If you have a pot that burns, this would be a good time to give the bottom of your pot a stir to loosen up any potentially dried rice.
Nutrition Facts
Sausage & Chicken Cajun Jambalaya
Amount Per Serving
Calories 520
Calories from Fat 171
% Daily Value*
Fat 19g29%
Cholesterol 72mg24%
Sodium 2104mg91%
Potassium 1085mg31%
Carbohydrates 60g20%
Protein 28g56%
Vitamin A 672IU13%
Vitamin C 50mg61%
Calcium 89mg9%
Iron 3mg17%
* Percent Daily Values are based on a 2000 calorie diet.