Easily make these Homemade Scalloped Potatoes by thinly slicing and layering Yukon gold potatoes into a baking dish, covering them with a creamy cheese sauce, and then baking in the oven until golden and tender. This simple recipe is also healthier since it uses less cheese and dairy than a more traditional version. Serve up this cozy side dish for a special Thanksgiving, Christmas, or Easter holiday meal!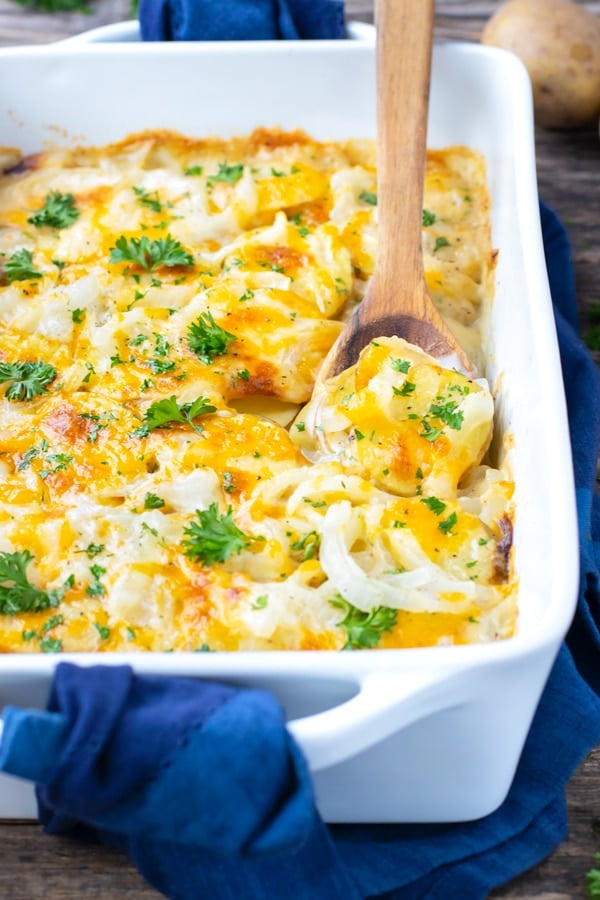 Healthy and easy scalloped potatoes?! Is that even a real thing?
Indeed my friends, it is… and I am SO excited to share with you a few secret tips for making simple, cheesy, but yet still healthy and homemade scalloped potatoes!
Scalloped potatoes are not traditionally considered a quick weeknight side dish you can throw together on a whim. They do require a little bit of time, a few pots and pans, and some patience while they bake in the oven.
But there are a few tricks that will help make this process easier so you can serve this casserole dish at your Easter lunch, Thanksgiving dinner, or when family and friends come over for a special occasion!
We'll also be making that cheesy "cream" sauce from scratch, instead of using a can of condensed soup! So yes – it comes out so much healthier.
What Are Scalloped Potatoes?
Scalloped potatoes are a casserole dish made from thinly sliced potatoes, a cream sauce, cheese, and oftentimes onions and ham are added in, too.
They are confused with potatoes au gratin since they have very little variation in ingredients or preparation. Both potato side dish recipes are traditionally served at Easter, Thanksgiving, and Christmas celebrations.
The main difference between scalloped potatoes and au gratin potatoes is in the topping.
Scalloped potatoes have a softer and cheesier top layer whereas au gratin potatoes are traditionally topped with a breadcrumb topping for an extra crunch.

Ingredients
You will only need a few easy-to-find ingredients for this recipe:
Potatoes – Waxy potatoes, versus starchier russet potatoes, are the best type to use. (See below for more information.)
Butter – Olive oil or avocado oil may also be used.
Seasonings – Salt, pepper, and garlic powder are the basic ingredients that give the dish its flavor.
Flour – Regular all purpose flour can be used. To make this recipe gluten-free, use a gluten-free 1-to-1 flour.
Milk – In order to limit dairy, this recipe calls for almond milk but cashew milk, soy milk, and regular milk can be used interchangeably. You can also use regular milk if you do not need to avoid dairy.
What Type of Potato is Best To Use
Waxy potatoes, such as Yukon gold or red potatoes, are the best type of potato variety to use when making scalloped potatoes or gratin.
Waxy potatoes traditionally hold their shape better than starchy ones, such as Idaho and russet potatoes, which makes them the better variety to use when making a potato casserole dish.
How to Thinly Slice
There are a few different methods you can try in order to thinly slice the potatoes for this dish. In order of personal preference:
A Mandoline – Quick, easy, and extremely consistent. You will want to adjust the setting to ⅛" thick cuts.
Slicing Blade on Food Processor – Also quick and consistent, but you will have to cut your potatoes smaller in order for them to fit into the processor's opening.
Cut Potatoes with a Knife – By far the hardest and most labor-intensive way, but can definitely get the job done.
Healthier Cheese Sauce
We're not using a can of condensed soup in this recipe. Instead, you'll be whisking up your own homemade cheese sauce with less butter, dairy, and therefore – less fat. You can also easily make it gluten-free since you get to choose the type of flour you use.
Whisk together butter, salt, pepper, garlic powder, and flour in a saucepan over medium heat. (This is much like making a roux.)
Add milk to the sauce pan in ½-cup increments and whisk after each addition. Let sauce simmer for 5 minutes, or until thickened
Turn off heat and stir in cheddar or Monterrey jack cheese.
How to Make
While it does take a little time and patience to make homemade scalloped potatoes, the process is actually quite simple.
Thinly slice 2-½ pounds of potatoes. (See what type to use and the best way to slice them below.)
Layer half of the potatoes in a 9 x 13 inch baking pan.
Next layer half of the onions.
And finally layer half of the sauce mix. Repeat layers and cover with aluminum foil.
Bake in 350 °F oven for 50 minutes.
Remove foil and sprinkle remaining cheese on top and continue cooking for an additional 10-15 minutes.
Let sit for 10 minutes before serving and enjoy!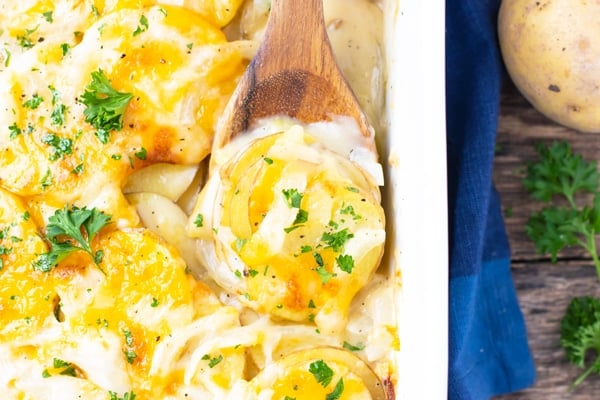 Adding in Ham
While the recipe below does not call for ham as one of the ingredients, it can definitely be a great addition! If you would like to make this side dish with ham simply cut ½-pound of ham into ½-inch cubes and sprinkle over the first and second potato layers.
Prep Ahead and Storage
To Prep Ahead: Prepare the potatoes and cheese sauce and assemble into the casserole dish. Cover with aluminum foil and store for up to 48 hours. Pull the casserole dish out of the refrigerator at least 1 hour before baking so it can come to room temperature.
To Store: Store leftover scalloped potatoes in the refrigerator for up to 3-4 days.
To Freeze: Scalloped potatoes will freeze well when stored in a freezer-safe container for up to 3-4 months.
To Reheat: Reheat large amounts of leftovers in a new baking dish for 15-20 minutes in a 350 degree oven or add an individual amount to a large skillet over medium heat for 5-10 minutes.
Pro Tips and Tricks
Waxier potatoes, such as Yukon gold and red potatoes, are the best to use for scalloped potatoes.
Use a mandoline for the quickest way to thinly slice potatoes.
Make a healthier homemade "cream sauce" without heavy cream by starting with a roux.
Prep this entire dish ahead of time and bake it in the oven on the day of serving.
Other Easy Potato Recipes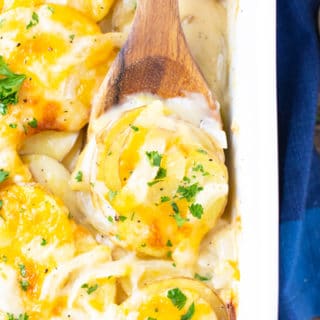 Easy Homemade Scalloped Potatoes Recipe
A healthy and Easy Homemade Scalloped Potatoes recipe that is made with less cheese and dairy than your typical dish and makes a wonderful Thanksgiving, Christmas, or Easter side dish recipe.

Total Time
1
hour
30
minutes
Ingredients
2 ½

lbs.

Yukon gold potatoes

cut into ⅛-inch slices

1

small sweet onion

thinly sliced

4

Tbsp.

butter

or oil

1 ¼

tsp.

salt

to taste

½

tsp.

pepper

to taste

¼

tsp.

garlic powder

¼

cup

flour

gluten-free, 1-to-1

2

cups

milk

almond, cashew, or soy milk can be used

1

cup

sharp cheddar cheese

divided
Instructions
Preheat oven to 350 degrees.

Place butter in a medium-sized saucepan over medium heat. Once butter has melted whisk in salt, pepper, garlic powder, and flour.

When a thick paste forms start adding in milk ½ cup at a time. Whisk until sauce begins to thicken before adding the next addition. This part takes about 5 minutes to completely incorporate the milk.

When all milk has been used and sauce is a gravy consistency, turn off the heat and stir in ¾ cup of the cheddar cheese.

Spray a 2 ½ qt. baking dish (or a 9 x 13 inch baking pan) with non-stick cooking spray. Layer half of the potatoes in the pan, then half of the onion and half of the cheddar cheese sauce. Repeat these layers.

Cover dish with aluminum foil and cook for 50 minutes in preheated oven.

Uncover dish and sprinkle remaining ¼ c. cheddar cheese onto the potatoes and return to oven for 10-15 more minutes.

Optional: If you would like your topping to be slightly crispy, turn on the broiler to High and cook for 2-3 more minutes. Make sure to watch the potatoes closely to prevent burning.

Let potatoes sit for at least 10 minutes before servings. Enjoy!
Recipe Notes
If you would like to make this recipe with ham simply cut ½-pound of ham into ½-inch cubes and sprinkle over the first and second potato layers.
Nutrition Facts
Easy Homemade Scalloped Potatoes Recipe
Amount Per Serving
Calories 220
Calories from Fat 99
% Daily Value*
Fat 11g17%
Cholesterol 30mg10%
Sodium 535mg23%
Potassium 619mg18%
Carbohydrates 22g7%
Protein 8g16%
Vitamin A 325IU7%
Vitamin C 17.2mg21%
Calcium 228mg23%
Iron 4.9mg27%
* Percent Daily Values are based on a 2000 calorie diet.
SaveSave
SaveSave