Bacon Wrapped Asparagus is a low-carb, keto, and healthy side dish recipe. It is great for weeknight dinners or as a Thanksgiving Day side dish! Learn how to make this side so it turns out perfect every single time!
Want a few other healthy keto side dish recipes? You might also enjoy these Bacon Brussels Sprouts, Broccoli Salad with Bacon, and this Mashed Cauliflower.
Bacon Wrapped Asparagus Recipe Takes It Up a Notch!
Long gone are the days of turning up your nose at a can of asparagus.
A fresh stalk that has been wrapped in a piece of bacon will make you sing a different tune!
And the buttery-garlicky-slightly-sweet goodness of a sauce takes this asparagus to the next level.
Yes, this recipe is pretty much what side dish dreams are made of!
And they're actually SUPER easy to make!
Oven or Grill?
Have you ever baked asparagus in the oven?
It is the ULTIMATE way to cook this low-carb vegetable. It gives the slender green vegetables crispy edges and perfectly tender stalks.
While yes, the grill can turn out some awesomely charred bacon and asparagus.
The oven can also give you pretty similar results with just a few tweaks to the recipe.
Also, baking it in the oven means you do not have to hang out for an hour around a hot grill.
(HUGE bonus if you want to make this recipe in Texas in the dead of July!)
How to Make
Learning how to cook asparagus wrapped in bacon is actually a rather simple process.
Here are the recipe steps: (Jump to recipe for more detailed information.)
Preheat the oven to 400 degrees.
Place a wire rack over a baking sheet.
Add bacon to the sheet and bake in preheated oven for 12-16 minutes.
Wrap precooked bacon strips, slightly overlapping, around 4-5 asparagus stalks.
Place bundles on the wire rack.
Whisk together butter, salt, garlic, sugar, and black pepper.
Brush mixture over bundles and return to oven for 15-20 minutes.
Cook's Tip: Adjust the cook time of the asparagus bundles according to how crispy or tender you would like them.
Ingredients
First, let's gather up the ingredients needed:
Bacon – "Uncured" bacon is preferred since it has no added chemicals such as nitrates or nitrites.
Asparagus – the larger the stalk the better. The bacon takes quite a long time to cook. Picking asparagus that will take a little longer, too, will result in tender spears that are perfectly cooked.
Butter – Since the butter is the base of the sauce, pick a good butter such as Kerrygold or Pflugra. If you are dairy-free, choose a vegan butter stick such as Earth Balance or use olive oil.
Garlic – Fresh garlic is key here! Try not to substitute garlic powder for the garlic cloves.
Coconut sugar – Honestly, any granulated sugar will work and will only have minimal changes to the overall taste. If you do not have coconut sugar, you can use brown, white, or cane sugar. If on a keto diet you can use stevia powder.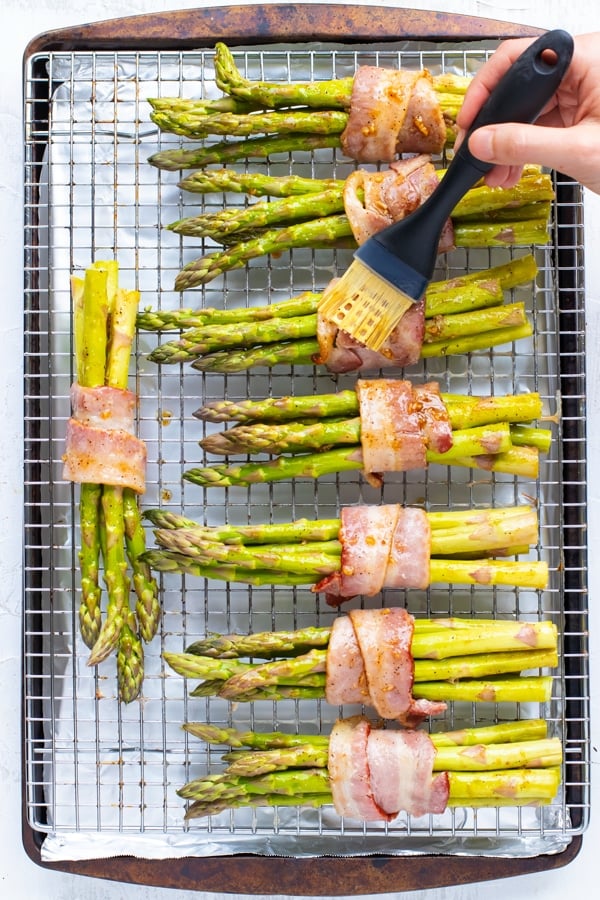 Kitchen Tools
When cooking this side dish, there are a few kitchen items you will want to make sure you have:
A large RIMMED baking sheet – A sheet with a rim ensures no bacon grease spills onto the bottom of your oven. Also, you'll want to make sure your wire rack and bacon will fit on the sheet.
A wire rack – this is the best way to get perfect crisp texture without a ton of mess!
Aluminum foil – another piece of the puzzle to make cleanup a breeze.
Basting brush – a silicone basting brush is my personal preference since the bristles do not fall out.
You can still make this recipe even if you do not have all of the utensils above.
Simply par-cook the bacon in the microwave or on a baking sheet without the wire rack.
Health Benefits
The butter, garlic, and bacon goodness are pretty convincing on their own.
But just in case, here are a few nutrition facts for this delicious vegetable that might twist your arm:
Asparagus is extremely low in calories with only 20 calories per half cup serving.
It is full of Vitamin K (50% RDI), Folate (35% RDI), and Vitamin A (18% RDI)
It is high in antioxidants, particularly flavonoids, that have anti-inflammatory, anti-cancer, and antiviral effects.
A half cup of asparagus has 2 grams of dietary fiber which will aid in digestive health.
How Can You Evolve this Recipe?
This side is already gluten-free and low-carb.
However, there are a few ways you can change them up:
Make sure to use clarified grass-fed butter and Paleo-approved bacon if on a Paleo diet.
Use dairy-free butter instead of regular butter if on a dairy-free diet.
Eliminate the coconut sugar completely if on Whole30 or use stevia powder if on a keto diet.
Swap out the coconut sugar for any other granulated sugar if you are able to consume refined sugar.
Want more Recipes?
Easy Skillet Bruschetta Chicken
Bacon Wrapped Raspberry Stuffed Dates
Crispy Brussel Sprouts with Bacon
Bacon Wrapped Asparagus
Bacon Wrapped Asparagus is a low-carb, keto, and healthy side dish recipe that is great for weeknight dinners!
Ingredients
2

lbs.

asparagus

ends trimmed

8

slices

bacon

thick or regular cut

4

Tbsp.

butter

or dairy-free butter, melted

1

clove

garlic

crushed

1

Tbsp.

coconut sugar*

1

tsp.

salt

to taste

¼

tsp.

pepper

to taste

Parsley

optional
Instructions
Preheat oven to 400 degrees.

Line a large baking sheet with aluminum foil and place bacon strips on a

wire rack

on top of the

baking sheet.

Be careful not to let the strips overlap.

Bake bacon in oven for 12-16 minutes, depending on thickness**, or until strips are more than halfway cooked.

Let bacon cool slightly before handling and drain bacon grease from the pan.

Wrap 4-5 pieces of asparagus in one strip of bacon. Place asparagus bundles back on

wire rack

over the

baking sheet

.

In a small bowl whisk together the melted butter, garlic, sugar, salt, and pepper. Brush over asparagus bundles and bake bundles for 15-20 minutes, or until asparagus is cooked to your desired doneness.

Serve with a sprinkle of parsley and enjoy!
Recipe Video
Recipe Notes
*Can also use stevia powder or leave it out completely if keto. If not, you can use any other granulated sugar if you do not have coconut sugar.
**If using thick-cut bacon, cook for 15-16 minutes. If using regular-cut bacon, 12 minutes should be sufficient.
Nutrition Facts
Bacon Wrapped Asparagus
Amount Per Serving
Calories 174
Calories from Fat 126
% Daily Value*
Fat 14g22%
Cholesterol 30mg10%
Sodium 443mg19%
Potassium 272mg8%
Carbohydrates 6g2%
Protein 5g10%
Vitamin A 1050IU21%
Vitamin C 6.4mg8%
Calcium 29mg3%
Iron 2.5mg14%
* Percent Daily Values are based on a 2000 calorie diet.