Healthy Cream of Asparagus Soup is made vegan and non-dairy by using coconut milk instead of heavy cream. Serve this creamy vegan dish for a Whole30 lunch or as a Paleo appetizer for dinner. This recipe can be enjoyed year-round since it tastes great served warm or chilled!
Want a few more creamy soup recipe ideas? This Healthy Cauliflower Soup, Roasted Butternut Squash Soup, Potato Leek Soup, and Roasted Tomato Basil Soup are a few of my favorite healthy soup recipes!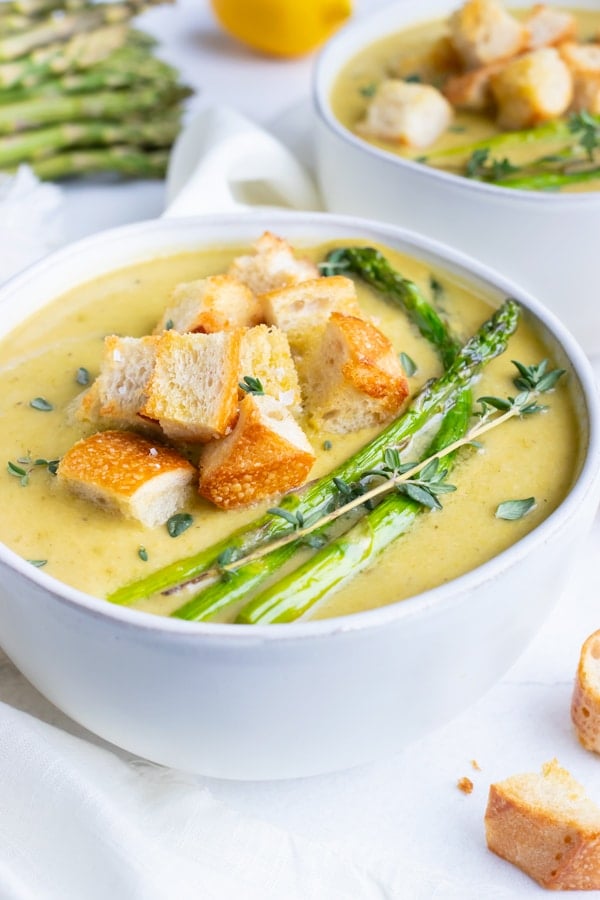 Cream of Asparagus Soup Season
Has anyone else noticed how ENORMOUS vegetables get at the grocery store when they are actually in season?
Just recently I purchased enormous asparagus spears and monstrous cucumbers. Needless to say, they were not organic.
Whether you have your own garden full of homegrown veggies, or buy yours at the grocery store, eating in season is a great way plan your weekly menu.
Not only do you get the most beautiful vegetables, but they also normally cost less during their prime season.
One night I was contemplating what to do with a a couple of pounds of fresh asparagus.
I had already made this Lemon Garlic Roasted Asparagus and these Bacon Wrapped Asparagus Bundles the week before.
And then I remembered the incredible asparagus soup I had while in Utah at a blogging conference!
That's it!! A vegan cream of asparagus soup recipe had to happen, pronto.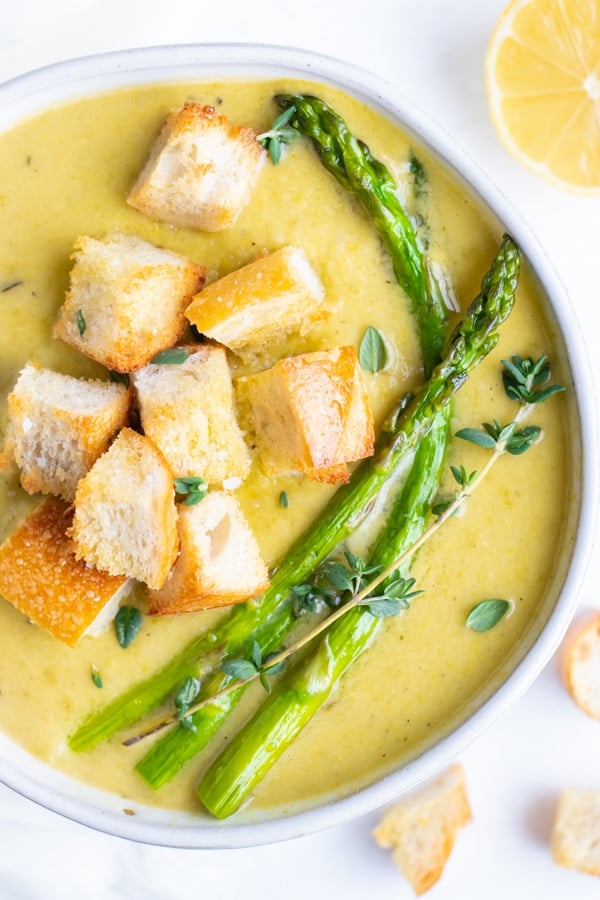 Cream of Asparagus Soup Dreams
The cream of asparagus soup from that delightful deli in Layton, Utah was so delicious I seriously think I had dreams about it that night!
While I have created both a Roasted Tomato Basil Soup and a Roasted Butternut Squash Soup recipe in the past, I had never thought to make a soup from asparagus… until that fateful dinner at the deli.
Recalling the flavors in the dish, I was almost certain it had heavy cream and probably a bit of Parmesan cheese in it.
We try to avoid dairy as much as possible in our house. I like to stay far, far away from heavy cream and limit the use of cheese whenever I can.
So what exactly did I do to make this dish vegan without sacrificing the creaminess and outstanding flavor?
Making it Vegan & Vegetarian
My all-time favorite heavy cream substitute is coconut milk.
It's thick, it's creamy, and it's dairy-free!! (Not to mention, Paleo, Whole 30, and vegetarian!)
The coconut flavor is normally pretty mild and can be easily disguised by the flavorful ingredients.
If you are extremely sensitive to coconut flavor, however, this may not be your recipe.
Ingredients
One of the best things about this vegetarian and non-dairy soup recipe is that it does not require very many ingredients.
And in fact, those that it does require have a few substitutions you can try if you don't happen to have them on hand.
Asparagus – Two pounds of fresh asparagus are used in this recipe. Make sure you trim the ends to remove any fibrous pieces before cooking.
Onion – A sweet onion is used, but a white or yellow onion may also be substituted.
Garlic – Fresh garlic cloves taste the best, but garlic powder may be substituted.
Fresh Herbs – A combination of rosemary and thyme add a herbaceous note to the flavor profile. Feel free to substitute the fresh herbs for dried herbs if that's what you have on hand.
Broth – Regular sodium vegetable broth makes up a large amount of the liquid.
Coconut Milk – The secret ingredient for making a super creamy vegan dish that's free of heavy cream and dairy!

You can choose to either use full-fat coconut milk for a creamier soup or lite coconut milk for a lower-calorie recipe.
How to Make
Whipping up a batch of this healthy soup is actually pretty easy and the recipe steps are as follows:
Sauté the veggies in a large pot or Dutch oven until tender.
Pour in the broth, coconut milk, fresh herbs, and seasoning ingredients.
Bring ingredients to a boil and then reduce heat to low.
Cover and let simmer until asparagus is soft and tender.
Purée ingredients using an immersion blender, Vitamix, or a food processor. (Read more info below!)
Ultra Creamy Soups
But how do you go about getting this cream of asparagus creamy? I'm so glad you asked!
There are three tools I highly recommend when it comes to actually pureeing (or blending):
Immersion (or stick) blender: probably my first pick since you can keep all of the ingredients in the pot and blend away.
Vitamix: might be a tie with the immersion blender, but you do have to transfer the soup to a different appliance. The Vitamix will make is SUPER smooth, though!
Food processor: last pick, but definitely still a great option. The biggest downside with a food processor is you have to work in batches. It still gets the job done, though.
Serve It Warm or Cold?
You can serve this dish warmed OR chilled!
If it is hotter for you during asparagus season, you might want to enjoy it chilled.
However, if you're like me and enjoy a warm bowl of soup even if it's 100 degrees outside (with the AC cranked up, of course!), or if you live in a part of the world that rarely reaches 80 degrees, then enjoy it while it's warm!
What to Serve
Much like other creamy soup recipes, this cream of asparagus soup pairs extremely well with the following:
Cream of Asparagus Soup Recipe | Vegan
Healthy Cream of Asparagus Soup is made vegan and non-dairy by using coconut milk instead of heavy cream. Serve this creamy soup recipe as a main dish for a Whole30 lunch or as a Paleo appetizer for dinner.
Ingredients
2

cups

sweet onion

finely diced

4

Tbsp.

olive oil

divided

2

cloves

garlic

1 ½ - 2

tsp.

salt

to taste

¼

tsp.

black pepper

2

lbs.

asparagus

ends trimmed and cut into 2-inch pieces

1

tsp.

rosemary

fresh, finely chopped

1

tsp.

thyme

fresh, finely chopped

3 ½

cups

vegetable broth

15

oz.

can coconut milk

full-fat or lite

1 ½

Tbsp.

lemon juice

Parsley

optional
Instructions
In a Dutch oven or large pot combine 2 tablespoons olive oil and diced onion. Cook over medium heat, stirring occasionally, for 3-5 minutes or until onion becomes translucent.

Add crushed garlic, salt, and pepper, and saute for 1-2 more minutes.

Add remaining olive oil and asparagus pieces. Continue cooking over medium heat for 5 minutes.

Reduce heat to medium-low and add herbs, broth, and coconut milk. Cover and let simmer for 7-10 minutes, or until asparagus are tender.

Serve asparagus soup with gluten-free croutons or toast and finely chopped parsley. You can also refrigerate the asparagus soup for 3-4 hours and serve it chilled. Enjoy! See this recipe in Meal Plan #7.
Recipe Video
Nutrition Facts
Cream of Asparagus Soup Recipe | Vegan
Amount Per Serving
Calories 310
Calories from Fat 198
% Daily Value*
Fat 22g34%
Sodium 923mg40%
Potassium 565mg16%
Carbohydrates 23g8%
Protein 5g10%
Vitamin A 2250IU45%
Vitamin C 21.9mg27%
Calcium 94mg9%
Iron 5.7mg32%
* Percent Daily Values are based on a 2000 calorie diet.