Homemade Greek Seasoning is the best way to flavor authentic and healthy dishes in your own kitchen. To make this easy DIY recipe, you only need a few dried herbs and spices. This quick blend lasts for over a year and is perfect for chicken, gyros, or any other Mediterranean dishes.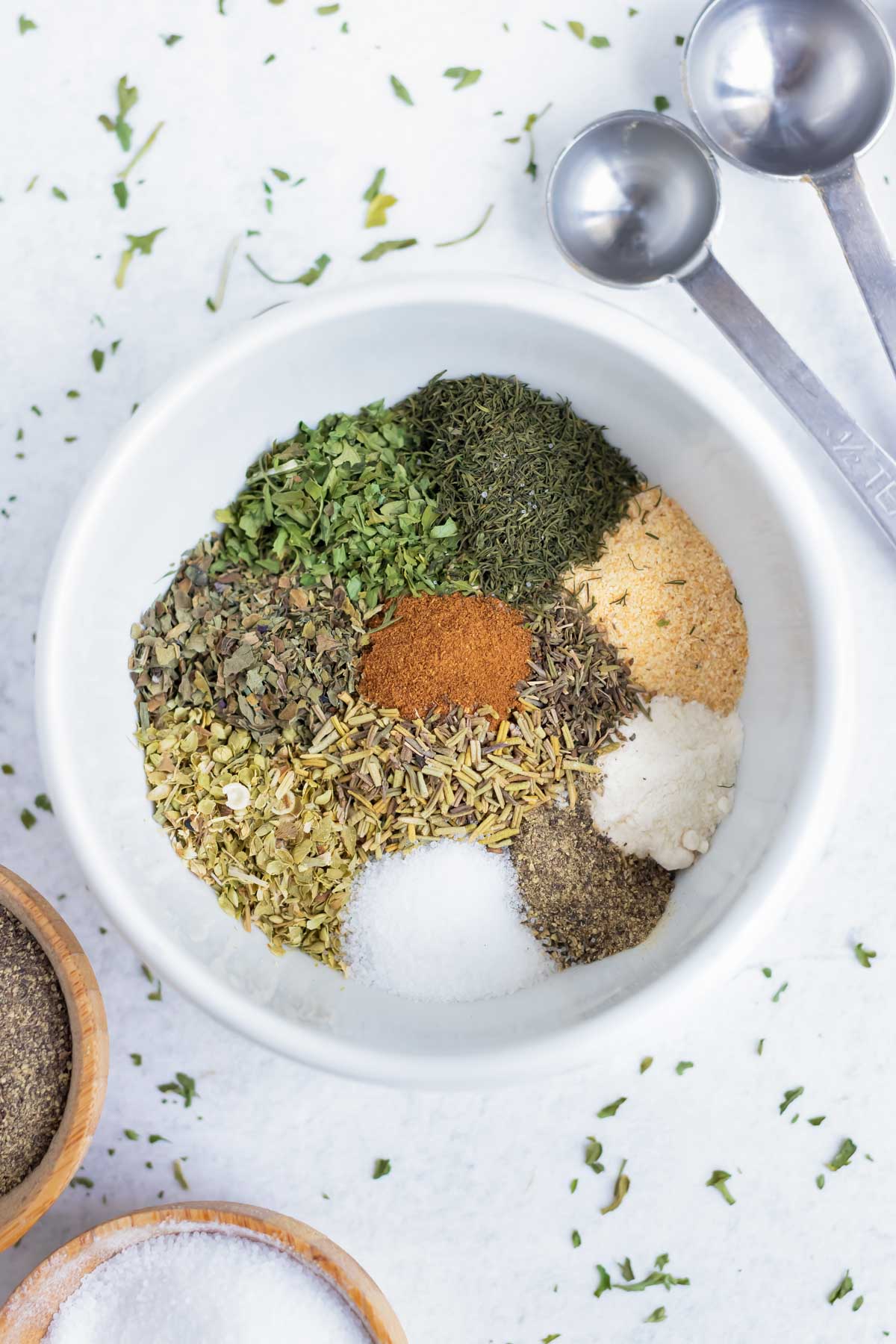 Having a few homemade spice blends on hand is one of my secret tricks for adding a TON of flavor quickly and easily to dishes.
You can do this with Blackened Seasoning, Taco Seasoning Mix, Chili Seasoning, Italian Seasoning…
And of course, this quick and easy Homemade Greek Seasoning!
Instead of having to pull out tons of dried herbs and jars of spices, you can mix your ingredients up ONE time.
Store it in your spice cabinet for up to a year or two and then grab a teaspoon or two to add a TON of Mediterranean flavor to your favorite healthy chicken or meatball dishes.
What is Greek Seasoning?
Greek seasoning is a blend that contains many of the common Mediterranean herbs with some garlic and onion powder. Oregano, basil, parsley and dill are some of the primary herbs with rosemary and thyme oftentimes being in the mix, too.
What makes it have that secret Greek flair is the addition of a ground spice such as cinnamon or nutmeg, so make sure you don't leave this out! This savory blend takes Greek dishes up a notch.
It can be used as a quick addition to roasted cauliflower, mixed into turkey meatballs, or to season lamb kofta and vegetables.
While it can be used as a substitute for Italian seasoning, it will make your finished dish taste slightly different.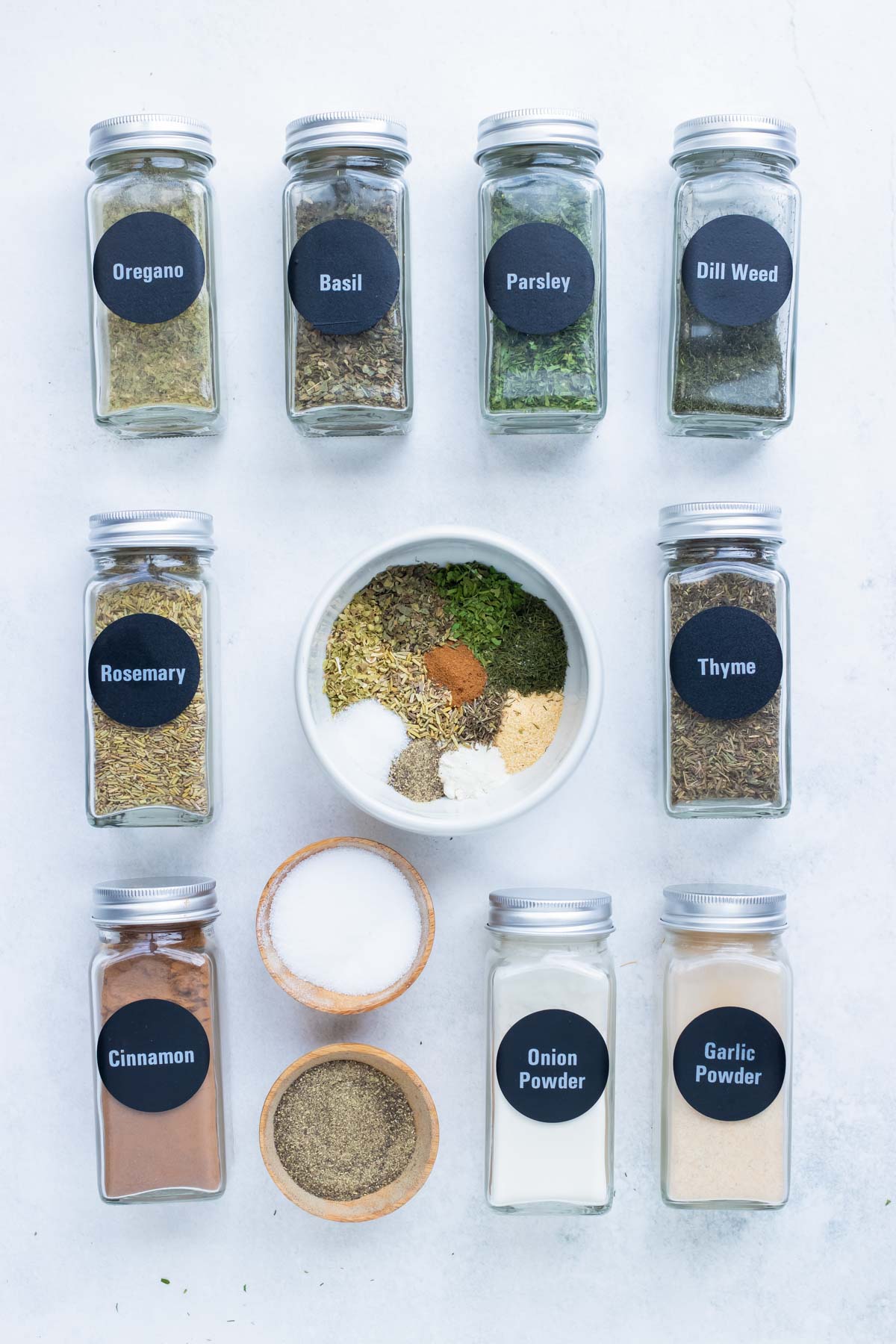 Ingredients
The simple ingredients you need to make this homemade Greek seasoning recipe include:
Oregano. This woody, earthy spice is the base of this mix.
Basil. An essential flavor in Greek dishes so don't leave it out.
Parsley. Dried parsley adds a unique peppery and slightly bitter taste.
Dill. This herb is used in many Mediterranean dishes and really gives a pop to anything you use this mix for. Dried dill is a must.
Rosemary. This versatile herb adds an earthy and almost sweet flavor.
Thyme. Citrusy and sometimes lemony, thyme adds a depth to this recipe.
Garlic powder. Garlic powder is a staple that you likely have in your spice cabinet already. Be sure you use garlic powder and not garlic salt.
Onion Powder. Onion powder is made from dehydrated onions that are ground into a powder to impart the essence of onion.
Cinnamon. While cinnamon might be surprising, this ingredient adds an earthy and sweet flavor.
Salt and Pepper. You can always add more to the final dish, so go lighter in the beginning.
How to Make Greek Seasoning
These are the easy steps to follow to make your own Greek seasoning mix:
Combine Ingredients
You only need a few common dried herbs and ground spices. While you could leave out some of the ingredients, be sure to absolutely include oregano, basil, parsley, dill, and garlic powder. The flavor will not turn out without these herbs.
Once you've gathered up all of your ingredients, whisk them together in either a medium-sized bowl or in the container you will be storing them in.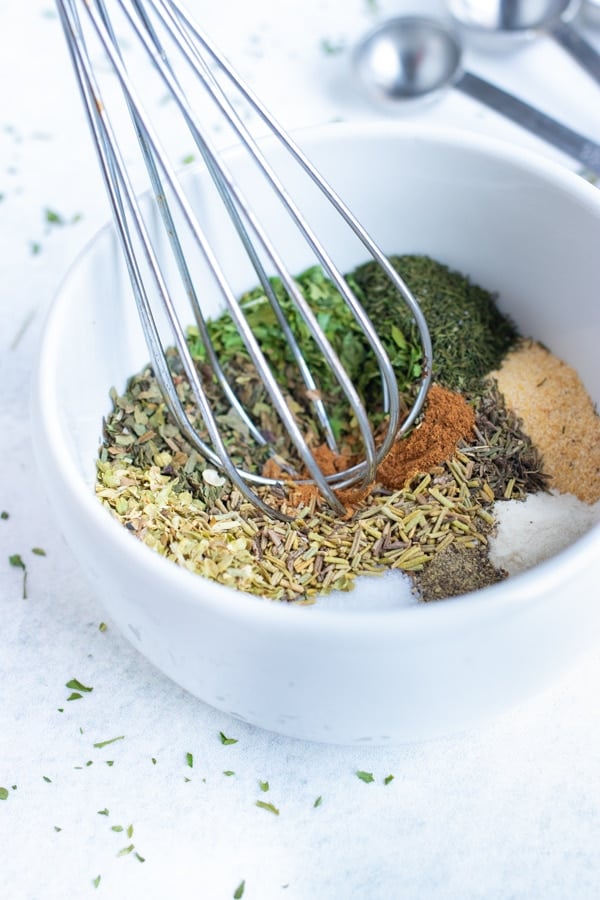 Store
Homemade seasoning mixes will store best when placed in an airtight container and kept in a cool, dry place, either the pantry or a spice cabinet will work great. Over the stovetop is not recommended since it gets quite hot and humid. The excessive heat will decrease the longevity and potency of your seasoning mixes.
Another tip for storing spice blends is to add them to containers with little to no open air space. Less air means less oxygen and oxidation of the ingredients. So you'll want to choose one that just barely fits all of the mix.
These glass spice jars and 4-ounce mason jars both work exceptionally well.
When stored properly your Greek seasoning should last for up to 1-2 years.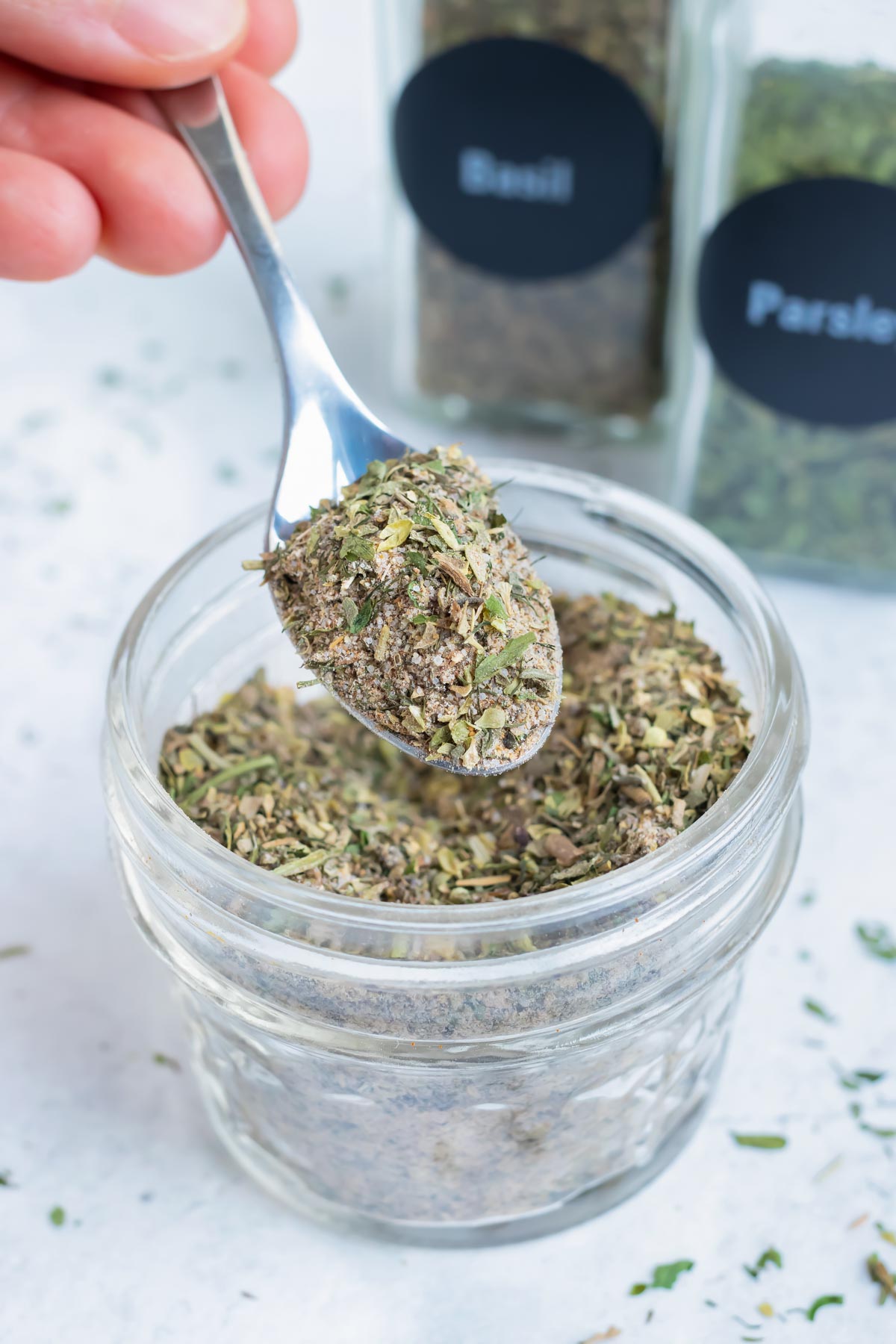 FAQs
What is Greek seasoning made of?
Typically, Greek seasoning is a blend of spices and herbs from the Mediterranean region. Oftentimes, oregano, basil, dill, thyme, and garlic are included.
What can be substituted for Greek seasoning?
Greek and Mediterranean seasonings are often used interchangeably, but they are not quite the same. Generally, Mediterranean contains cardamom and cloves.
What can you serve Greek seasoning on?
Sprinkle Greek seasoning on your favorite protein, like chicken, lamb, or salmon. It is also delicious on veggies or potatoes for a side dish.
Expert Tips and Tricks
Dry it out. If you use fresh herbs, the mixture will not last as long.
Just a little. You can always add more salt and pepper later so keep it light at first.
Keep it cool. Be sure to store the seasoning blend in a cool and dry place for the best results.
Seal it. Homemade Greek seasoning mix should be kept in an airtight container.
Get creative. Use this blend as a marinade on your favorite protein.
More DIY Seasoning Blends
Try one of these simple and delicious homemade seasoning blends next:
Recipes that Use Greek Seasoning
This Greek seasoning blend can be used in so many different ways once you've got it mixed together. A few of my favorite recipes to use it in include:
Greek Seasoning Blend Recipe
Homemade Greek Seasoning is the best way to flavor authentic and healthy dishes in your own kitchen. To make this easy DIY recipe, you only need a few dried herbs and spices.
Ingredients
2

tsp.

oregano

dried

2

tsp.

basil

dried

1

tsp.

parsley

dried

1

tsp.

dill

dried

1

tsp.

onion powder

dried

1

tsp.

garlic powder

dried

½

tsp.

rosemary

dried

½

tsp.

thyme

dried

½

tsp.

cinnamon

ground

1

tsp.

black pepper

2

tsp.

salt

optional
Instructions
Add ingredients to a small bowl and whisk to combine.

Use Greek seasoning in your favorite turkey meatballs, on chicken kebabs, or for a roasted cauliflower recipe.

Store seasoning mix in an airtight jar for up to 1 year.

This recipe makes ~¼ cup of seasoning mix.
Recipe Video
Recipe Notes
Meal Prep and Storage
To Prep-Ahead: This spice mix is easy to prepare in advance. Use 2 to 2 ½ tablespoons for each pound of meat.
To Store: Keep Greek seasoning should be kept in an airtight container away from heat for up to 1 to 2 years.
Nutrition Facts
Greek Seasoning Blend Recipe
Amount Per Serving
Calories 24
Calories from Fat 9
% Daily Value*
Fat 1g2%
Sodium 960mg42%
Potassium 83mg2%
Carbohydrates 6g2%
Protein 1g2%
Vitamin A 419IU8%
Vitamin C 5mg6%
Calcium 71mg7%
Iron 2mg11%
* Percent Daily Values are based on a 2000 calorie diet.