Wondering how to tell if a pomegranate is ripe? With so many fruits to choose from, it can be hard to identify the key components of the best one. From shape, color, texture, weight, and sound, continue reading to learn more, so you always pick the perfect pomegranate.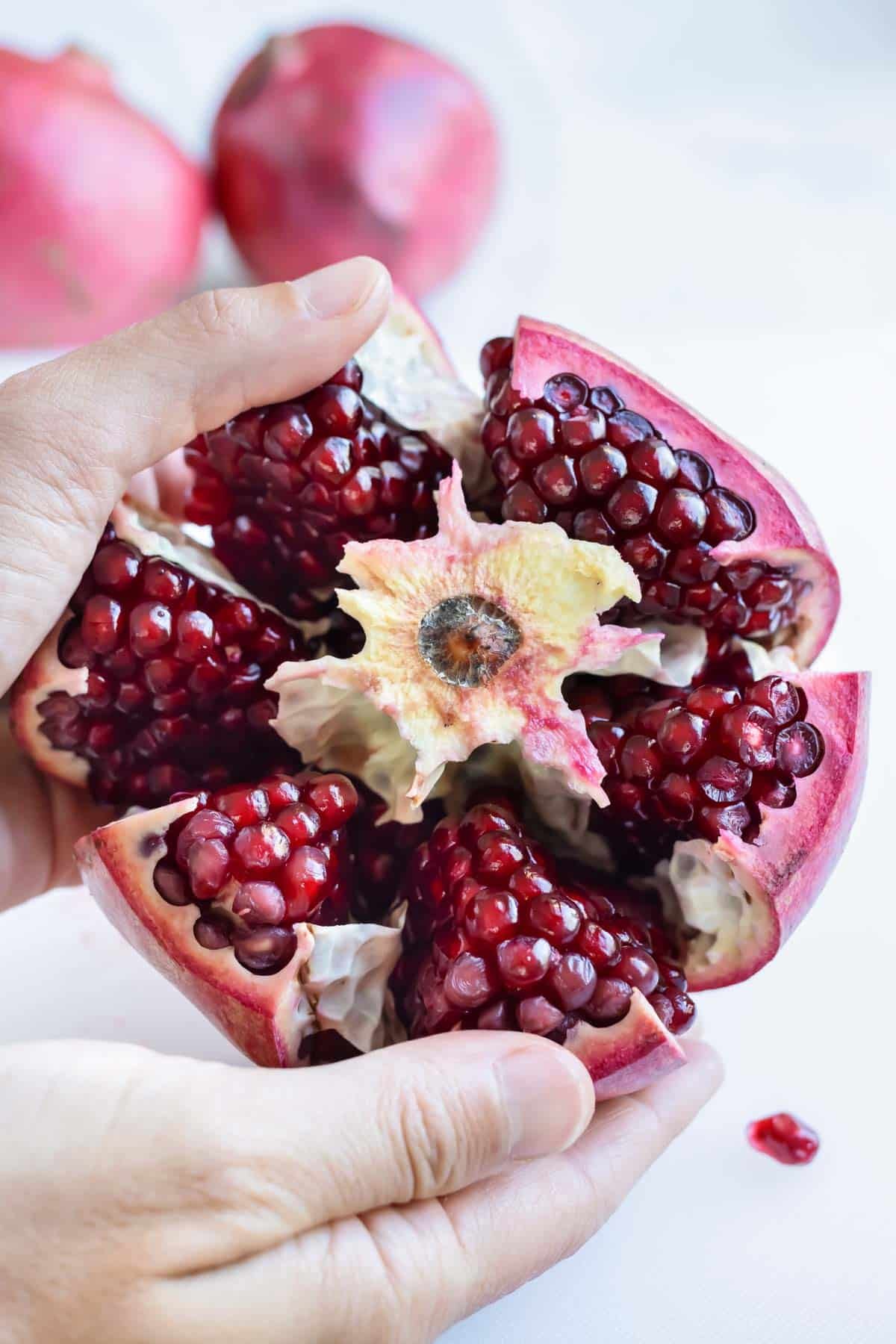 How do you know if a pomegranate is ripe?
There are 5 tell-tale signs of ripeness to look for when picking a pomegranate: (1) color, (2) shape, (3) weight, (4) sound, and (5) texture. Snatch the pomegranate that is dark in color. Grab any fruit that has a more square shape. Take the ones that are heavy in weight. Pluck the pomegranates that sound dense. Bring home the fruits that do pass the fingernail test.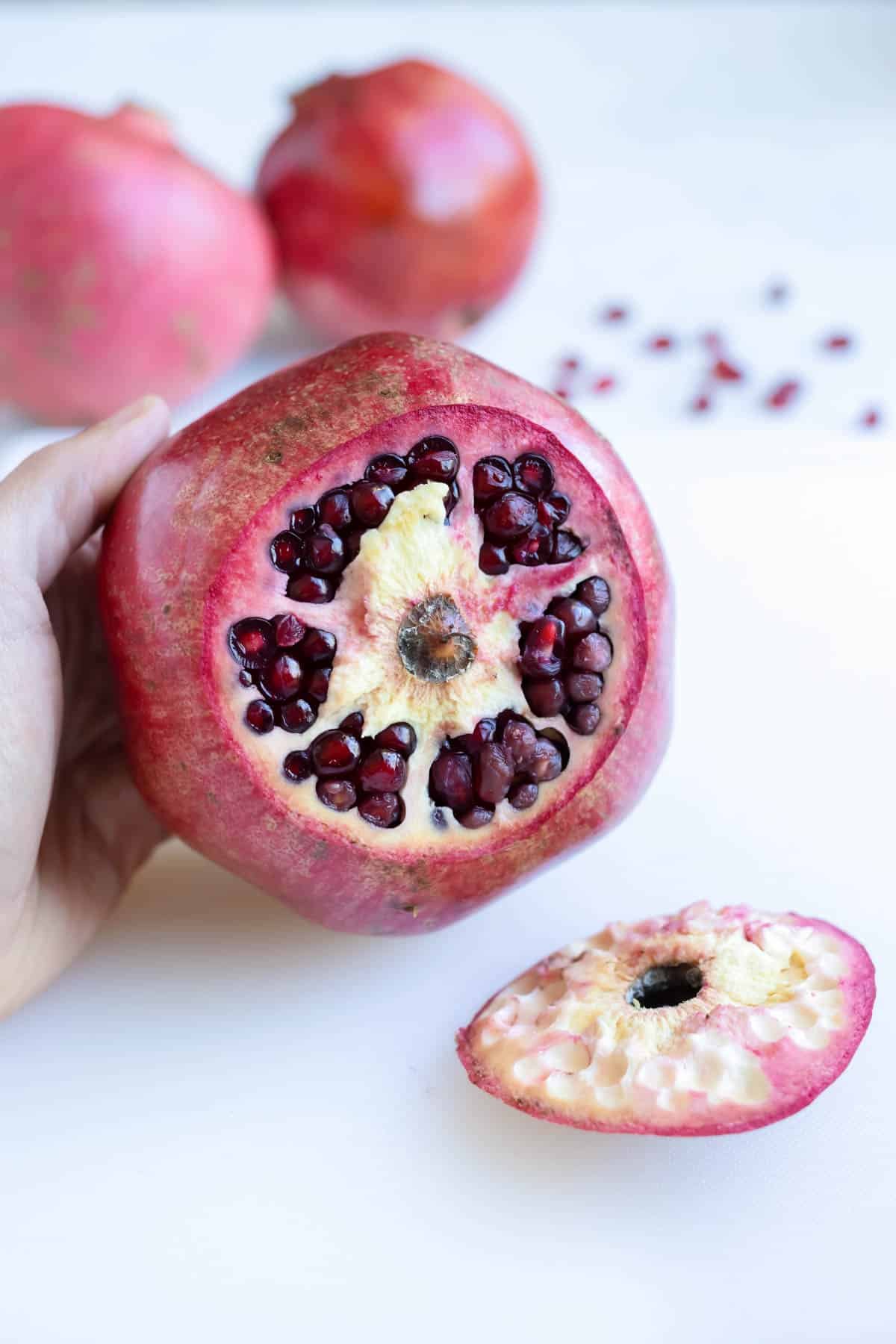 Should a pomegranate be hard or soft?
A ripe pomegranate will be hard and plump with delicious juice. Even if the surface of the pomegranate is starting to form splits or has leathery skin, have no fear! That means it's bursting at the seams ready for you to harvest those delicious pomegranate juicy gems.
If the skin of a ripe pomegranate can pass the fingernail test, then you are good to take it home. Put simply, if scratching a pomegranate with your fingernail is hard to do, then you have a ripe fruit!
With all that being said, literally weigh your options using the weight scale in your grocery store. The weight of the fruit is an indicator of a ripe pomegranate. The heavier the pomegranate, the bigger the pay-off!
In other words, don't go for the "perfectly round" pomegranate–it's not ready yet. The shape of the fruit will take on a more square appearance. Pomegranates swell and the blossom ends tend to become flat when they are ready. An unripe pomegranate will have a hollower sound.
What color should a pomegranate be when ripe?
It's important to consider that almost every fruit you encounter in the produce section will have been picked when it is relatively ripe. As such, do not stress over observing the color of a ripe pomegranate.
Ripe pomegranates will always be a deep red color. If you are plucking the fruit from pomegranate trees, avoid the pomegranates with green spots as these are unripe.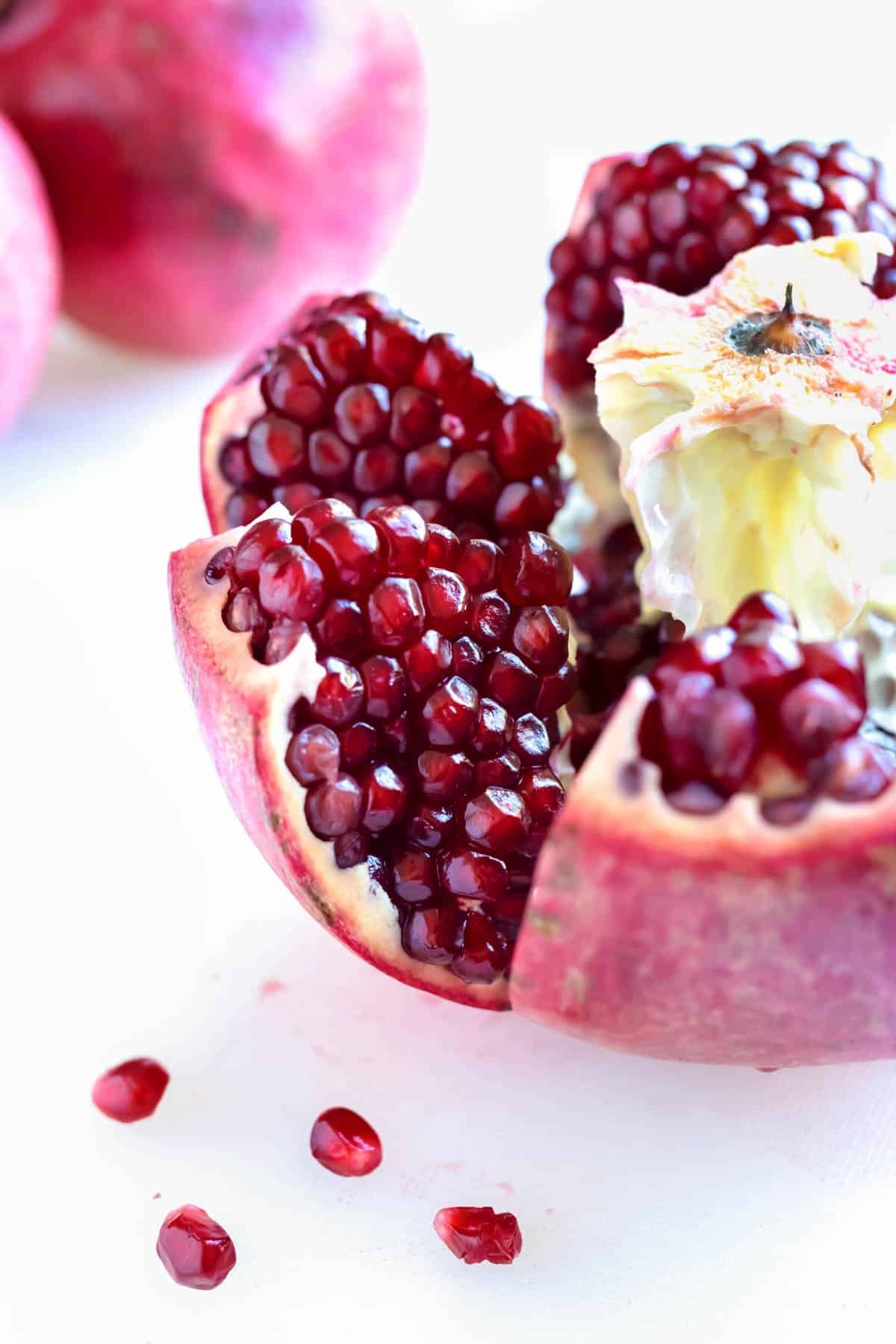 Do pomegranates ripen on the counter?
Yes, with time pomegranates can ripen on the counter. Place your whole pomegranate fruit in a dry place at room temperature and away from direct sunlight like bananas and avocados. This can take a few days. The ripest pomegranates will become a darker red.
But if you've already cracked open your fruit, you have three days to eat those seeds before they start to wilt. Eat them by the spoonful, or enjoy those tart, yet sweet pomegranate seeds in this Fall Harvest Salad or Roasted Butternut Squash with Goat Cheese!
If you want to enjoy a fresh, ripe pomegranate when it's out of season, put your pomegranate in a plastic bag or airtight container for short-term storage. It will stay fresh for up to three months.
How to ripen a pomegranate?
While the pomegranates don't technically ripen further after they're picked, it's crucial that you carefully choose your fruit at the store. If you happen to accidentally choose an unripe fruit, the best way to ripen it is to let it sit on the counter with slight sunlight for a few days. The seeds will get sweeter as the pomegranate ages.
Don't crack open a pomegranate if it's not ripe–mold has a way of setting in once the seeds are exposed to oxygen. If you have already de-seeded it, you can store pomegranate seeds by covering them in plastic wrap, and store for up to a week in the refrigerator until you are ready to use them.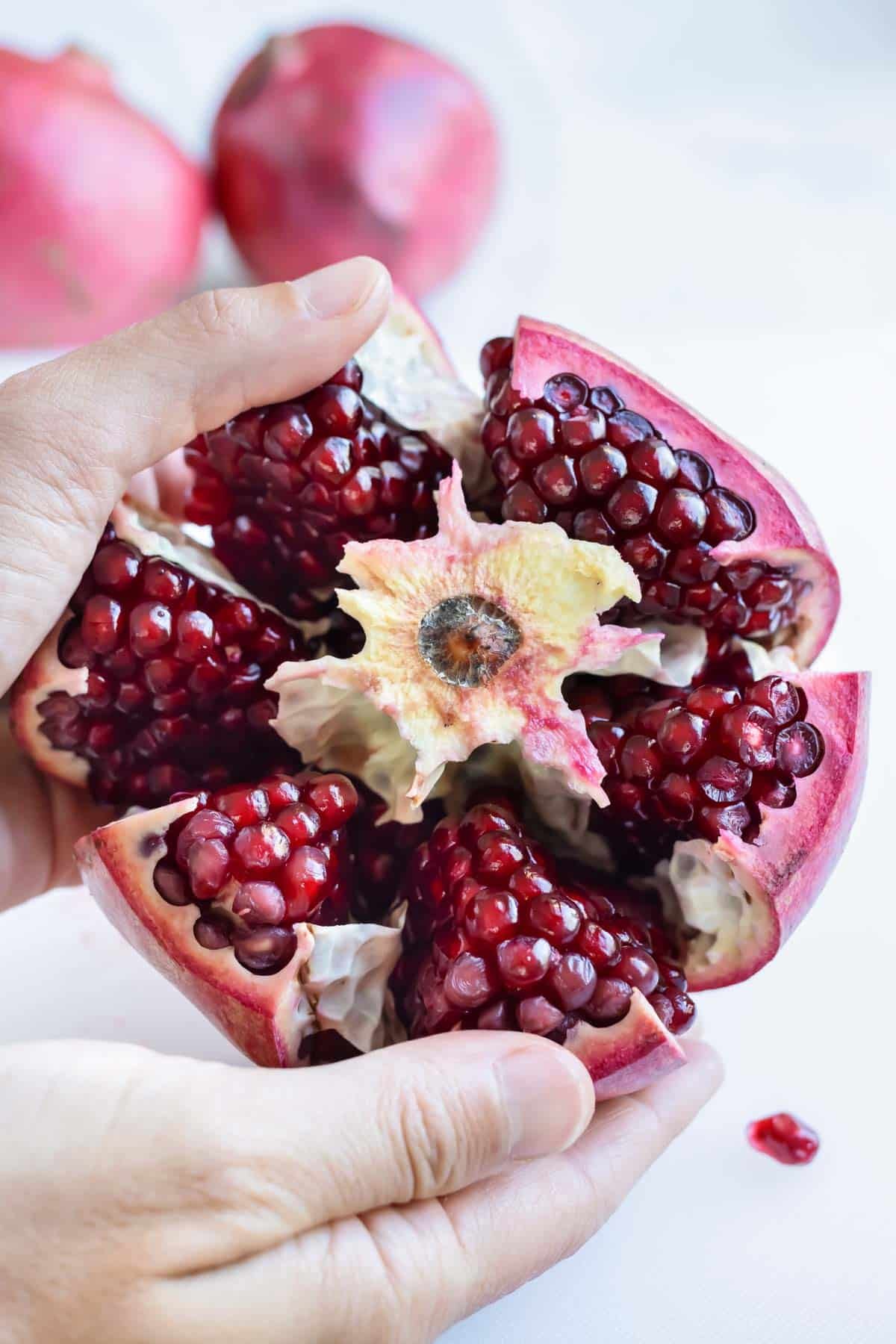 What does an overripe pomegranate look like?
Overripe pomegranates are deflated, black-spotted, and lighter in weight. They especially are overripe when they have soft spots and are mushy with brown seeds inside. Your fruit could smell like nail polish remover or alcohol if you missed the mark and forgot to harvest your pomegranate in time.
FAQs
What time of year are pomegranates in season?
The late summer to early winter: mid-September through late December or even early January in North America.
When should I plant my pomegranate tree?
You can expect ripe fruits six to seven months after flowering.
What's the easiest way to deseed a pomegranate?
Underwater. One of the most effective ways to deseed a pomegranate is to roll the fruit as if you're releasing the juice in a lime or lemon; this ensures loosened seeds. Then cut your fruit in half, fill a large bowl full of cold water, and deseed under water! The seeds sink, and the membranes float.
What are the health benefits of pomegranates?
Pomegranates have antioxidants and can help with heart health, urinary health, and exercise endurance. They can have up to three times more antioxidants than green tea or red wine. Studies have suggested that pomegranates can protect the heart in many ways, including lowering blood pressure and reducing blood sugar levels. They are high in folate, vitamin K, vitamin E, vitamin B6, vitamin C, and potassium.
What are some good recipes that have pomegranates in them?
Try out this Massaged Kale Salad or Chopped Kale Salad. Make this Roasted Butternut Squash Soup or Creamy Pumpkin Soup for something a bit warmer.