Roasted Cherry Tomatoes are tossed in olive oil and crushed garlic for a quick, easy, and healthy addition to any pasta, baguette, or grilled chicken recipe. This side dish recipe can be made with either cherry or grape tomatoes and is gluten-free, vegan, vegetarian, Whole30, and Paleo-approved.
Want a few other fresh tomato recipes? You might also enjoy these recipes: Easy Homemade Salsa, Pasta Pomodoro Sauce, and Roasted Tomato Basil Soup.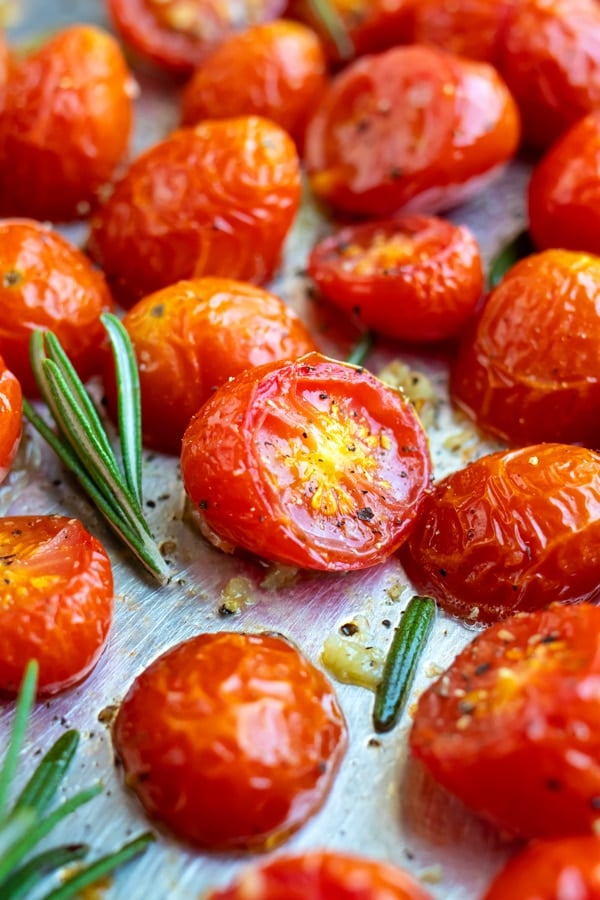 Roasted Cherry Tomatoes During Tomato Season
With tomato season in full swing right now there is an abundance of cherry and grape tomatoes available.
Whether you're growing them in your own summer garden, or purchasing ones on sale at the grocery store, the question still remains, "What recipes can I make with fresh tomatoes?"
Well, you can either make this Pomodoro Sauce recipe, this Roasted Tomato Basil Soup, or you can whip up these roasted tomatoes.
And in this current moment, my vote would be to try out these roasted cherry tomatoes.
They just might change your life.
Bold statement to make about a simple recipe, but nonetheless, quite sincere.
Simply Packed with Flavor!
How can something so simple be so incredibly addicting and packed with flavor?
Ya'll… no lie.
These roasted cherry tomatoes are BURSTING with juicy tomato goodness and are stupid easy to throw together.
After adding them to a Pesto Shrimp Pasta dish one evening, they were prepared at least FOUR more times that same week!
On a toasted baguette, with a poached egg and avocado slices for breakfast, and then atop a grilled chicken breast… and each time they were shock-your-palate delicious!
Ingredients
One of the best parts about this recipe is that it does not require very many ingredients.
However, the quality of the few ingredients you do need will largely impact the finishing taste and flavor.
Tomatoes – Cherry or grape tomatoes can be used in this recipe. Read below for more information about the best types to use.
Garlic – Fresh garlic is key here. Use a garlic press to finely crush the full garlic cloves. This will help evenly disperse the crushed garlic throughout.
Olive Oil – A relatively good-quality olive oil will have a big impact on the amount of flavor this fresh tomato recipe has.
Salt and Pepper – Once again, you can use whatever salt or pepper you have on hand, but a good sea salt and crushed black pepper are recommended.
Fresh Herbs – Fresh rosemary, basil, oregano, or thyme can be added in to give this recipe even more pizzazz.
Best Tomatoes to Roast
The special part about this roasted cherry tomatoes recipe is the burst of flavor you get when you bite into the individual tomatoes. Therefore, a smaller tomato that has only been cut in half, or not cut at all, will be the best in delivering this flavor bomb.
For this dish there are a few tomato varieties that will work exceptionally well and others that I would not recommend using.
Best Tomato Varieties:
Cherry – Small and full of flavor.
Grape – Also small and still packed with flavor.
Campari – A larger tomato but will still work well if cut into smaller pieces.
Would Not Recommend:
Roma – These lack substantial flavor and will not give you the same result as the above varieties.
Beefsteak or Vine-ripened – A little too large and have too much liquid to get the roasted texture that's so great in this recipe.
How to Make
The process could not be more simple. There are only a few steps you need to follow to get perfectly oven-roasted cherry or grape tomatoes.
Preheat oven to 400 degrees.
Toss together halved tomatoes, oil, crushed garlic, salt, and pepper in a large bowl until well coated.
Place on a large baking sheet in a single layer.
Roast for 20-25 minutes or until the skin begins to shrivel.
Serve with additional herbs, if desired, and enjoy!
What to Serve Them With
This recipe can be served on a toasted baguette for a vegan bruschetta recipe…
Atop a grilled chicken breast for the keto and low-carb conscious…
Served with poached eggs and avocado for an easy gluten-free breakfast…
Or with this Pesto Shrimp Pasta for an elegant date night dinner in.
Storing and Reheating
Storing: Eating these straight out of the oven is the best way to enjoy this recipe. However, if you have a good bit of them left, you can always store them in an airtight container in the refrigerator for up to 3-4 days.
Cook's Tip: The tomatoes will begin to release even more juice as they sit in the refrigerator, thus naturally creating a really delicious sauce.
Reheating: They can either be reheated in the microwave, in a 250-300 degree oven, or in a skillet over low heat. The more they are reheated the more tomato juice they will naturally release.
Frequently Asked Questions
Can I prep these tomatoes ahead of time?
Yes. You can pre-slice and toss them in the olive oil mixture up to 24 hours in advance. Do note that prepping them immediately before roasting will give you the best results.
Do roasted tomatoes freeze well?
Yes, you can freeze these in a freezer-safe container for up to 4-6 months. After thawing and reheating they will have more of a sauce-like consistency.
Do I have to cut them in half?
No. You can either cut them in half, leave all of them whole, or do half and half!
VIDEO:
Other Cherry Tomato Recipes:
Roasted Cherry Tomatoes
Roasted Cherry Tomatoes are tossed in olive oil and crushed garlic for a quick, easy, and healthy addition to any pasta, baguette, or grilled chicken recipe.
Ingredients
2

lbs.

cherry tomatoes

or grape, cut in half

2

Tbsp.

olive oil

4-6

cloves

garlic

crushed

1

tsp.

salt

½

tsp.

black pepper

Fresh herbs

optional
Instructions
Preheat oven to 400 degrees.

Toss together tomatoes, oil, crushed garlic, salt, and pepper in a large bowl until tomatoes are well coated.

Place tomatoes on a large baking sheet in a single layer.

Roast tomatoes for 20-25 minutes or until the skin begins to shrivel.

Serve with additional herbs, if desired, with toasted bread, pesto pasta, or on grilled chicken and enjoy!
Recipe Video
Recipe Notes
You can also leave the cherry or grape tomatoes whole instead of cutting them in half.
Fresh herbs, such as rosemary, oregano, or basil, can be added in after cooking if desired.
You can also use larger tomatoes that have been cut into smaller pieces and increase the cooking time by 5-10 minutes.
Nutrition Facts
Roasted Cherry Tomatoes
Amount Per Serving
Calories 75
Calories from Fat 45
% Daily Value*
Fat 5g8%
Sodium 336mg15%
Potassium 338mg10%
Carbohydrates 7g2%
Protein 2g4%
Vitamin A 739IU15%
Vitamin C 35mg42%
Calcium 22mg2%
Iron 1mg6%
* Percent Daily Values are based on a 2000 calorie diet.