This Easy Salmon Curry recipe is made with coconut milk, curry powder, turmeric, and loads of vegetables. You can serve this Thai-inspired recipe over rice or cauliflower rice for a healthy, gluten-free, dairy-free, Paleo, and Whole30 dinner recipe!
Would you like a few other healthy curry recipes? You might also enjoy these recipes: Slow Cooker Chicken Curry, 15-Minute Curry Cauliflower Rice, Chickpea Curry, and this Chicken Korma Curry.
Salmon Curry – Getting Creative!
Recently I have been reading the book, The Artist's Way.
In it the author encourages two rituals: daily morning pages as well as a weekly artist's date.
At first it seemed a little wonky to set aside time each week strictly to be creative – with no real productivity attached to it.
But after my first foray that consisted of hours in the kitchen with no real agenda, I was hooked!
And this salmon curry recipe was the product of that first venture.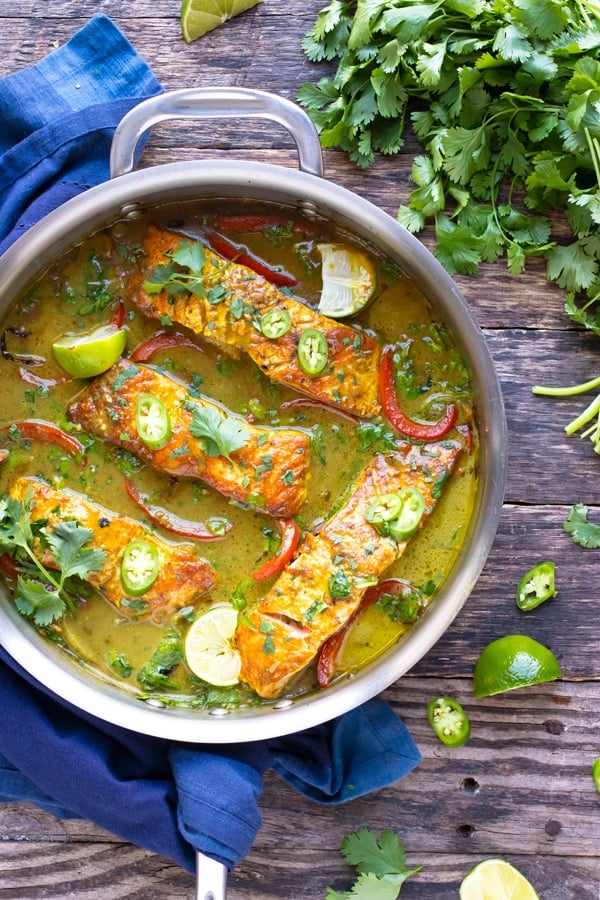 Thai Coconut Milk Curry
Since we tend to avoid dairy products in our house, coconut milk curries are often on our menu – like this salmon curry recipe or this Slow Cooker Chicken Curry.
You can still have all of the rich and decadent flavors found in a traditional curry, but with more of a Thai-style spin since coconut milk is the main sauce ingredient.
This curry recipe is a wonderful way to sneak in a bunch of vegetables while also getting your daily dose of healthy omega-3 fatty acids, too.
Ingredients
Initially it may appear that there are A LOT of ingredients required in this recipe.
But in reality, once you acquire a few of these typical spices you will be ready to rock 'n roll with almost any curry recipe that comes your way.
Here is a brief overview of the ingredients you will need:
Salmon – read more below about the best and healthiest type to use.
Onion – A sweet or white onion will work great.
Bell pepper – Red, green, or yellow all work equally as well.
Spinach – Finely chopped kale could also be used.
Garlic – Fresh garlic is key. Simply use a garlic press to get perfectly crushed garlic.
Ginger – Ginger paste is my favorite to use since it is much easier than freshly grating ginger.
Curry Spices – Read more about the traditional spices used in curry dishes.
Sugar – Coconut or brown sugar can both be used or left out completely if on a Whole30 diet.
Coconut Milk – Canned, full-fat is best. Lite coconut milk can also be used.
Cook's Tip: Make sure you DO NOT use the coconut milk that comes in a container in the refrigerated section of your grocery store. It will NOT taste the same!
Best Type of Salmon
When shopping at your grocery store it is essential that you purchase the best tasting salmon for this recipe. After all, it is pretty much the star of the show!
The first thing I look for when buying fish is that it is WILD and not farm raised. Wild fish are healthier for you while also having a less fishy taste.
Next, purchasing FRESH and not previously frozen will also give you the best tasting flavor.
However, if you can only purchase wild and previously frozen, this is the second best option.
ButcherBox is a great resource for purchasing wild salmon.
Spices
In just about every Indian or Thai curry recipe there are a few crucial spices you will need.
While you can buy them in the small spice jars, going to a grocery store that has a bulk spice section is the best option for your wallet. Simply store them in cute little spice jars purchased on Amazon.
Common Spices:
Curry powder
Turmeric
Coriander
Garam Masala – not used in this recipe but very common.
How to Make
The steps to make this Thai-inspired recipe are actually quite simple. Here is a brief overview of how you will make this recipe:
Sear salmon in oil for 1-2 minutes per side.
Sauté vegetables for 4-5 minutes or until slightly tender.
Whisk together the curry spices in a small bowl.
Stir coconut milk, spices, chili paste, and lime juice into the skillet.
Add salmon filets, cover, and simmer for 10-12 minutes or until salmon is cooked through.*
Mix in chopped spinach just before serving over rice or cauliflower rice.
Cook's Tip: Salmon is cooked through when it flakes easily with a fork and the internal temperature reaches 145 degrees.

Variations to Try
This salmon curry recipe is already naturally gluten-free, dairy-free, and Paleo. However, there are a few variations you can try based on your dietary restrictions and what ingredients you have on hand.
Whole30: Simply leave out the sugar to make this recipe Whole30 compliant.
Lower Fat: Use a lite coconut milk instead of the full-fat.
Vegetables: Switch up the vegetables and add in some carrots or squash.
Low-Carb: Leave out the sugar for a low-carb main dish.
Shrimp: Feel free to use shrimp instead in this recipe to make it a Thai shrimp curry recipe.
Serve, Store, Reheat
This salmon curry recipe tastes best when it is first made. However, here are a few ideas of how you can serve, store, and reheat any leftovers you happen to have.
Serving: Serve over basmati rice, cauliflower rice, or enjoy on its' own.
Storing: Store in an airtight container in the refrigerator for up to 2-3 days. Wait to stir in the spinach until just before serving if saving some for leftovers.
Reheating: This recipe tastes best when reheated on the stovetop for 5-10 minutes over medium-low heat.
Other Salmon Recipe Ideas:
Basil & Lemon Baked Salmon in Foil
Salmon Curry with Coconut Milk
This quick and easy Thai inspired Salmon Curry Recipe makes an incredibly healthy and flavorful dinner! Serve over rice or cauliflower rice for a low-carb, Paleo, and Whole30 meal.
Ingredients
1.25

lbs.

salmon

cut into 5 filets*

2

Tbsp.

oil

olive or avocado

½

sweet onion

thinly sliced

1

red bell pepper

thinly sliced

2

cloves

garlic

crushed

½

tsp.

ginger paste

or grated ginger

1

tsp.

salt

to taste

1 ½

Tbsp.

curry powder

¼

tsp.

ground turmeric

1

tsp.

coriander

1

Tbsp.

coconut sugar

or brown sugar, optional

1

tsp.

chili garlic paste

15-

oz.

can coconut milk

full fat*

1

lime

juice

2

cups

spinach

coarsely chopped
Instructions
In a large skillet or saucepan over medium heat add 1 tablespoon of oil and salmon filets. Sear salmon for 1-2 minutes per side. Remove salmon from skillet.

Add remaining tablespoon of oil along with the sliced onion and bell pepper. Saute for 4-5 minutes or until the vegetables start to get tender.

Stir in crushed garlic and ginger paste and saute for 1 minute.

In a separate small bowl whisk together the salt, curry powder, turmeric, coriander, and sugar (if using).

Add spice mix, chili paste, coconut milk, and lime juice to the skillet and stir to combine. Bring sauce to a boil and then reduce heat to a simmer.

Place the salmon filets back into the skillet and cover with a lid. Cook salmon curry for 10-12 minutes or until salmon is cooked through. Stir in chopped spinach just before serving.

Serve salmon curry over rice or cauliflower rice with cilantro and enjoy!
Recipe Notes
You can choose to leave the skin on the salmon or take it off after searing (I find it comes off more easily after this point.)
Lite coconut milk can be substituted, but the sauce will be thinner and not quite as flavorful.
Do not use the refrigerated coconut milk, it will not give you the same results as the canned milk.
To Store: Place in an airtight container in the refrigerator for up to 2-3 days. Keep the spinach separate and stir in just before serving.
Nutrition Facts
Salmon Curry with Coconut Milk
Amount Per Serving
Calories 460
Calories from Fat 306
% Daily Value*
Fat 34g52%
Cholesterol 62mg21%
Sodium 461mg20%
Potassium 1039mg30%
Carbohydrates 16g5%
Protein 26g52%
Vitamin A 2017IU40%
Vitamin C 47mg57%
Calcium 82mg8%
Iron 5mg28%
* Percent Daily Values are based on a 2000 calorie diet.