Need some fresh tomato recipes this season? From tomato soup and a caprese salad to a salad with green beans, a fresh salsa with red onion, and plenty pasta dishes, these 15+ recipes have you covered. Make the most of your garden or farmer's market bounty and put your ripe, juicy tomatoes to use in the best ways (and don't forget the fresh basil and herbs!).
Easy Fresh Tomato Recipes
Fresh tomatoes are everywhere right now. The perfect way to use your heirloom tomatoes, sun-dried tomatoes, and even green tomatoes is with more than 15 of the best healthy recipes.
Here, you'll find different ways to spotlight the season's best produce at your dinner table, picnic, or potluck. These recipes include fresh tomatoes as the main ingredient or as a perfect accompaniment to other summer flavors.
What better way to kick off peak tomato season than with a Roasted Tomato Salsa? It's everyone's favorite dip at a barbecue.
Learning how to make a fresh tomato sauce like this Easy Pomodoro Sauce will help save any tomatoes that might be on their last legs. Double the recipe and can the extra for later use when it's not tomato season!
And don't forget about a simple classic like these Oven-Roasted Cherry Tomatoes with garlic and fresh rosemary. This recipe is a perfect topper to pasta or as a side to some grilled meat.
15+ Favorite Tomato Recipes
Let's dive into dishes that both highlight tomatoes and use their fresh, savory flavors as complements to other ingredients. Either way, you're in for a perfect tastebud explosion!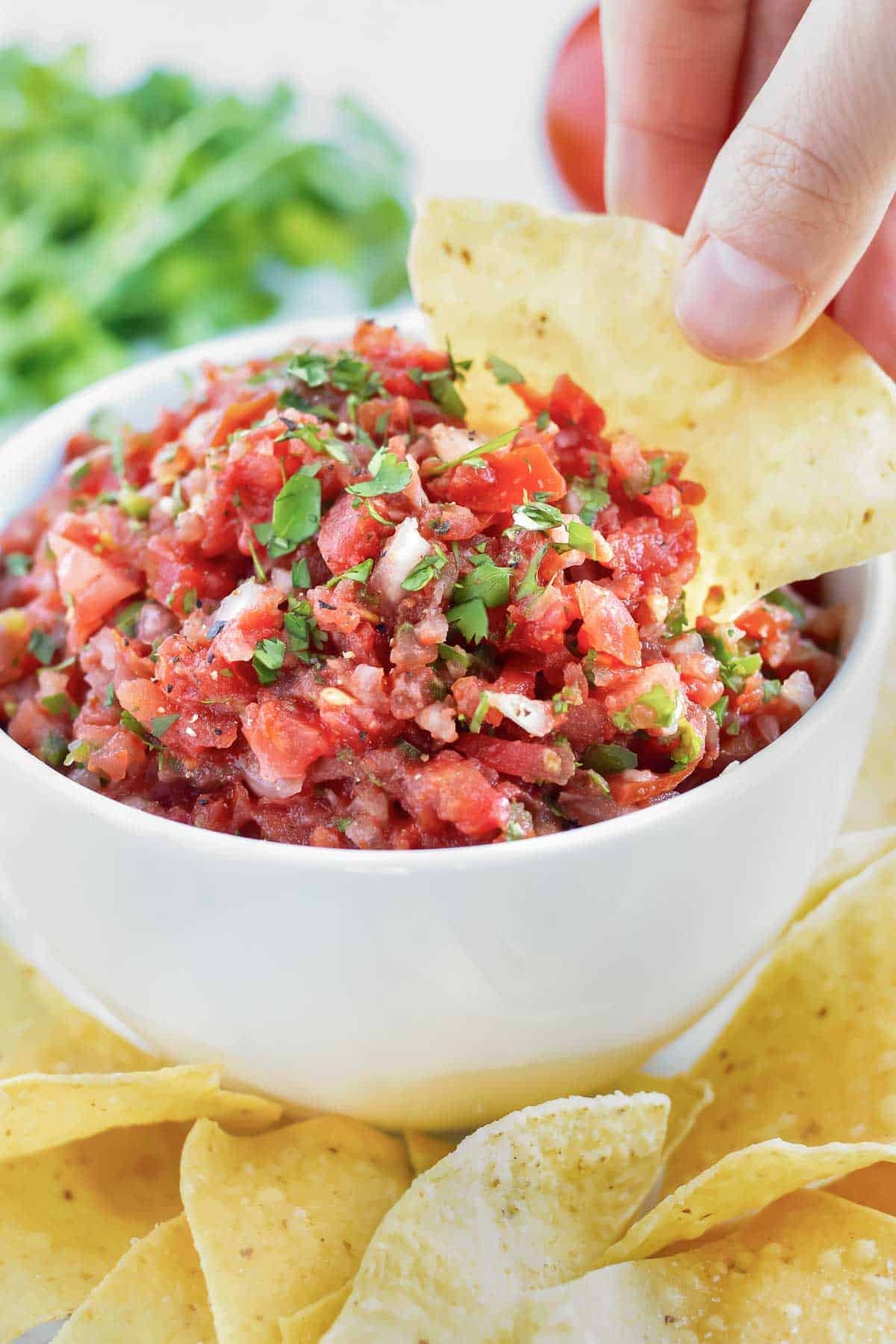 This Fresh Tomato Salsa recipe comes together in under 15 minutes! Simple ingredients of juicy tomatoes, crispy onion, spicy jalapeños, cilantro, and seasonings are blended in a food processor to create the best homemade salsa. Use this classic quick and easy recipe as a topping on tacos, or serve with tortilla chips as a dip!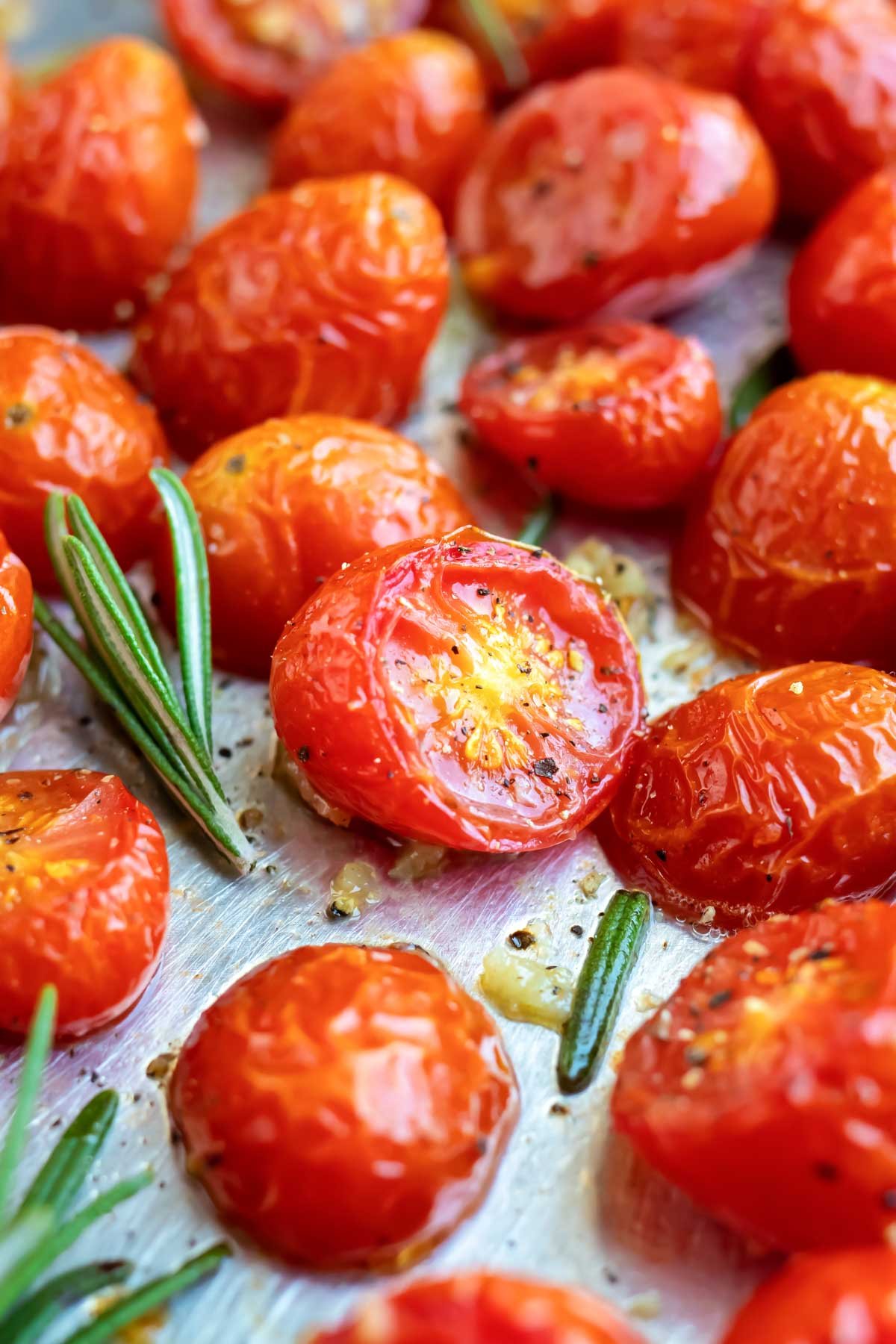 Oven-Roasted Cherry Tomatoes are the best way to add flavor to your favorite recipes. It's quick and easy to toss sweet cherry tomatoes with oil and garlic and then bake them in a single layer in the oven. Add these vegan and gluten-free bites to chicken breast and pasta dishes for an impressive, comforting recipe.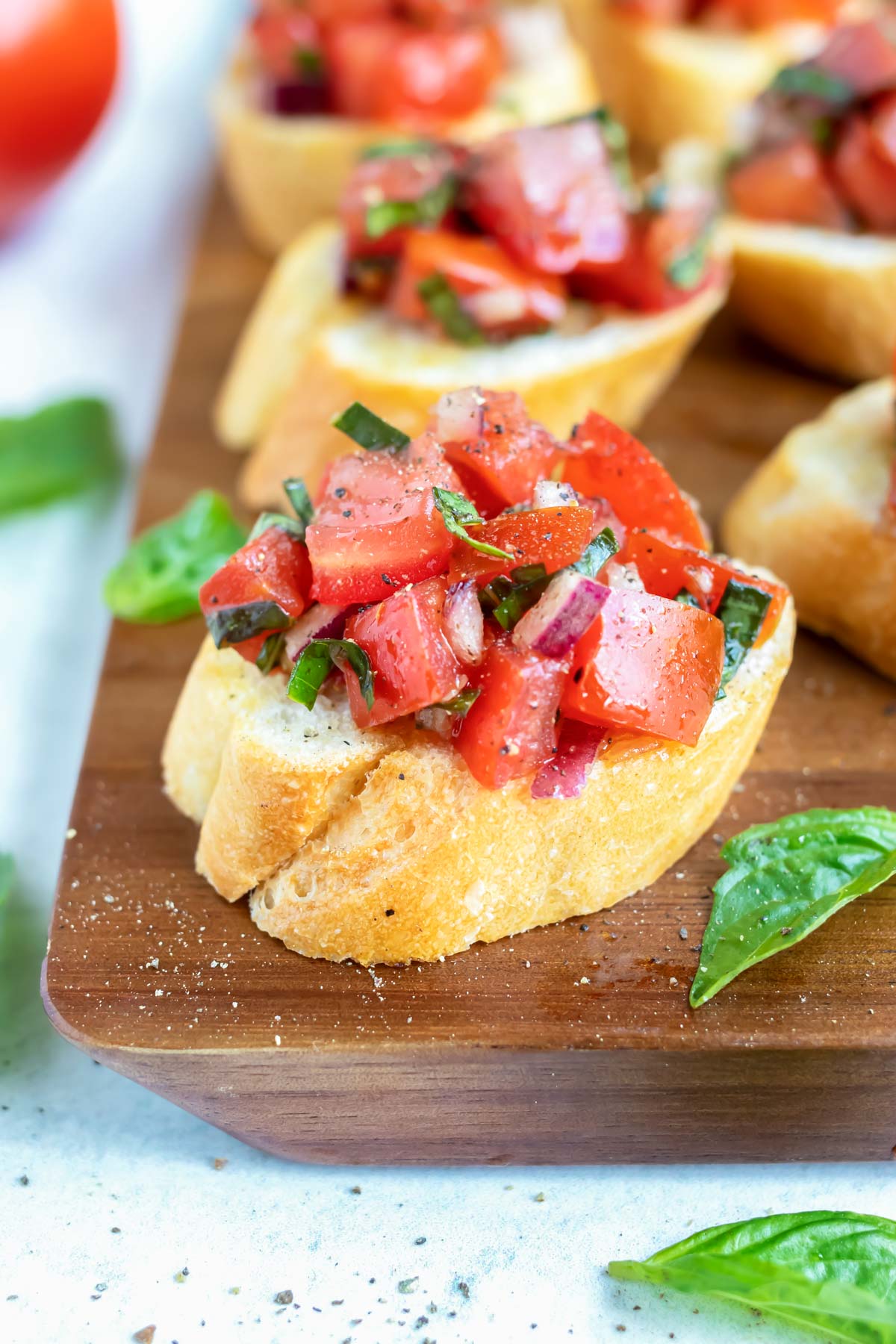 This Easy Tomato Bruschetta is an authentic Italian recipe that is the absolute best appetizer when you're in a pinch! Simply combine tomatoes with garlic, basil, and balsamic vinegar for an easy mix. Pile it on a toasted baguette with creamy mozzarella, enjoy it as a dip, or top your favorite grilled chicken for a quick and easy Italian dinner.
This Mediterranean Couscous Salad is full of diced cucumbers, tomatoes, feta cheese, garbanzo beans, and tossed in a healthy olive oil and lemon juice dressing. You can easily meal prep this cold summer salad recipe ahead of time to bring to your summer picnics or as a vegetarian July 4th side dish.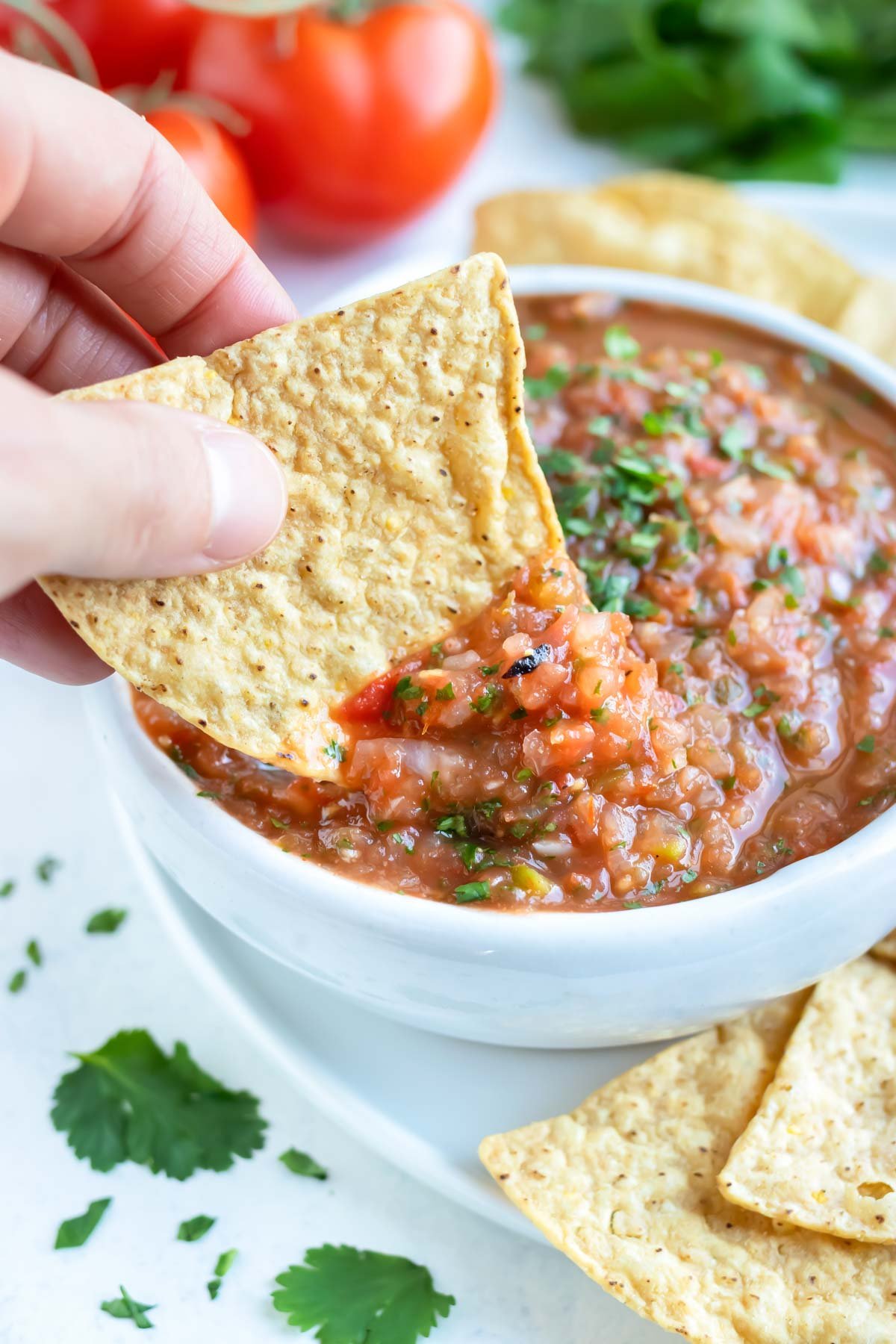 Homemade Roasted Tomato Salsa is the best quick and easy way to recreate the restaurant-style version in your kitchen. Simply roast vine-ripened or Roma tomatoes in the oven with jalapeños, onion, and garlic, then mix with cilantro and spices to create a healthy and spicy dip with all the tomato juices. Enjoy this recipe with tortilla chips or as a topping for the perfect addition to any Mexican dish.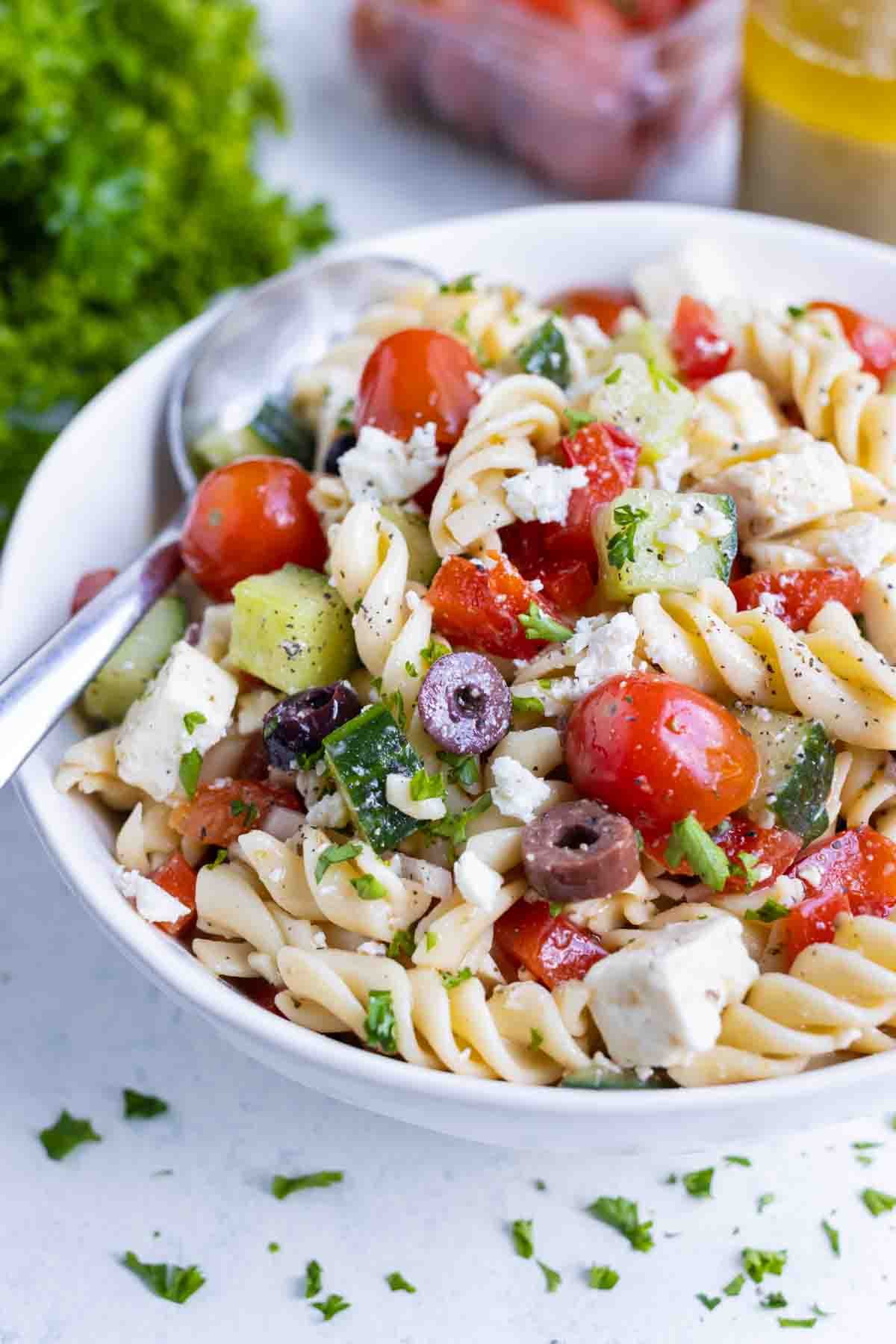 This Greek Cucumber Salad is made with simple ingredients and ready in under 30 minutes. Cucumbers, tomatoes, olives, onions, and feta cheese are tossed in an easy Greek vinaigrette dressing. This simple recipe is healthy, low-carb, and the perfect side to get you through the summer.
Homemade Pico de Gallo is one of the best ways to make any Mexican dish extra flavorful. This recipe only needs a few fresh ingredients like tomatoes, jalapeños, cilantro, lime juice, and onion. Authentic and spicy, this mix is even better than Chipotle and so easy to make!
Roasted Tomato Basil Soup is made ultra creamy without the heavy cream! This easy homemade recipe purées oven-roasted and fresh tomatoes, veggies, and herbs for the best flavor. Enjoy this vegan, Whole30, and Paleo recipe for a healthy comfort food meal.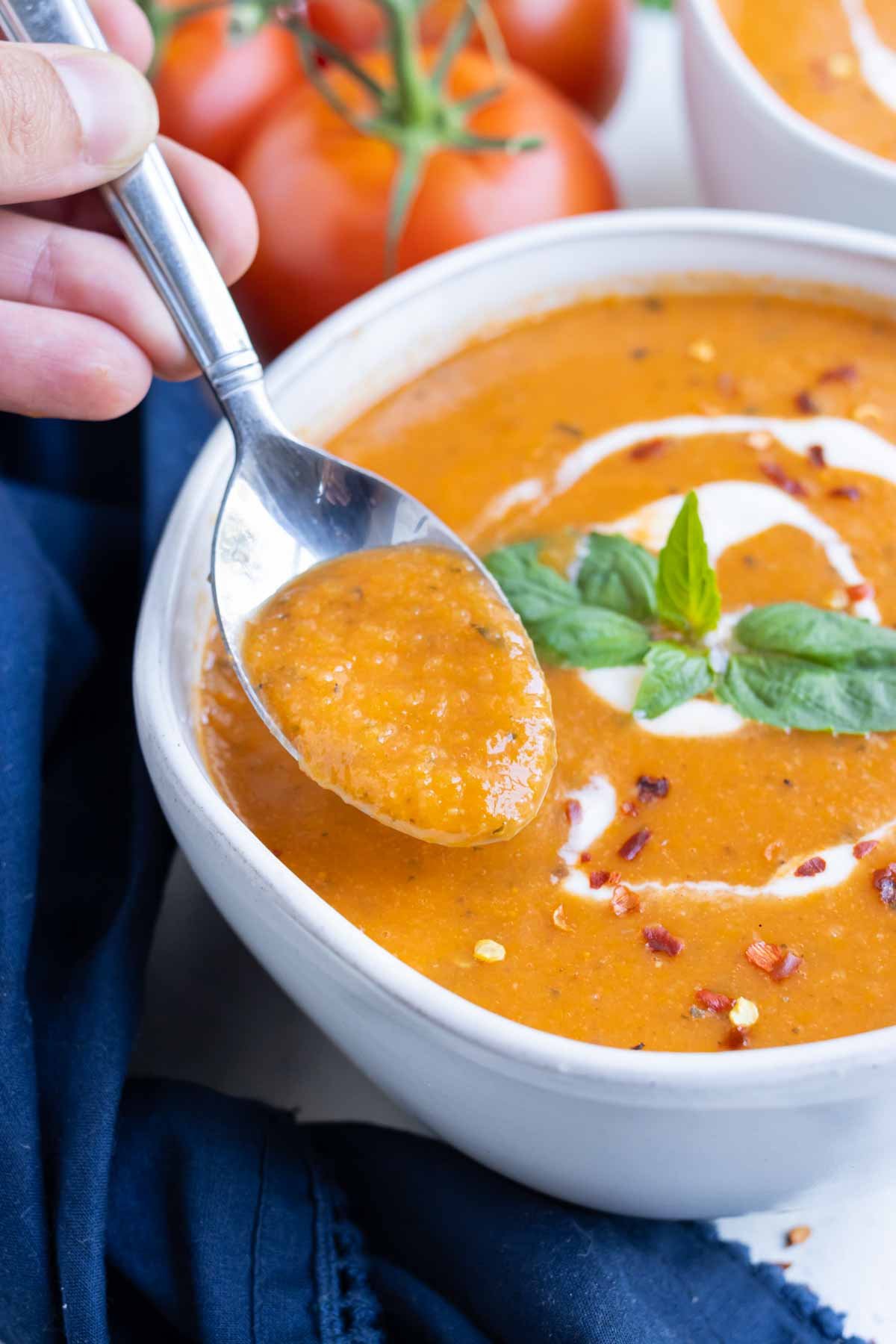 This creamy, homemade Tomato Basil Bisque is the best recipe to warm you up all Fall long. Canned or fresh tomatoes are simmered with broth and savory veggies like celery, carrots, and onions, then puréed for a thick and hearty soup. This healthy, vegetarian dish is irresistible and surprisingly easy to make!
Shrimp Pesto Pasta is full of pesto flavor, loaded with seared shrimp, and bursting with roasted cherry tomatoes. It makes a quick, easy, and healthy dinner recipe or a romantic date night dish. This main dish recipe can easily be made gluten-free and vegetarian, too!
Skip the oven and make this easy Green Bean Salad when the summer months roll around. It's simple to blanch green beans, then toss them in a vinaigrette with feta cheese, tomatoes, basil, and onion. Whip up this fresh salad for a summer picnic, or enjoy it on a busy weeknight.
Caprese Skewers are a crowd-pleasing bite-sized appetizer recipe that can easily be made ahead of time. Fresh mozzarella balls are layered with cherry tomatoes and basil on small sticks, then drizzled with a balsamic glaze for a low-carb snack. Serve these quick salad kabobs for Christmas, New Year's Eve, or any time you have friends and family over!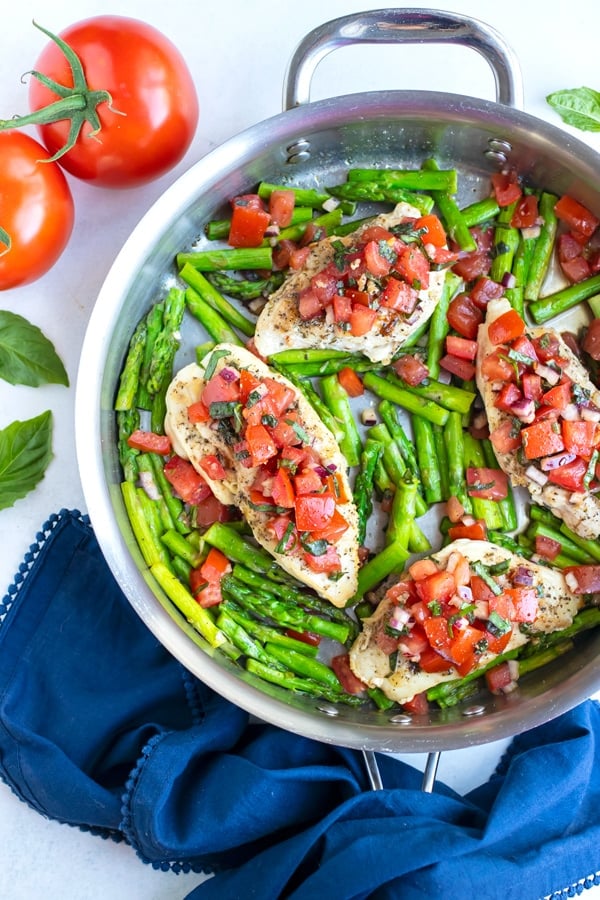 An Easy Bruschetta Chicken and Asparagus recipe that is served with a tangy balsamic glaze, made in one skillet, and is ready in under 30 minutes! No one will know this restaurant-quality dinner is secretly healthy, low-carb, and Whole30. Meal prep the fresh tomato bruschetta topping ahead of time to make clean-up a breeze.
Spinach Egg Muffins are the meal-prep magic that you need! This low-carb, gluten-free, and keto egg muffins cups recipe is loaded with fresh spinach, cherry tomatoes, and mozzarella cheese. They're the perfect grab-and-go breakfast bite that are also so easy to bake in the oven ahead of time!
Pineapple Pico de Gallo is a fresh homemade salsa full of tomatoes, sweet onions, pineapple, jalapeños, and cilantro. It makes a wonderful topping for chicken or tacos and can be eaten as a healthy dip!
Fresh tomato basil zucchini noodles are loaded with nutrients and make a super simple vegan, gluten-free, Paleo, and whole30 dinner recipe for those busy weeknights!
How do you know if tomatoes are ripe?
Perfectly ripe tomatoes are firm, but yield to the touch. These juicy tomatoes will have a glossy skin and have that fragrant, fruity scent. Tomatoes are in season from May to October, but July is when they hit their peak. It's definitely the perfect problem to have an abundance of tomatoes this time of year because you have THESE great tomato ideas for simple yet flavorful recipes!
​Do you refrigerate tomatoes?
Only store your tomatoes in the fridge when they are fully ripe. If they are not ripe yet, let them sit on your counter at room temperature before placing them in the fridge. If you grow tomatoes at home, you'll want to pick them when they're ripe and ready to eat, so they do not need to be refrigerated ever.
Tomato Expert Tips & Tricks
Learn how to really utilize and save the most juices and flesh of your tomatoes by reading through these posts! These techniques will get you the most out of your tomato bounty: