This homemade version of Olive Garden's Italian Dressing tastes just as good and is quick and easy to mix up in less than 5 minutes! This recipe blends together olive oil, vinegar, Italian seasonings, garlic, and Parmesan cheese into a simple vinaigrette. Drizzle over a salad for a healthy vegetarian meal, or use as a marinade for chicken!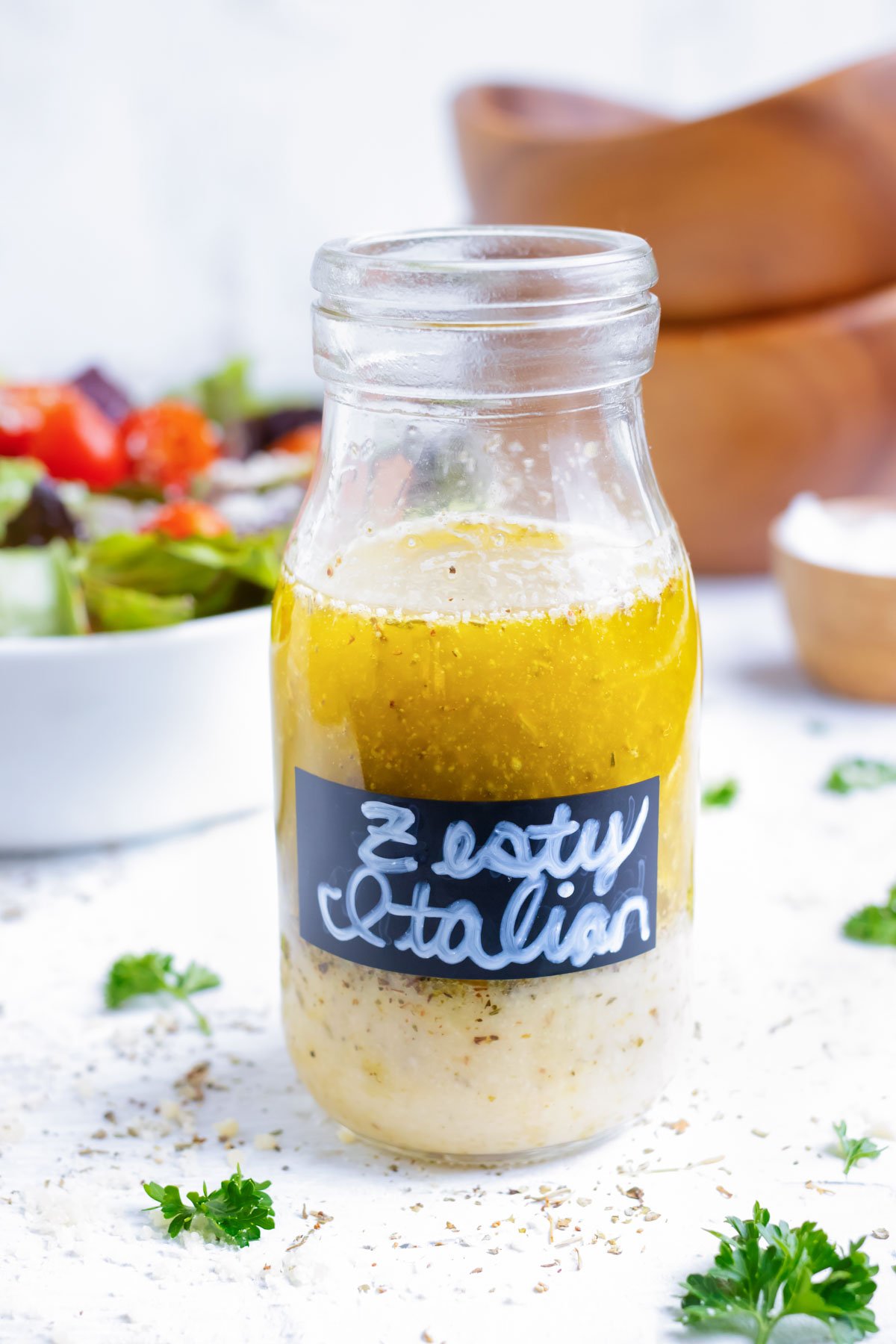 We lived in a small town in Southeast Texas, on the border between Texas and Louisiana. It took us 30 minutes to get to a "city" with a mall and an Olive Garden.
But even as a young kid who would turn up her nose at a head of iceberg lettuce, I found myself scarfing down an entire bowl of Olive Garden's salad with their delightful Italian dressing.
And then Olive Garden released their bottled salad dressing – and I was in LOVE!!
I put it on everything from this Italian Dressing Pasta Salad, use it as a marinade on chicken, or douse a big ole' chopped kale salad in it.
But to be honest, the store-bought dressing is made with a few ingredients that are not great to consume on a daily or weekly basis. (I.e. – soybean oil, high fructose corn syrup, etc.)
So instead, why not make your own healthier homemade Italian dressing when it takes less than 5 minutes to whip up!?
Ingredients
The simple ingredients you need to make this homemade Italian dressing recipe include:
Oil. A good quality extra virgin olive oil is the best option. Avocado oil is a good alternative since it is mildly flavored and won't compete too much with the other ingredients. Sunflower or safflower oil can also be substituted for olive oil, but it will affect the taste slightly.
Italian Seasoning. You can mix in a homemade Italian seasoning blend of dried oregano, basil, and other herbs; or you can find the dried Italian seasoning in your herb and spices aisle at the grocery store.
White Wine Vinegar. This is the most classic type used, but feel free to swap it out with apple cider vinegar.
Sweetener. Honey was tested in this recipe, but agave nectar or regular sugar can also be substituted.
Garlic. Crushed garlic (using a garlic press!) is the way. Do not leave this ingredient out! If substituting with garlic powder, you'll want to use about ½ teaspoon.
Lemon Juice. A little citrus gives an extra bit of freshness.
Parmesan Cheese. This is the secret ingredient that makes this the best recipe there is!
How to Make Italian Dressing
The basic steps for making Italian dressing are simple to follow. Please see the recipe card below for more detailed ingredient amounts.
Measure the Ingredients
Place everything in a high speed blender, food processor or mason jar.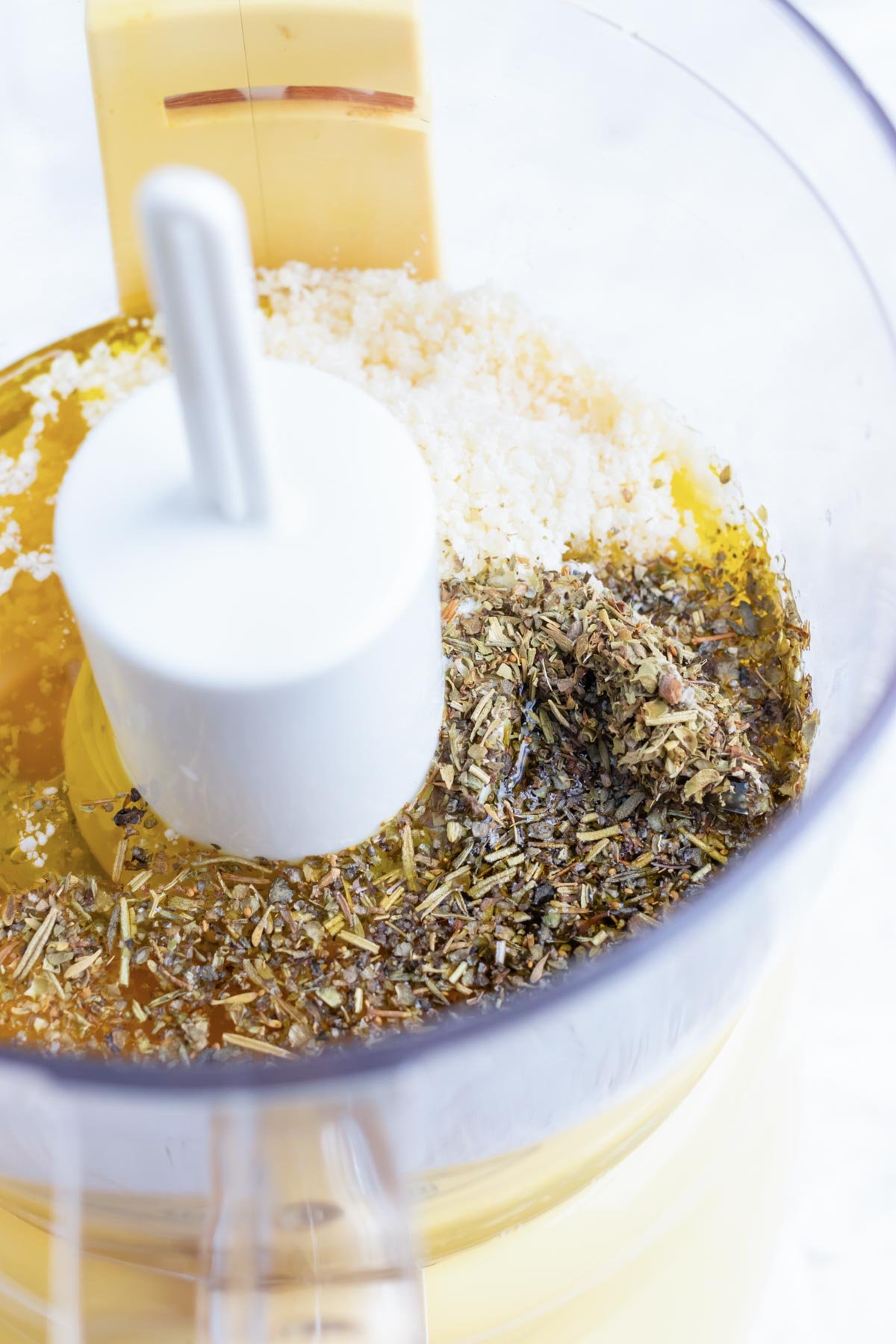 Emulsify the Dressing
There are a few different ways you can mix up this dressing:
High Speed Blender – The NutriBullet is the preferred tool. It blends and emulsifies everything up beautifully and is super easy to clean.
Mini Food Processor – The second best way to make a vinaigrette is to add all of the ingredients to a food processor and process until smooth.
Whisk by Hand – Lastly, if you do not have a blender or food processor you can always whisk the ingredients together by hand. Just note, it will not be nearly as smooth or emulsified.
Serving
Drizzle over a salad with your favorite toppings and enjoy!
A spinach or mixed greens salad with some sliced bell peppers, tomatoes, croutons and Parmesan cheese tastes great with an Italian vinaigrette. You can also make this Italian Dressing Pasta Salad for picnics or a barbecue!
Storage
Homemade dressing can last for up to 2 weeks if stored in an airtight container (such as these cute glass mason jars!) in the refrigerator.
Let this dressing sit at room temperature for 5-10 minutes before using. Just before serving, shake or blend it up again and then pour it over your salad, pasta salad, or chicken.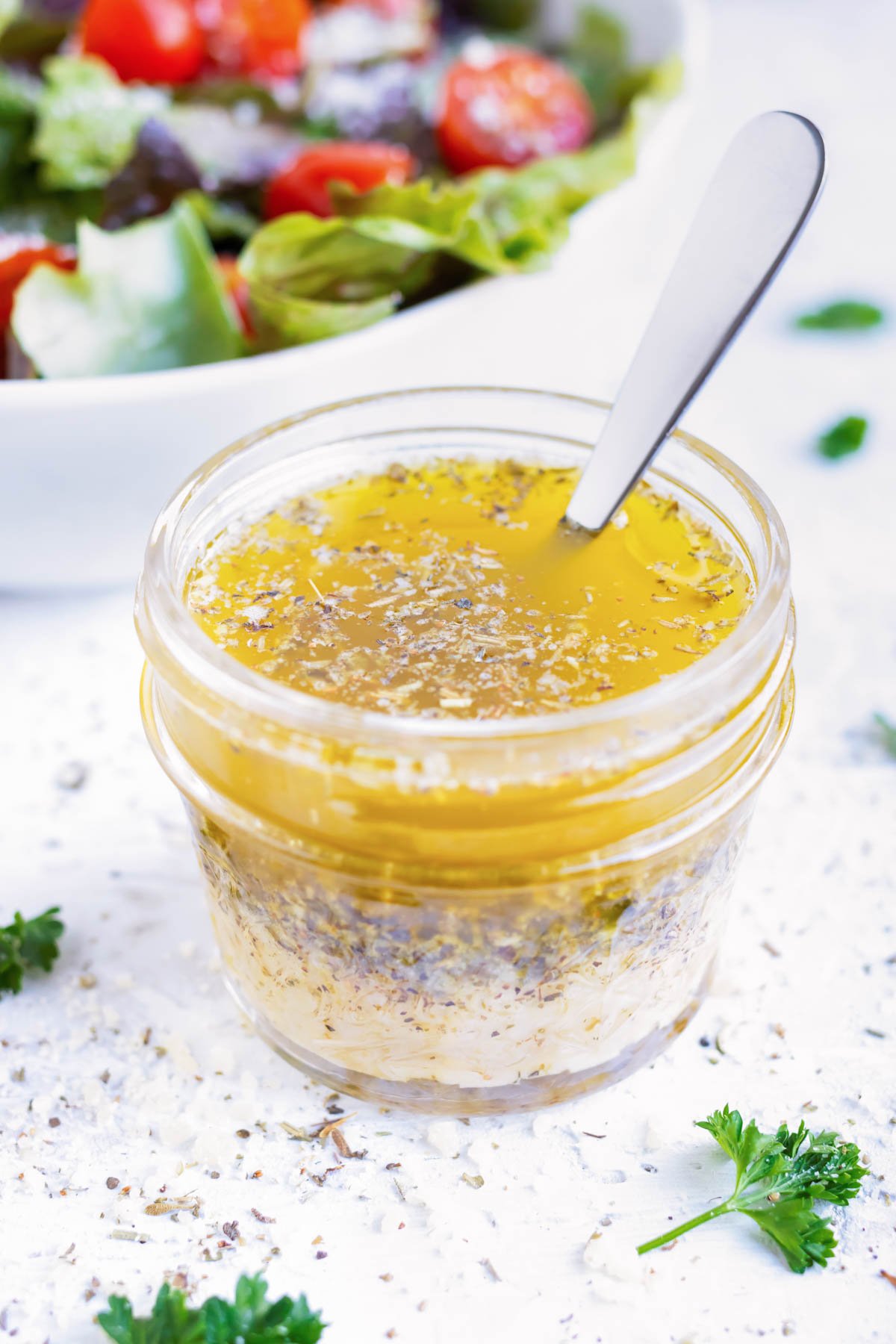 Dietary Modifications
The recipe you'll find below is already gluten-free and vegetarian as written. Here are some adjustments and substitutions you can make to help it fit your other dietary requirements:
Dairy-Free – Select a plant-based Parmesan cheese.
Vegan – Use agave nectar or sugar in place of the honey, and choose a plant-based Parmesan cheese.
FAQs
Is Italian vinaigrette the same as Italian dressing?
Yes, the two terms are used interchangeably. A vinaigrette is a type of dressing that includes oil and vinegar.
What is the difference between zesty Italian and Italian dressing?
The zesty version of Italian dressing generally contains more spices and occasionally red pepper flakes for more of a bite.
Is Italian salad dressing healthy?
Yes. Homemade salad dressing is a much healthier alternative to store-bought. It is made with a good quality oil, unrefined sugar, and does not have any additives or emulsifiers. It's gluten-free and can easily be made dairy-free, vegetarian, and vegan by using a vegan Parmesan cheese.
Expert Tips and Tricks
High quality.

Select a great-tasting olive oil for the best results.
Mix homemade. Making your own Italian Seasoning is easy and you can adjust the spices to your preferences.
Go high speed. Use a blender to thoroughly mix the dressing into a smooth consistency.
Fresh is best. Mince garlic cloves for a wonderful flavor.
More Healthy Salad Dressing Recipes
Drizzle any of these homemade dressings all over your favorite salads for a burst of flavor!
Healthy Salad Dressing Recipes
Olive Garden Italian Dressing Recipe
This homemade version of Olive Garden's Italian Dressing is quick and easy to mix up in less than 5 minutes and lasts for weeks! Drizzle over a salad for a healthy vegetarian meal, or use as a marinade for chicken.
Ingredients
½

cup

olive oil

extra virgin

2

Tbsp.

white wine vinegar

1

clove

garlic

crushed

2

tsp.

Italian seasoning

2

tsp.

lemon juice

fresh

3

Tbsp.

Parmesan cheese

2

tsp.

honey

Pinch

of salt
Instructions
Alternatively, you can whisk together ingredients in a bowl or shake until incorporated in a mason jar.

Store Italian salad dressing in refrigerator for up to 2 weeks between servings. Enjoy!
Recipe Video
Nutrition Facts
Olive Garden Italian Dressing Recipe
Amount Per Serving
Calories 239
Calories from Fat 207
% Daily Value*
Fat 23g35%
Cholesterol 6mg2%
Sodium 143mg6%
Potassium 33mg1%
Carbohydrates 3g1%
Protein 3g6%
Vitamin A 105IU2%
Vitamin C 0.9mg1%
Calcium 136mg14%
Iron 0.9mg5%
* Percent Daily Values are based on a 2000 calorie diet.