Balsamic Vinaigrette is one of the best healthy salad dressing recipes you can make at home. It's easy to prepare, naturally gluten-free and vegan, and you will only need three ingredients and five minutes to make this homemade recipe!
Want a few other easy salad dressing ideas? You might also like this Honey Mustard Dressing, Lemon Basil Vinaigrette, Strawberry Balsamic Vinaigrette, and these other Healthy Salad Dressing Recipes.
Balsamic Vinaigrette Recipe
Have you ever made a homemade balsamic vinaigrette dressing?
For an entire year while in dental school I prepared both my husband and myself a big ole' spinach salad with toasted pecans, cranberries, and of course… balsamic dressing!
You would think that after a while we would get tired of it, but no!
That sweet and tangy dressing is so easy to make, tastes incredible, and is so much healthier for you to make at home versus buying it from the store.
Or if you want a more condensed and sauce-like version, try out this Balsamic Reduction recipe.
Healthy & Homemade
There are a few spectacular qualities about making this recipe at home:
It can be used as a salad dressing or pour it over your favorite steak or chicken recipe.
3 ingredients and 5 minutes is all it takes.
It stores for an INCREDIBLY long time!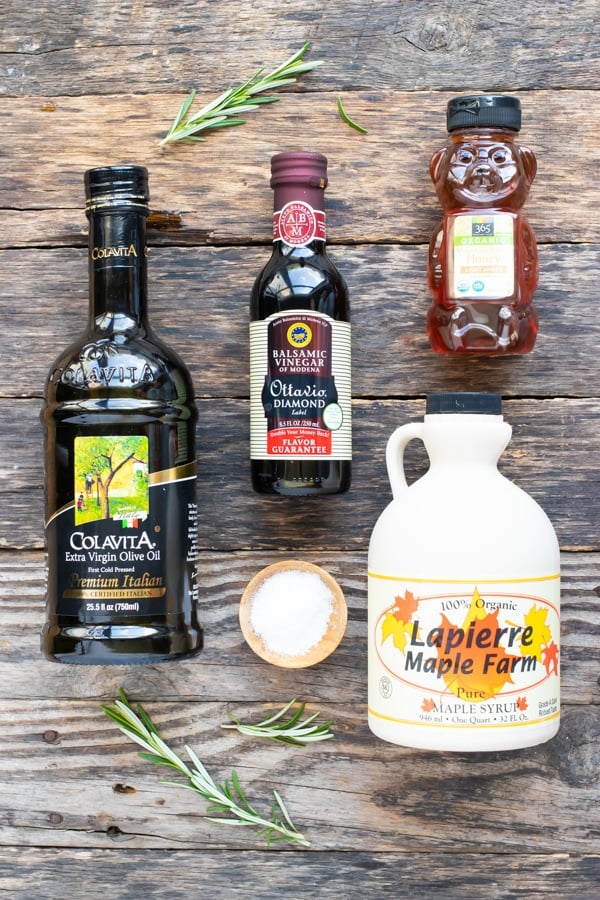 Ingredients
You only really need 3 (optional 4!) ingredients to make this recipe:
Balsamic Vinegar – Read more about what type below.
Oil – Olive oil and avocado oil will both work great.
Sweetener – Honey, maple syrup, or agave nectar can all be used in equal amounts. You can also use a few drops of liquid stevia extract if on a low-carb or keto diet.
Salt – A little bit goes a long way!
Cook's Tip: Use a better quality olive oil for best results.

What Type of Vinegar?
Since there are so few ingredients in this recipe, each individual ingredient plays a HUGE role… especially the balsamic vinegar.
While yes, you can opt for a cheaper one (totally guilty here!) you might need to add a little extra sweetener to balance out the slight bitterness.
However, I would advise that you spring for a mid to higher-quality balsamic vinegar to get the best taste.
A few brands to try:
How to Make
Much like when making any other homemade salad dressing, the steps are pretty simple to follow:
Add all ingredients to a high-speed blender, food processor or mason jar.
Blend, process, or shake until ingredients are well incorporated.
Serve over a salad with your favorite toppings and enjoy!
Blending
Here's a closer look into the different ways to blend up dressings when making them at home:
High Speed Blender – The NutriBullet is the best and easiest way. It blends and emulsifies everything up beautifully and is super quick to clean.
Mini Food Processor – Another great option is to add all of the ingredients to a food processor and process until smooth.
Whisk by Hand – Lastly, if you do not have a blender or food processor you can always whisk the ingredients together by hand. Just note, the dressing will not be nearly as smooth.
Is It Healthy?
Yes. Balsamic vinaigrette dressing is one of the healthier salad dressing recipes to get at a restaurant, store, or to make at home. (Making homemade is definitely the healthiest!)
Since it normally only consists of balsamic vinegar, oil, and a sweetener it is naturally gluten-free, vegetarian, dairy-free, and vegan.
Cook's Tip: If you are at a restaurant or buy a store bought make sure to read the label!! Sometimes hidden gluten or animal products are added in to help preserve or thicken up the salad dressing.
How Long Does it Last?
Homemade balsamic vinaigrette dressing can last for 2 weeks or up to 3-4 months if stored in an airtight container in the refrigerator. (These cute glass mason jars work great!)
This range varies drastically based on the ingredients used. If garlic, or any other perishable ingredients are added in, it will only last for 2-4 weeks.
If you only used oil, vinegar, and honey or maple syrup, then it will last for 3-4 months in the refrigerator.
Salads to Make
Chopped Kale Salad with Cranberries
Fall Harvest Salad with Apples
Balsamic Vinaigrette Dressing Recipe
Make your own homemade Balsamic Vinaigrette Dressing with this 5 minute recipe! This quick and easy vegan dressing is great for adding flavor to salads, steak, chicken, and vegetables.
Ingredients
½

cup

olive oil

extra virgin

¼

cup

balsamic vinegar

2

Tbsp.

pure maple syrup

or honey

Pinch

of salt

optional
Instructions
Alternatively, you can whisk together ingredients in a bowl or shake until incorporated in a mason jar.

Store balsamic vinaigrette dressing in refrigerator for up to 3-4 months between servings. Enjoy!
Recipe Notes
You can use a mini-prep food processor, NutriBullet blender, or a Vitamix with similar results.
Each serving is roughly 2 tablespoons of salad dressing.
To Store: Seal in an airtight container like these cute glass mason jars in the refrigerator. If only oil, vinegar, and honey or maple syrup are used it will last for 3-4 months. If perishables are added keep for up to 2-4 weeks.
Nutrition Facts
Balsamic Vinaigrette Dressing Recipe
Amount Per Serving
Calories 218
Calories from Fat 189
% Daily Value*
Fat 21g32%
Sodium 3mg0%
Potassium 27mg1%
Carbohydrates 6g2%
Calcium 10mg1%
Iron 0.2mg1%
* Percent Daily Values are based on a 2000 calorie diet.