Baked Chicken Wings are tossed in a parmesan and garlic sauce and then baked in the oven.  These Parmesan and garlic baked chicken wings are super crispy and finger lickin' good!!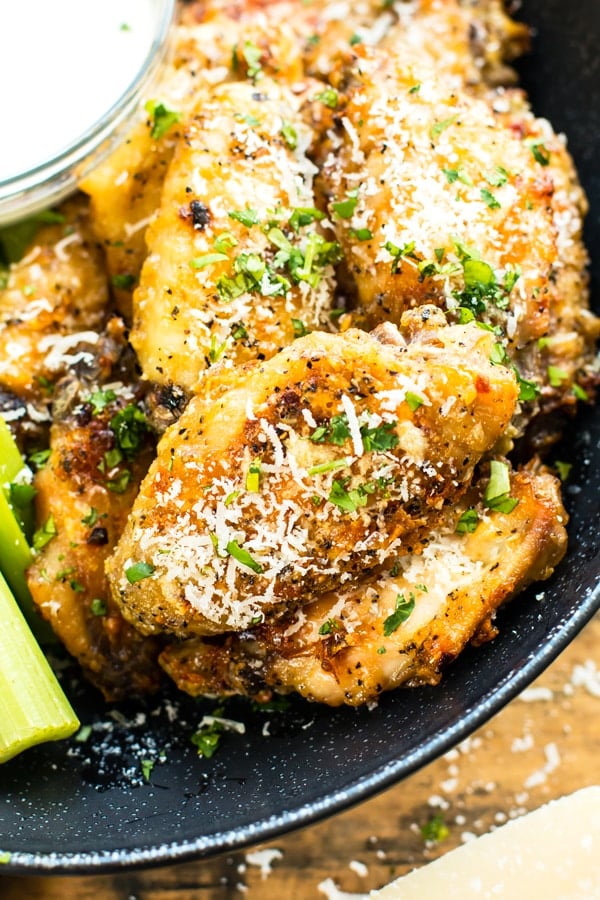 What is it about January that makes me non-stop think about getting my hands dirty in a big plate of wings?!  You know what I mean?!
The Super Bowl is coming up and so are many fun parties and get-togethers with loads of great food.  (If you haven't already checked them out, you should take a peek at these Buffalo Chicken Celery Sticks.  These are totally making the menu at our house!)
While I do love a good indulgent cheesy dip or bacon-loaded burger, sometimes your body is in the mood for something that won't throw it completely out-of-whack.
What I love about these baked chicken wings is just that… they are baked!!  Not fried in greasy oils (although, those are super tasty!), not coated in a gluten-laden breading.
The garlic & parmesan sauce that these baked chicken wings are coated in is so simple to prepare.  You only need a few ingredients (garlic, parmesan, olive oil and some seasonings) and you are ready to toss in your wings.
What are the parts of a Chicken Wing?
A whole chicken wing is composed of three different parts:
Drummette – this is the part that looks like a drumstick.  Drummettes usually have a bit more white meat and more meat to skin.
Wingettes / Flats – this is the middle part of the chicken wing.  It is composed of two bones, has more dark meat, and slightly less meat to skin than drummettes.
Tips – this is the cartilaginous tip of the wing.  Most often these will not come on the wings purchased at local grocery stores.
What part of the Chicken Wing is best?
Honestly, whatever part you like the best!!  Both my husband and I prefer the wingettes.  I was able to find just the wingettes already prepared in my local grocery store.  They also had a package of just drummettes or a combination of both.  The key here is to buy the wings already cut and prepared.  While you can buy the entire wing, it does take a bit more time to cut the wing into portions.
Parmesan and Garlic Baked Wings
Baked Chicken Wings are tossed in a parmesan and garlic sauce and then baked in the oven. These wings are super crispy and finger lickin' good!!
Servings
20
wing portions
Ingredients
Instructions
Preheat oven to 400 degrees.

In a large bowl combine salt, garlic, both peppers, lemon juice and olive oil. Whisk ingredients together until a slightly thick sauce forms. Add wing portions and toss to coat.

Sprinkle cornstarch over wings to distribute evenly. Toss wings again to coat them completely.

Lastly, add parmesan cheese incrementally to try and cover all of the wings completely.

Place wing portions on a parchment paper lined baking sheet that has been sprayed generously with non-stick cooking spray.* Sprinkle with additional Parmesan cheese if desired.

Bake wings in preheated oven for 35-40 minutes, flipping halfway through.

Broil wings on a high broil for 4-6 minutes.

Sprinkle wings with additional Parmesan cheese and parsley. Serve wings immediately with ranch or Italian dressing and enjoy!
Recipe Notes
*Do not use aluminum foil here!! It will only make the wings stick like crazy!!
Nutrition Facts
Parmesan and Garlic Baked Wings
Amount Per Serving
Calories 77
Calories from Fat 45
% Daily Value*
Total Fat 5g 8%
Cholesterol 19mg 6%
Sodium 102mg 4%
Potassium 40mg 1%
Total Carbohydrates 1g 0%
Protein 5g 10%
* Percent Daily Values are based on a 2000 calorie diet.
Want more recipes like these Parmesan & Garlic Baked Chicken Wings?