Skip the deep frying and bake Parmesan Garlic Wings in the oven for a healthier recipe that still has super crispy skin! Chicken wing portions are tossed in lemon juice, seasonings, cornstarch, and Parmesan cheese then baked on a wire rack until golden and crunchy. Serve this crowd-pleasing low-carb appetizer for your next Super Bowl or game day party!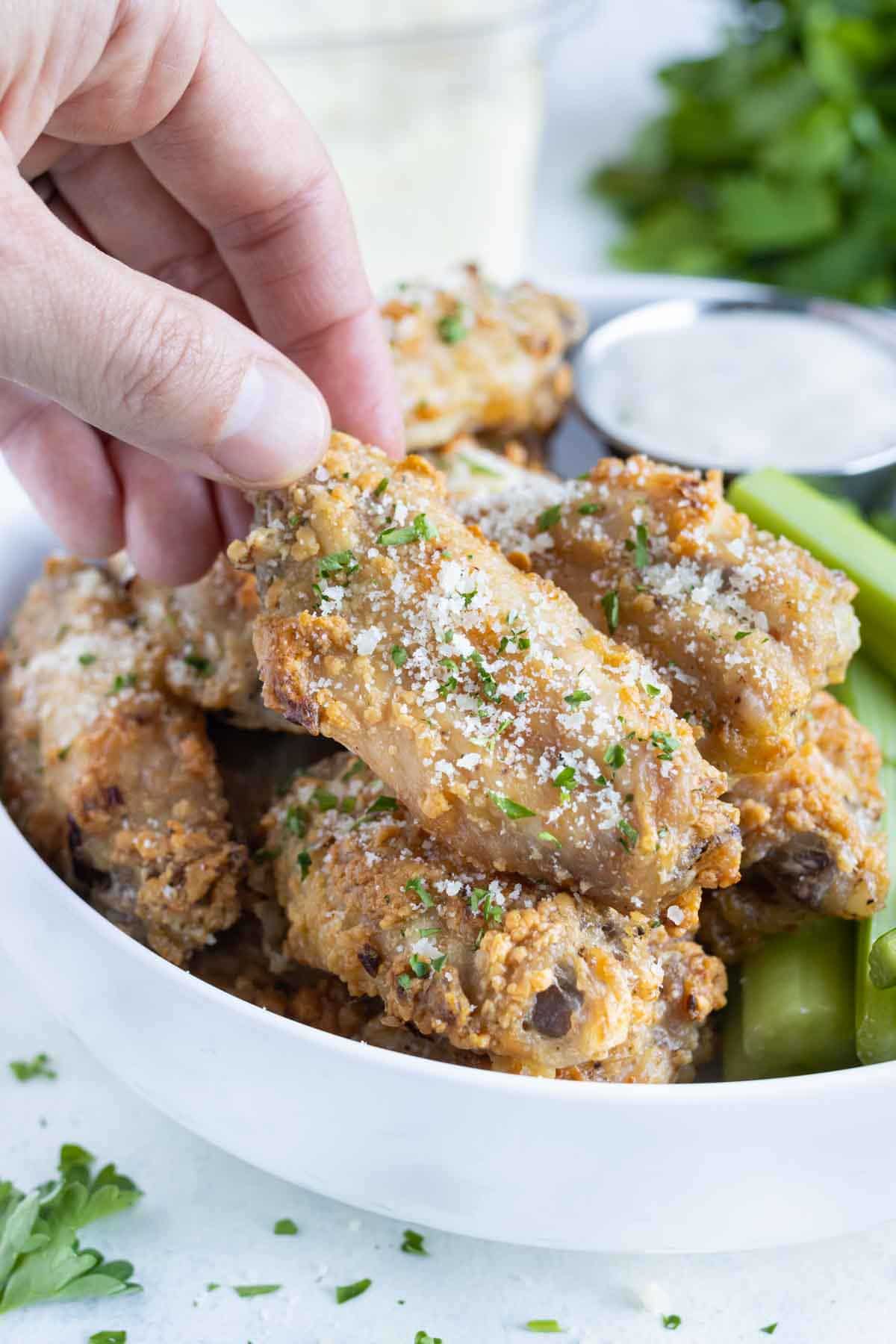 January is in full swing which means the Super Bowl is just around the corner!
And unlike most football fans that obsess over the game, all I can think about is a big ole' platter full of some garlic Parmesan wings!
(Or Buffalo Chicken Wings, Lemon Pepper Wings, or these Thai Chicken Wings… I think you get the picture.)
With their crunchy and crispy skin, flavor explosion of garlic and Parmesan cheese, and then they're actually healthier for you?!
Yup. With a few simple tricks you'll learn how to bake chicken wings in the oven so they get that crunchy skin you normally associate with their naughtier deep-fried cousin.
But these wings are not fried in unhealthy fat or oils. Nor are they coated in a flour-laden breading.
This means they're actually low-carb, keto and completely gluten-free!
And the best part about making them for the big game day or for a party? They're super easy to prep ahead of time so you don't miss a minute of the fun.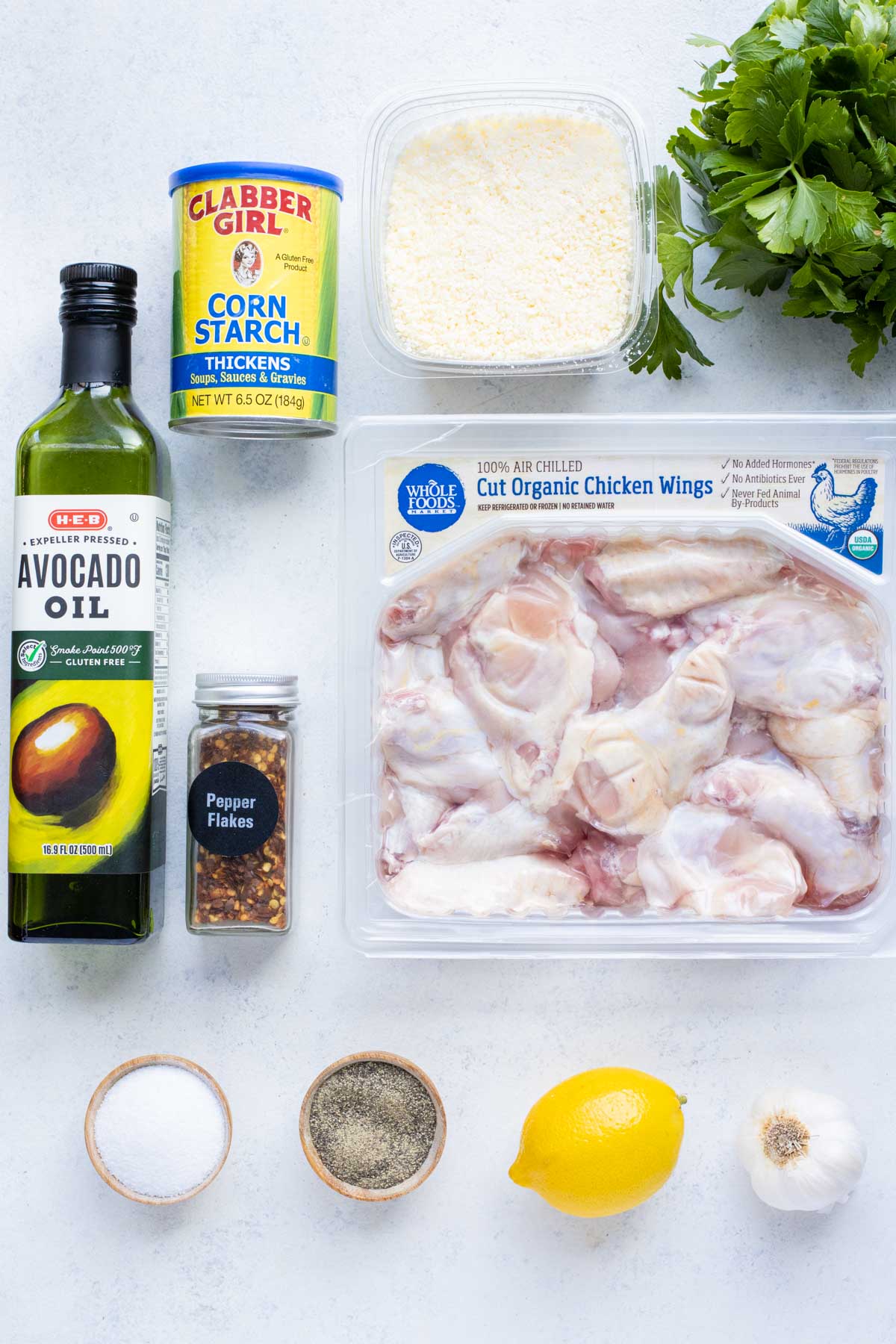 Ingredients
The simple ingredients you need to make this Garlic Parmesan Wings recipe include:
Wing Portions. You'll need roughly 2 pounds of drumettes and wingettes. Drumettes look like a drumstick, have the most white meat, and the highest meat to skin ratio. Wingettes, or flats, are composed of two bones, have more dark meat, and slightly less meat to skin than drummettes. Most stores normally have both wingettes and drumettes already cut and prepared in the meat section. If not, you can learn How to Cut Chicken Wings at home.
Garlic. Fresh garlic is best since it is full of the most flavor. Garlic powder can be substituted but will not give you nearly the same taste.
Parmesan Cheese. You need the finely grated type so it can evenly coat the wings. Shredded will be too big.
Lemon Juice. Freshly squeezed lemon juice or lime juice may be used.
Oil. Since you are baking at a high temperature, make sure to choose a high smoke point oil such as avocado oil. Canola, safflower, or grapeseed oil are also good options. Olive oil will work if it's all you have.
Cornstarch. This key ingredient is the starchy component that makes the wings crisp up in the oven. Tapioca starch or arrowroot starch are other grain-free alternatives. You can also swap it out for baking powder (not soda!) Just make sure you cut the amount in the recipe by half.
Red Pepper Flakes. Adjust the amount depending on your desired spice level. You can also leave it out completely.
How to Make Garlic Parmesan Chicken Wings
The basic steps for making Garlic Parmesan Wings are simple to follow. Please see the recipe card below for more detailed ingredient amounts.
Mix and Toss
Measure the lemon juice, olive oil, garlic, both peppers, and salt into a large bowl. Use a whisk to mix the ingredients together until a slightly thick sauce forms.
Add the wing portions to the bowl and toss until they are completely covered. This is what will make the cornstarch stick so be sure to cover every inch of the wings!
Starch and Parmesan
Sprinkle the cornstarch all over the wings and mix again so they are all coated evenly. You can also dust just a little at a time and stir before adding more.
This part is SUPER important. The starch helps give them their crispy, crunchy skin! So even if you're on a keto or low-carb diet… don't skip this step!
Cover them in grated Parmesan cheese and toss to combine. Once again, feel free to add a little at a time so all of the wings are evenly coated.
Bake in Oven
Place a wire rack on top of a rimmed baking sheet lined with parchment paper or aluminum foil. It is best if you use a wire rack with lines running in only one direction. The criss-crossed lines are much more challenging to clean!
Arrange the wings in a single layer on the wire rack making sure none of the wings touch so the heat can reach all sides. You want the wings skin side-down since they'll be flipped halfway through ending with the skin side-up.
Alternatively, you can bake the wings directly on a piece of parchment paper, but they won't get nearly as crispy!
Bake the wings for a total of 40-45 minutes at 400°F. Use tongs to carefully flip the wings over halfway through, then continue baking for the remaining time.
For an extra crispy finish, broil the wings skin side-up for 2-3 minutes.
Serving
Garnish this crispy dish with a little extra Parmesan cheese and chopped fresh parsley.
And while these baked garlic chicken wings definitely taste incredible on their own…
You can really take them over-the-top by serving with a side of celery and a few of these dip and sauce ideas:
Ranch Dressing – definitely the most popular!
Blue Cheese Dressing
Marinara Sauce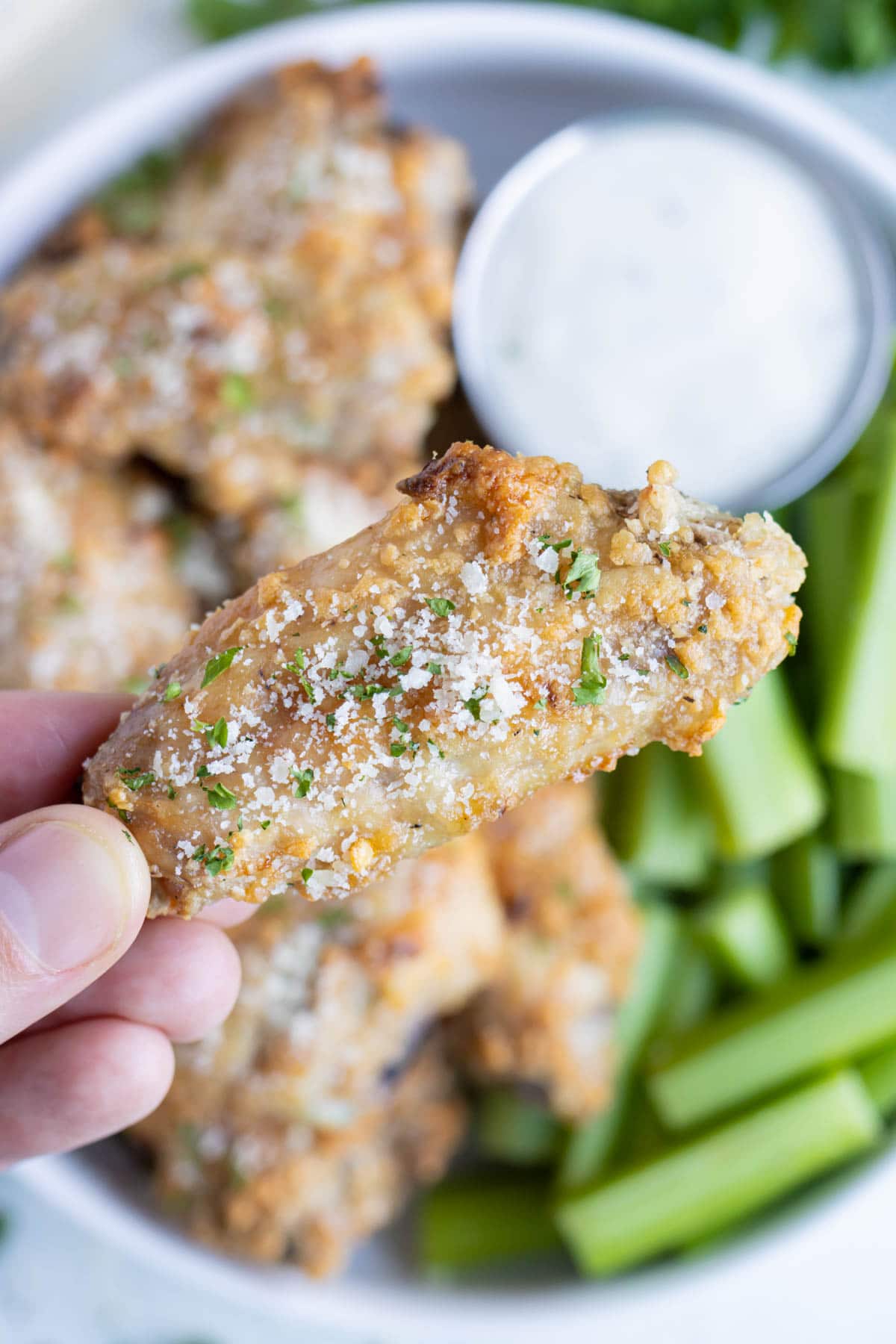 Meal Prep and Storage
To Prep-Ahead: Follow all of the directions up until baking then seal and refrigerate up to 2 days in advance of your party. Bake just before serving.
To Store: Seal leftovers in an airtight container and keep in the refrigerator for up to 3-5 days.
To Freeze: Place in a freezer-safe airtight container for up to 3 months.
To Reheat: Return to a 400°F oven for 10 minutes and broil just before serving for the best results.
FAQs
Are garlic Parmesan wings low-carb?
Yes, this recipe is low-carb and keto-friendly with only 1g carbohydrates per serving.
Are garlic Parmesan wings spicy?
The heat level will depend on the amount of red pepper flakes used. You can leave them out completely to keep them very mild, or sprinkle in a bunch for an extra kick!
Are garlic Parmesan wings gluten-free?
Yes, this baked wings recipe is gluten-free. However, not all of them are! You'll want to double-check to see if any flour was used in the recipe.
Expert Tips and Tricks
Use just enough oil. You only need to lightly coat the wing portions, so make sure you don't overdo it.
Starch is your friend! A tablespoon or two of cornstarch is the secret ingredient that helps the wings crisp up when baked in the oven.
Don't overcrowd. Any place where the wings are touching will not be exposed to the hot air in the oven, thus inhibiting that area from crisping up fully.
Use a wire rack. Lifting the wings off of the baking sheet allows the air to circulate all around the wings while they're baking in the oven. This is the same concept used when making Air Fryer Chicken Wings and why they tend to come out so crispy!
Bake chicken wings at 400°F. A relatively high-heat oven helps the skin to crisp up quickly while the inside becomes tender.
Broil them skin-side up. Just a few minutes under the broiler will add a delightful crunch to the chicken wings' skin.
More Game Day Recipes
Keep the munching going with these easy and delicious snacks:
Crockpot Buffalo Chicken Dip
Grape Jelly Meatballs
Bacon Wrapped Jalapeños
Baked Garlic Parmesan Wings Recipe
Skip the deep frying and bake Parmesan Garlic Wings in the oven for a healthier appetizer recipe. Serve this crunchy finger food for Super Bowl or any game day for an amazingly delicious low-carb snack!
Servings
20
wing portions
Ingredients
2

lbs.

wing portions

wingettes, drumettes, or a combo

2

Tbsp.

olive oil

1

tsp.

lemon juice

4

cloves

garlic

crushed

¼

tsp.

black pepper

½ – 1

tsp.

red pepper flakes

½

tsp.

salt

2

Tbsp.

cornstarch

tapioca or arrowroot starch

⅓

cup

Parmesan cheese

plus more for serving

Fresh parsley

finely chopped

Italian or Ranch dressing
Instructions
Preheat oven to 400 degrees.

In a large bowl combine lemon juice, olive oil, garlic, both peppers, and salt. Whisk ingredients together until a slightly thick sauce forms. Add wing portions and toss to coat.

Sprinkle cornstarch over wings to distribute evenly. Toss wings again to coat them completely.

Lastly, add parmesan cheese incrementally to try and cover all of the wings completely.

Line a large baking sheet with aluminum foil or parchment paper and then place a wire rack on top. Layer wings in a single layer, skin side-down, being careful that none of the skin is touching. (You can also place them directly onto parchment paper, but they won't come out nearly as crispy!)

Bake wings in preheated oven for 40-45 minutes, flipping halfway through.

Broil wings on a high broil for 2-4 minutes.*

Sprinkle wings with additional Parmesan cheese and parsley. Serve wings immediately with ranch or Italian dressing and enjoy!
Recipe Video
Recipe Notes
Make sure you use GRATED Parmesan cheese, and not shredded, for best results.
Broil your chicken wings skin-side-up for the crispiest skin.
To Store: Seal leftovers in an airtight container and keep in the refrigerator for up to 3-5 days.
To Freeze: Place in a freezer-safe airtight container for up to 3 months.
Nutrition Facts
Baked Garlic Parmesan Wings Recipe
Amount Per Serving
Calories 77
Calories from Fat 45
% Daily Value*
Fat 5g8%
Cholesterol 19mg6%
Sodium 102mg4%
Potassium 40mg1%
Carbohydrates 1g0%
Protein 5g10%
Vitamin A 50IU1%
Vitamin C 0.5mg1%
Calcium 24mg2%
Iron 0.3mg2%
* Percent Daily Values are based on a 2000 calorie diet.