You can easily have Simple Syrup ready in 5 minutes with only a few ingredients to have on hand for a variety of recipes. Simply dissolve a ratio of 1 part sugar into 1 part water on the stove, then store in a jar. You can infuse this quick recipe with your favorite flavors to use in cocktails, lemonade, and even sorbet!
Easy Homemade Simple Syrup
While you can always buy a bottle of the store-bought simple syrup, making it at home is JUST as easy and way more affordable.
Since it's extremely shelf-stable, you can even double or triple the batch. It will last for up to 2-4 weeks when stored in the refrigerator.
This syrup is an amazing addition to all your favorite cocktail recipes (like old fashioneds, mint juleps, or margaritas), lemonades, iced tea, and even homemade sorbets.
But, you can also infuse other flavors from fresh herbs and citrus zest to create new concoctions each time you make it.
Use this recipe wherever a liquid sweetener is called for.
What is Simple Syrup?
Simple syrup is a sweetened liquid made with a 1 to 1 ratio of sugar to water that is simmered for a couple of minutes, or until the sugar has dissolved into the water.
It can be used in coffee drinks, to make cocktails and mocktails, or even add a bit of sweetness to a homemade sorbet recipe.
Once you master the simple process of making simple syrup, you can then infuse it with tons of different flavors, from lavender to mint (great for mojitos) and even rose!
Ingredients
The ingredients you need to make this basic simple syrup recipe include:
Sugar. Plain, white, granulated sugar is the essential ingredient. While many times you can sub in alternative sweeteners, this syrup turns out best with white sugar.
Water. Tap water works perfectly. You need one part water to one part sugar.
Optional ingredients. You can infuse flavors with fresh herbs, cinnamon sticks, or vanilla bean for an added kick.
How to Make Simple Syrup?
Below, you'll find the steps to follow to make this classic simple syrup recipe:
Combine Ingredients
Carefully measure one cup sugar and one cup water in a medium or small saucepan. If you're using herbs or spices to infuse your syrup with flavor, add them as well.
Give the ingredients a good stir.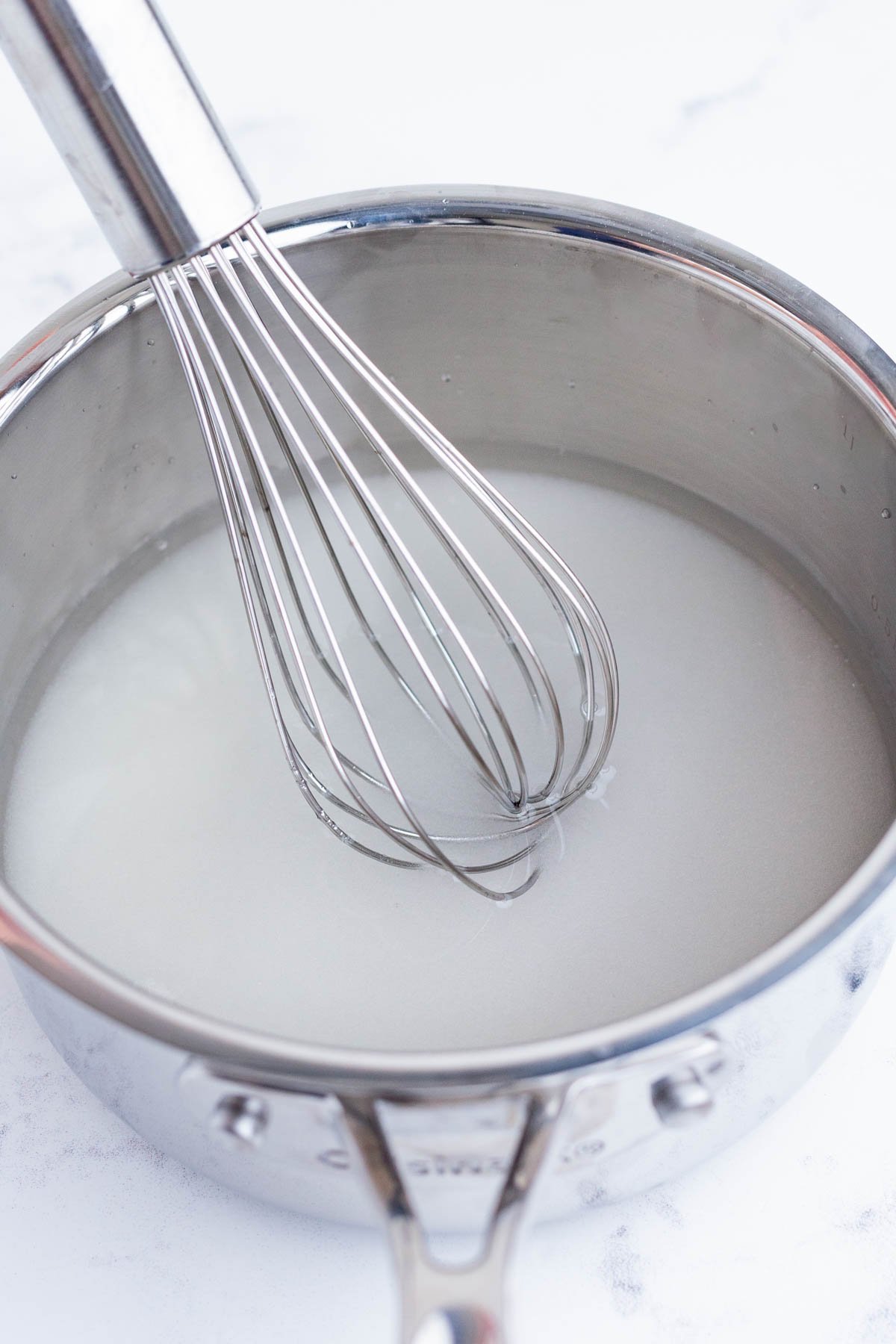 Heat It Up
Let the mixture simmer over medium or medium-high heat for 1 to 2 minutes. Be sure to stir while the liquid is cooking.
It is done when the sugar is completely dissolved. Be sure to watch closely so you don't overcook the syrup.
Let It Cool
Once the sugar is dissolved, remove the pan from the heat. You should have around 1½ cups of simple syrup.
Carefully pour the sugar syrup into a jar or airtight container. You can store it at room temperature or in the fridge.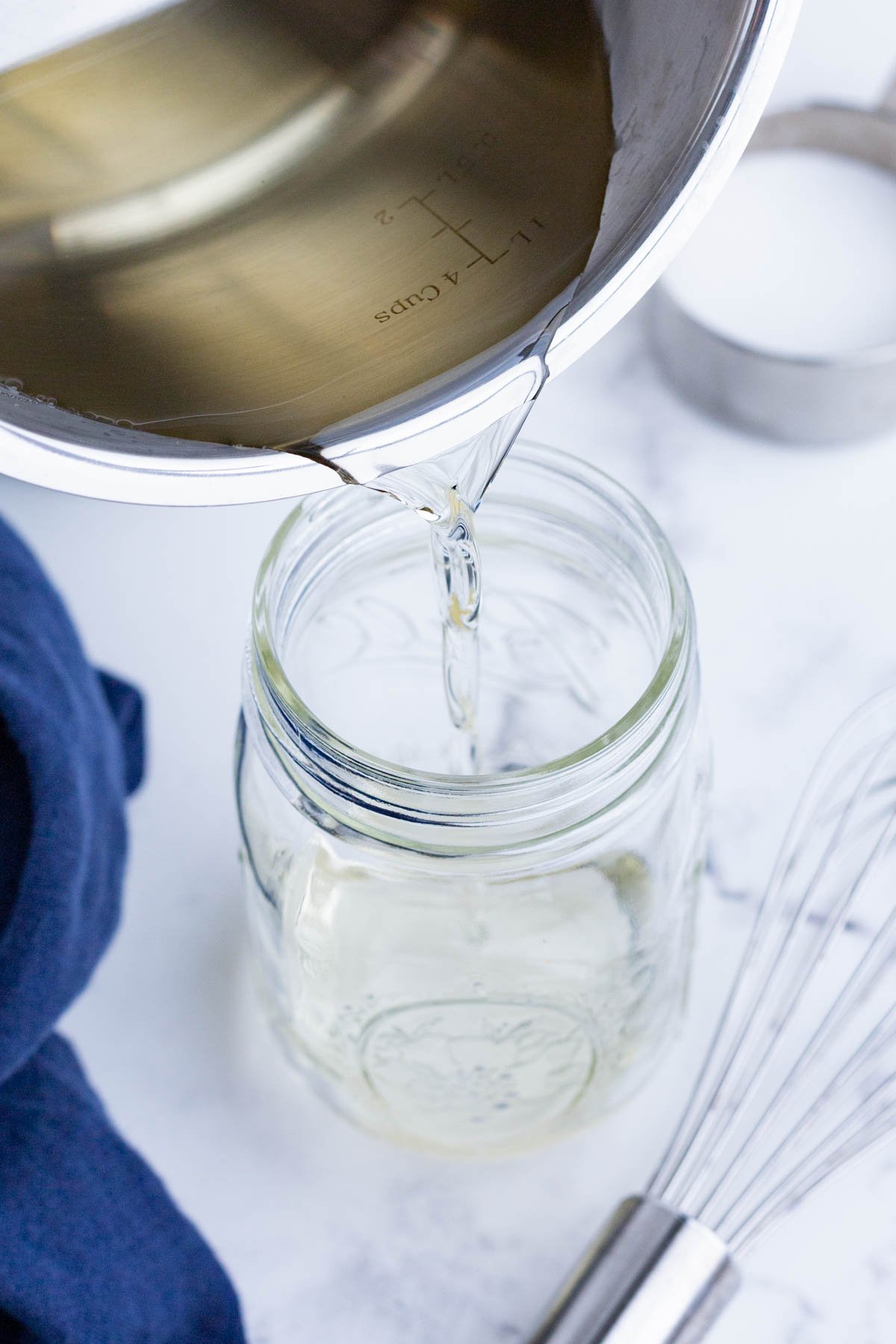 Meal Prep and Storage
How to prep ahead of time: This recipe can be made in its entirety a few days or weeks in advance. Keep it in an airtight bottle in the fridge.
How to store: Keep simple syrup in a jar with a tight-fitting lid, like a mason jar, or another airtight container on the counter for up to a week and in the fridge for up to 2-4 weeks.
What is the formula for simple syrup?
The basic formula for simple syrup is a 1 to 1 ratio of water and sugar, simmered over heat to dissolve the sugar. You can easily infuse the syrup with additional flavors, like lavender, mint, or rosemary. The best part of this recipe is how simple it is.
What is simple syrup made of?
Simple syrup is generally made up of only sugar and water. While you can get fancy and add other ingredients, this is the base recipe.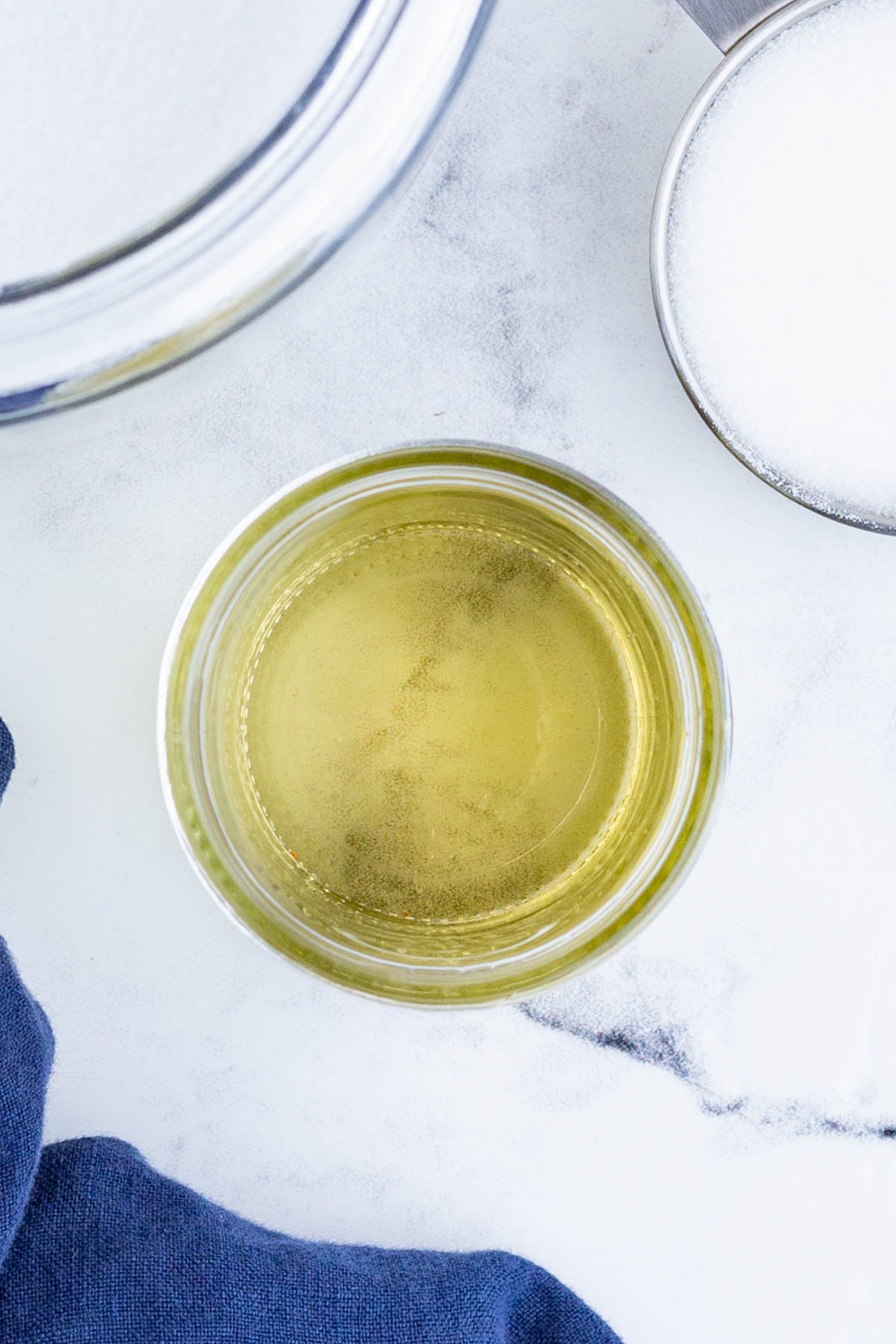 What is a simple syrup substitute?
There are a variety of things you can use as a sub for simple syrup, but the best are agave nectar, honey and pure maple syrup. These natural sweeteners are better for you than sugar and easy to come by.
How to make brown sugar simple syrup?
To make brown sugar simple syrup, simply heat equal parts brown sugar and water in a saucepan until the sugar dissolves. The rich color and flavor is perfect for cocktails and drinks.
Expert Tips and Tricks
Get creative. Simple syrup is delicious in everything from cocktails to sorbet.
Make extra. Whip up a big batch just to keep some on hand.
Take care. Pay attention to where you store the simple syrup; it lasts longer in the fridge.
Add something extra. Infuse things like lavender, mint, or even rosemary for flavor variations. Flavored simple syrup is a great addition to so many recipes.
Pay attention. Don't overcook this homemade recipe or it might be too concentrated.
What to Serve with Simple Syrup
You can put simple syrup into your favorite drinks and desserts. Try any of these recipes next!
Sorbets, like Peach Sorbet, Mango Sorbet, Strawberry Sorbet, Lime Sorbet, and Lemon Sorbet are easy and so refreshing.
Or, use it in your favorite cocktails like a Cadillac Margarita, Mango Margarita, or Watermelon Margarita.
How to Make Simple Syrup
You can easily have Simple Syrup on hand for a variety of recipes in less than five minutes with only a few ingredients. Simply dissolve a ratio of 1 part sugar into 1 part water on the stove, then store in a jar.
Instructions
Add the sugar and water to a medium-sized saucepan over medium heat. Simmer for 1-2 minutes, whisking occasionally, or until the sugar has dissolved.

Remove from the heat and let cool to room temperature before using. You should end up with roughly 1 ½ cups of simple syrup.

Store at room temperature in an airtight container or jar for up to 1 week or in the refrigerator for up to 2-4 weeks.
Recipe Notes
One serving size is

¼

cup of prepared syrup.
Nutrition Facts
How to Make Simple Syrup
Amount Per Serving
Calories 128
Calories from Fat 1
% Daily Value*
Fat 0.1g0%
Sodium 2mg0%
Potassium 1mg0%
Carbohydrates 33g11%
Calcium 2mg0%
Iron 0.02mg0%
* Percent Daily Values are based on a 2000 calorie diet.