In the summer, Lemon Sorbet is a refreshing frozen treat that's easy to whip up without an ice cream maker. This recipe calls for only a few simple ingredients, like homemade simple syrup along with lemon juice and zest. Freeze the creamy mixture in a loaf pan for a healthy dessert the whole family can enjoy.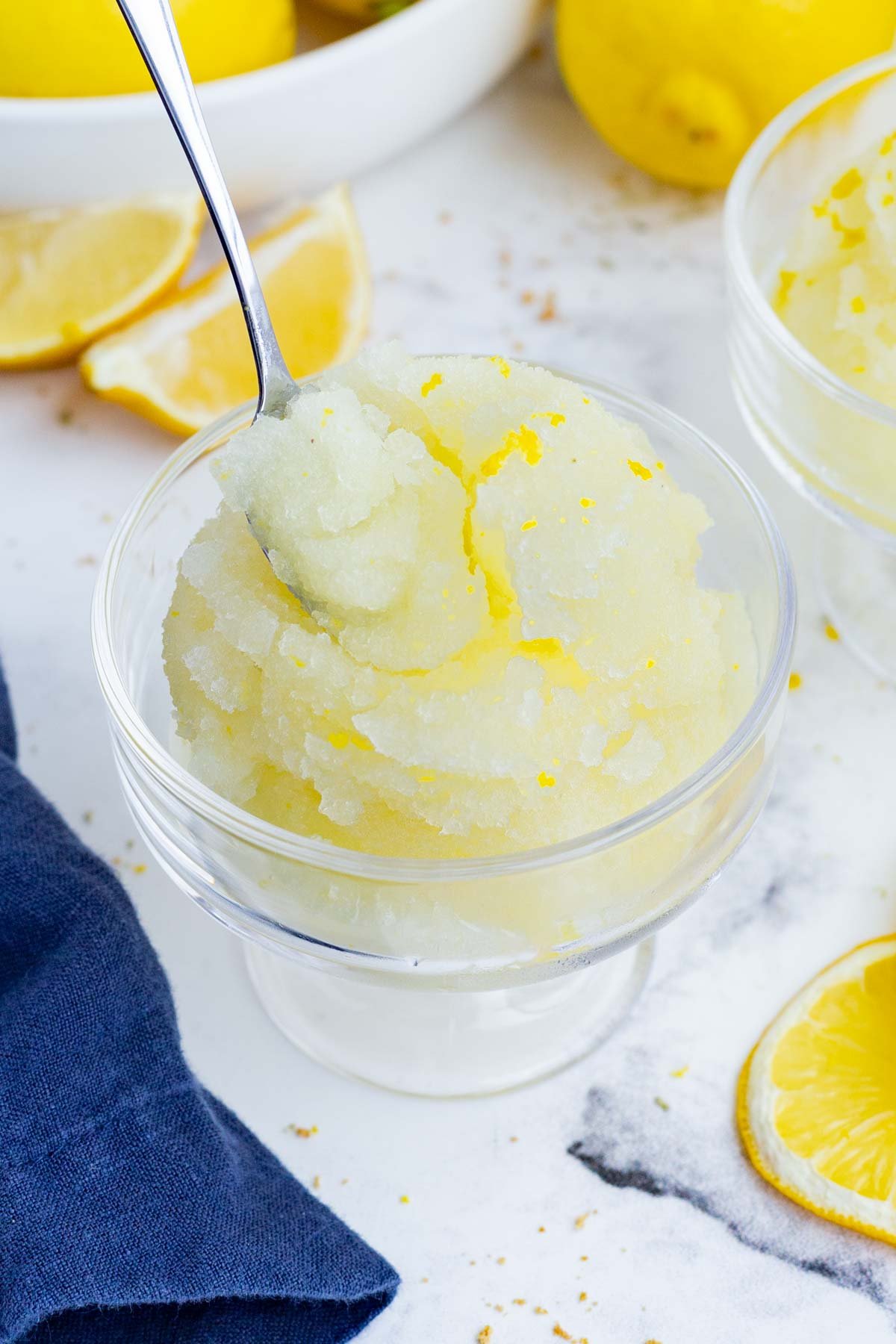 Homemade Lemon Sorbet Recipe
Lemon sorbet is the dessert you didn't know was missing from your stash of homemade recipes.
You might have tasted it at the ice cream shop, but never tried it yourself because you thought it was too complicated.
At least, that's what I thought!
But then I discovered it's surprisingly simple to make. All it takes are a few ingredients, a loaf pan, and a freezer. No ice cream maker needed!
This sorbet is the perfect treat after a day at the pool…
Or a trip to the park…
Heck, it's delicious anytime.
The bright lemon flavor and the cool, creamy texture are irresistible. It's like frozen lemonade in an ice cream bowl!
Other flavors, like Lime Sorbet, Mango Sorbet, Peach Sorbet, and Strawberry Sorbet need to be on your list to try soon!
And if you love some variety, try this Homemade Sorbet recipe and customize it with your favorite fruit.
Ingredients
To make this easy lemon sorbet recipe you need:
Simple syrup. Whip up a batch at home with just white sugar and water. If you prefer, you can buy a bottle at the grocery store or use agave nectar or maple syrup. This ingredient is the perfect balance to the tart flavor of lemon.
Lemon. You really need fresh lemons so you can have the juice and the zest! Meyer lemons have the most flavor.
Mint. Not required, but it makes a beautiful and flavorful garnish.
How to Make Lemon Sorbet?
The basic steps for making homemade lemon sorbet are easy to follow:
Make the Simple Syrup
The best type of sweetener to use when making sorbet is simple syrup, and it's a breeze to make up at home.
Simply measure ¾ cup sugar and ¾ cup water into a small or medium saucepan. Allow the mixture to simmer over medium heat for 1 to 2 minutes. Stir while it cooks until the sugar dissolves completely.
Remove the pan from the heat to cool. After reducing, there should be around 1 ¼ cups of sugar water left.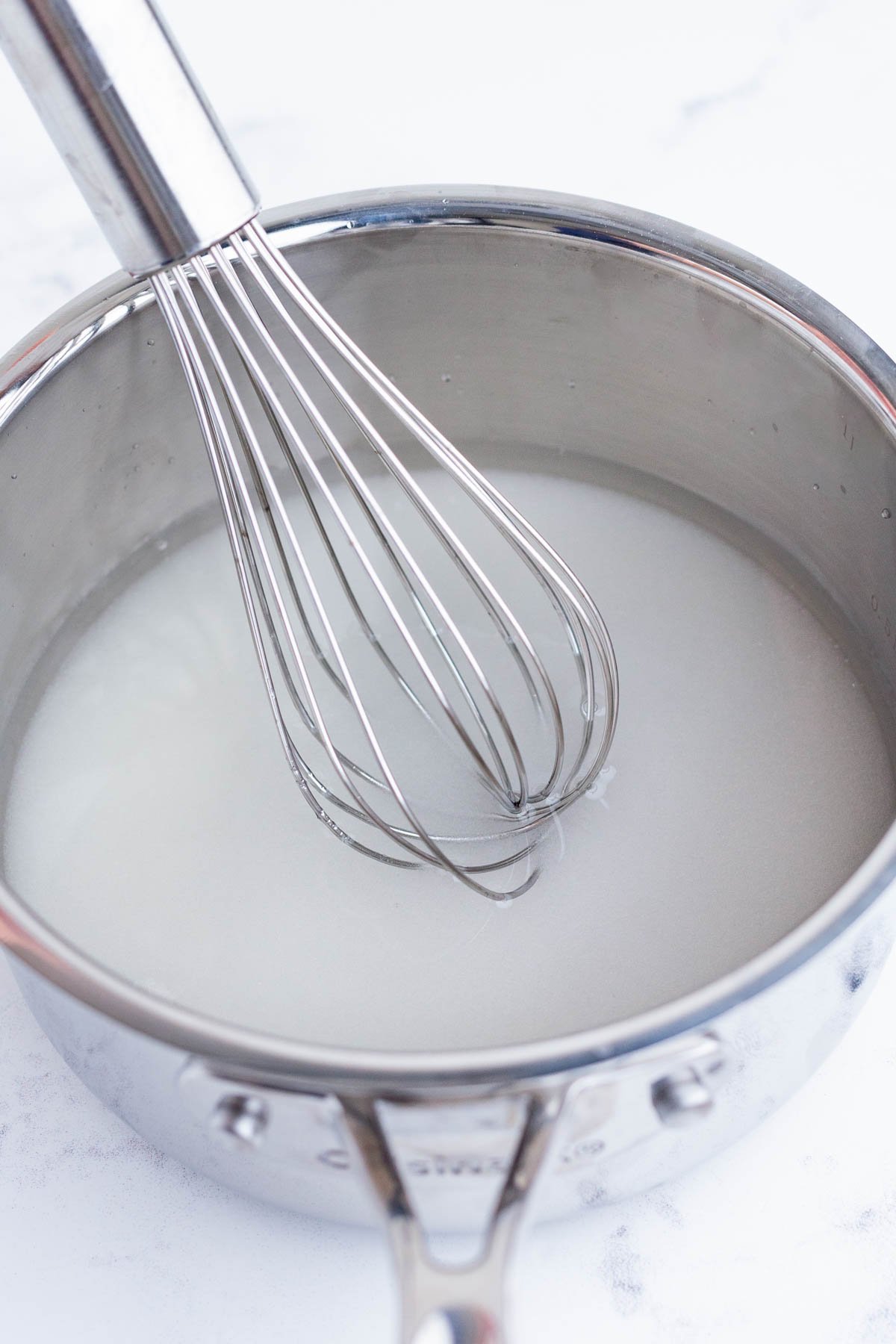 Combine Ingredients
The easiest way to mix up this lemon sorbet is in the 9″×5″ loaf pan you'll be using to freeze it. This also saves on dishes!
Pour the lemon juice, lemon zest, and sugar syrup into the pan and stir well.
Place the pan in the freezer for 3 to 4 hours.
Blend, Freeze, and Serve
Once the lemon mixture is firm from the freezer, scoop it into a high-speed blender or food processor.
Blend the mixture for a minute or two. It only needs to be smooth; you don't want to overwork it.
Pour the blended sorbet back into the loaf pan and return it to the freezer for at least 4 more hours or overnight.
When you're ready to serve the sorbet, let it rest for a few minutes at room temperature. Top this frozen dessert with a sprig of mint and lemon wedges or lemon peel, then enjoy!
What is the difference between sorbet and sherbet?
Sorbet and sherbet are both frozen treats made from fruit. However, sherbet also has added milk or heavy cream. They're both refreshing on a hot day!
What makes sorbet creamy?
A well-blended mix ensures a creamy sorbet. Make sure not to skip this step before freezing it to get the smooth texture you want; otherwise, there will be chunks of fruit and icy pockets. What's amazing about this recipe is you don't need an ice cream machine to get a creamy treat.
What is the secret to good sorbet?
The secret to a good sorbet is ripe fruit or good juice that is blended well. These few steps will give you a refreshing and tasty dessert.
Why is my homemade sorbet icy?
Ice crystals form in sorbet if too much water is added. To avoid an icy sorbet, make sure you measure all of the ingredients and thoroughly dissolve the sugar into the water for the simple syrup.
Expert Tips and Tricks
Fresh is best. Stick with fresh lemon juice and zest for the tastiest sorbet.
Prep ahead. Sorbet lasts for a while in the freezer, so feel free to make it early.
Wait till blended. Add additional sweetener as needed after tasting it first.
Get fancy. A sprig of fresh mint is a beautiful and tasty garnish.
Just enough. Don't over-process the sorbet in the blender or it will get too hot and liquidy.
More Sorbet Flavors
There are SO many sorbet recipes to try, but these delicious desserts are some of my favorites on hot summer days.
If you're a citrus lover and this sorbet was your jam, try this Lime Sorbet next.
Mango Sorbet, Peach Sorbet, and Strawberry Sorbet are so creamy and made with real fruit.
Release your inner creative genius with this basic Sorbet recipe and choose your favorite fruits (or blends!)
Other Frozen Treats
Cool down with any of these other easy and refreshing frozen recipes.
Frozen Lemonade is so simple and everyone will love it.
For the adults, try a Watermelon Margarita, Watermelon Frosé, Mango Margarita, Frozen Mojito, or Peach Bellini.
You can also whip up a Fruit Smoothie, like a Mixed Berry Smoothie.
Lemon Sorbet Recipe
In the summer, Lemon Sorbet is a refreshing frozen treat that's easy to whip up without an ice cream maker. This recipe calls for only a few simple ingredients, like homemade simple syrup along with lemon juice and zest.
Total Time
8
hours
5
minutes
Ingredients
¾

cup

sugar*

¾

cup

water*

1 ¼

cups

lemon juice

freshly squeezed

2

tsp.

lemon zest

Mint

for serving, optional
Instructions
To Make the Simple Syrup:
Add the sugar and water to a medium-sized saucepan over medium heat. Simmer for 1-2 minutes, whisking occasionally, or until the sugar has dissolved. Remove from the heat and let cool to room temperature before using. You should end up with roughly 1 ¼ cups of simple syrup.
To Make the Lemon Sorbet:
Pour the lemon juice into a 9×5-inch metal loaf pan along with the simple syrup and zest. Whisk until combined and freeze for 3-4 hours, or until mostly firm.

Transfer the mixture to a high speed blender or food processor and blend for a minute or two, or until smooth. Avoid over blending to avoid heating it up too much.

Pour the mixture back into the loaf pan and freeze for another 4 hours or up to overnight. Let sit at room temperature for a couple of minutes before serving with a sprig of mint, if desired.
Recipe Video
Recipe Notes
You can also use 1 ¼ cups agave nectar or honey instead of the simple syrup, if desired.
Nutrition Facts
Lemon Sorbet Recipe
Amount Per Serving
Calories 162
Calories from Fat 3
% Daily Value*
Fat 0.3g0%
Polyunsaturated Fat 0.02g
Monounsaturated Fat 0.01g
Sodium 4mg0%
Potassium 83mg2%
Carbohydrates 43g14%
Protein 0.3g1%
Vitamin A 6IU0%
Vitamin C 33mg40%
Calcium 10mg1%
Iron 0.1mg1%
* Percent Daily Values are based on a 2000 calorie diet.