Peach Sorbet is not only easy to make in less than 5 minutes, but you don't even need an ice cream maker! Simply blend up frozen peaches along with citrus juice, zest, and a simple syrup then freeze in a loaf pan. Within a few hours, you have a healthy, frozen dessert to keep you cool all summer long.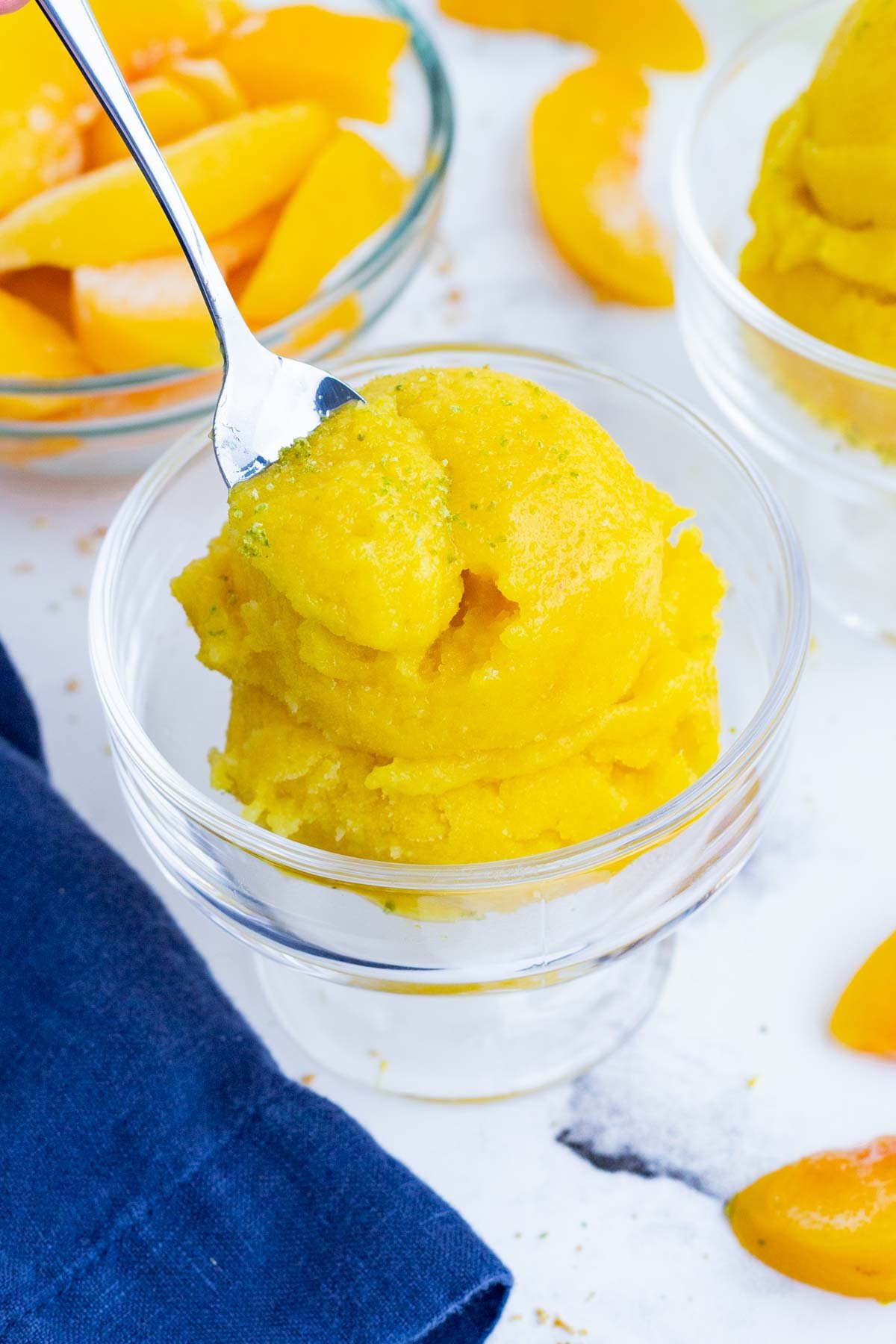 Homemade Peach Sorbet Recipe
If you've ever been to Texas, especially the hill country region, you know we take our peaches seriously.
Each summer, local Texas peaches flood the grocery stores. And if you're lucky enough to be near some of the farms that grow them, you get the privilege of sampling some of that liquid, sun-ripened gold right off the tree.
Among the many ways to enjoy this fruit, one of my favorites has to be this peach sorbet.
It's shockingly easy to whip up. You only need to blend frozen peaches, lemon or lime juice and zest, and a sweetener, then freeze it in a loaf pan.
I find myself turning to this frozen treat often on hot summer days. But you don't have to feel guilty about satisfying that sweet tooth because it's so healthy! As good as peach ice cream is, there's often too much sugar and lots of rich dairy.
If this recipe hits the spot, you might also love other flavors, like Strawberry Sorbet, Mango Sorbet, Lime Sorbet, and Lemon Sorbet in the summer heat.
Or, use this Sorbet Recipe as a base and customize it your own concoction of fruit!
Ingredients
The simple ingredients you need to make this easy peach sorbet recipe include:
Peaches. Save time by buying a bag of frozen peaches at the grocery store, or peel peaches then freeze your own during peach season. The quality of the fresh peaches is the most important thing because that is most of the flavor you'll be getting. Ripe peaches are best.
Sweetener. Peaches can vary quite a bit in sweetness which will affect how much sweetener you need. I prefer to make my own simple syrup, which is equal parts water and sugar. You can also use agave nectar, honey, or even maple syrup.
Citrus. You can choose lemon or lime, but stick with fresh. You'll want both lime or lemon juice along with the zest.
Mint. Completely optional, but it's the perfect garnish.
How to Make Peach Sorbet?
These are the steps to follow to make this 3-ingredient sorbet recipe:
Combine Ingredients
Add the frozen peaches, simple sugar syrup (or preferred sweetener), and the lime or lemon zest and juice to the pitcher of a heavy duty blender or food processor.
Blend the sorbet mixture for about a minute or two. Take time to scrape the sides every 20 or 30 seconds to get everything combined.
Let it run until the texture of the sorbet is smooth and creamy with no chunks of peaches left.
Give the peach mixture a taste and add extra sweetener if needed.
Freeze the Sorbet
After you have the sorbet at the right consistency, pour it into a 9″×5″ loaf pan. Use a spatula to evenly spread the mixture and smooth out the top. If you don't have a loaf pan, you can use a freezer-safe container.
Place the pan in the freezer for at least 4 hours or overnight.
A few minutes before serving, get the sorbet out so it is easier to scoop. Serve it in small bowls with fresh mint, if desired.
What's the difference between sorbet and sherbet?
Many people think sorbet and sherbet are the same, but that's not quite true. Both are fruit-based frozen treats, but sherbet contains dairy products, like milk or heavy cream. However, you don't have to have an ice cream machine for either one!
What makes sorbet creamy?
To ensure a creamy sorbet consistency, blend the mix well before you freeze it. Chunks of fruit will affect the texture and it won't be quite as good. An extra minute of blending will get you a creamier sorbet every time.
What's the secret to good sorbet?
The most important thing to getting a good sorbet is high-quality and flavorful fruit along with blending the base well. Fruit is the main flavor, so be sure you like the taste of it. It's best to freeze in-season fruit and make your own simple syrup, if possible.
Why is my homemade sorbet icy?
If you notice ice crystals in your sorbet, there might have been too much water in the base. Make sure you use a good simple syrup or sweetener along with enough fruit.
Expert Tips and Tricks
You choose. You can freeze peaches when they're in season or save time by buying a bag of frozen fruit at the grocery store.
Be a prepper. Sorbet can sit in the freezer for weeks, so go ahead and make it early.
Just a little bit. Don't add too much sweetener at first. Then, taste the sorbet mixture after blending and use a little more if needed.
Top it off. Some fresh mint adds a pop of color and flavor to a bowl of peach sorbet.
Let it sit. Frozen sorbet just from the freezer is sometimes tough to scoop, so get it out a few minutes early.
More Sorbet Favors
Sorbet is always refreshing and a great way to cool down—even more so on summer days. This is especially true in the hotter regions. Put all of these on your summer rotation.
Mango Sorbet and Strawberry Sorbet are easy to make with fresh fruit, just like this peach recipe.
However, Lemon Sorbet and Lime Sorbet are made with citrus juice and are so crisp.
Take this basic Sorbet Recipe to make your own customized creation!
Other Frozen Treats
If you're looking for more ways to treat yourself when it's hot, try any of these recipes next.
A Piña Colada, Frozen Mojito, Watermelon Margarita, or Mango Margarita are perfect for the adults in the group. Or go for a Peach Bellini if you love peaches!
Make a Frozen Lemonade or a Fruit Smoothie for the kids (like this Peach Banana Smoothie).
Peach Sorbet Recipe
Peach Sorbet is not only easy to make in less than 5 minutes, but you don't even need an ice cream maker! Simply blend up frozen peaches along with citrus juice and zest and a simple syrup then freeze in a loaf pan.
Total Time
4
hours
5
minutes
Ingredients
16

oz.

peach slices

frozen

¼-½

cup

agave nectar

honey, or simple syrup

1

Tbsp.

lime juice

or lemon, freshly squeezed

1

tsp.

lime zest

or lemon

Mint

for serving, optional
Instructions
Add the frozen peaches, ¼ cup sweetener, juice and zest to a large food processor or blender. Blend for a minute or two, scraping down the sides every 20-30 seconds, or until completely smooth and there are no visible chunks of fruit remaining. Add additional sweetener 1 tablespoon at a time, blending well after each addition, until your desired level of sweetness is reached.

Transfer to a 9×5-inch metal loaf pan and spread it out using a spatula until it's in an even layer.

Freeze for at least 4 hours or up to overnight. Let sit at room temperature for 1-2 minutes before serving with a sprig of mint, if desired. Enjoy!
Recipe Notes
You can choose to use a natural sweetener such as agave nectar, honey, or pure maple syrup. Or you can make simple syrup using equal parts sugar and water.
Nutrition Facts
Peach Sorbet Recipe
Amount Per Serving
Calories 92
Calories from Fat 4
% Daily Value*
Fat 0.4g1%
Sodium 15mg1%
Potassium 144mg4%
Carbohydrates 22g7%
Protein 1g2%
Vitamin A 372IU7%
Vitamin C 8mg10%
Calcium 6mg1%
Iron 0.4mg2%
* Percent Daily Values are based on a 2000 calorie diet.