From Instant Pot mashed potatoes to sweet potato casserole and green bean casserole, this guide has all of the gluten-free and healthy Thanksgiving side dishes you have been craving this year!  You will find the absolute BEST Thanksgiving sides that also happen to be gluten-free, dairy-free, Paleo, and many are vegan, too!
Christmas & Thanksgiving Sides Time!
Hello my wonderful friends, family and fabulous readers!!  Did you know Thanksgiving and Christmas are just around the corner?!  Eeek!  I am not sure if it was the hot weather that seemed to drag on FOREVER here in Texas, or perhaps it is the few days earlier that Thanksgiving happens to fall… whatever the case – it totally snuck up on me!!  Do you feel the same way?
Thanksgiving Side Dishes Guide to the Rescue!
In case your are in a Thanksgiving scurry, I thought I might try and help out by rounding up all of my absolute FAVORITE gluten free and healthy Thanksgiving side dishes found here at Evolving Table.  Some of these recipes have been in my family for years (totally check out the Healthy Sweet Potato Casserole!), and others were a new creation that came about this year (Ultra Crispy Smashed Potatoes are a complete show-stopper!).  All of them, though, are 100% gluten-free and made with love!
If you happen to try out any of the recipes below, I would love to hear how they turned out!  Simply leave a comment in the section below. 🙂  Ok, enough with the chit-chat…
Bring on the Healthy
Thanksgiving Side Dishes!!…
Healthy Sweet Potato Casserole is topped with a pecan and oat crumble for a lightened-up, gluten-free version of your favorite Thanksgiving Day casserole!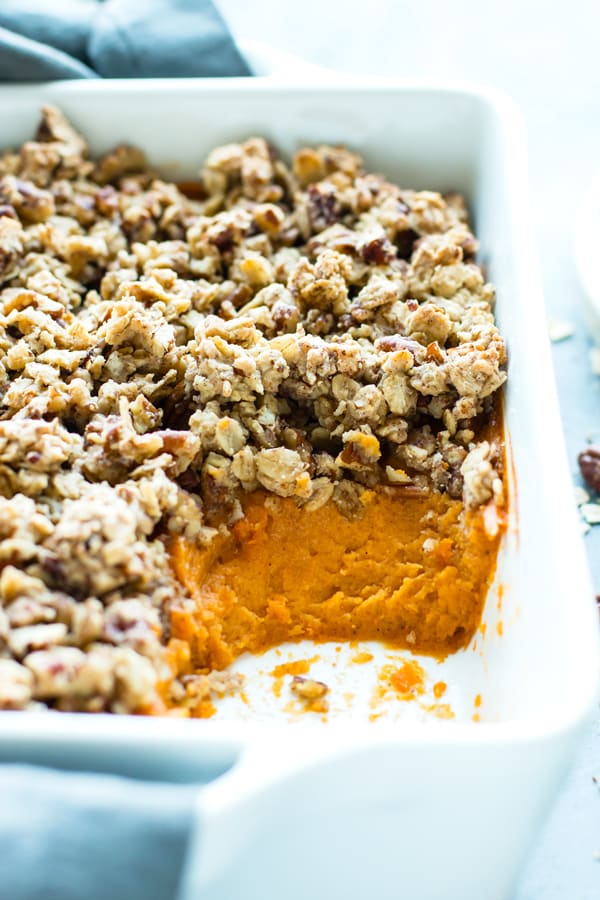 A Southern Cornbread Dressing recipe that is made from gluten-free cornbread, the "trinity" of bell peppers, onions, and celery, andouille sausage, and full of soul food spices.  This easy cornbread dressing has been served as one of our traditional Thanksgiving Day side dishes at our holiday table for decades.
Crispy smashed potatoes are smothered in a delicious garlic and herb sauce for a gluten-free, vegetarian, vegan, and dairy-free side dish recipe.  These easy garlic smashed potatoes are made with red potatoes, butter or olive oil, rosemary and thyme!  
An easy and homemade Cranberry Orange Sauce recipe that is made with fresh or frozen cranberries, orange juice, orange zest, and a bit of honey or maple syrup.  Learn how to make fresh cranberry sauce with orange juice that is gluten-free, dairy-free, vegan, vegetarian, Paleo, and tastes so much better than the canned kind!
Enjoy a big bowl of roasted butternut squash soup that is made with coconut milk and other Whole 30, vegan, and Paleo-friendly ingredients.  It makes a wonderful main dish, appetizer, or side dish recipe.
An elegant but super easy side dish, these oven-roasted beets are served with a slightly sweet and tangy honey ricotta and fresh herbs.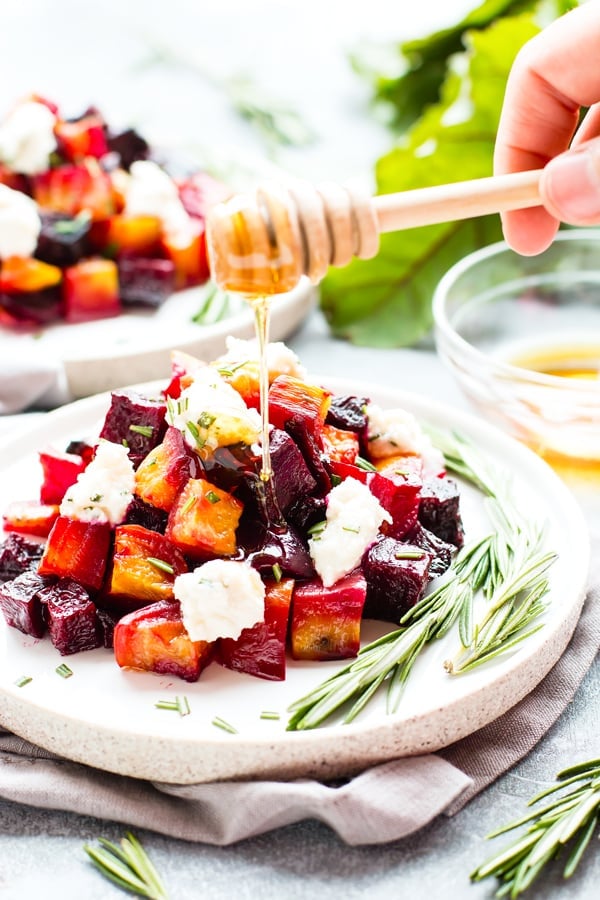 These Hasselback Sweet Potatoes with Brown Sugar & Pecans make a great gluten-free and vegetarian side dish for Thanksgiving, Christmas or any other holiday meal!
Cauliflower mashed potatoes that are loaded with butter, sour cream, cheese, bacon crumbles and green onions.  A healthier, low-carb and gluten-free side dish to replace traditional mashed potatoes!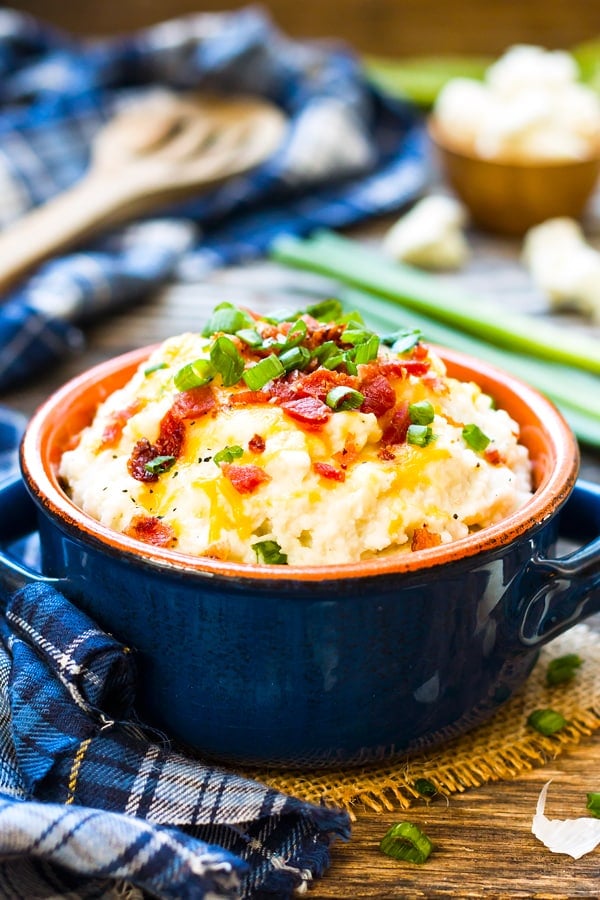 Super crispy Brussel sprouts with bacon will soon become your new favorite go-to gluten-free and Paleo side dish recipe!  A few simple tricks will teach you how to make crispy Brussel sprouts every time.
This chopped broccoli salad is tossed in a sweet sauce full of balsamic vinegar, maple syrup and a bit of almond butter.  It is finished with toasted walnuts, dried cranberries and pumpkin seeds for a healthy, gluten-free side dish recipe!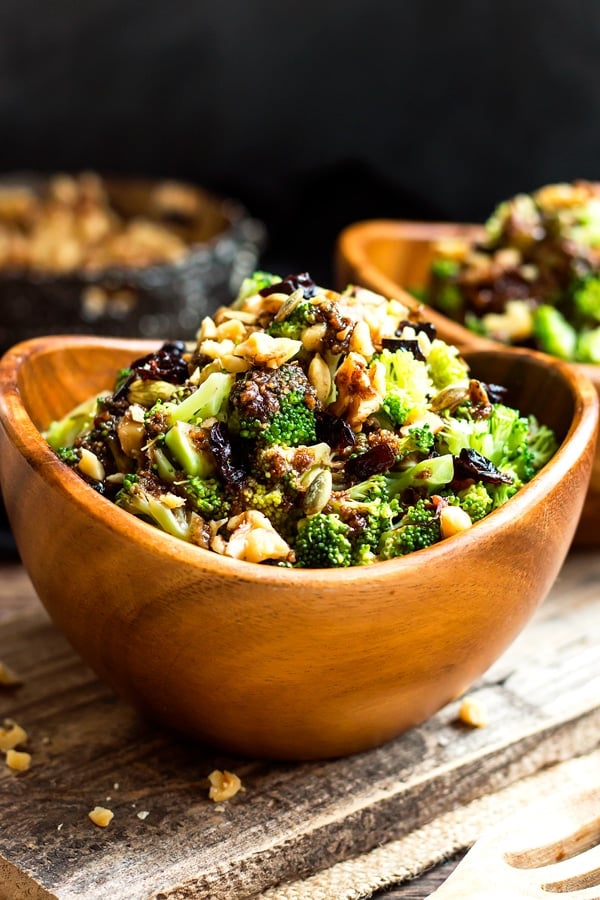 A roasted beet recipe full of crumbly goat cheese, toasted pecans, rosemary and thyme.  It makes a healthy side dish recipe for summer or fall!
Bacon Wrapped Asparagus is a low-carb, keto, and healthy side dish recipe that is great for weeknight dinners or as a Thanksgiving Day vegetable dish!  Learn the ingredients, tools, and techniques that will teach you how to make bacon wrapped asparagus that turns out perfectly every single time!
Instant Pot Mashed Potatoes are ultra rich, super creamy, and secretly gluten-free, dairy-free, vegan, and Whole30-approved!  This easy garlic mashed potatoes recipe is made with red skin potatoes, garlic, butter or buttery sticks, and fresh herbs for a healthy side dish recipe the whole family will love.
This easy Green Bean Casserole recipe is made from scratch with fresh green beans, homemade crispy onions, and a gluten-free and vegan cream of mushroom soup.  Learn how to make green bean casserole that is a family favorite Paleo, vegan, vegetarian, dairy-free and gluten-free Christmas and Thanksgiving side dish recipe.
Use up all of your summer squash in this super easy and healthy summer squash casserole.  This squash and zucchini casserole is a quick side dish for any meal!

With only six ingredients and five minutes of prep time, you can have these Slow Cooker Honey Glazed Carrots as a super easy and healthy gluten-free side dish!  An easy way to make honey glazed carrots in the Crock-Pot!
Green Beans Almondine is a simple side dish recipe that can be made ahead or whipped up in under 20 minutes!  This Green Bean Almondine Recipe is made with butter, garlic, almonds, and a touch of lemon juice for a light, refreshing, gluten-free, vegetarian, and low-carb side dish.
A restaurant quality recipe for browned butter roasted Brussels sprouts that are made with only 5 ingredients and are super quick and simple to make.
Roasted Garlic Mashed Cauliflower is a wonderful vegan, ketogenic, low-carb, and Paleo cauliflower mashed potatoes recipe.  This cauliflower mashed potatoes recipe will give you super creamy cauliflower that is loaded with garlic flavor and are sure to be a hit at your Christmas, Thanksgiving, or weeknight dinner table.  
Honey roasted carrots are tossed in a sweet honey and herb sauce for a quick and easy side dish recipe.  This healthy, easy, gluten-free, dairy-free, and vegetarian roasted carrots recipe is a simple side dish recipe that has over 500% of your Vitamin A daily requirement!
Chopped Kale Salad with Cranberries is tossed in a delightful maple and orange vinaigrette and then topped with toasted pecans, pumpkin seeds, onions and goat cheese.  It makes a wonderful Christmas and Thanksgiving salad recipe that is full of Fall and Winter flavors!