From Instant Pot mashed potatoes to sweet potato casserole and green bean casserole, this guide has all of the gluten-free and healthy Thanksgiving side dishes you have been craving this year! You will find the absolute BEST Thanksgiving sides that also happen to be gluten-free, dairy-free, Paleo, and many are vegan, too!
Hello my wonderful friends, family and fabulous readers!!
Did you know Thanksgiving and Christmas are just around the corner?!
Eeek! It totally snuck up on me!! Do you feel the same way?
Thanksgiving Side Dishes
In case you're in a Thanksgiving scurry, I thought I might try and help you out a bit.
Below you will see all of the BEST healthy Thanksgiving dinner side dishes with healthy ingredients.
(They also ALL happen to be gluten-free for those of you that need to avoid it!)
Some of these recipes have been in my family for years (totally check out the Sweet Potato Casserole!)…
While others are a new creation that came about this year (Brussels Sprouts au Gratin are a complete show-stopper!).
All of them, though, are 100% gluten-free, many dairy-free, and have a healthy twist! So, add these to your Thanksgiving menu along with the turkey and dig in!
Healthy Thanksgiving Side Dish Recipes
(GF)
Sweet Potato Casserole with pecan topping is the perfect holiday side dish. This recipe is so easy to make by simply combining puréed sweet potatoes with butter, maple syrup, and cinnamon and then topping with a crunchy and sweet pecan crumble. Serve up this Southern favorite for Christmas, Thanksgiving, or any night of the week.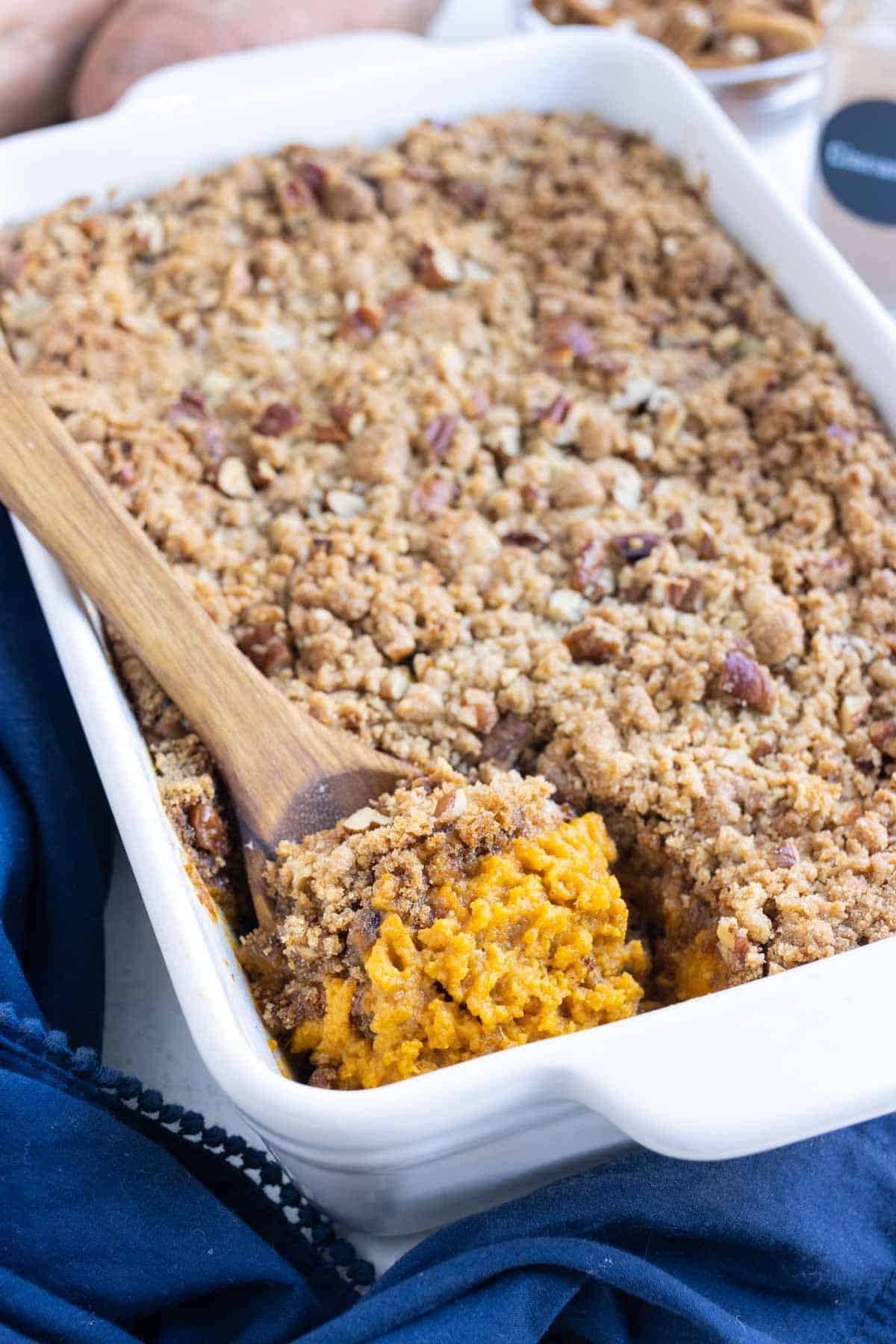 (GF, DF)
Cajun Cornbread Dressing with Sausage is a delicious soul food twist on a Southern, Thanksgiving favorite. This easy recipe has a cornbread base while sausage, veggies, and blackened seasoning round out this Creole side dish. You can even meal prep this "stuffing" beforehand to save precious time on the day of!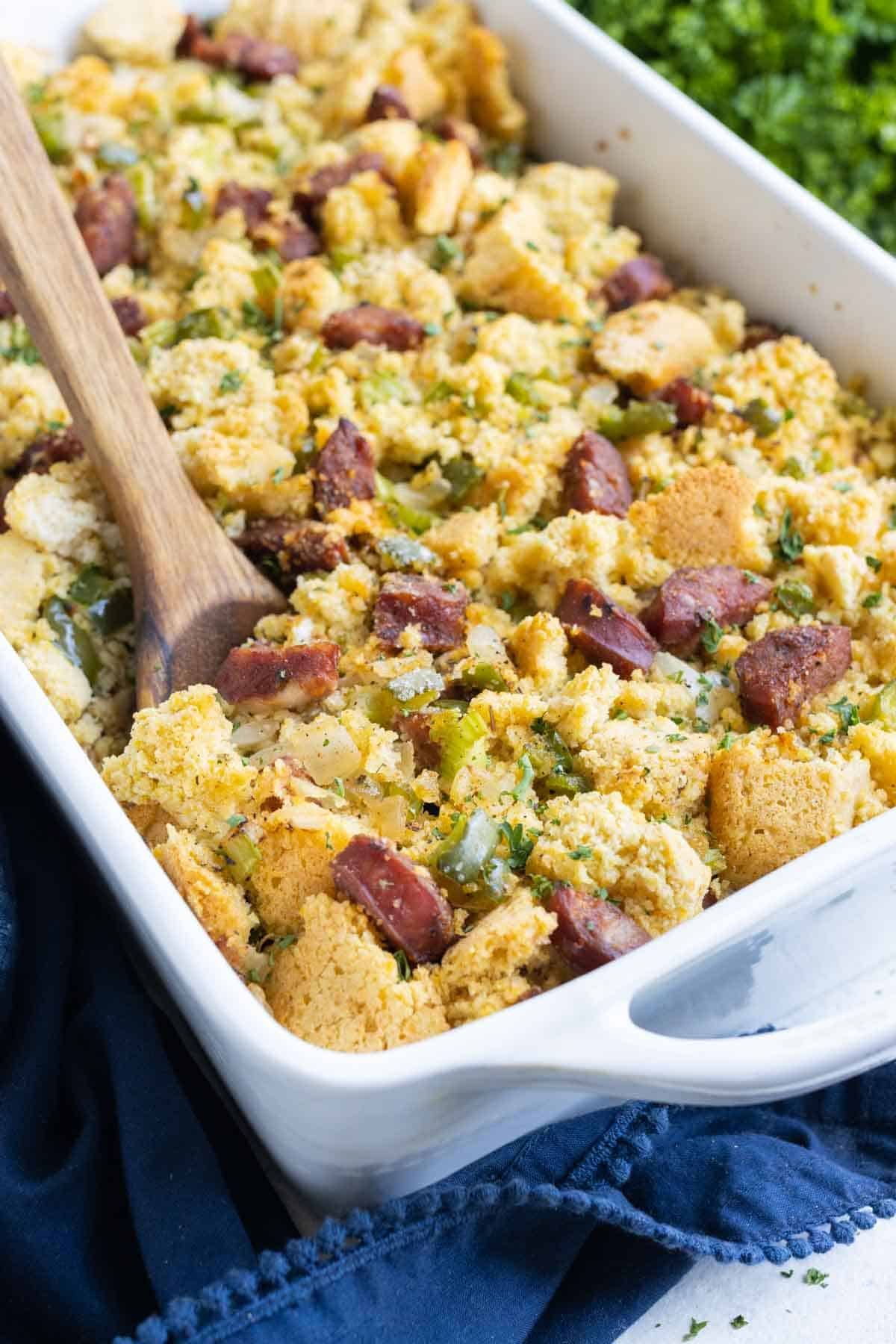 (GF, DF, Vegan)
Instant Pot Mashed Potatoes are the easiest way to make this creamy, smooth, and comforting classic recipe. Simply add cubed russet potatoes to your pressure cooker, then mash and season them with sour cream and an irresistible garlic herb butter. Serve up this side dish for Thanksgiving or Christmas dinner or make it your weeknight go-to!
(GF)
Brussels Sprouts au Gratin is a healthier twist on the classic potato dish. Brussels sprouts are mixed with a buttery, creamy sauce, topped with Gruyere cheese and breadcrumbs, then baked to toasty perfection. This simple, low-carb casserole side dish recipe is delicious for holidays like Thanksgiving or Christmas.
(GF, DF)
This Green Bean Casserole from Scratch recipe will take your Thanksgiving side dish game up a level. It is surprisingly easy to parboil fresh green beans and whip up your own cream of mushroom soup for a flavorful and healthy casserole. You can also easily make it gluten-free and dairy-free if needed so everyone can enjoy it during the holidays.
(GF, Vegetarian)
Ditch the mashed potatoes for gorgeous Duchess Potatoes with this easy-to-make recipe! Boiled potatoes mixed with milk and egg yolks are piped and baked in the oven for a crispy outside and fluffy inside. Make your holiday table for Thanksgiving or Christmas extra fancy by serving this impressive side dish!
(GF option, Dairy-Free)
Traditional Sausage Stuffing is full of fresh sage and herb flavor, has a pudding-like consistency with a crisp topping and is loaded with ground sausage. Learn how easy it is to make the best and most classic Thanksgiving and Christmas side dish completely from scratch.
(GF, Vegan, Low-Carb)
Thinly Shaved Brussels Sprouts are mixed together with cranberries and walnuts and then tossed in a creamy, homemade honey mustard dressing. This simple salad recipe is easy to make ahead for Thanksgiving or Christmas dinners or even meal prep for weekday lunches. You can also easily make this gluten-free and vegetarian dish vegan, too!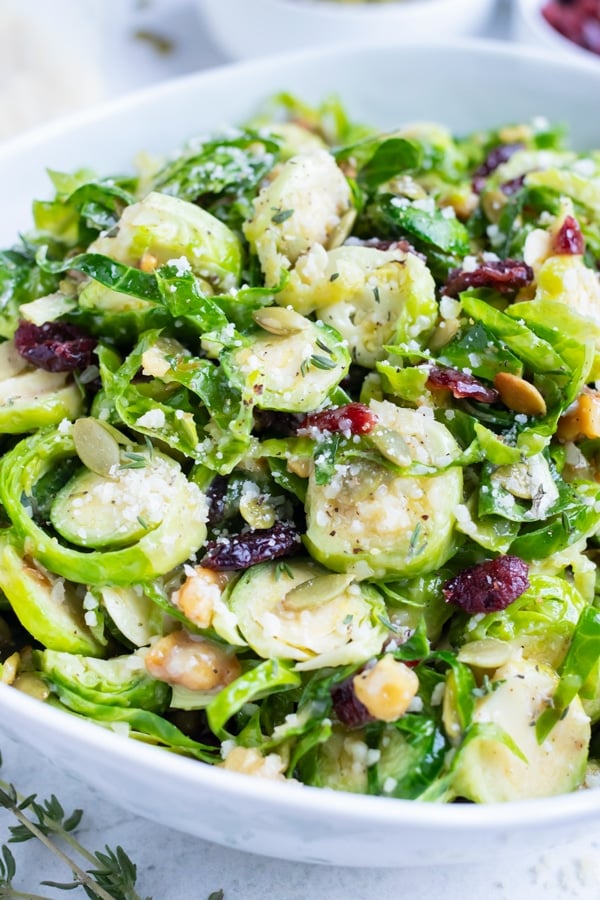 (GF, DF, Vegan)
An easy and homemade Cranberry Orange Sauce recipe that is made with fresh or frozen cranberries, orange juice, orange zest, and a bit of honey or maple syrup. Learn how to make fresh cranberry sauce with orange juice that is gluten-free, dairy-free, vegan, vegetarian, Paleo, and tastes so much better than the canned kind!
(GF)
Quickly turn fresh spinach into Sautéed Spinach for an easy low-carb recipe that tastes incredible! Learn how to make the best cooked baby spinach by cooking it with minced garlic, caramelized onions, and a burst of lemon juice. This simple and healthy side dish can be served on busy weeknights or along with holiday feasts!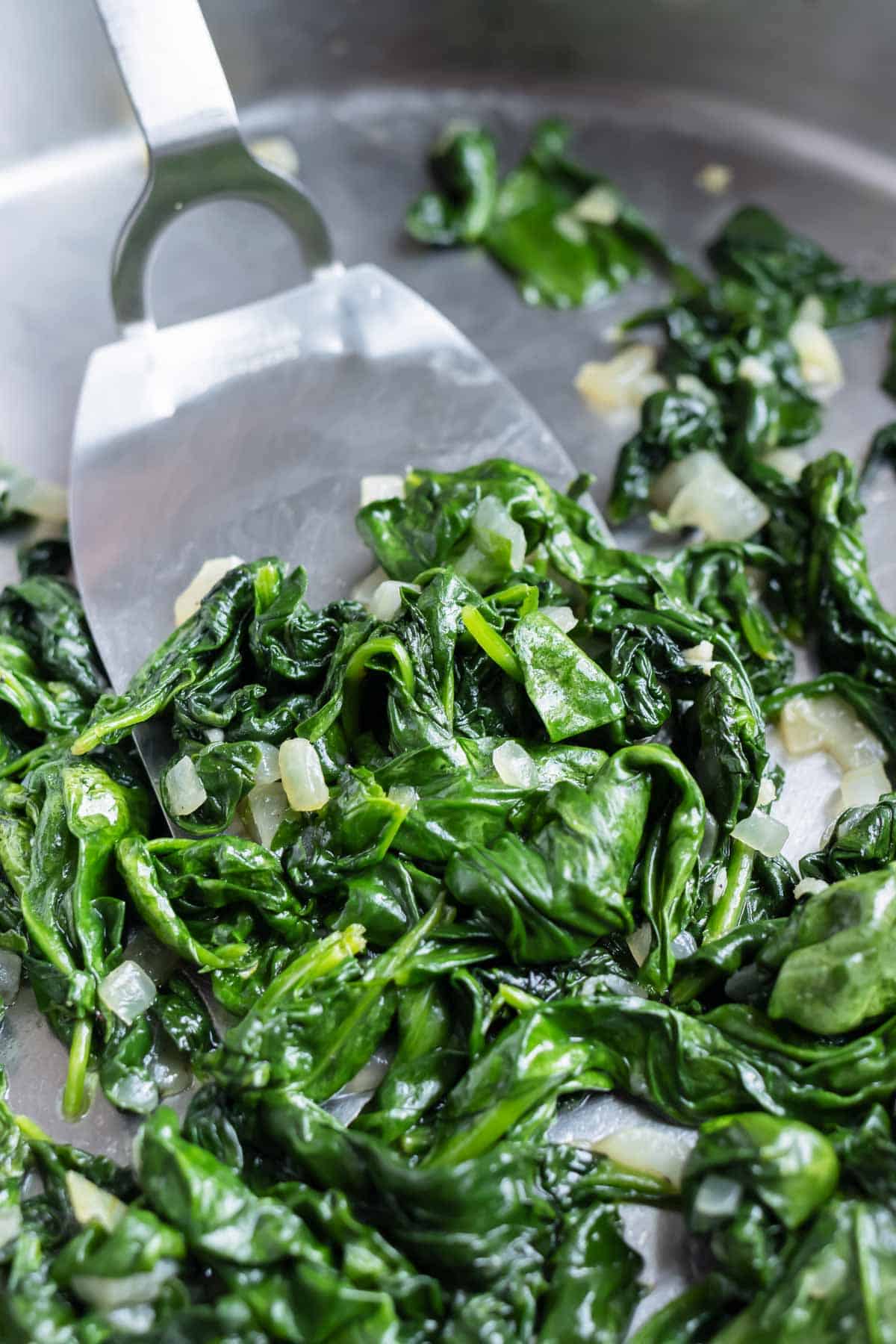 (GF, Vegan Option, Low-Carb)
Creamy, cheesy, healthy, low-carb, and secretly easy to make – this Cauliflower au Gratin will put your other casserole recipes to shame! Cauliflower florets are roasted in the oven, tossed in a creamy Gruyere cheese sauce, topped with Parmesan cheese, and then baked until golden and crispy. You can serve this vegetarian and keto-friendly side dish for a fancy Thanksgiving or holiday dinner, or meal prep it for busy weeks!
(GF, Vegan, Low-Carb)
Roasted Garlic Mashed Cauliflower is a wonderful vegan, keto, low-carb, and Paleo cauliflower mashed potatoes recipe. This cauliflower mashed potatoes recipe will give you super creamy cauliflower that is loaded with garlic flavor and are sure to be a hit at your Christmas, Thanksgiving, or weeknight dinner table.
(GF, Vegetarian, Vegan Option)
Butternut Squash Risotto is bursting with fresh sage flavor, has a creamy and silky smooth texture, and a little bite from Parmesan cheese and lemon juice. Learn how easy it is to make this risotto recipe at home by following a few step-by-step instructions. Your loved ones will be requesting this homemade butternut squash risotto from you again and again!
(Gluten-Free, Dairy-Free option)
This fully loaded and Cheesy Hasselback Potato recipe will impress your guests with the fanned slices, crispy edges, and how secretly easy it is to make. Russet potatoes are coated in a buttery sauce, stuffed with cheese, and baked in the oven for a fancy Thanksgiving, Christmas, or holiday side dish. Plus, learn my trick for how to cut them properly so they do not accidentally get chopped in half!
(Gluten-Free, Paleo + Vegan + Dairy-Free options)
Hasselback Sweet Potatoes are a delicious twist on a classic casserole favorite. Once you learn how to cut the potatoes into slices, you can easily top them with butter, brown sugar, and spices, then let the oven turn them into a crispy side dish. Serve these impressive potatoes up at Thanksgiving or Christmas – your guests won't know how easy they were to make!
(GF, Vegan, Low-Carb)
Smashed Brussels Sprouts are sprinkled with Parmesan cheese, coated in a garlic and herb butter and roasted in the oven. This quick and easy roasted Brussels sprouts recipe makes a great low-carb, keto, vegetarian, and gluten-free side dish recipe. It's perfect for a dinner party or a Thanksgiving day meal.
(GF, DF, Vegan)
These creamy Mashed Sweet Potatoes can be sweet or savory, and make the perfect side dish for any comforting meal. It is quick and easy to boil, bake, or cook sweet potatoes in an Instant Pot, then mash them to a smooth consistency. Season this dish with garlic and herbs, cinnamon and brown sugar, or give them a twist with maple and bacon, holidays just got a lot more delicious.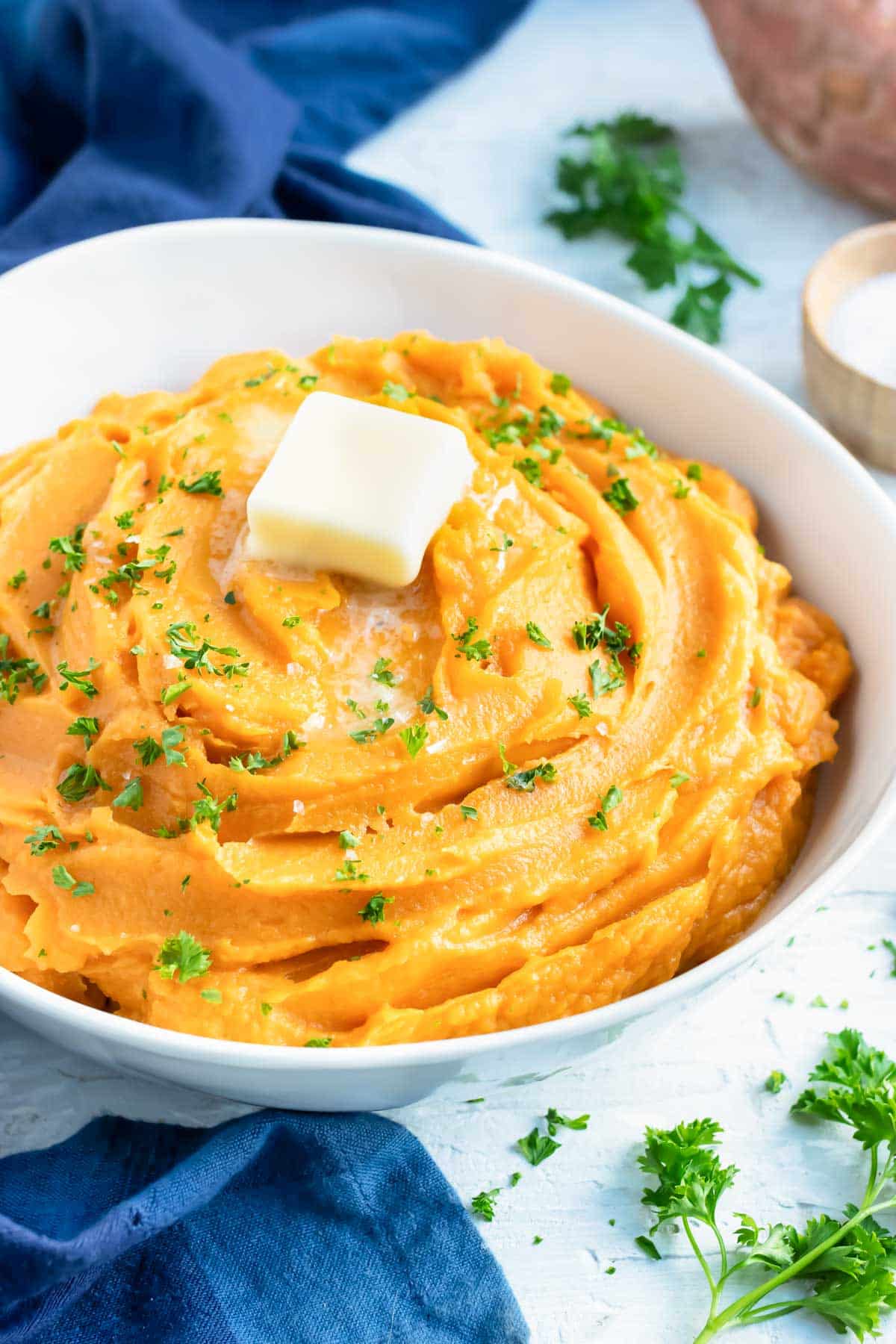 (GF, DF, Vegan)
Roasted Butternut Squash Soup is a showstopper that everyone will think you spent all day making. It is so simple to caramelize an entire Winter squash in the oven, then blend it with coconut milk, broth, garlic and spices to get a super creamy and healthy dish. This recipe is perfect to cozy up with on a chilly night and easy to make vegan and dairy-free.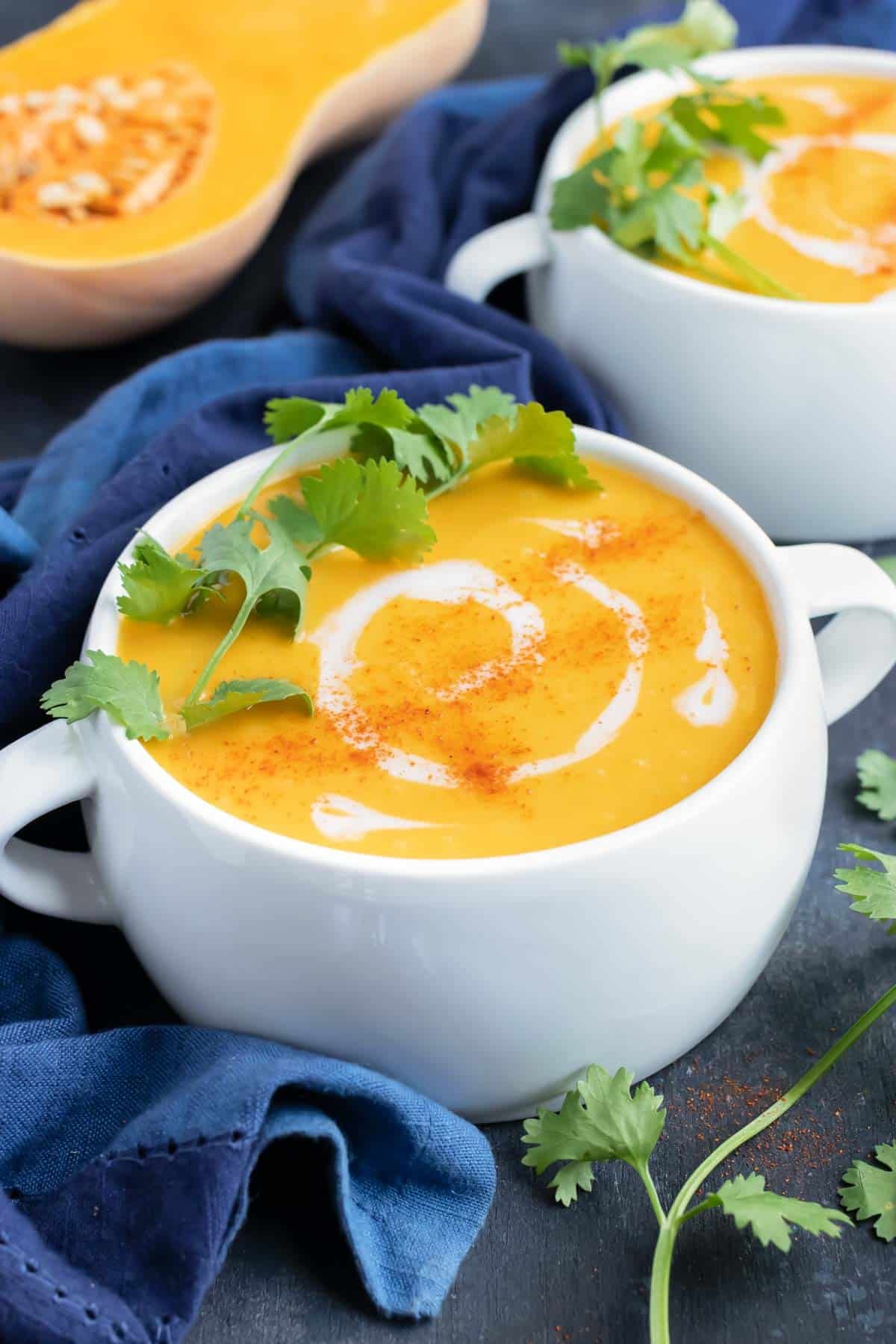 (GF, DF, Vegan)
This healthy Roasted Butternut Squash is the best Fall and Winter side dish recipe! Cubes of squash are coated in maple syrup, herbs, and garlic, then baked in the oven until crisp and tender. It is the perfect quick and easy vegan addition to any holiday meal, especially Thanksgiving!
(GF, DF, Vegan)
Crispy smashed potatoes are smothered in a delicious garlic and herb sauce for a gluten-free, vegetarian, vegan, and dairy-free side dish recipe. These easy garlic smashed potatoes are made with red potatoes, butter or olive oil, rosemary and thyme!
(GF, DF, Vegan)
A Fall Harvest Salad that is full of sliced apples, roasted butternut squash, toasted pecans, and is tossed in a delicious maple apple cider vinegar dressing. This kale or spinach salad with apples makes an easy, healthy, and vegan salad recipe for a Fall dinner party or Thanksgiving meal.
(GF, Vegetarian, Vegan)
Instant Pot Glazed Carrots are a quick and easy side dish made from baby carrots, brown sugar, butter, and a touch of cinnamon. The natural sweetness of the carrots is complemented by the savory butter sauce and sweet sugar topping. And with less than 5 minutes of prep time, you can have this simple recipe ready to enjoy for a special holiday dinner, Easter lunch, or even a weeknight meal in under 20 minutes!
(GF, DF, Vegetarian, Vegan, Low-Carb)
Make the perfect crisp and tender Roasted Asparagus every time with this easy recipe! Once the woody ends are trimmed away, the spears are coated in garlic and quickly baked in the oven to avoid getting soggy. Finish off this healthy side dish with a burst of fresh lemon zest to take it over-the-top!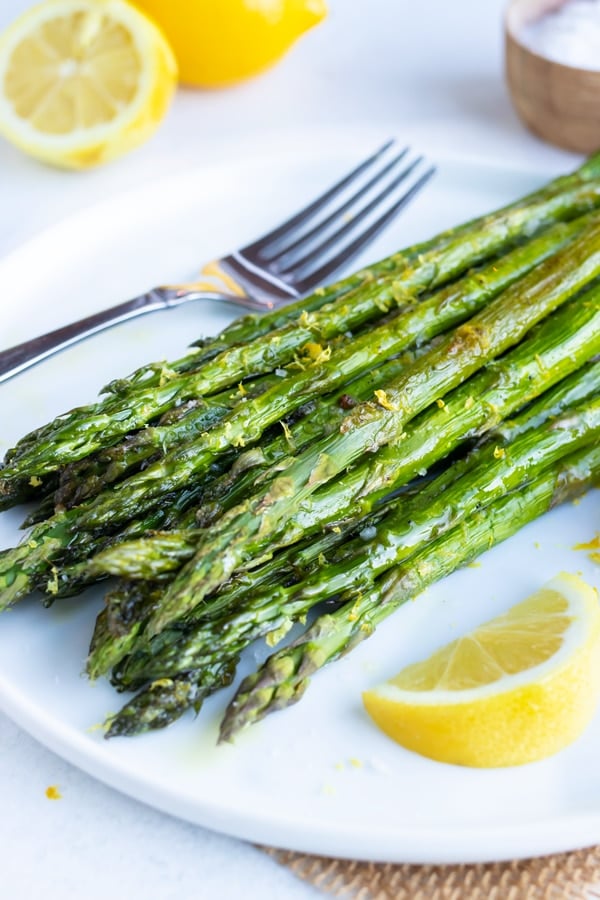 (GF, DF, Low-Carb)
Super crispy Brussel sprouts with bacon will soon become your new favorite go-to gluten-free and Paleo side dish recipe! A few simple tricks will teach you how to make crispy Brussel sprouts every time.
(GF, DF, Vegan)
Learn How to Roast Beets so you have this delicious and healthy root vegetable ready for your favorite recipes. You can easily wrap whole beets in foil, peel and cube them, or cover in a cast iron skillet, and then bake in the oven. Whichever way you choose, try beets as a side dish or add it into salads, pizza, or hummus!
(GF, DF, Vegan, Low-Carb)
Whole Roasted Cauliflower is coated in a delicious garlic and herb sauce and then baked in the oven. It makes an easy healthy side dish recipe for Thanksgiving or Christmas dinner. This oven roasted cauliflower head recipe is also gluten-free, vegetarian, low-carb, keto and Paleo.

(GF, DF, Low-Carb)
This Bacon Wrapped Asparagus recipe is not only crispy and delicious, but it is also oven-baked to perfection. To make, simply wrap asparagus with par-cooked bacon, season, and cook these delicious bundles. This low-carb, keto dish pairs superbly with anything you're cooking up for dinner.
(GF, DF, Vegan, Low-Carb)
Use up all of your summer squash in this super easy and healthy summer squash casserole. This squash and zucchini casserole is a quick side dish for any meal!
(GF, DF)
Crockpot Glazed Carrots are the absolute easiest and most delicious side dish that is also kid-friendly. Prep takes less than five minutes, simply toss baby carrots, brown sugar, honey, and butter into your slow cooker, turn it on, and walk away. This vegetarian, gluten-free recipe is perfect for both holidays and weeknights alike!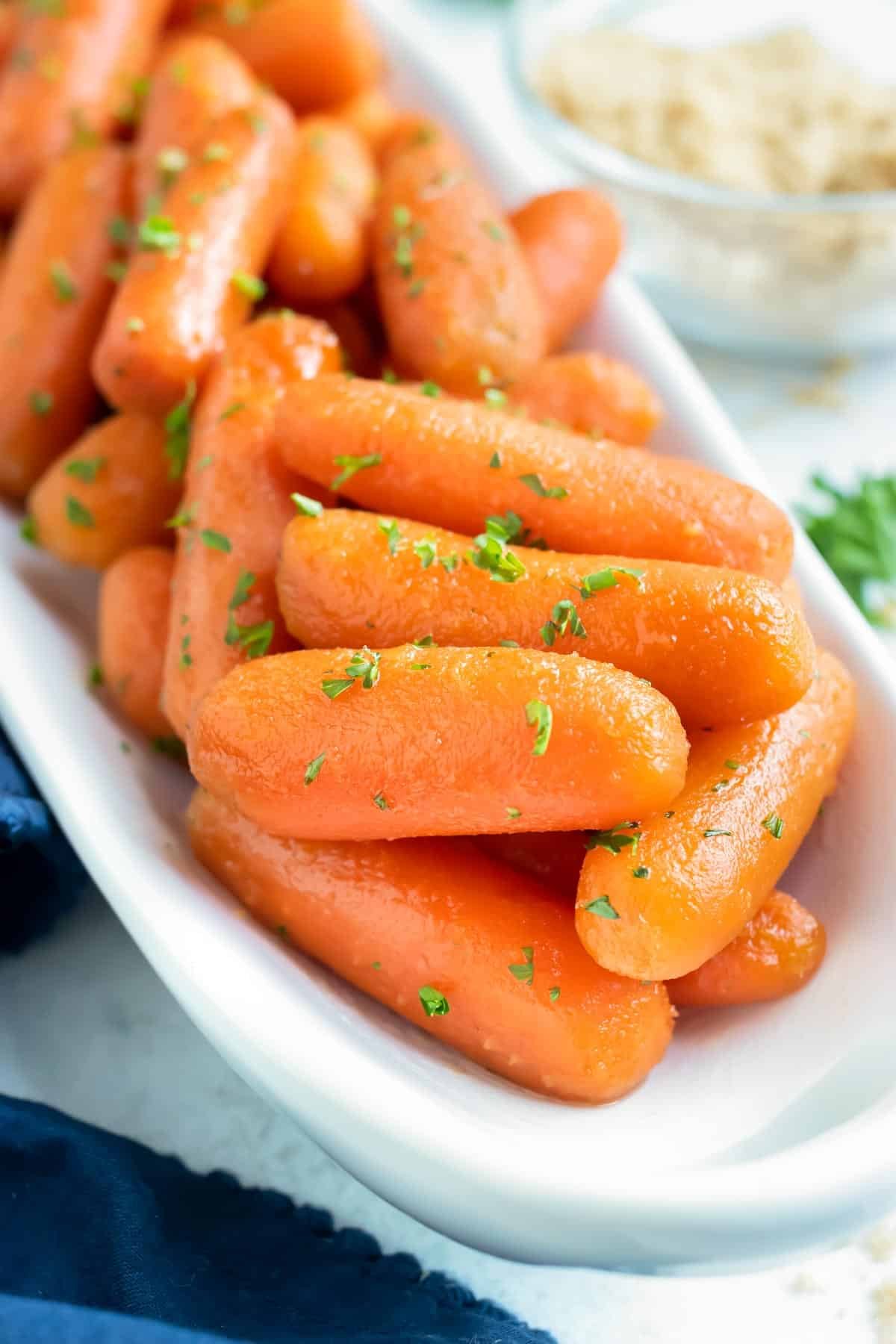 (GF, DF, Vegan, Low-Carb)
Green Beans Almondine is an easy-to-make recipe with a fancy presentation! Fresh green beans are quickly boiled and blanched, then tossed with toasted sliced almonds, garlic, and lemon. Serve this healthy French side dish to impress your dinner guests.
(GF, DF, Low-Carb)
Honey roasted carrots are tossed in a sweet honey and herb sauce for a quick and easy side dish recipe. This healthy, easy, gluten-free, dairy-free, and vegetarian roasted carrots recipe is a simple side dish recipe that has over 500% of your Vitamin A daily requirement!
(GF, DF, Vegan)
Chopped Kale Salad with Cranberries is tossed in a delightful maple and orange vinaigrette and then topped with toasted pecans, pumpkin seeds, onions and goat cheese. It makes a wonderful Christmas and Thanksgiving salad recipe that is full of Fall and Winter flavors!

(GF)
An elegant but super easy side dish, these oven-roasted beets are served with a slightly sweet and tangy honey ricotta and fresh herbs.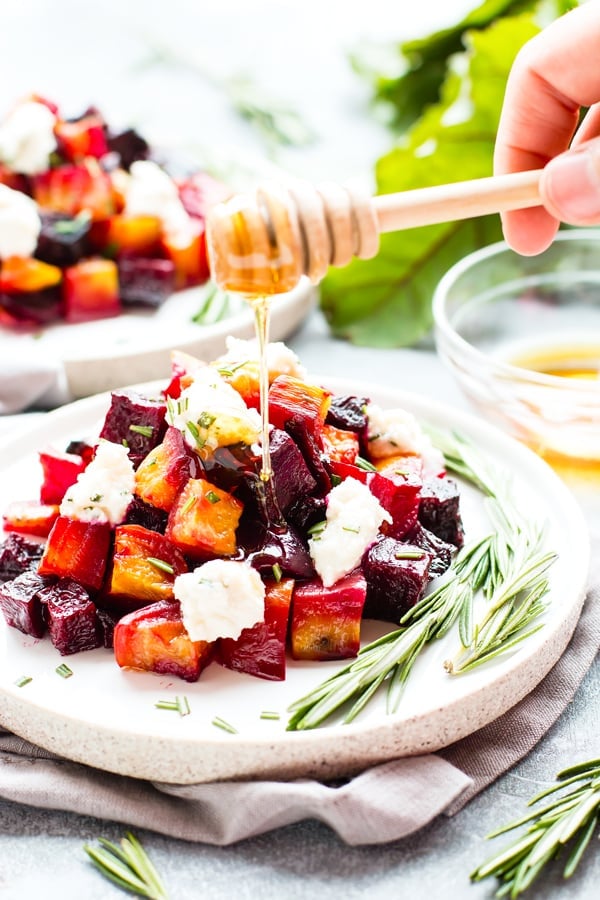 (GF, DF, Vegan, Low-Carb)
This chopped broccoli salad is tossed in a sweet sauce full of balsamic vinegar, maple syrup and a bit of almond butter. It is finished with toasted walnuts, dried cranberries and pumpkin seeds for a healthy, gluten-free side dish recipe!