Lemon Garlic Chicken Breasts are oven-baked with asparagus and red potatoes for one of the easiest weeknight dinners! Liven up your typical sheet pan recipe with a healthy and zesty sauce made from fresh lemons, garlic cloves, and a touch of honey!
Want more baked chicken breast recipes like this Lemon Garlic Chicken and Asparagus? You might also enjoy these Oven-Baked Sheet Pan Chicken Fajitas and this Sheet Pan Thai Peanut Sauce Chicken and Veggies.
Lemon Garlic Chicken and Asparagus – Lazy or Genius?
There are nights in our house when out of pure desperation, and severe hangryness, I absolutely WING IT and pray dinner comes out edible. (Something a little bit of butter and salt help with quite a bit!)
Oftentimes this consists of me throwing literally EVERYTHING I could possibly want to cook with on the kitchen counter to see if anything will remotely taste good together.
This was exactly the case when this baked lemon garlic chicken breast recipe was born.
Easy Lemon Chicken Recipe Creation
Originally my goal was to sauté up the asparagus in a cast-iron skillet and roast the red potatoes separately….
But to be honest. I got a little lazy. And doubled the lemon garlic sauce so there would be enough to coat the chicken breasts AND the vegetables…
Plopped them in some good ole' gallon-sized ziplock bags (because who wants to clean even more dishes when your zonked and hangry) gave 'em a good toss, and baked it all in the oven.
The result?
Not only was the chicken incredibly moist, tender, and delicious (more on my new organic chicken breast obsession below!), but the vegetables were BURSTING with fresh lemony-garlic-goodness.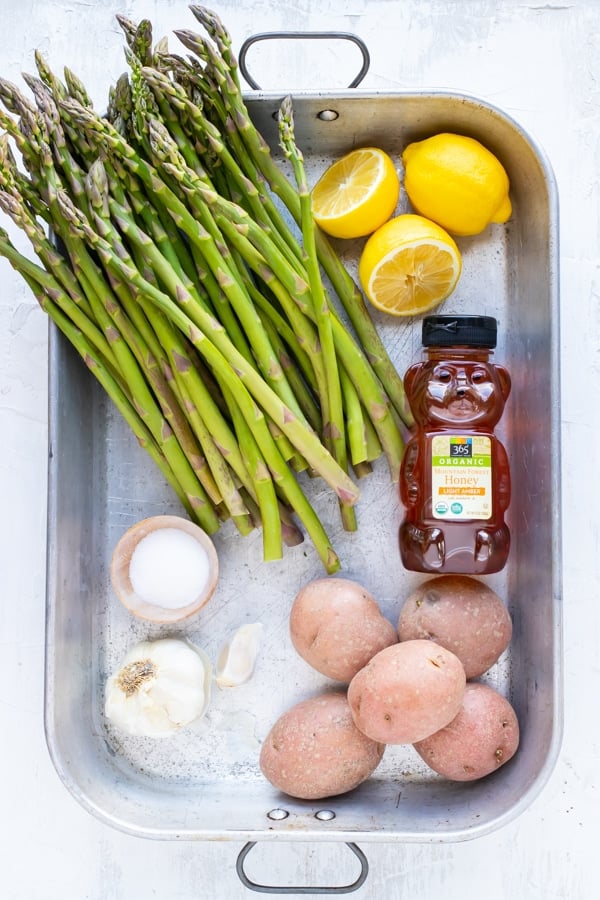 Ingredients
As mentioned previously, the ingredients in this recipe were all items I already had in my refrigerator or pantry one evening. Chances are, you will have the large majority of them, too!
Chicken Breasts – One pound of chicken breasts are used in this recipe. It is OK to get slightly more or less, but try to cut them into equal-sized portions that are about 4 ounces each.
Lemon – Fresh lemon juice and zest are used in this recipe. Please do NOT get the kind in the bottle or skimp on the zest.

Have a microplane grater? This is the best utensil to use when zesting lemons in this recipe.
If you do not, use a normal zester and then finely chop the zest so it is small enough to be evenly dispersed throughout the sauce.

Garlic – Much like the fresh lemon, fresh garlic cloves are highly recommended in this recipe. Garlic powder will not give the sauce quite the same punch that fresh cloves will.
Butter – While butter and I go WAY back and I think it adds such a rich depth of flavor to this dish, I know that some of you are dairy-free and try to avoid it. If you are, feel free to use olive oil, avocado oil, or a vegan butter substitute instead.
Asparagus – This nutritious vegetable is in season right now and is super easy to locate. Make sure you trim the ends until all of the woody stock has been removed.

You can also achieve this by snapping the ends of each asparagus stalk.

Red Potatoes – While their reddish-hued skin gives this sheet pan dinner a brilliant pop of color, Yukon gold potatoes will also work quite well.
How to Tenderize
Before baking your dinner, you must first tenderize the chicken and cut it into equal portions.
What is the best way to tenderize chicken?
Pounding chicken with a meat mallet is the easiest way to get them perfectly juicy and tender.
Use a cutting board that is designated for meat and preferably not a wooden one since bacteria can seep into it.
Place a piece of wax paper or parchment paper over the top of the chicken breasts.
Using the flat side of the meat mallet pound each chicken breast 5-10 times, or until they have been flattened to about 1-inch thick.
If they are quite large, cut into equal 4-5 ounce portions and continue with your baked chicken breast recipes.
How to Bake
Chicken breasts are cooked at 400°F for a total of 22-28 minutes, or until the internal temperature reaches 165 degrees. (You can check this with a meat thermometer.)
For this recipe the oven will be preheated to 400 °F at least 15 minutes before baking the chicken breasts and potatoes to ensure it has reached temperature.
Bake the chicken breasts and potato slices for 15-17 minutes, toss in the asparagus, and continue baking for an additional 12-15 minutes, or until asparagus is cooked to your desired doneness.
Since the sheet pan is quite full while cooking the chicken breasts, you will cook them for about 5 minutes longer than you normally would without the asparagus and potatoes.

Where to Buy Organic Chicken
Between my husband and my mother-in-love I have learned A LOT when it comes to nutrition and healthy living. Some of the newest knowledge I have gained is in the field of eating organic meats versus non-organic meat.
Having gone through dental school I understand the importance that over-consumption of antibiotics can have from a medicinal standpoint. Never had I actually considered how much I was getting from our foods purchased in the grocery store?!?
While the price tags have always been a deterrent for me, as well as the fear of the meat tasting, well, um, natural… I have avoided hopping on the organic meat train for quite some time.
That is, until recently. We have been buying organic chicken and meat from our local grocery store for almost a year now when I discovered Butcher Box. Not only is it SUPER convenient that they DELIVER the meat for you, but it actually tastes even BETTER than the organic meat I buy at our local store.
Especially the chicken breasts.
They're juicy, tender, flavorful… I seriously had NO idea chicken could taste this good.
And the best part? You can actually pick and choose what types of meat you want delivered and change it up on a monthly or bi-monthly basis. <– We opt for the bi-monthly since we try to limit how much meat we consume in general!
If you have any interest in trying out Butcher Box you can sign up for it here and get 2 pounds of ground beef FREE for the lifetime of your membership! (Just a heads up, this is an affiliate link and I may get a small percentage of the purchase at no additional cost to you!)
Meal Prep
One of the BEST parts about this healthy dish is how easy it is to prep-ahead or save some for later.
How to Meal Prep:
Whisk together lemon garlic sauce and store it in an airtight container in the refrigerator for up to 3 days.
Pound thin and cut chicken breasts into 4-ounce portions.
Cut asparagus into 2-inch strips and potatoes into wedges. Store potatoes in water for up to 24 hours and asparagus in an airtight container for up to 2 days.
Heat up lemon garlic sauce when ready to prepare and follow the remaining directions below.

Serve, Store, and Reheat
When ready to serve simply let it sit for 5 minutes after coming out of the oven and serve with additional black pepper and lemon zest.
Store any leftovers in an airtight container in the refrigerator for up to 3-4 days or in the freezer for up to 3-4 months.
When ready to reheat, let the frozen leftovers thaw in the refrigerator for 24 hours and reheat either:
In a skillet over medium heat for 7-10 minutes.
Or in a 300

°F

oven for 10-15 minutes.
You can also serve this recipe with these Gluten-Free Crescent Rolls.

Variations
As I have already mentioned, this recipe was seriously thrown together on a whim and can be easily changed up to your taste preferences. A few things you can try:
Swap out the fresh lemons for limes or oranges.
Use maple syrup or agave nectar in place of the honey.
Broccoli and cauliflower would substitute wonderfully for the asparagus.
Yukon gold potatoes, sweet potatoes, or russet potatoes can be used in place of the red potatoes.
Other Easy Recipes
Baked Lemon Garlic Chicken and Asparagus
Lemon Garlic Chicken Breasts are oven-baked with asparagus and red potatoes for one of the easiest weeknight sheet pan dinners!
Ingredients
1

lb.

chicken breasts

pounded to 1-inch thick, cut into 4-oz. portions

3

Tbsp.

butter

melted, or olive oil

2

Tbsp.

lemon juice

2

tsp.

lemon zest

3

garlic cloves

crushed

1 ½

Tbsp.

honey*

1

tsp.

salt

¼

tsp.

black pepper

1

lb.

asparagus

ends trimmed, cut into 2-inch pieces*

1

lb.

red potatoes

cut into thin wedges*
Instructions
Preheat oven to 400 degrees.

Prepare chicken by pounding with a

meat malle

t until 1-inch thick. If you have large chicken breasts, cut them into four equal 4-ounce portions.

In a medium-sized bowl whisk together butter or oil, lemon juice, lemon zest, garlic cloves, honey (optional), salt, and pepper.

Place chicken breasts down the center of a parchment paper-lined baking sheet and brush 2 tablespoons of the sauce over the breasts with a basting brush.

Place potatoes in one gallon-sized ziplock bag and asparagus in another gallon-sized ziplock bag. (You can also do this in two separate large bowls.). Divide the remaining sauce between the vegetables and toss to coat.

Spread potatoes in an even layer around the chicken breasts and bake in preheated oven for 17-20 minutes.

Add asparagus and continue cooking for an additional 12-15 minutes, or until asparagus is cooked to your preference and chicken reaches an internal temperature of 165 degrees. (Can check with a meat thermometer.)

Serve immediately with additional black pepper and lemon zest. Enjoy!
Recipe Notes
You can also use agave nectar or maple syrup in place of the honey.
Feel free to experiment with different potatoes or other vegetables such as broccoli or cauliflower.
Nutrition Facts
Baked Lemon Garlic Chicken and Asparagus
Amount Per Serving
Calories 334
Calories from Fat 108
% Daily Value*
Fat 12g18%
Cholesterol 96mg32%
Sodium 711mg31%
Potassium 1173mg34%
Carbohydrates 28g9%
Protein 29g58%
Vitamin A 1170IU23%
Vitamin C 24.2mg29%
Calcium 54mg5%
Iron 3.7mg21%
* Percent Daily Values are based on a 2000 calorie diet.