Crispy on the outside and soft on the inside, these Baked Parmesan Zucchini Fries are the perfect way to sneak in your vegetables at dinner! Baked zucchini fries are quick, easy, gluten-free, and a healthy alternative to normal french fries!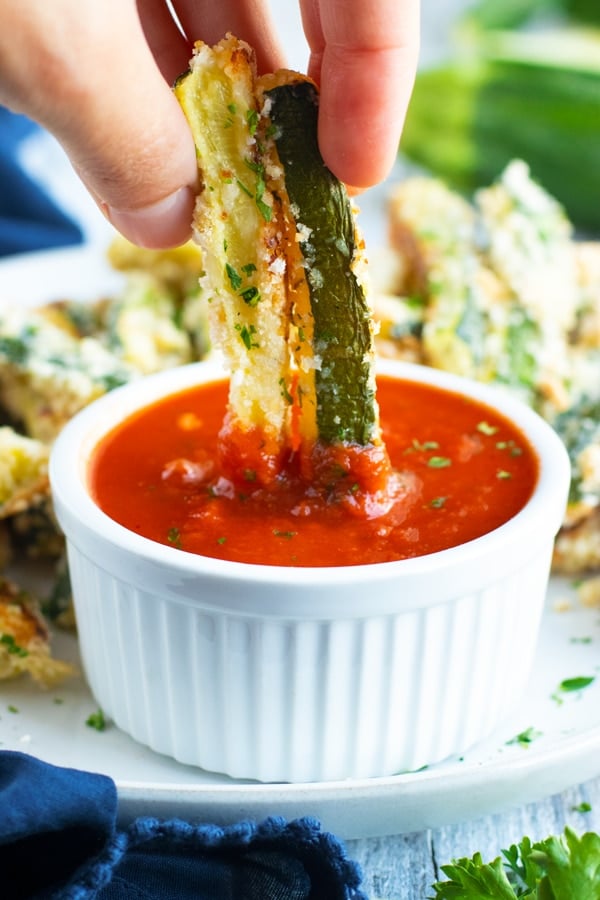 Favorite Zucchini Recipe = Baked Parmesan Zucchini Fries!!
It has become pretty obvious to me that my love for zucchini has taken over the site the past few months.
From Zucchini Lasagna Roll-Ups and Sauteed Zucchini and Squash, to Paleo Lemon Zucchini Muffins, I have just about covered the gamut of potential ways you can cook zucchini.
Until what I think might be my favorite zucchini recipe was created. All on a whim one concoction-cooking night in the kitchen… these Baked Parmesan Zucchini Fries were born!!
Recipe Testing Baked Zucchini Fries
The first round of recipe testing these baked zucchini fries actually ended up not-so-crunchy and actually rather bland.
After a second round of baking up these Parmesan zucchini fries I realized we were ALMOST there.
And then it was as if the zucchini gods smiled down on me and the most delicious baked zucchini fries recipe was created.
How to Make Baked Zucchini Fries
When making these Parmesan zucchini fries you are going to need three shallow bowls with the following ingredients in each:
Bowl 1: Tapioca, Arrowroot, or Corn starch. (Any of these will work great!)
Bowl 2: An egg + milk (almond, soy, or cashew milk work, too.)
Bowl 3: Bread crumbs + Parmesan cheese blend (Gluten-free bread crumbs are used in this recipe.)
It is very important that you do not leave any of these bowls out.
You may be tempted to skip the starch bowl or go straight to the bread crumb and cheese bowl, but trust me when I say… your Parmesan zucchini fries will not come out nearly as good! (This is what I did in failed recipe attempts #1 and 2!)
So go ahead and follow those directions to get perfectly crisp baked zucchini fries!
BAKED Zucchini Fries and Not Fried
Now that you have coated your zucchini fries in Parmesan cheese goodness, what's next?
In this recipe you will see that we make our Parmesan zucchini fries a bit healthier by baking them in the oven instead of frying them.
Honestly, I do not think you will miss the oil one bit since the zucchini already carry so much moisture!
Sheet Pan Full of Zucchini Fries
You will want to line a large baking sheet with parchment paper (I do not recommend aluminum foil for this recipe!) and lay your zucchini fries out in a single layer.
I said SINGLE layer here. No overlapping, squishing, or trying to fit in that last fry.
Keep your zucchini fries evenly spaced, don't let them touch, and you will get perfectly crisp baked zucchini fries!
Serving and Reheating Parmesan Zucchini Fries
These Parmesan Baked Zucchini fries are a wonderful way to sneak in vegetables when you have a picky eater.
You can serve them up with your favorite french fry condiment such as ketchup, sriracha, or even marinara sauce.
As for reheating, the best way to reheat these baked zucchini fries is in the oven or toaster oven.
If you heat them up in the microwave they tend to get a bit smushy and lose their crisp!
Baked Zucchini Fries Recipe
These Baked Parmesan Zucchini Fries are the perfect kid-friendly recipe when you're looking for a healthy alternative to traditional fries. Simply dip zucchini sticks into flour, egg wash, and a Parmesan cheese and Italian breadcrumb mixture, then bake them in the oven for a crispy side.
Ingredients
4

medium zucchini squash

or about 1 to 1 ¼ lbs.

¼

cup

flour

all purpose or a gluten-free 1-to-1

1

large egg

1

Tbsp.

milk

regular, oat, soy, or nut-based

½

cup

breadcrumbs

plain, gluten-free if needed

½

cup

Parmesan cheese

grated

1

tsp.

salt

to taste

¼

tsp.

black pepper

to taste

1

tsp.

Italian seasoning

¼

tsp.

garlic powder

Parsley

curly, finely chopped
Instructions
Preheat oven to 425 degrees.

Trim the ends from the zucchini and cut into quarters lengthwise.

Whisk together egg and milk in one shallow bowl, combine the breadcrumbs, Parmesan cheese, salt, pepper, italian seasoning, and garlic powder in another shallow bowl, and place flour in the third shallow bowl.

Toss 2-3 zucchini fries in the flour (making sure to shake off any excess) and then dip in the egg wash. Using a fork, pick up the zucchini to let the extra egg wash drip off. Finally, coat with the breadcrumb mixture, pressing it in to make sure it sticks. Repeat with the remaining zucchini strips.

Line a large baking sheet with parchment paper and place zucchini strips in a single layer, paying careful attention that they do not touch.

Bake for 18-20 minutes, flipping them over halfway through. Sprinkle with finely chopped parsley and serve warm with ketchup, ranch, or marinara sauce. Enjoy!
Recipe Video
Recipe Notes
Meal Prep and Storage
To Prep-Ahead: You can slice the zucchini up to one day ahead of time.
To Store: Baked fries are best enjoyed immediately. But, you can keep extras in an airtight container and keep in the fridge for up to 3 to 4 days.
To Freeze: It is not recommended to freeze as the zucchini will be mushy and watery when thawed.
To Reheat: Pop fries back in a 350℉ oven for 5-10 minutes or in an air fryer for a few minutes to heat them up and get a crispy outside. Avoid heating in the microwave as they will tend to get soggy.
Nutrition Facts
Baked Zucchini Fries Recipe
Amount Per Serving
Calories 119
Calories from Fat 36
% Daily Value*
Fat 4g6%
Cholesterol 40mg13%
Sodium 636mg28%
Potassium 61mg2%
Carbohydrates 14g5%
Protein 7g14%
Vitamin A 144IU3%
Vitamin C 0.02mg0%
Calcium 164mg16%
Iron 1mg6%
* Percent Daily Values are based on a 2000 calorie diet.
Want more recipes like these Baked Parmesan Zucchini Fries?
Oven-Baked Parmesan Asparagus Fries
Crispy Baked Parmesan Garlic Fries