In need of healthy air fryer recipes? These 35+ recipes are not only good for you because they use less oil, but they're super simple too. From side dishes to mains, the air fryer is a great method for getting an easy weeknight dinner on the table, fast. Whether you have a new air fryer, or it's already a staple gadget in your kitchen, these recipes ensure you don't have to sacrifice flavor for healthy eating.
​Healthy Air-Fryer Recipes
By now, you probably know how much I LOVE my air fryer. This device uses less oil, cooks food fast, and still yields delicious, crispy results. No deep fryer necessary! It's a great tool to have in your arsenal of healthy eating.
For example, this Crispy Air Fryer Fish doesn't use any olive oil. The magic of the air fryer crisps up the coating beautifully!
This Air Fryer Broccoli is so much better than any mushy, steamed recipe. It even one-ups oven roasting because it literally takes 10 minutes TOPS.
And who can resist tender and flaky salmon? This Air Fryer Salmon is absolutely lick-your-plate worthy and ready in no time!
Air Frying Hacks, Tips, & Tricks
Before diving into all the best air fryer recipes, you can dig a little deeper into the question of Are Air Fryers Actually Healthy? There, you'll find all the benefits, risks, and tips for using this amazing kitchen gadget. Secondly, let's not forget to review the basics of How Does An Air Fryer Work so you can optimize it for all these good-for-you recipes.
Then, let's review How to Clean an Air Fryer (Fast & Deep-Clean). It's also important to know what you can and can't put in an air fryer, so look into these posts:
Reheating in the Air Fryer
When it comes to reheating food in the air fryer, know that it'll come out crispy—just as if you just cooked it in there the first time. Generally speaking, following the instructions on the recipe you used for the air fryer is the best way to reheat the food. It will not take as much time, but the temperature and the air fryer setting will stay the same.
​35+ Best Air Fryer Recipes
​Let's get right into this roundup of healthy air fryer recipes!
Air Fryer Chicken Wings have ultra crispy skin, super tender meat, and are much healthier for you than a traditional recipe! Learn how easy it is to cook wings in an air fryer with a few simple tricks – and a secret ingredient. Once you master the basic recipe, you can serve them up at your next game day or Super Bowl party and watch them disappear.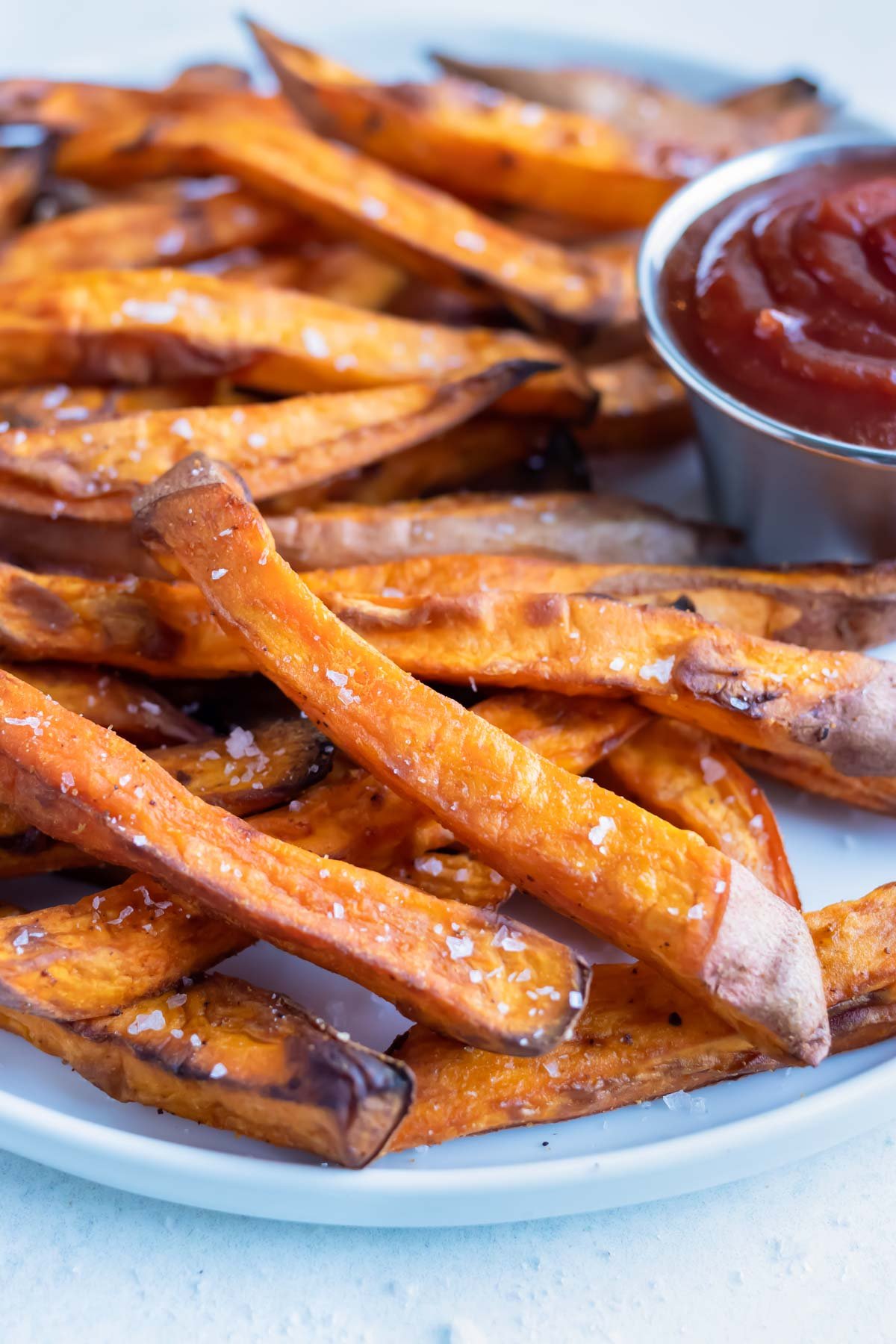 Air Fryer Sweet Potato Fries are perfectly crispy, super simple to make, and a healthy side dish for busy weeknights. It is so quick to cut sweet potatoes into fries, season them up, and pop them in the air fryer. Dinner just got a lot easier with these homemade fries.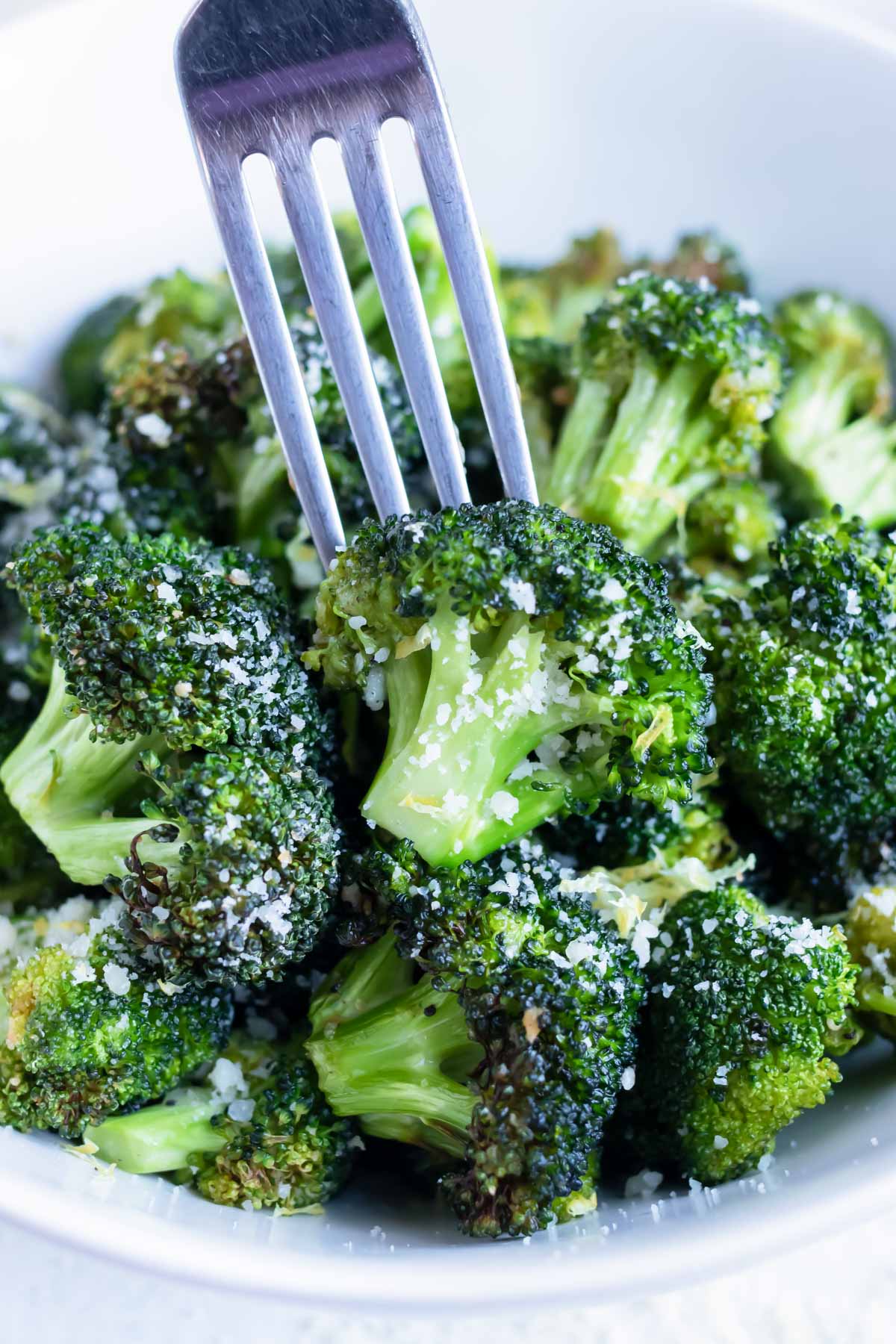 In less than 10 minutes, you can have Air Fryer Broccoli with Parmesan! This crispy and healthy vegetable recipe is perfectly flavored with garlic, grated cheese, and a sprinkle of fresh lemon zest. Quick roasted broccoli is the best low-carb side dish for an easy weeknight meal.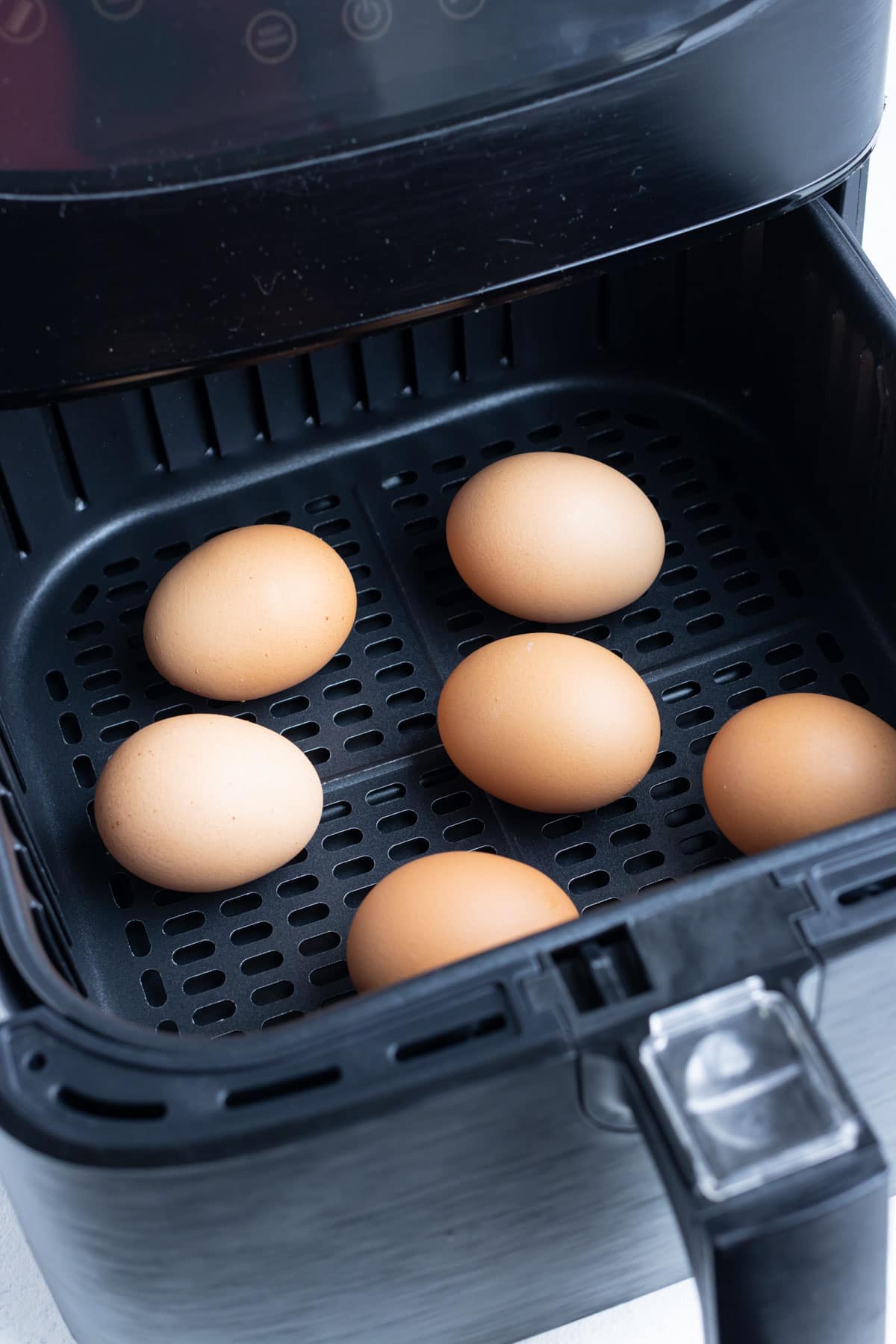 This Air Fryer Hard-Boiled Eggs recipe is a fool-proof method to get quick, easy-peel eggs ready in a snap. Pop them in the basket, set the timer, and simply sit back and relax! Enjoy soft-boiled eggs for breakfast, or use hard-boiled eggs in a variety of foods and snacks, like egg salad.
By learning how to cook this Air Fryer Bacon recipe, you can simplify your breakfast meal prep while still getting perfectly crispy bacon in just 10 minutes! In the air fryer, strips of bacon are roasted from all sides while the fat drips away, leaving them fully cooked and quickly ready to eat. Once you've given this no-smoke method a shot, you'll never want to try another kind again!
This is the best Air Fryer Salmon recipe out there! Delicious, honey mustard-glazed salmon is tender and flaky, making the perfect weeknight main dish for dinner. This quick and easy seafood entrée will become a regular on your menu once you see how simple it is to pull together!
Breaded Air Fryer Zucchini Chips are a quick and easy recipe for the best low-carb appetizer or side dish. Simply slice a zucchini, coat it in breadcrumbs, Parmesan cheese, and Italian seasoning, then air fry them to crispy goodness. Pair these chips with marinara or your favorite sauce and you have a healthy and kid-approved snack!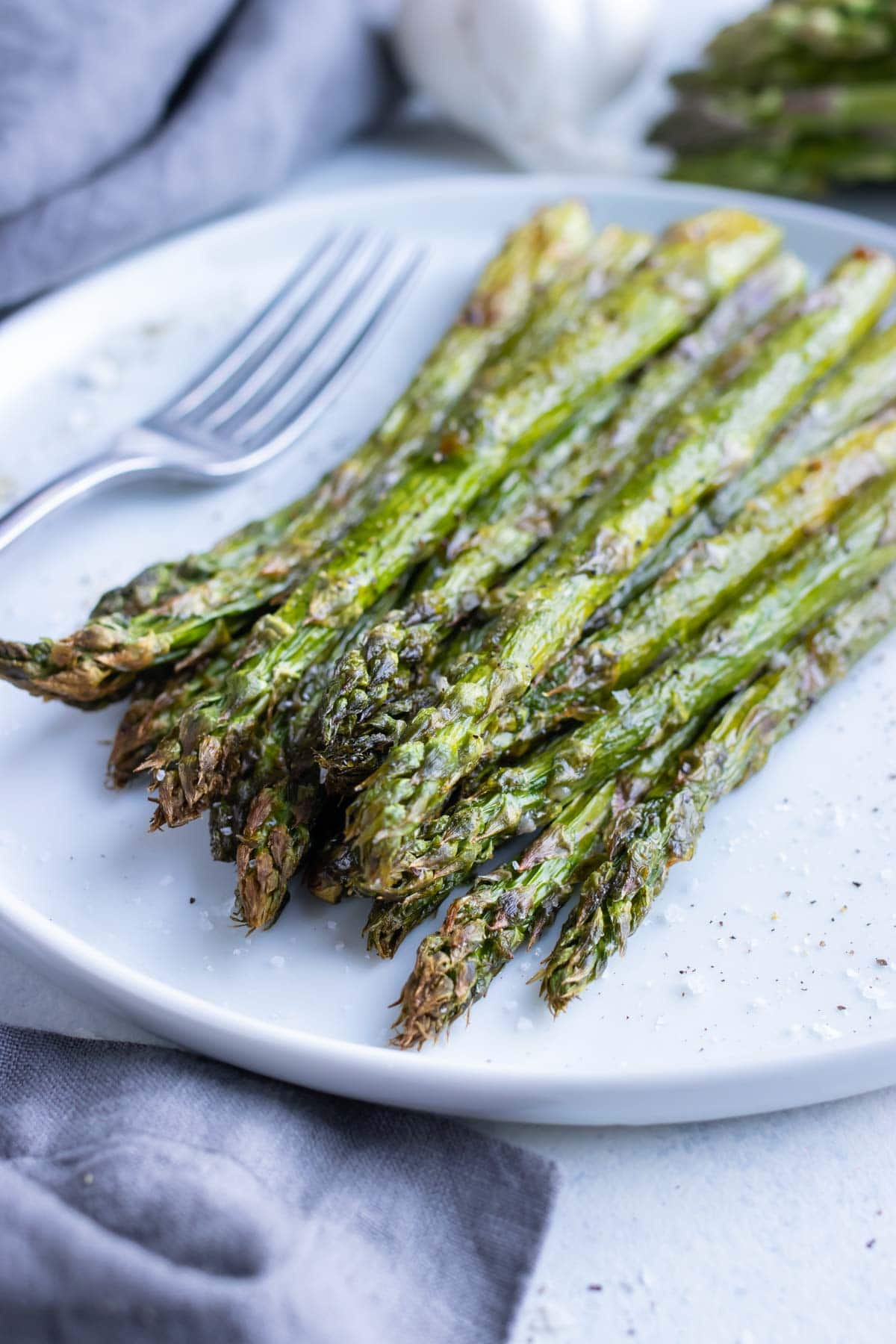 This Air Fryer Asparagus recipe teaches you how to make the best crispy spears! Fresh asparagus is seasoned and quickly roasted until the perfect tenderness is reached. Serve this easy side dish along with your vegan or low-carb entrees for a healthy meal.
This Air Fryer Hamburger recipe is deceptively easy and ready in less than 10 minutes. With simple ingredients like ground beef, barbecue sauce, Worcestershire sauce, mustard, pickle juice, breadcrumbs, and burger seasoning, you'll learn how to make the perfect cheeseburger or slider every time! Skip the burger joint and cook the best homemade burger patty in your own kitchen.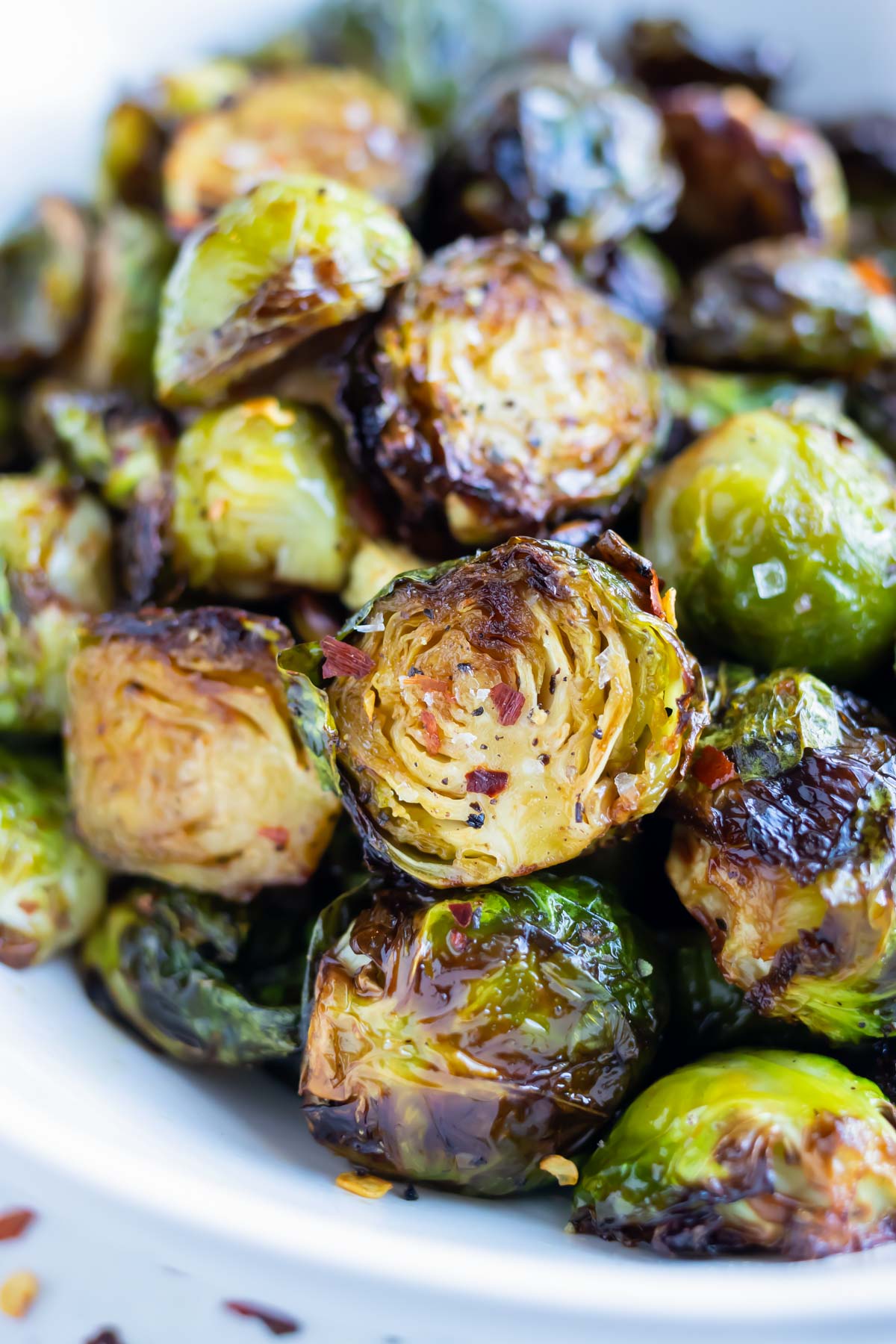 Learn how easy it is to make the best and crispiest Air Fryer Brussels Sprouts without using a ton of oil or sugar for a healthy low-carb side dish. This quick and easy recipe cooks in 10 minutes and comes out perfectly roasted and ready to enjoy. These healthy vegetables are delicious on their own or topped with an Asian Honey Sriracha sauce to take them up a notch.
If you haven't tried it yet, making an Air Fryer Baked Potato is the quickest way to soft, fluffy goodness! Simply coat potatoes in a bit of oil, sprinkle with salt and get to air frying! This recipe takes half the time of baking in the oven, which makes this recipe an easy side for any night of the week.
Perfectly crisp Air Fryer Kale Chips are easy to make in minutes for a healthy, low-carb snack! Fresh kale is tossed with oil and salt, then air fried into crunchy chips in this quick recipe. Get creative and customize these simple keto and vegan chips with tons of tasty seasoning options!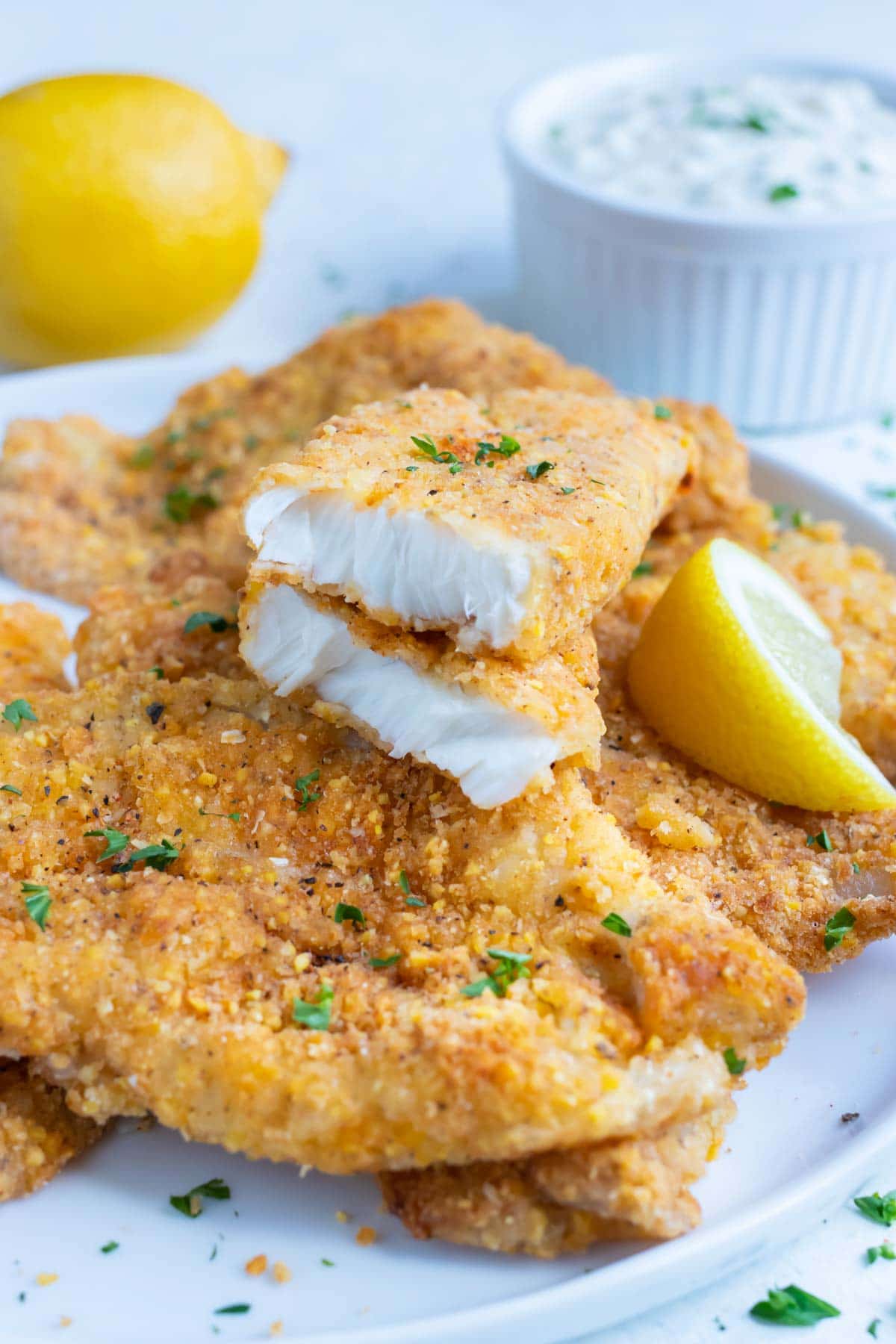 Crispy and crunchy Air Fryer Fish is a simple recipe that will satisfy your fried fish cravings! Flaky, white, fish is dredged in a flavorful mayonnaise mixture so the coating sticks, then coated in a seasoned cornmeal crust before being air fried to perfection. Make up this quick dish in just 20 minutes for an easy weeknight meal.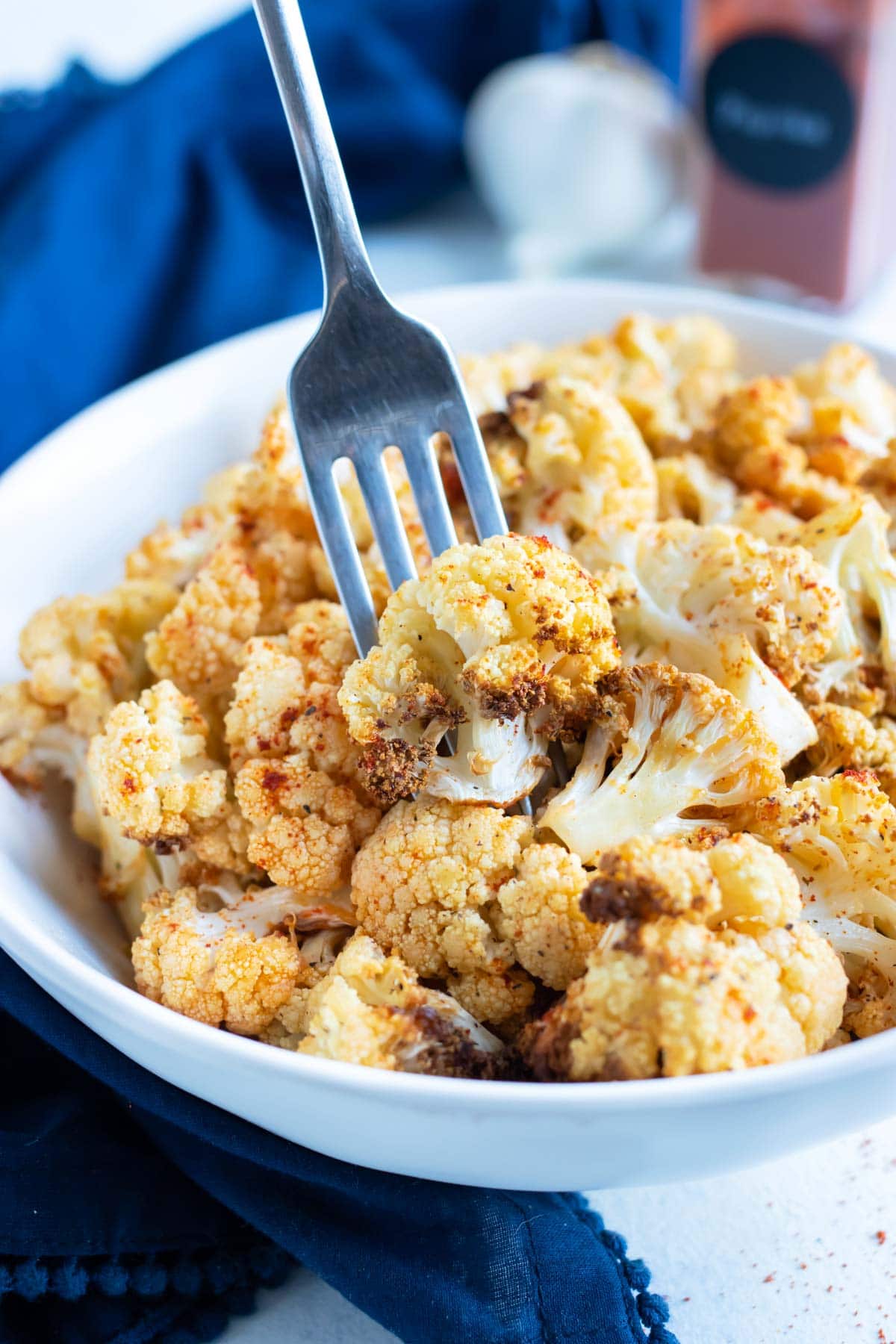 Extra crispy Air Fryer Cauliflower is a 15-minute recipe full of flavor, and is SO easy to make. Florets are lightly coated in oil, seasoned with garlic powder and paprika, and then air fried until golden and crunchy. This will become your new go-to low-carb, keto, and vegan side dish for weeknight dinners!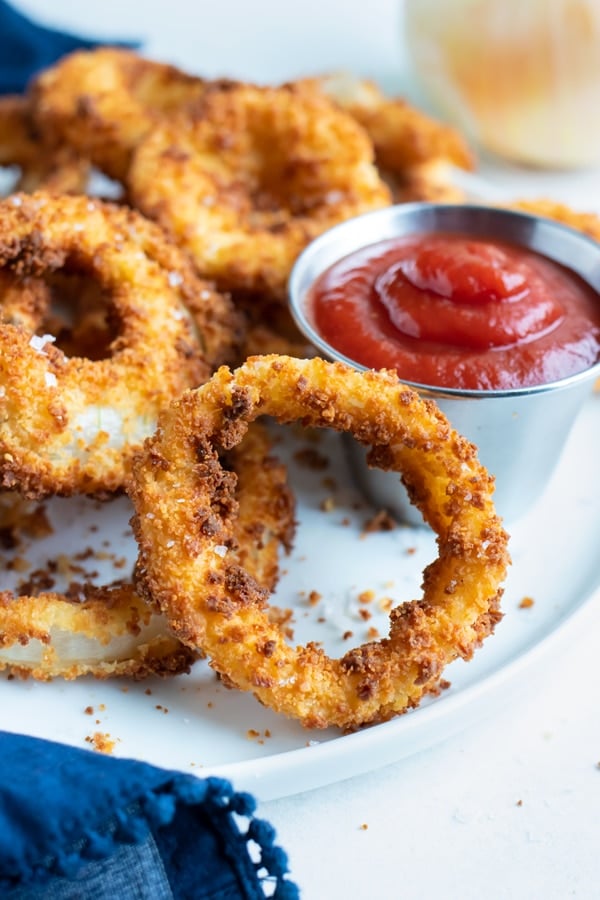 Air Fryer Onion Rings are super crispy and crunchy, easy-to-make, and so much healthier for you than deep-fried! Use a 3-bowl technique to coat your sliced onions with flour, an egg wash, and breadcrumbs. You'll then cook them in the Air Fryer until golden brown and ultra crispy. They make a great game day snack or weeknight dinner appetizer or side dish!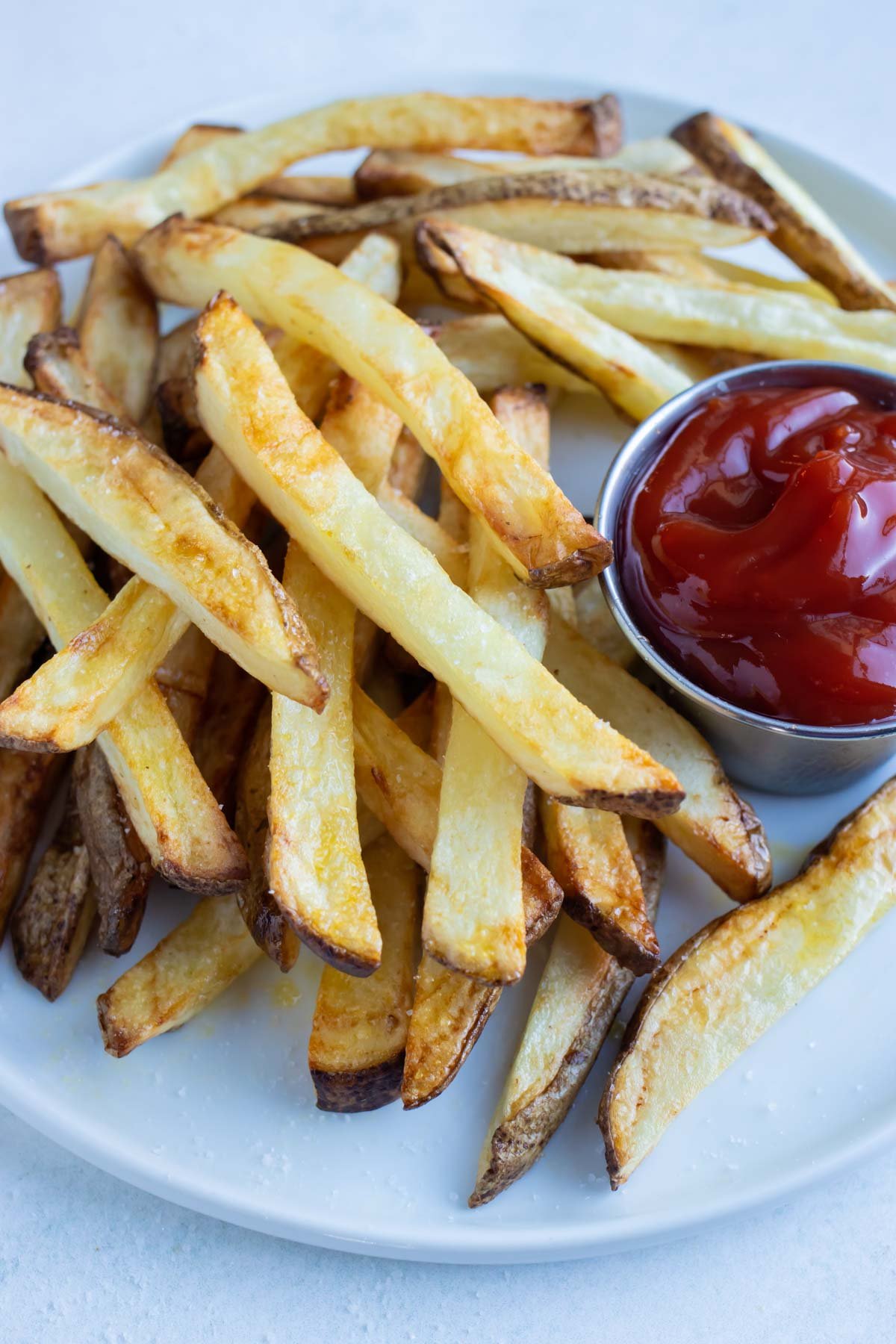 Homemade Air Fryer French Fries are easy to make extra crispy with this simple recipe! Fresh Russet potatoes are cut into fries, tossed in a little oil and salt, and then quickly air-fried to golden brown perfection. Serve this quick side dish with your favorite dipping sauces for a healthier snack or dinner recipe!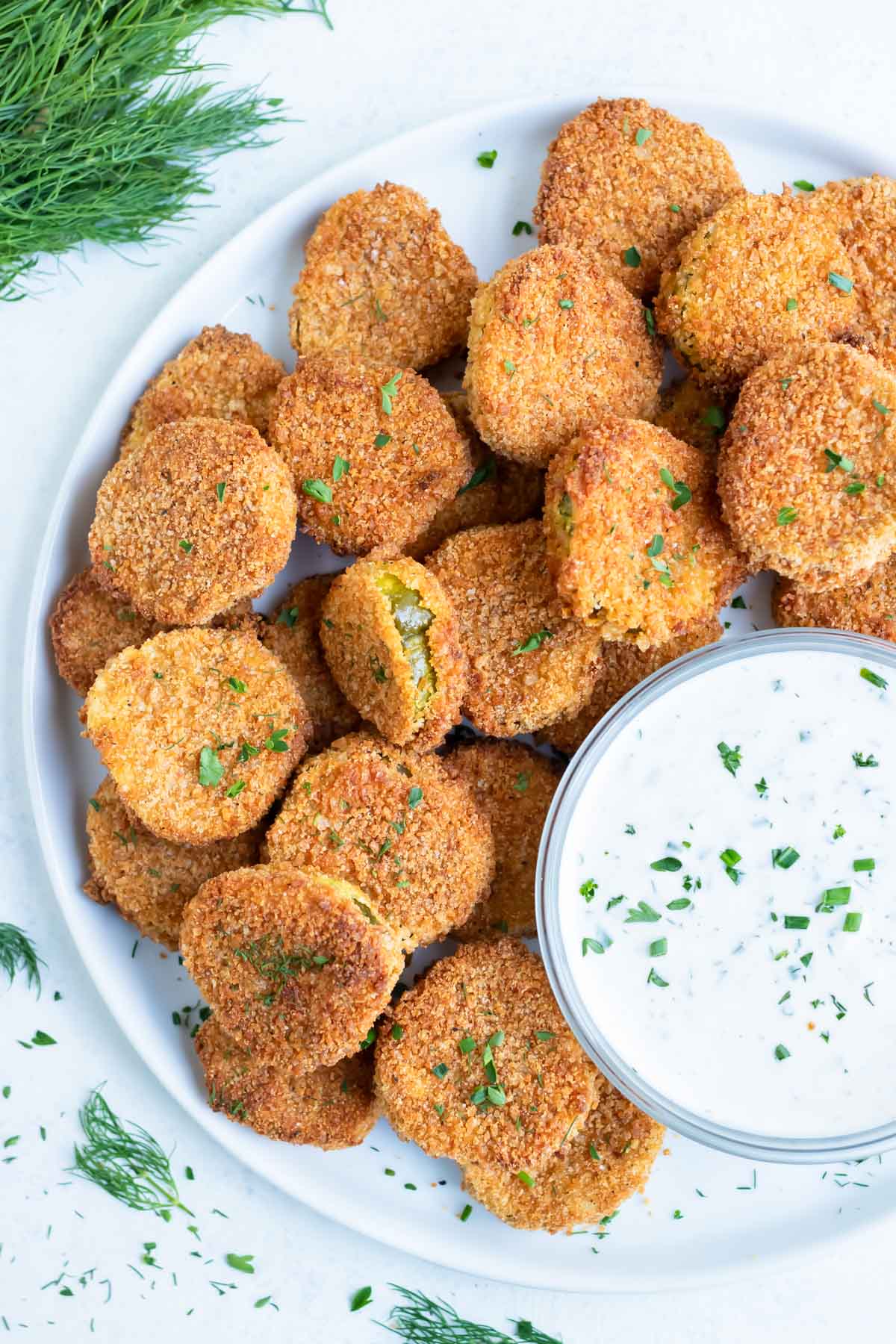 Air Fryer Pickles are crispy, easy, and the perfect recipe for a quick weeknight or party appetizer. Coat pickle chips in seasoned breadcrumbs and pop them in the air fryer, no oil needed! This family-friendly dish pairs deliciously with homemade ranch and is sure to please even the pickiest eaters.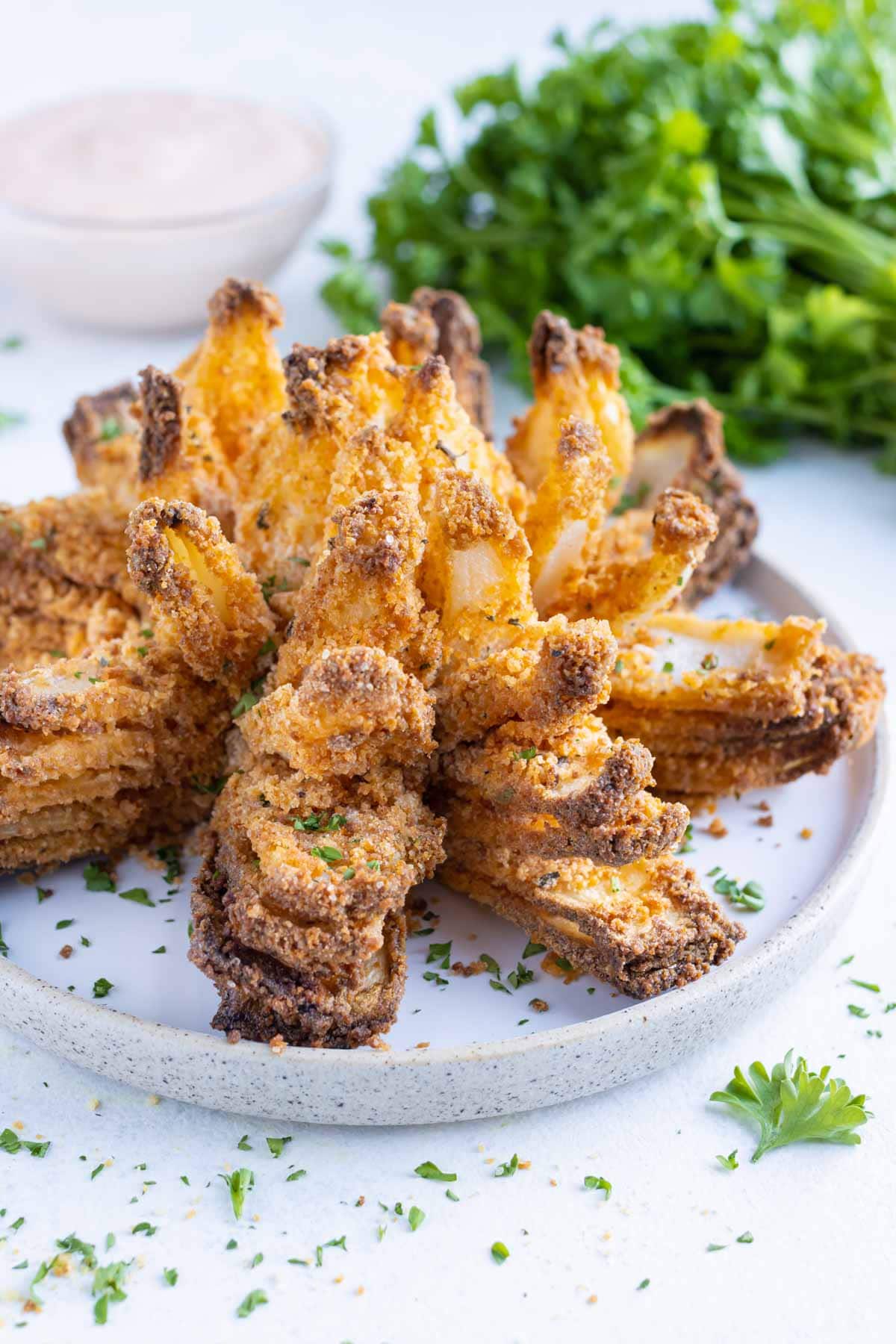 Recreate Outback's classic Blooming Onion at home with this healthier air fryer recipe! You'll learn the easiest way to cut a blooming onion, the best method for coating it in breadcrumbs, and then the perfect time and temperature to air fry so it comes out beautifully golden, crisp, and tender. Serve it up with a side of blooming onion dipping sauce for a delicious appetizer or party snack!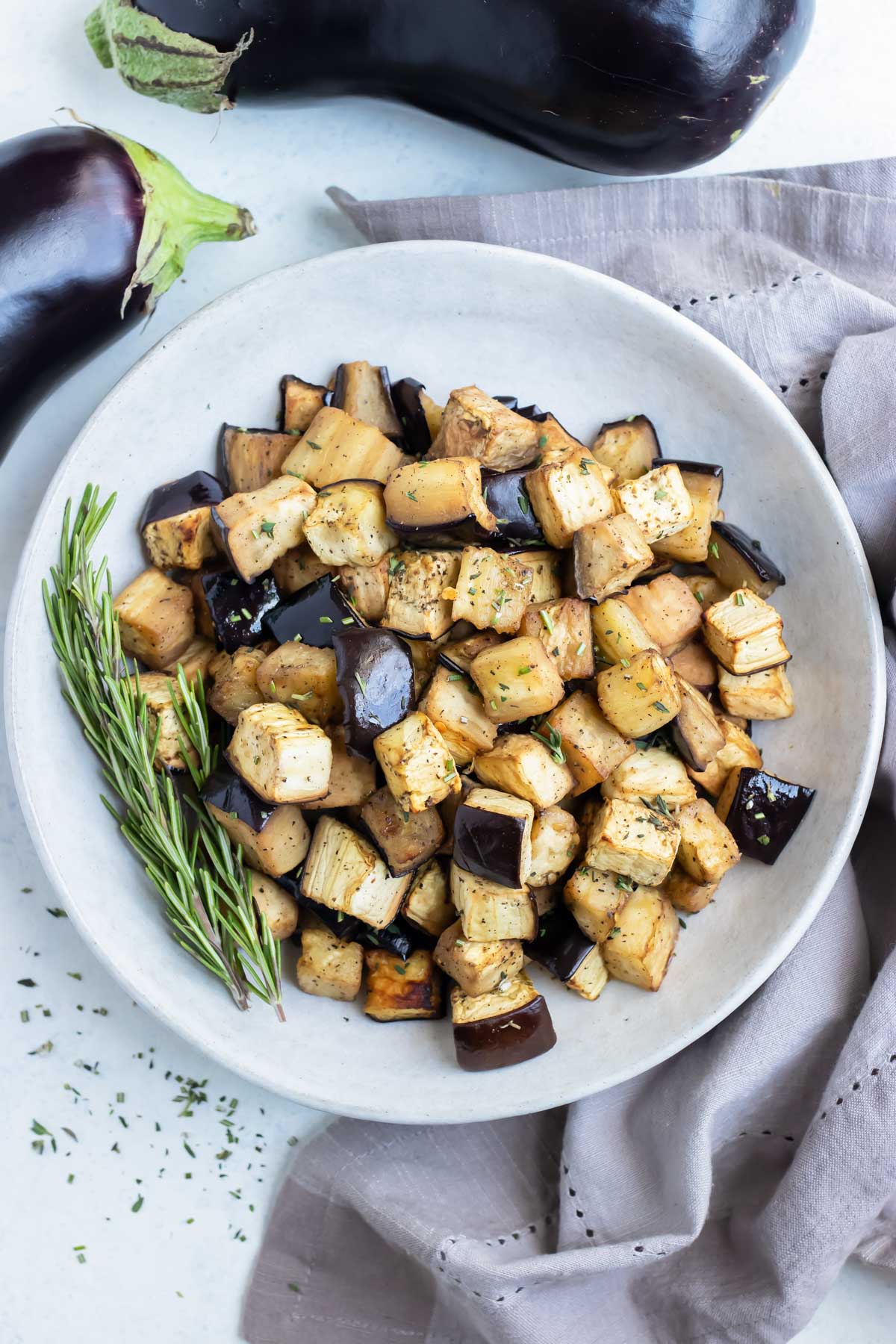 Once you know how to cook Air Fryer Eggplant, you have a quick, easy, and healthy recipe to enjoy on any weeknight. It is so simple to cube eggplant, season it, and air fry until it is perfectly caramelized, tender, and juicy. This healthy, high-fiber and keto side dish is ready in only 15 minutes and turns out crispy every time!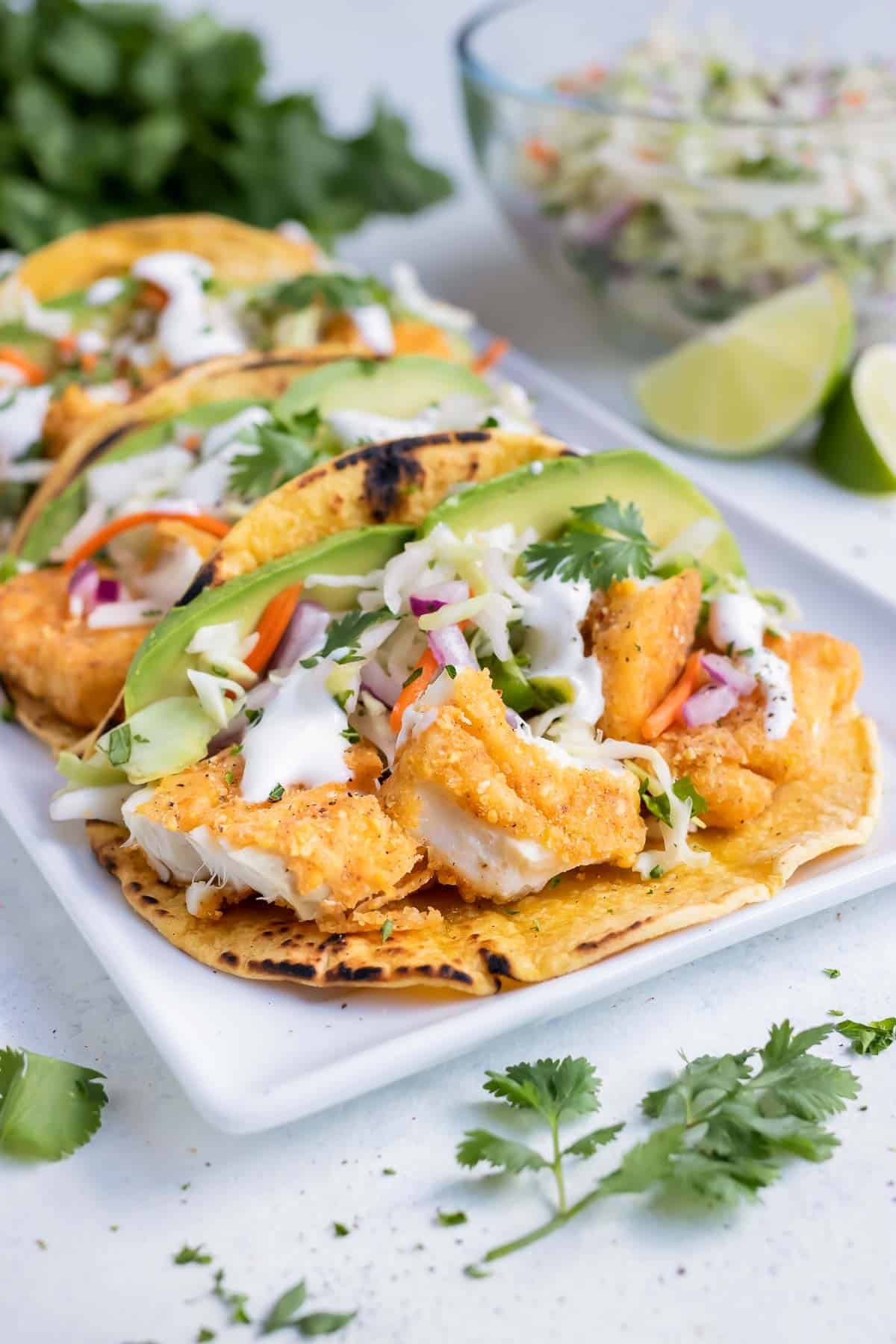 Healthy and crunchy, this Air Fryer Fish Tacos recipe is soon to be your new weeknight favorite! Flaky white fish is rolled in a crispy coating, air fried, then loaded on corn tortillas along with fish taco slaw and lime crema. Make this quick and easy dinner for your family and pretend you're eating at a food truck!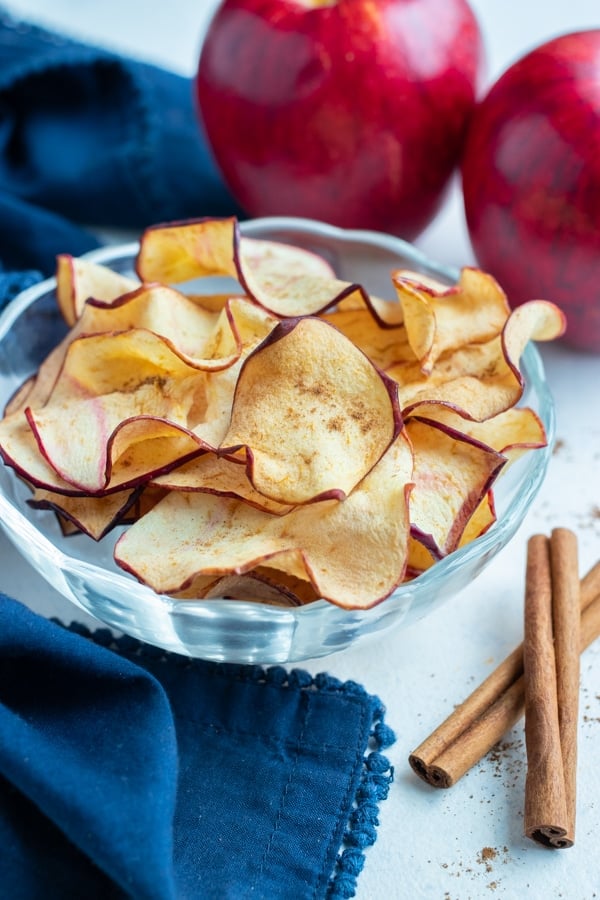 Crispy Air Fryer Apple Chips are the best healthy snack recipe! Quickly dehydrate thin apple slices in the air fryer into crunchy perfection. Sprinkle with cinnamon for an easy and flavorful after school treat.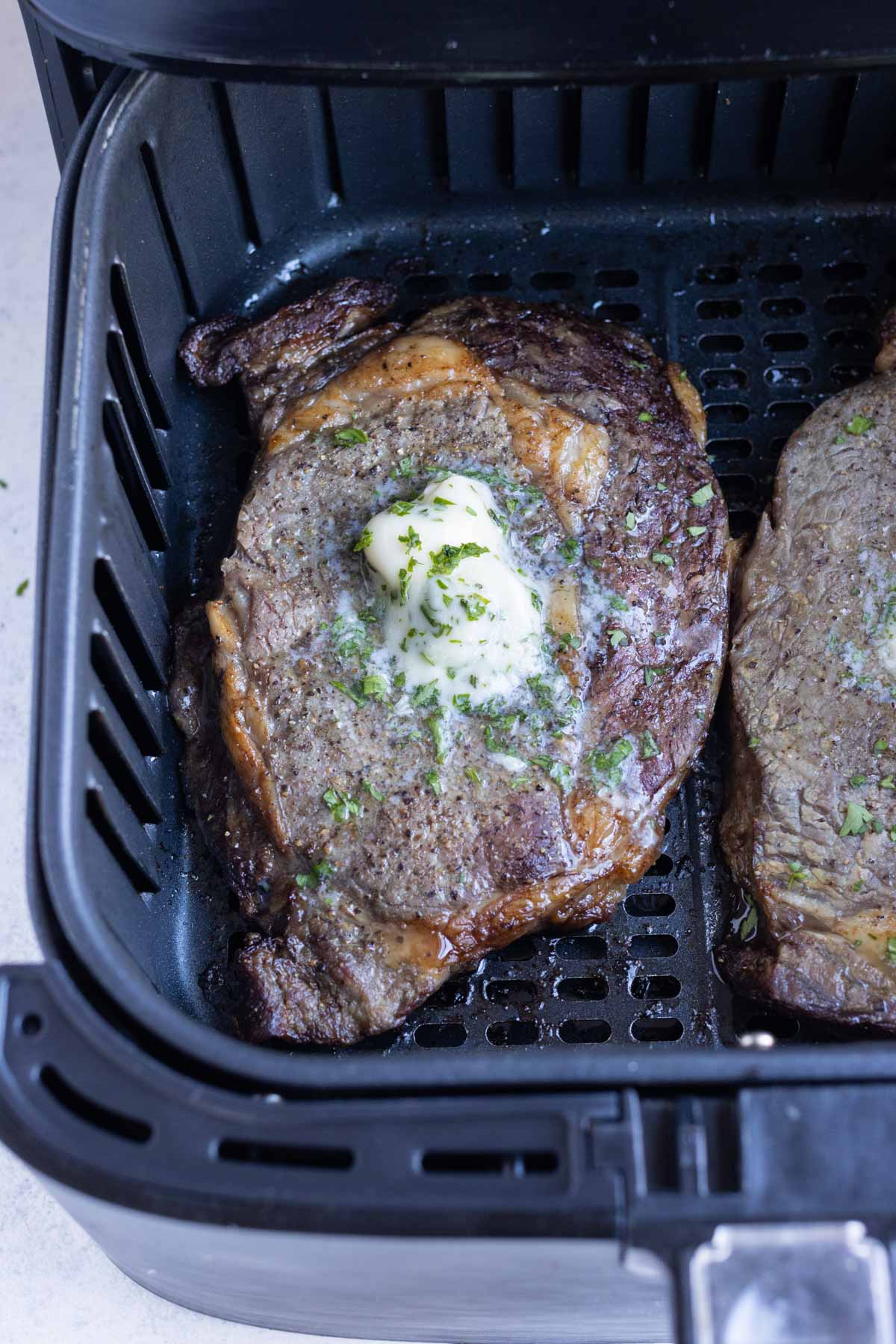 If you're looking for a perfect sear, this quick and easy Air Fryer Steak recipe is just the ticket. You'll just need to season up a filet mignon, ribeye, or even sirloin with some salt and pepper, then pop it in the air fryer for 10 minutes or so. This fool-proof method yields a tender steak with a delightfully crisp crust every time.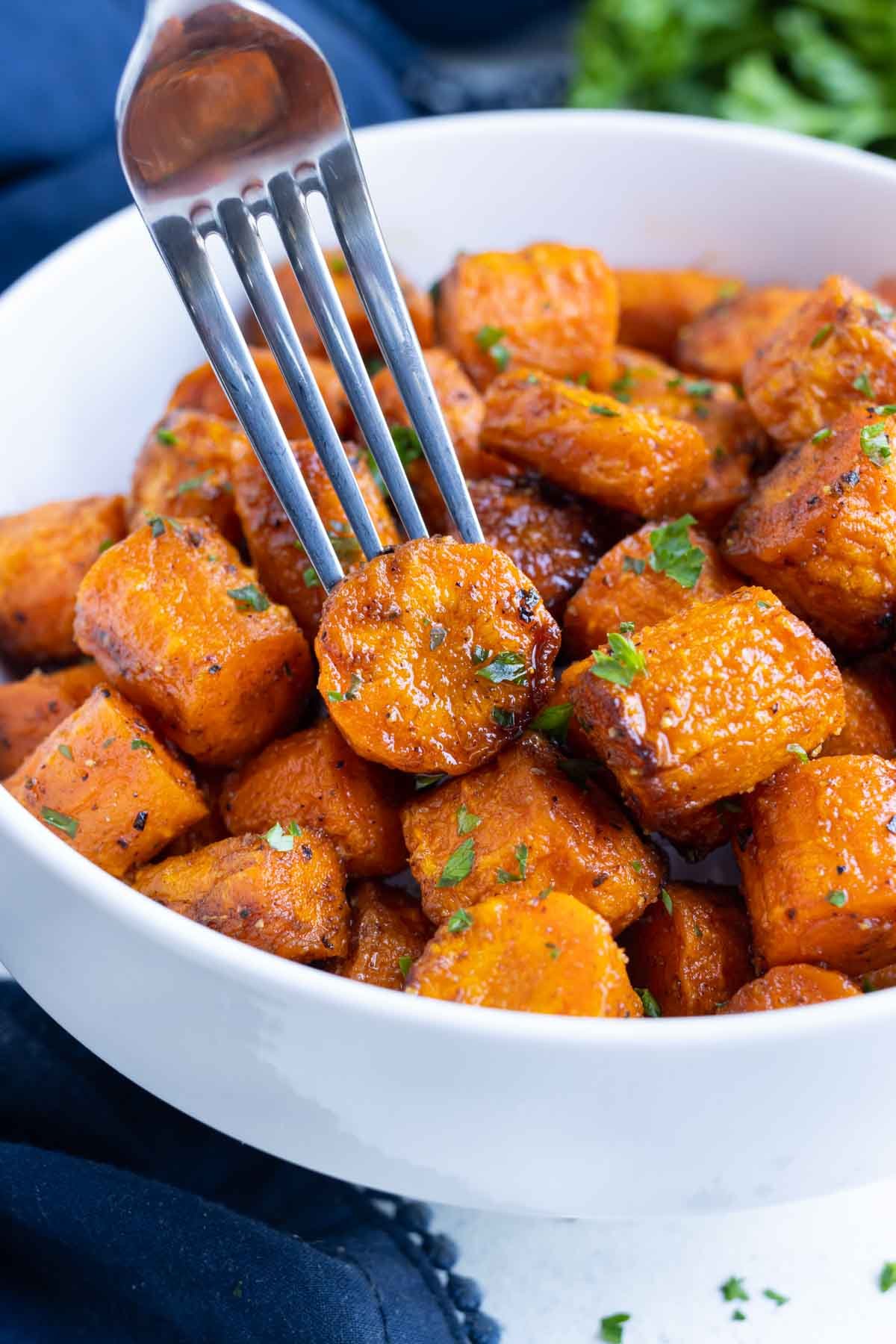 Air Fryer Carrots are the perfect side that's savory and so easy to make. Simply toss sliced or baby carrots with oil and spices and pop them in the air fryer for a healthy dish. This recipe is kid-friendly and guaranteed to have everyone coming back for seconds.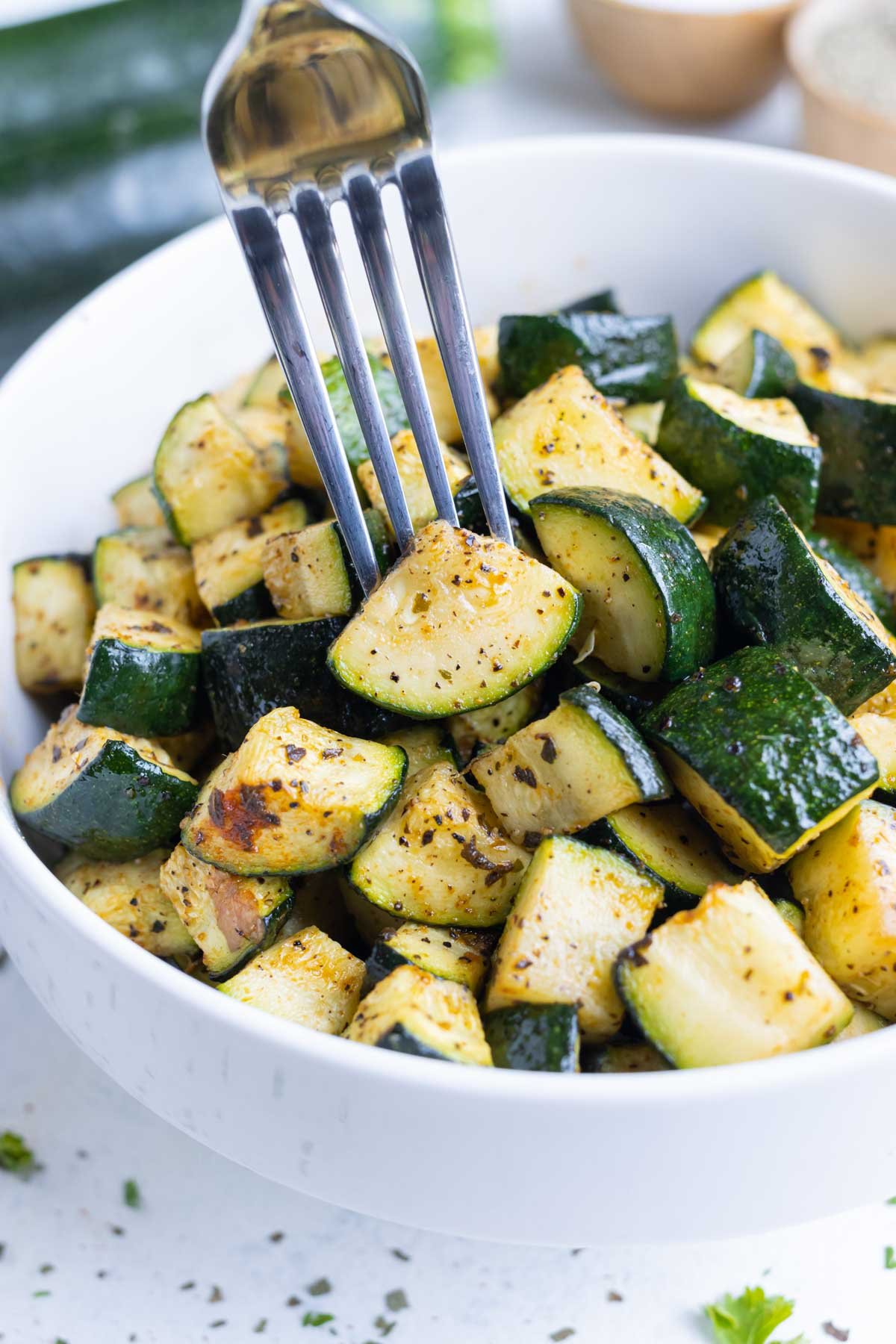 This quick and easy Air Fryer Zucchini Recipe is the perfect, low-carb side dish. No breading is needed, simply toss zucchini with oil and herbs and pop in the air fryer for crispy, roasted, and healthy veggies. Dinner just got a lot tastier with this simple vegetarian side.
When you know how to make Air Fryer Zucchini Fries, you will have a quick, easy, and delicious side dish any night of the week. Breaded zucchini sticks are perfectly seasoned with Parmesan and herbs and air fried to save you time. You will come back to this simple, kid-friendly recipe again and again!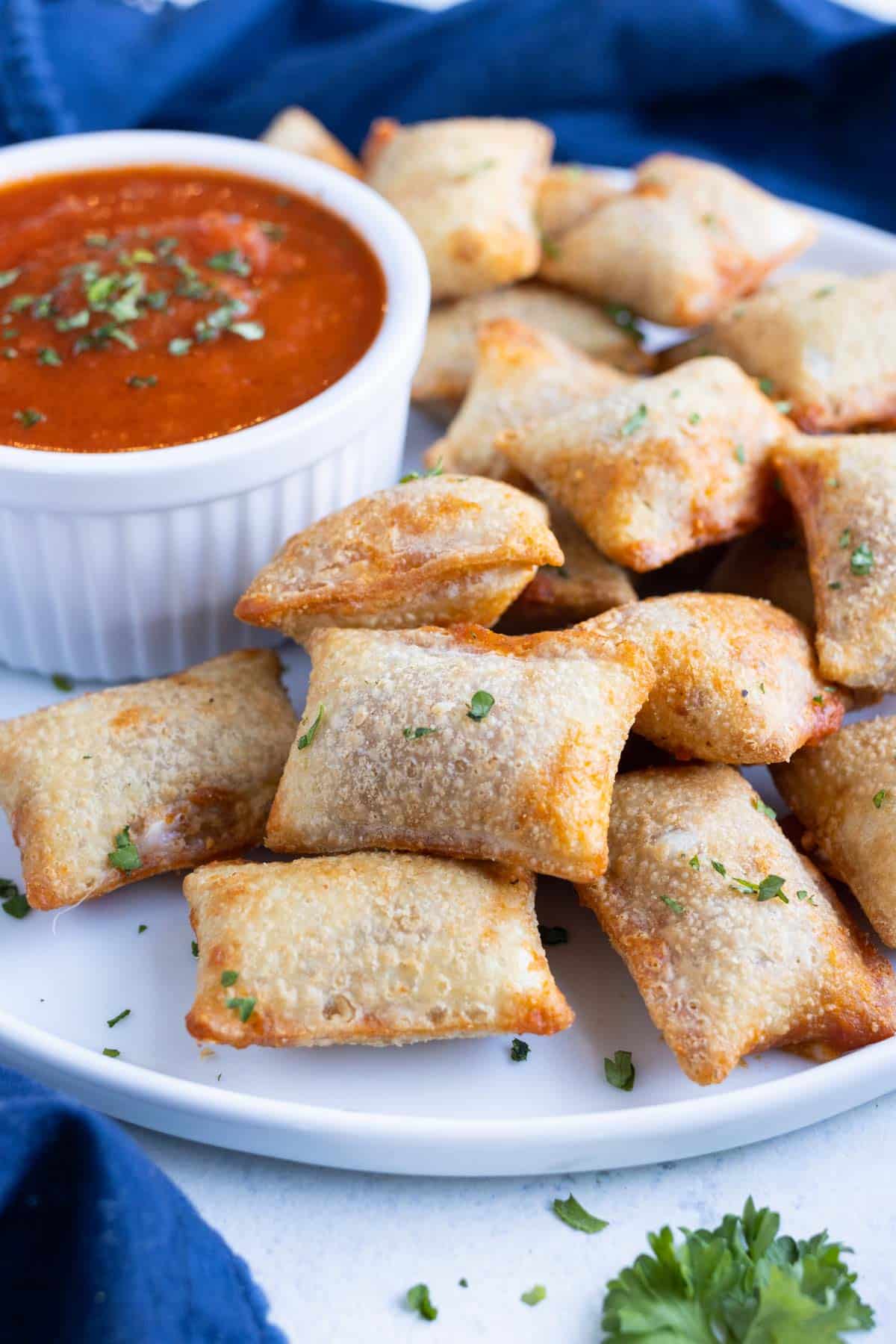 Look no further than this Air Fryer Pizza Rolls recipe for a super quick and easy game day or holiday party appetizer. It couldn't be simpler than opening a bag, tossing pizza rolls in an air fryer, and setting a timer. Once you know how to cook these frozen snacks in the air fryer, it's time to start the celebration!
If you want a healthy side on the table fast, you're gonna love this Air Fryer Green Beans recipe. You won't believe how easy it is to season green beans and toss them in the air fryer. In less than 10 minutes, you'll have the best side dish for an Easter or holiday dinner, or even a busy weeknight.
Air Fryer Meatloaf is an easy option when you need a quick weeknight dinner. Simply combine ground meat, breadcrumbs, onion, and seasonings and cook it in the air fryer for a juicy meal that is ready in half the time! This dish is the perfect kid-friendly recipe, even for those picky eaters.
Air Fryer Roasted Potatoes are the perfect blend of tender and crispy and so full of flavor. Red potatoes are tossed in a lemon-garlic sauce then topped with Parmesan cheese before roasting them in the air fryer. This easy side dish is the best way to get dinner on the table quicky.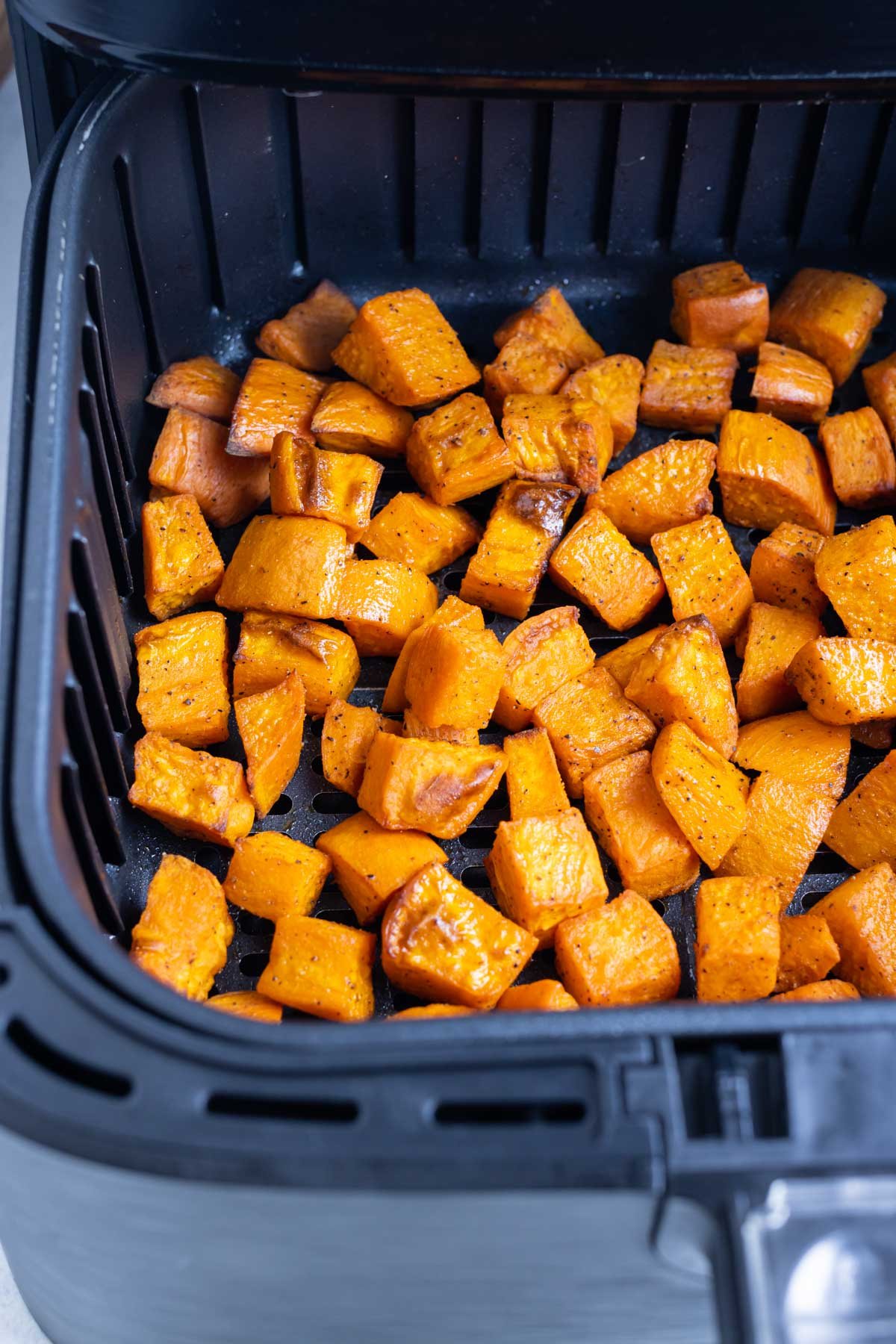 Air Fryer Sweet Potatoes are healthy side dish that's on your table in HALF the time as roasting them in the oven! Simply toss cubed potatoes in oil and seasonings and air fry for 10 minutes. This easy recipe will quickly become your new go-to weeknight dish to please everyone, even the kiddos!
Try these Air Fryer Boneless Chicken Thighs for a recipe that's so delicious—and ready in a snap. Simply marinate thighs in a honey Dijon soy sauce, then pop them in the air fryer for a crispy yet juicy result. Whether it's game day or just a busy weeknight, this is the best way to prepare a flavorful main dish.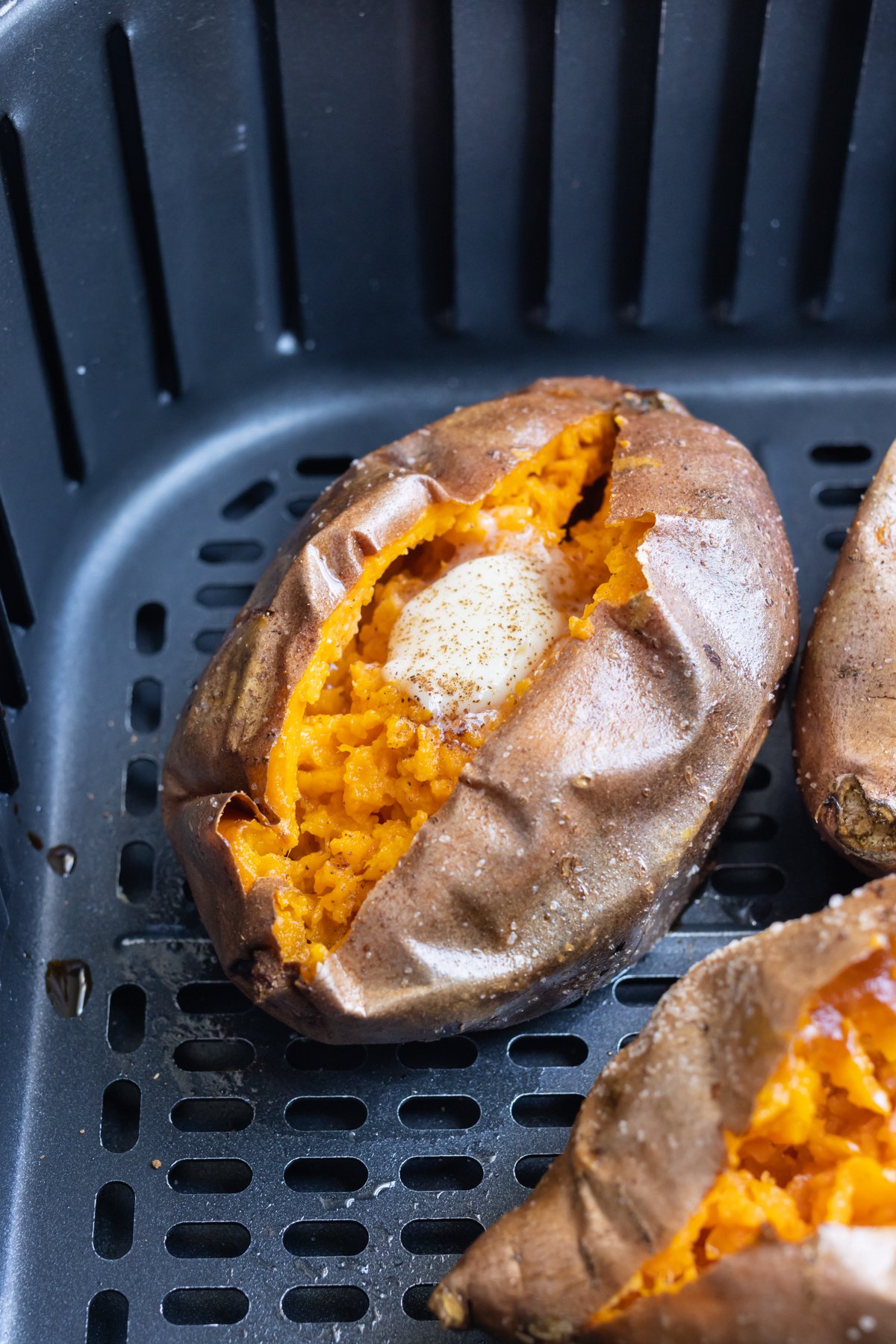 This quick and easy Air Fryer Baked Sweet Potato recipe is ready in less time than baking in the oven! It is so simple to get dinner ready once you know how to air fry sweet potatoes with a little bit of oil and salt. You will find this is the best way to make these tasty spuds, and it's the perfect kid-friendly side dish!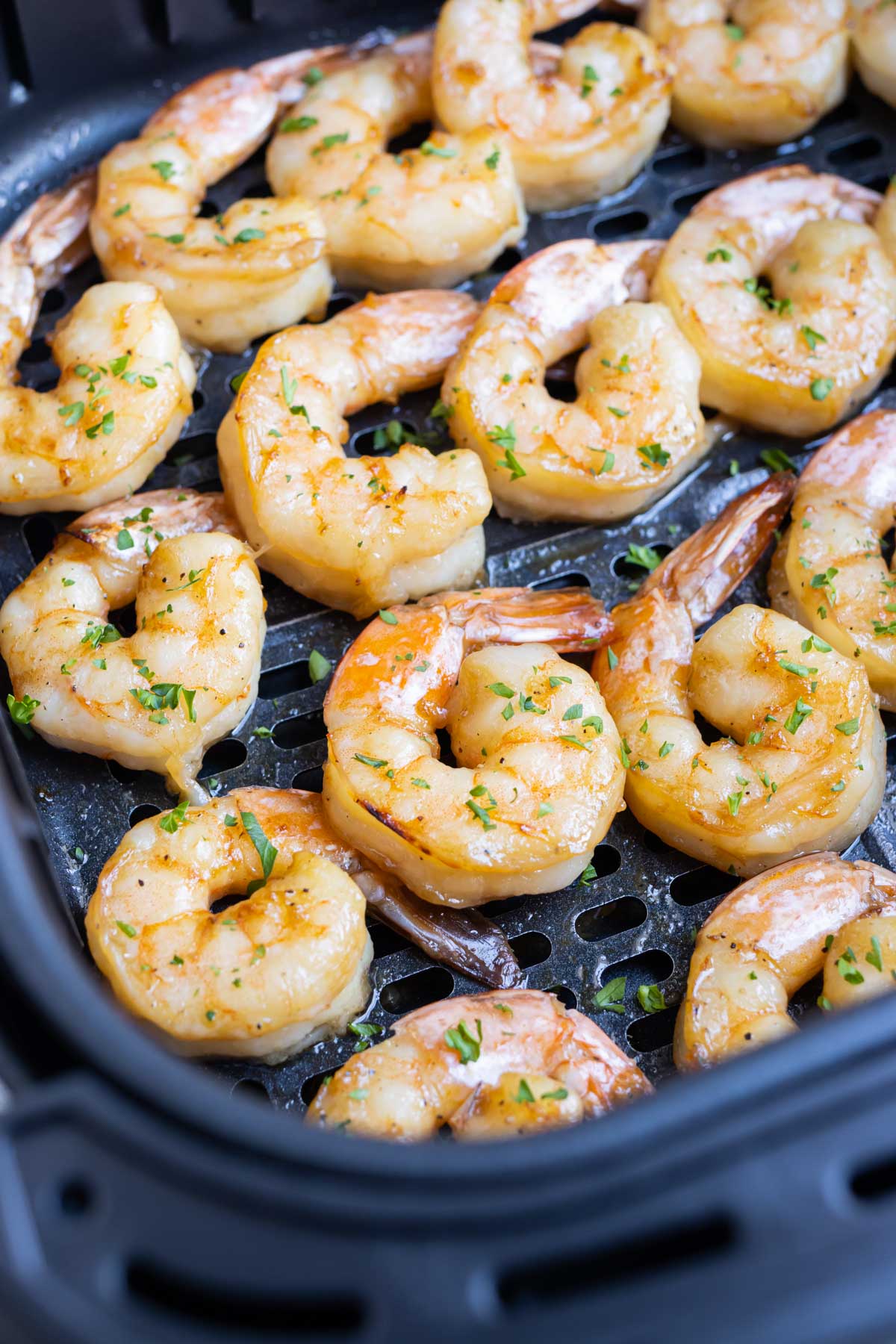 Healthy, homemade, and quick, this is the best Air Fryer Shrimp recipe to get dinner on the table fast. It is so easy to marinate plump, juicy shrimp in a zesty honey, garlic, lemon sauce and cook in the air fryer for 7 minutes. If you're craving a seafood dinner, then this is a must-try.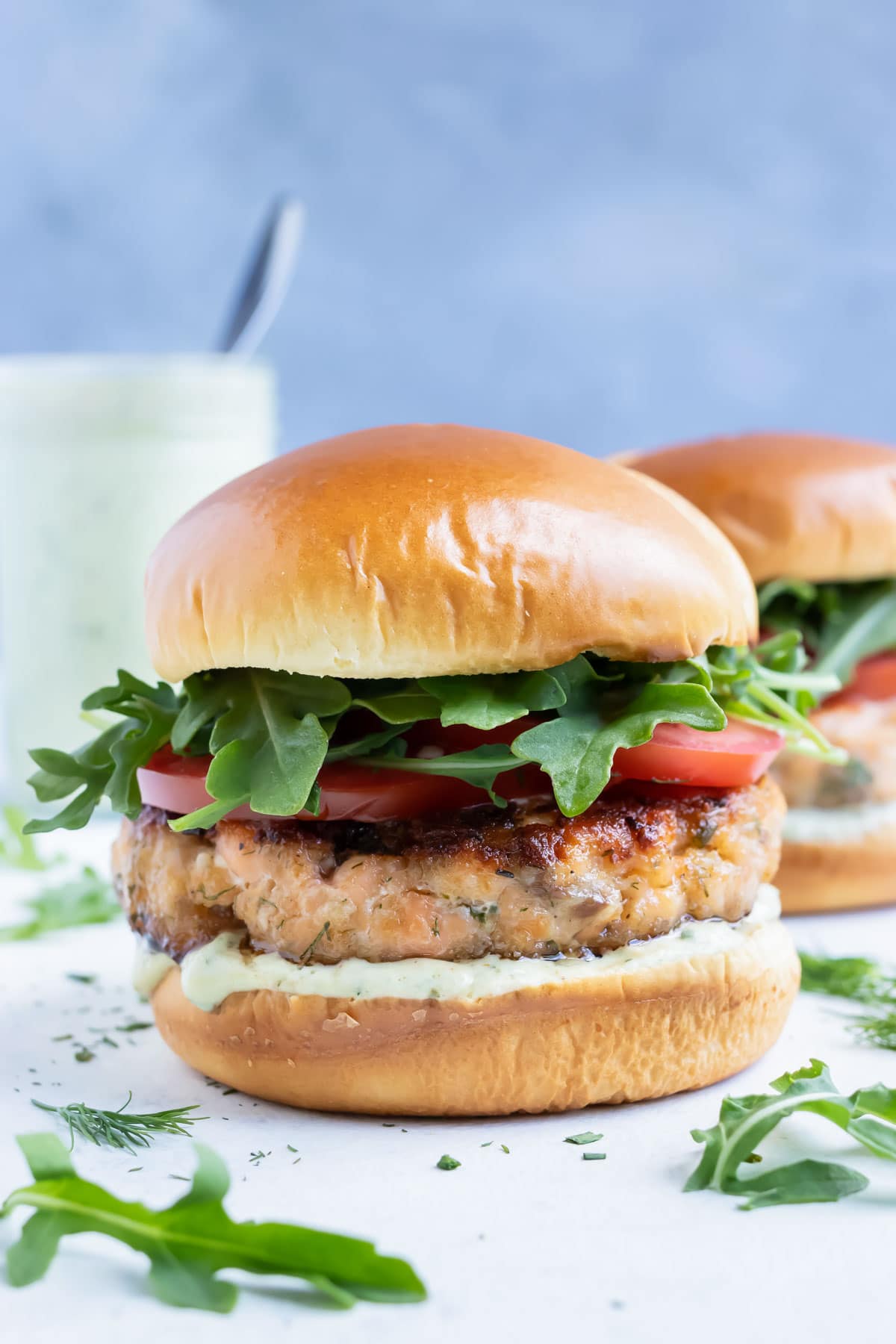 If you are looking for the absolute best Salmon Burger recipe, look no further. These healthy salmon patties are held together with breadcrumbs and mayonnaise and deliciously seasoned with dill, chives, lemon juice, and mustard. Top this low-carb dish with homemade avocado ranch and enjoy it whenever the craving strikes!
Make a simple, yet delicious appetizer with this Prosciutto Wrapped Asparagus recipe, which can be finished in less than 20 minutes! Fresh asparagus stalks are wrapped in salty prosciutto slices, and quickly roasted in the oven to tender, crispy perfection. Whether for a Sunday morning brunch or an elegant dinner with friends, any occasion will be more special with these addicting bites on the table.
These healthy Greek Turkey Burgers get their delicious flavor from a blend of Mediterranean spices. Simply mix ground turkey with Greek seasoning, spinach, and feta, cook the patties up, then top with tzatziki sauce, cucumbers and tomatoes. This recipe easily translates to the skillet, air fryer, or grill—no matter what, it will quickly become a new favorite for the whole family this summer season.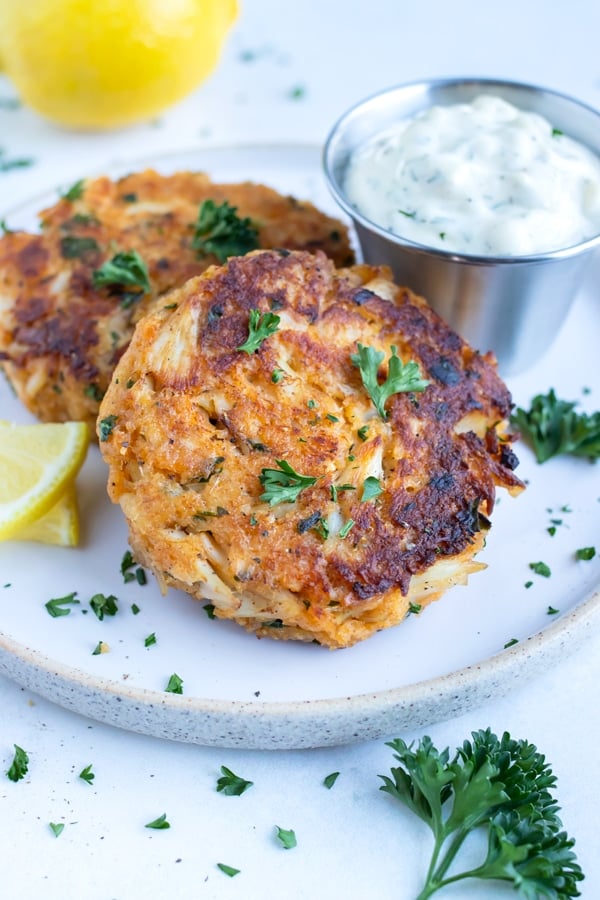 Maryland-Style Crab Cakes are sure to transform your home into a fancy restaurant and impress family and friends alike. Jumbo lump crab meat, regular or gluten-free breadcrumbs, seasonings, mayonnaise and mustard are mixed and then either seared in a skillet, baked in the oven, or cooked in an air fryer. Serve this low-carb seafood dish as an appetizer or main dish anytime you want to WOW your guests!
You can now enjoy Chick-fil-a Nuggets anytime you want with this simple copycat recipe! Chicken nuggets are brined in a pickle juice and egg wash, tossed in a seasoned breadcrumb coating, and then lightly pan-fried in peanut oil. Serve them up with a side of homemade Chick-fil-a sauce and enjoy the classic taste of your favorite fast food restaurant's nuggets that are made a bit healthier at home!
Look no further for authentic Mediterranean flavors than this simple and healthy Lamb Kofta recipe. It is easy to mix ground lamb with fresh cilantro, onion, Greek seasoning, and breadcrumbs for a quick meal. You can either air fry, pan-sear, or grill these low-carb kebabs for an amazing dinner.