Hot honey is a sweet and spicy condiment that's made with 4 ingredients and takes less than 10 minutes to make at home! This easy sauce recipe is better than the store-bought version and is quick to whisk up with honey, red pepper flakes, apple cider vinegar, and garlic powder. You can make this versatile topping for the best chicken sandwiches, pizza, or even drizzle it on veggies like Brussels sprouts.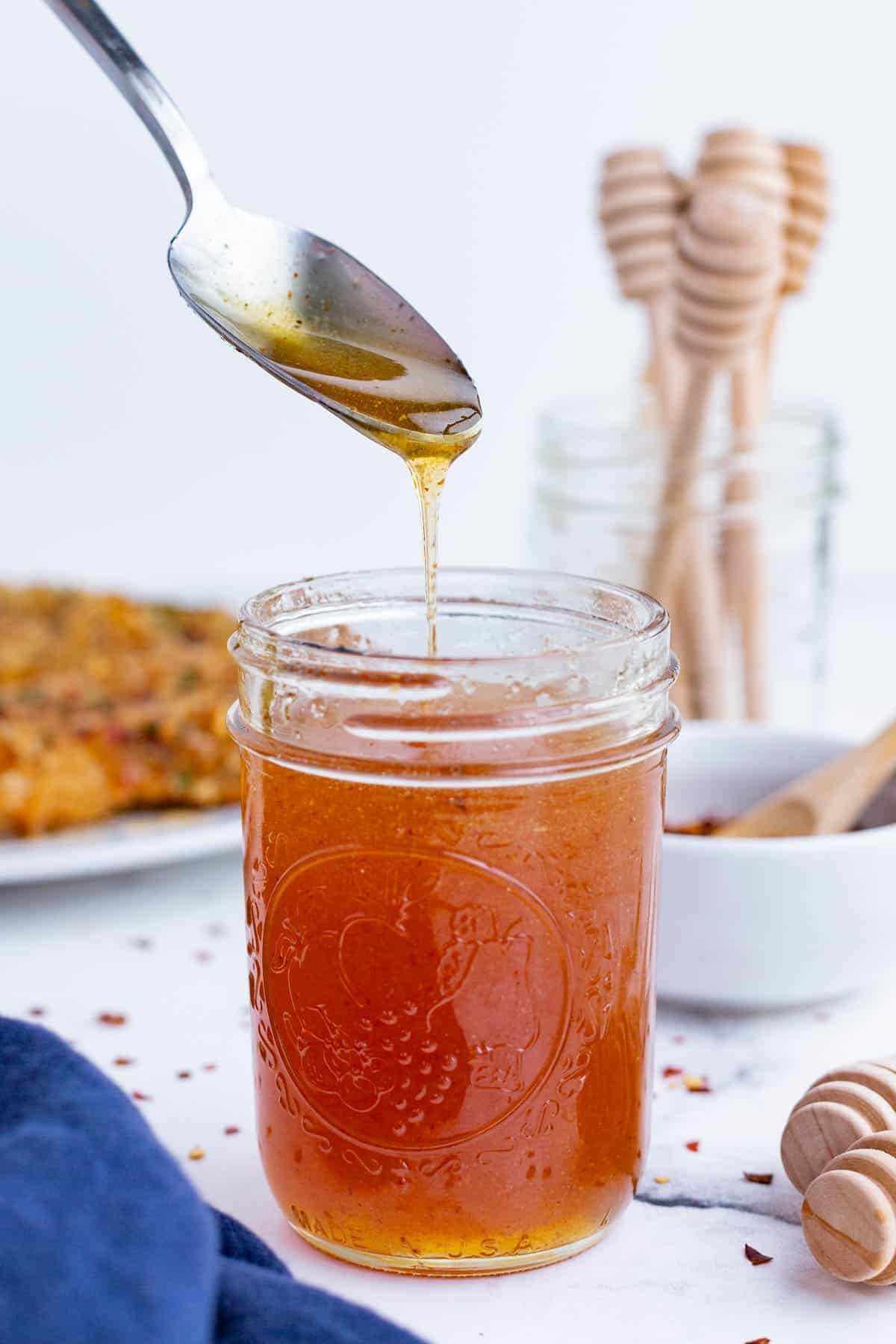 Homemade Hot Honey Recipe
The first time I experienced Hot Honey was drizzled on top of a pepperoni and ricotta cheese pizza.
That sweet and spicy combo was out-of-this-world!!
While I knew I could buy the bottle of Mike's Hot Honey from the grocery store, I also had a feeling it wouldn't be too complicated to make it at home.
And boy, was that instinct right!
Not only is it so super quick to whisk up, but you can also control the heat level of this spicy sauce by how many pepper flakes you add and how long you leave them in. The sweet honey and spicy peppers are the perfect balance.
If you're a fan of fried chicken but have never had this topping, you NEED to try it now. (This Hot Honey Chicken is a delicious baked version!) One of my favorite ways to enjoy it is with a charcuterie board, as well.
Ingredients
The simple ingredients you need to make your own hot honey recipe include:
Honey. A good quality, local honey is best. Avoid the artificial kind for the best results. If you have one, check out your local farmers market for honey from bees close to you. Avoid the thicker, raw version though.
Red pepper flakes. You can easily increase or decrease the amount used to customize how spicy this hot sauce turns out. Different types of pepper, like dried chili flakes, will work, as well.
Apple cider vinegar. This ingredient is responsible for the tangy taste in favorites like Mike's. You can opt for white wine vinegar or lemon juice, if needed.
Garlic powder. Totally optional, but it adds a little extra flavor to the hot honey.
How to Make Hot Honey
The basic steps for making hot honey are simple to follow:
Heat the Honey
Add the honey to a medium-sized, sturdy saucepan. Bring it to a boil over medium-high heat. Watch it carefully—as soon as it's boiling, remove the pot from the heat.
Season It Up
With the pot away from the heat, stir in the red pepper flakes, vinegar, garlic powder, and salt. Whisk it well.
If you want it even spicier, try adding in a teaspoon or two of Sriracha or hot sauce.
Let the hot honey marinate for at least 5 minutes, or up to 10. This allows the spicy flavors to marry with the honey.
From here, you can either strain the honey before serving, or leave the flakes in for an added kick.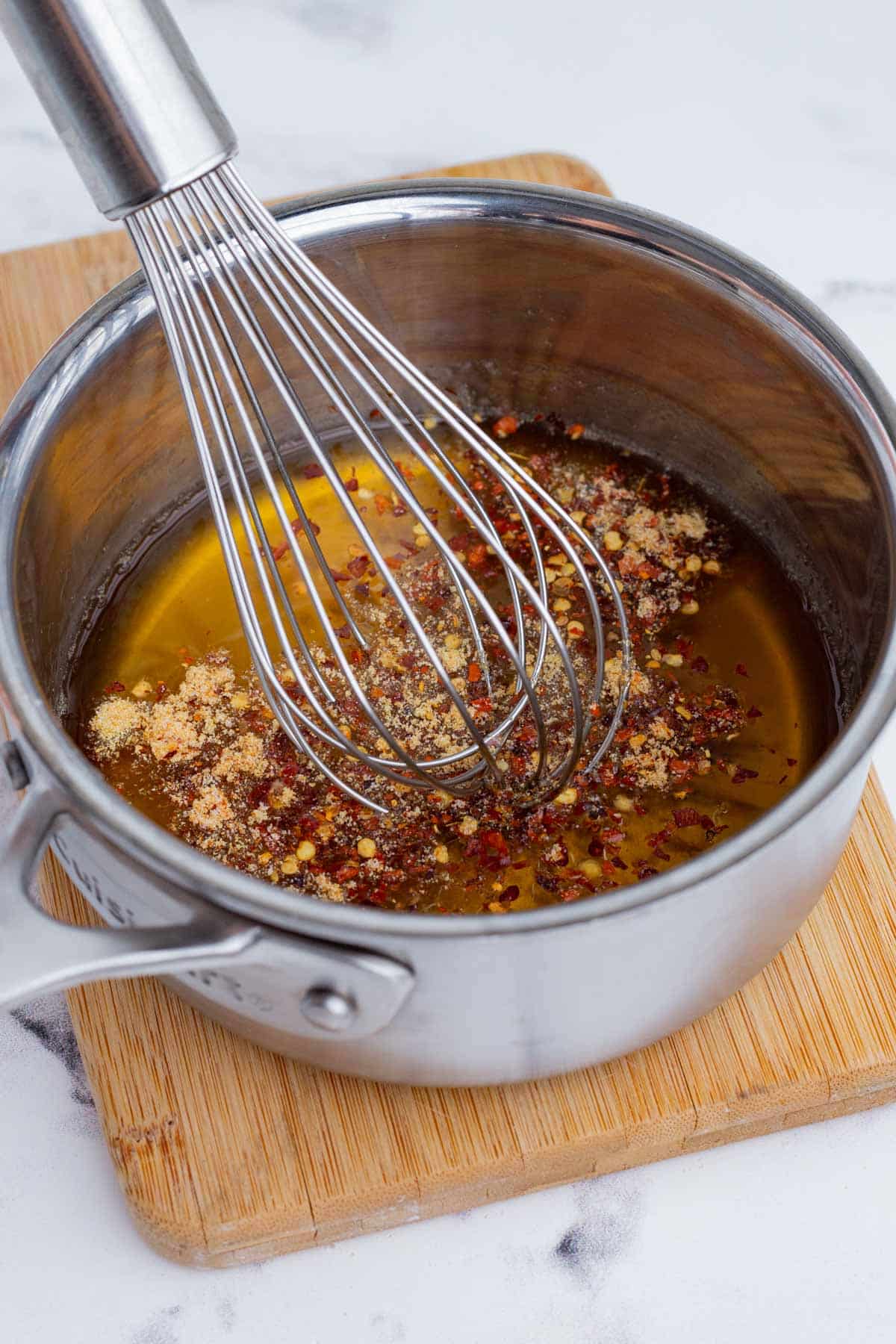 Strain or Serve
If you would like to remove the pepper flakes, place a fine mesh strainer over a glass jar. Carefully pour the honey over it.
Be sure to do this when the honey is still warm so it moves through the strainer easily.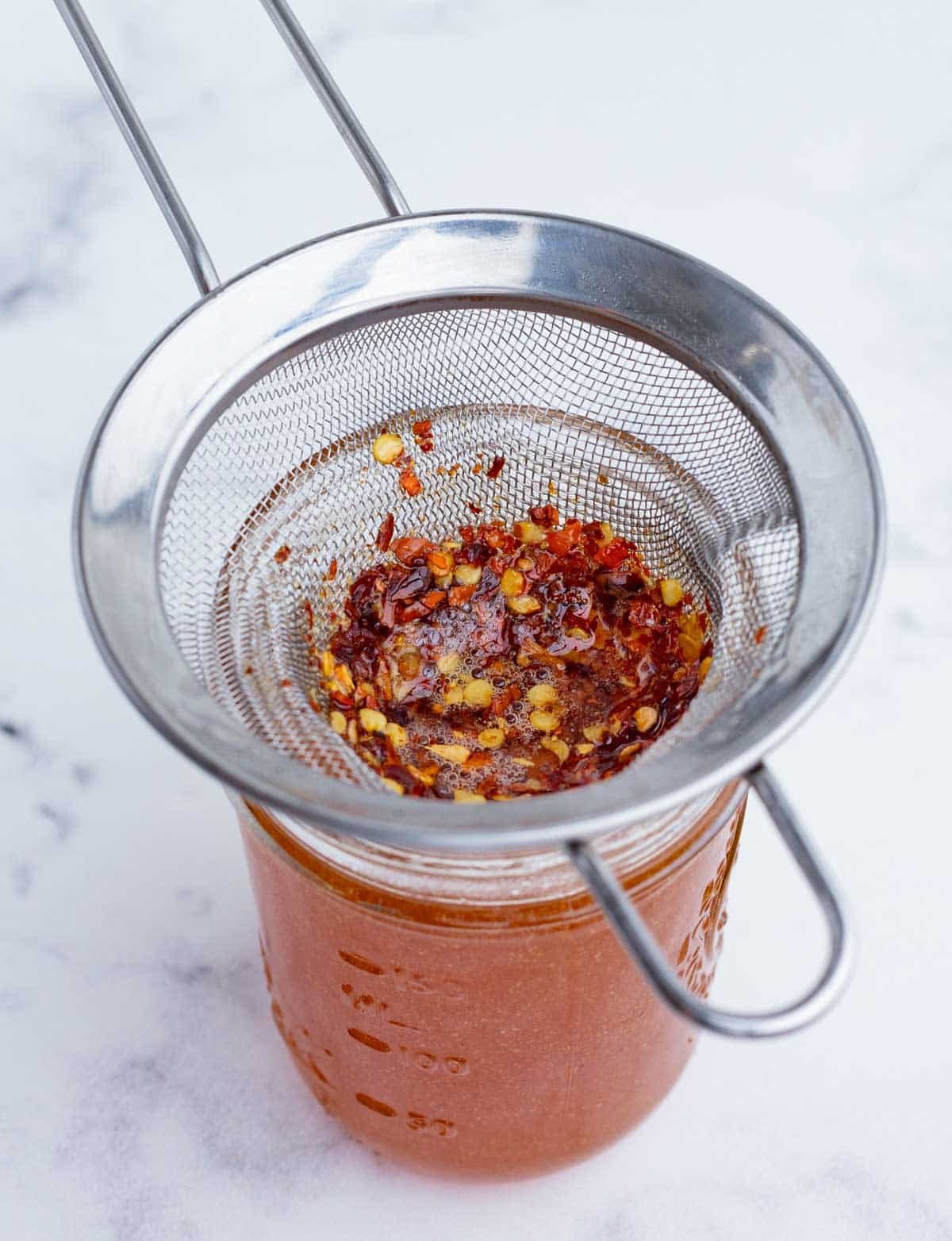 What is hot honey?
Hot honey is honey that has been infused with red pepper flakes or chili flakes. The flakes are left in, or strained out. The result is a highly flavorful, sweet and spicy honey.
What to put hot honey on?
Hot honey goes on so many dishes, but it is especially delicious on pizza, chicken, and veggies. For a unique flavor, serve it over vanilla ice cream.
How long does hot honey last?
Hot honey, when stored correctly, will last virtually forever. Keep it in a clean, airtight glass container in the pantry, not in the fridge. If it starts to crystallize, warm the honey up slightly in the microwave or let it sit in hot water for 15 minutes.
How to store homemade hot honey?
The best way to store hot honey is in a clean jar with a tight-fitting lid. A Mason jar works great. Be sure to leave it in a dry place, like the pantry or cabinet. If you keep a jar of hot honey in the fridge, it will crystallize faster.
Expert Tips and Tricks
You choose. You can pick the amount of red pepper flakes to create the spice level you prefer.
In or out. Make this sauce your own with added garlic powder.
Go local. If possible, choose honey from your area for the most health benefits.
Strain it out. For less of a kick, strain the flakes out of the honey.
Keep it dry and dark. This honey will last for years if stored correctly, in a glass jar in the pantry.
What to Serve with Hot Honey
This spicy-sweet condiment takes your favorite savory dishes up a notch. Try any of these recipes for an added kick.
It's perfect with this Hot Honey Chicken.
If you love pizza, try it on this Butternut Squash Pizza with Beets.
It's a great addition to Air Fryer Boneless Chicken Thighs, Air Fryer Chicken Wings, and Pretzel Pecan Honey Chicken.
Vegetables, like Air Fryer Brussels Sprouts, Roasted Broccoli and Cauliflower, and Air Fryer Carrots, become irresistible.
More Sauce Recipes
If you're looking for other sauce recipes to top your favorite dishes, whip up one of these next.
Classics like this Secret Sauce, Remoulade Sauce, and Sriracha Mayo add an entirely new depth of flavor to dishes.
Or, opt for fan favorites like Chick-fil-A Sauce and Buffalo Sauce.
Hot Honey Recipe
Hot honey is a sweet and spicy condiment that's made with 4 ingredients and takes less than 10 minutes to make at home!
Ingredients
1

cup

honey

1-2

Tbsp.

red pepper flakes

depending on desired spice level

2

tsp.

apple cider vinegar

or lemon juice

½

tsp.

garlic powder

optional

Pinch

of salt
Instructions
Add the honey to a medium-sized saucepan over medium-high heat. Bring the honey to a boil. Once boiling, remove the pot from the heat and mix in the red pepper flakes, vinegar, garlic powder, and salt. Whisk until everything is combined.

Let the pepper flakes marinade in the honey for at least 5 minutes or up to 10 before straining. You can also serve as is with the flakes still in the honey for an even spicier kick.

If straining, place a fine mesh strainer over a glass jar and pour the hot honey into it. You want to make sure the honey is still nice and warm so it goes through the strainer easily.
Recipe Video
Recipe Notes
One serving=1 tablespoon of hot honey
Nutrition Facts
Hot Honey Recipe
Amount Per Serving
Calories 68
Calories from Fat 1
% Daily Value*
Fat 0.1g0%
Monounsaturated Fat 0.03g
Sodium 16mg1%
Potassium 31mg1%
Carbohydrates 18g6%
Protein 0.2g0%
Vitamin A 274IU5%
Vitamin C 0.1mg0%
Calcium 4mg0%
Iron 0.3mg2%
* Percent Daily Values are based on a 2000 calorie diet.