This Easy Baked Honey Chicken recipe has the best pretzel and pecan crust and makes an impressive main dish for a dinner party or special holiday gathering. Learn how to get a crunchy coating and a juicy, perfectly cooked dish that is secretly gluten-free and an easy meal prep recipe!
Want a few other healthy chicken breast recipes? You might also enjoy this Honey Balsamic Chicken, Baked Lemon Garlic Chicken, Instant Pot Shredded Salsa Chicken, and this Honey Mustard Chicken.
Baked Honey Chicken – Country Club's BEST Dish!
Growing up as a kid there is one dish I looked for forward to yearly – this pecan crusted baked chicken breast that was served at our local country club.
We weren't members of the country club, but our competition dance team would host their annual banquet in the clubhouse every summer.
While others were in love with their rich and decadent chocolate cake, I simply could not get enough of their perfectly baked meal with its savory crunchy coating and sweet notes of honey.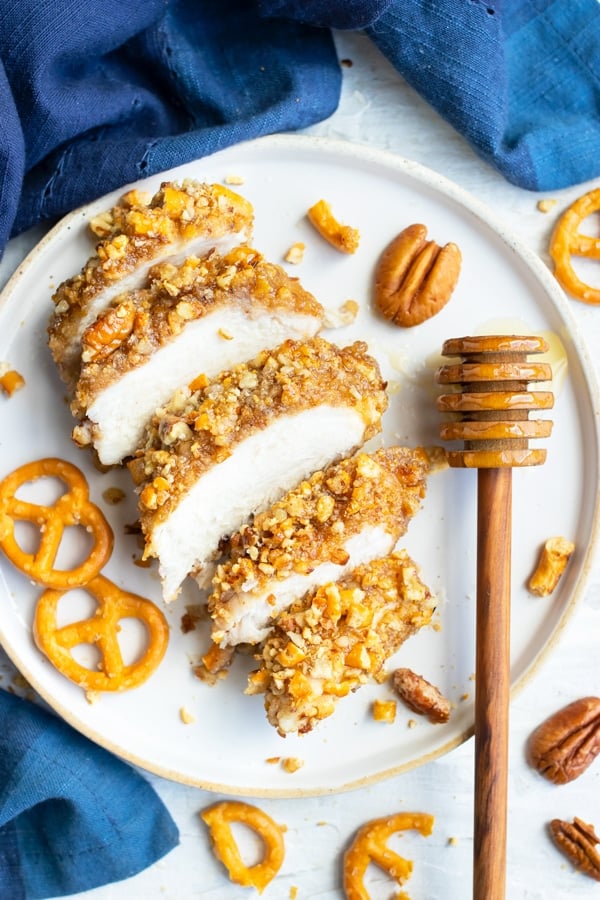 Pecan Crusted Chicken Breast Recipe
So when I had a few girlfriends over recently I tried to recreate that nostalgic dish.
Seriously ya'll – this recipe might just be even better than I remember it and will absolutely WOW your dinner guests!
Perfectly juicy chicken breasts are baked in the oven and drizzled with honey at the end to create a glaze that balances out the saltiness of the pretzels.
And the best part – it can be prepped ahead of time so you can throw it in the oven the day of serving!
Ingredients
The ingredients needed for this pecan crusted chicken recipe are relatively easy to find and can easily be made gluten-free and healthier for you.
Chicken – Organic is used in this recipe. You can also use chicken tenders if that's what you have.
Flour – Gluten-free 1-to-1 flour is used, but regular all purpose flour can also be substituted.
Egg – This helps to create a glue that will enable the crust to stick.
Pretzels – Instead of using breadcrumbs, crushed up pretzels are used in the crunchy coating. You can also even make your own! (Check out this Dots pretzels recipe!)
Pecans – Finely chopped pecans are mixed together with the pretzels to create the delicious crust.
Honey – Drizzled on just at the end and gives a subtle sweetness to this recipe.
Preparing the Chicken
In order to get the baked chicken to cook thoroughly and at a similar rate, there are a few guidelines you will want to follow:
Pound the chicken breasts with a meat mallet to 1-inch thick.

This ensures that all of them cook at a similar rate and some are not more done than others.
It also gives you the perfect chicken to crust ratio.

Cut into 4-5 ounce portions.

Similarly sized chicken breasts also enables it to be done cooking at the same time.
Best Gluten-Free Pretzels
About five years ago I went on a strictly gluten-free diet. During that time I became absolutely obsessed with the Glutino pretzels twists.
They have the perfect crunch, are wonderfully salty, and work beautifully as a coating in this recipe.
If you cannot find these gluten-free pretzels, I would also recommend the Snyder's Gluten-Free Pretzels. They're not quite as salty as the Glutino pretzels so you may want to add a little additional salt to taste.
Quick Coating Tip
Making sure the pecans are finely chopped and the pretzels are thoroughly crushed can be a little challenging.
But I'm going to let you in on a little tip – use a mini-prep food processor!
Not only are they a great tool for making healthy homemade salad dressings, but they also perfectly chop and crush your coating ingredients when pulsed (and not processed.)
Cook's Tip: If you do not have a mini-prep food processor!, a larger food processor can also be used but you may need to move around the ingredients since smaller amounts are used.
Perfect Crust Secret- 3 Bowls!
Do you know how to get a crust that actually adheres to the chicken and does not fall off while baking?
There is a pretty special, top-secret (OK, maybe it's not that secret!) method that consists of three bowls.
And for reals, it creates a chicken breast coating that will stick to it like glue.
But what exactly are in those three bowls and how does it work?
Bowl 1 – The first bowl will contain a mixture of flour, salt, and pepper. This layer creates a starchy coating that the next layer will stick to.
Bowl 2 – An egg wash made from one egg and either water or milk. The egg mixture adheres extremely well to the flour layer as well as the final crust.
Bowl 3 – This is what I like to call the flavor layer. It's where the majority of the flavor comes from and will be the pretzel and pecan mixture.
Cook's Tip: Other recipes, such as this Gluten-Free Chicken Parmesan or Fried Goat Cheese, also use this method but replace the pecan crust with other flavor layer ingredients.
How to Make
The process for making this chicken recipe is actually relatively simple and easy-to-follow and can even be meal prepped ahead of time.
Crush pretzels and finely chop nuts in a mini-prep food processor.
Prepare chicken breasts by pounding thin and cutting into 4-ounce portions.
Coat by dipping in flour bowl, egg wash bowl, and then the pretzel-pecan mixture.
Place chicken breasts in a large 13 x 9 inch baking dish.
Top with butter.
Bake in a 350 degree oven for 25-30 minutes.
Cook's Tip: You'll know the chicken is done cooking when the internal temperature reads 165 degrees on a meat thermometer.
Meal Prep & Prepping Ahead
This recipe is a wonderful make-ahead and meal prep dinner recipe for busy weeknights or dinner parties.
The best way to prep this recipe is to prepare the chicken, coat it, and place in a baking dish. Refrigerate the chicken for up to 24 hours before baking as directed.
If you need to prepare this recipe more in advance you can always mix the bowl ingredients and store them in separate containers. On the day of serving coat and bake as directed.
Serving, Storing, Reheating
Serving: This recipe is best served immediately with a drizzle of honey alongside some roasted broccoli, mashed cauliflower, baked potato wedges, or roasted sweet potato cubes.
Storing: If you happen to have any leftovers, place them in an airtight container in the refrigerator and store for up to 3-4 days.
Reheating: When ready to reheat, add them back to a baking dish and heat up in a 300 degree oven for 10-15 minutes.
Sides
While this baked honey chicken recipe could be a meal in and of itself, there are a few wonderful side dish recipes that will taste great alongside it and other chicken breast recipes:
Maple Roasted Butternut Squash
Pretzel Pecan Honey Chicken
This Easy Baked Honey Chicken recipe has the best pretzel and pecan crust and makes an impressive main dish for a dinner party or special holiday gathering.
Ingredients
1

lb.

chicken breasts

organic

¼

cup

flour

gluten-free, 1-to-1 blend

¼

tsp.

salt

⅛

tsp.

black pepper

1 ¼

cup

pretzel twists

gluten-free

⅔

cup

pecans

or 3 oz., raw

1

egg

1

Tbsp.

milk

2

Tbsp.

butter

2-3

Tbsp.

honey
Instructions
Preheat oven to 350 degrees.

Using a meat mallet, pound chicken to 1-inch thick and cut chicken breasts into 4-ounce portions.

In a mini-prep food processor add pretzels and process until they form crumbs. You should end up with about ⅔ cup of crushed pretzels.

Remove pretzels from the processor and add the pecans. Pulse until the pecans are finely chopped. You should have about ½ cup of finely chopped pecans.

In three separate shallow bowls add the flour, salt, and pepper to the first bowl, whisk the egg and milk in the second bowl, and toss together the pretzels and pecans in the third bowl.

Dip each chicken breast in the flour mixture, dredge in the egg wash, and then coat completely in the pretzel-pecan mixture. Repeat with remaining chicken breasts.

Place coated chicken breasts in a 13 x 9 inch baking dish that has been sprayed with non-stick cooking spray and top each with ½ tablespoon of butter.

Bake in preheated oven for 25-30 minutes, or until a meat thermometer reads 165 degrees.

Just before serving drizzle 1/2-1 tablespoon of honey on each chicken breast. Serve immediately and enjoy!
Recipe Video
Recipe Notes
Pretzels should weigh roughly 70 grams.
Nutrition facts have been adjusted based on some of the flour, egg wash, and pretzel/pecan mixture remaining.
Glutino pretzel twists are my suggested pretzel to use. However, if you cannot find them Snyder's gluten-free pretzels or another regular pretzel will also work great but may need a little additional salt to taste.
Nutrition Facts
Pretzel Pecan Honey Chicken
Amount Per Serving
Calories 395
Calories from Fat 189
% Daily Value*
Fat 21g32%
Cholesterol 119mg40%
Sodium 479mg21%
Potassium 506mg14%
Carbohydrates 25g8%
Protein 29g58%
Vitamin A 263IU5%
Vitamin C 1mg1%
Calcium 31mg3%
Iron 2mg11%
* Percent Daily Values are based on a 2000 calorie diet.