Refrigerator Dill Pickles – an easy and delicious quick pickles recipe! Learn how to make the BEST homemade pickled cucumbers that are slightly sweet, a little tangy, and have a drink-worthy juice that is absolutely addicting!
Want a few other quick cucumber recipe ideas? You might also enjoy this Cucumber Dill Salad, Mediterranean Chickpea Salad with Cucumber, Tomato Cucumber Salad, and this Mexican Shrimp Ceviche.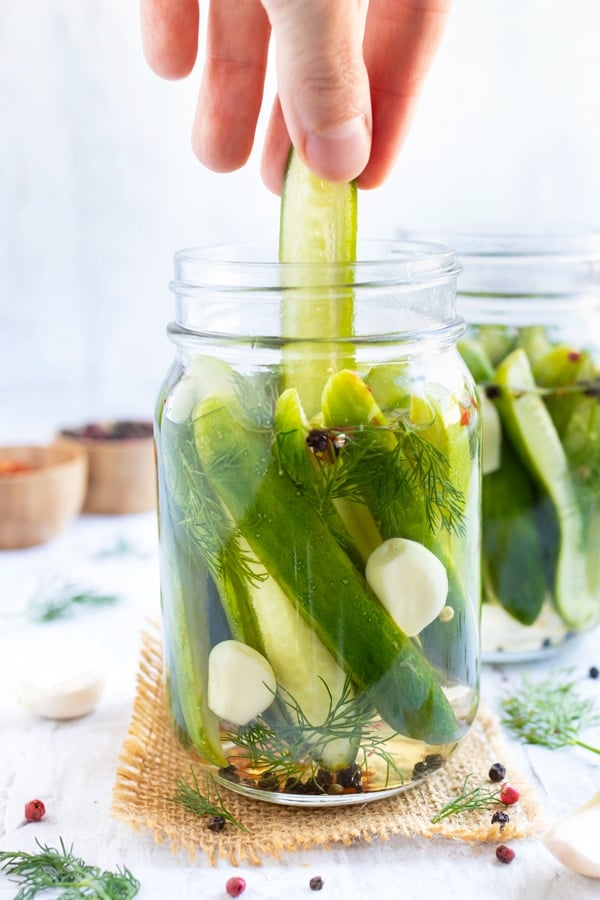 Dill Pickles, Sweet, or Bread and Butter?
Did you like pickles as a kid?
Dill, bread and butter, sweet, or maybe gherkin?
To be honest, I could not STAND eating them.. especially when they happened to grace their presence on my beloved burger.
But then something happened. I accidentally bit into a Chick-Fil-A fried chicken sandwich (before I avoided gluten!) and I realized the pickle actually added SO much flavor to the sandwich.
Your taste buds really CAN change!!
The Best Refrigerator Dill Pickles
One of the hardest things about making homemade pickles is how long you have to wait to enjoy them. After eating a TON of different tacos with a variety of pickled vegetables on each one at White Duck Taco Shop in Asheville, I immediately came home and set to work perfecting the absolute best refrigerator dill pickles recipe.
The first version came out WAY to vinegary (even though Cohl still demolished them.)
The second time I attempted this quick recipe I thought I might try a little apple cider vinegar. Nope. Still not the overnight recipe I was searching for.
And then, the stars aligned on the third round and the recipe you will find below came to be. I'm certain you will love it as much as my taste testers did. (Cohl, his brother, and a crew of guys paddling the San Marcos river!)
What are Pickles?
A pickle is a cucumber that has been "pickled" by letting it sit in a vinegar solution and ferment over time. This pickling method in an acidic environment increases the shelf life of the cucumber.
Traditionally, they are canned so they can be stored at room temperature for months, or even years, at a time. However, this quick recipe below will teach you how to have delicious pickles ready in just a few hours!
Learn more about pickled cucumbers here.

Ingredients
Homemade dill pickles are made of only a few ingredients, many of which you probably already have on hand.
Seedless Cocktail Cucumbers – You can find these in your produce section in a small plastic bag and they are about 4-5 inches long.

If you can not find the cocktail cucumbers you can also opt for the English seedless cucumbers and cut them into similarly sized spears.

Vinegar – Read more about the best type of vinegar to use below.
Salt – Salt is the main component that gives them a salty flavor.
Sugar – Good ole' regular white granulated sugar is the way to go.Please do not try to substitute for a healthier alternative such as coconut sugar or another unrefined sugar. They will not taste like the authentic pickles you know and love!
Dill – In order to give that bright flavor, you will need a few sprigs of fresh dill.
Garlic – While not absolutely necessary, the garlic does give a nice depth of flavor.
Peppercorns – If you cannot find whole peppercorns simply substitute for a pinch of ground black pepper.
What Type of Vinegar to Use
Distilled white vinegar is the best type of vinegar to use when pickling cucumbers.
While some recipes may tell you you can substitute a good apple cider vinegar for the distilled white vinegar I would highly discourage this. Any other type of vinegar will largely impact the finishing taste and flavor.
How to Make
Now that you know the ingredients you will need when making quick dill pickles, let's dive into how to make them.
Add distilled vinegar, water, sugar, and salt to a medium-sized sauce pan or pot and bring to a boil.
Once boiling, reduce heat to low and let the vinegar solution simmer for 5 minutes, or until sugar is completely dissolved.
Add garlic, peppercorns, red pepper flakes, and dill sprigs to the bottom of a 16-oz. mason jar. (Picture 1)
Place cucumber spears in a vertical orientation in the jar and pour the vinegar solution over them. Add extra water until the solution completely covers the cucumbers. (Pictures 2 and 3)
Refrigerate overnight or up to 4 days before enjoying. They will last for up to 4 months in the refrigerator. (Picture 4)
Using Mason Jars
When making this homemade snack you will need to have the right type of mason jar for the best results.
Since the cocktail cucumbers are typically around 4 inches long, a 16-oz. mason jar will work perfectly. The wide mouth jars will also work equally as well.
Make sure you find one with a secure lid and that it is made out of glass.
Cook's Tip: Do not make refrigerator pickles in a plastic container as the acidic solution will leach plastic into them.
How Long Do They Last?
Refrigerator pickles will generally last for up to 3-4 months while still maintaining their crisp and crunchy texture. After this time they will begin to get soft and will not have that same delicious crunch.
Are They Good for You?
Pickles are generally healthy since they are low in calories, fat, carbs, and are considered gluten-free, dairy-free, vegetarian, and vegan. The juice does contain quite a bit of sodium making it a great source of electrolytes.
Some store bought pickle brands add a lot of sugar to the juice increasing their calories, carbs, and sugar content. This is why making homemade dill pickles is by far the best and healthiest for you!

Quick & Easy Pickles Video
Want a few other Easy Summer Snack Recipes?
Refrigerator Dill Pickles Recipe
This quick and easy Refrigerator Dill Pickles Recipe can be ready to eat in as fast as overnight! Enjoy the best simple pickles as a low-carb, keto, vegetarian, and vegan snack, or make them into fried pickles!
Ingredients
⅔

cup

distilled white vinegar

⅓

cup

water

1 ¼

tsp.

salt

3

Tbsp.

sugar

2

cloves

garlic

whole

1

tsp.

peppercorns

1

pinch

red pepper

3

dill sprigs

4-5

cocktail cucumbers

cut into 4 spears
Instructions
Add vinegar, water, salt, and sugar to a medium-sized pot or sauce pan and bring to a boil.

Reduce heat to low and simmer for 5 minutes or until sugar is completely dissolved.

Place garlic cloves, peppercorns, red pepper flake, and dill sprigs in the bottom of a 16-oz. mason jar.

Add cucumber spears to the jar in a vertical orientation. Pour warm vinegar solution over cucumbers and add additional water as needed to completely cover the cucumbers.

Refrigerate pickles at least overnight or up to 3-4 days for the best results. Pickles will keep well in the refrigerator for up to 4 months and will slowly lose their crispness after that.
Recipe Video
Recipe Notes
Nutritional information is an estimate based on only half of the solution being consumed.
A 16-oz. mason jar works best. The wide mouth jars will also work equally as well.
Meal Prep and Storage
To Prep-Ahead: Refrigerate pickles at least overnight or up to 3-4 days for the best results.
To Store: Keep pickles in an airtight container in the refrigerator for up to 3-4 months. This is the ideal time frame to maintain their crisp and crunchy texture. After this time they will begin to get soft and will not have that same delicious crunch.
Expert Tips and Tricks
Fresh is best. Fresh dill and garlic cloves are key to add the most flavor.
Reduce just enough. Keep an eye on the vinegar solution. If reduced too long, you'll end up having to add too much water to the jars.
Wait a few days. These refrigerator pickles are their perfect crispness and most flavorful after about 3-4 days.
Try them whole! Skip the slicing and pickle whole cucumbers instead. If you do, make sure you refrigerate them for a minimum of 3 days as it will take longer for the solution to soak into the entire cucumber.
Turn them into fried pickles. These Air Fryer Pickles are incredible, and even better when made with homemade dills!
Nutrition Facts
Refrigerator Dill Pickles Recipe
Amount Per Serving
Calories 41
Calories from Fat 9
% Daily Value*
Fat 1g2%
Sodium 244mg11%
Potassium 96mg3%
Carbohydrates 8g3%
Protein 1g2%
Vitamin A 325IU7%
Vitamin C 5mg6%
Calcium 24mg2%
Iron 0.5mg3%
* Percent Daily Values are based on a 2000 calorie diet.