Interested in knowing a heavy whipping cream substitute? Learn about NINE substitutes that you most likely already have in your fridge and pantry. Whether you're looking for dairy or non-dairy, you're sure to find a great option—and a bunch of recipes to test it out with—in this post.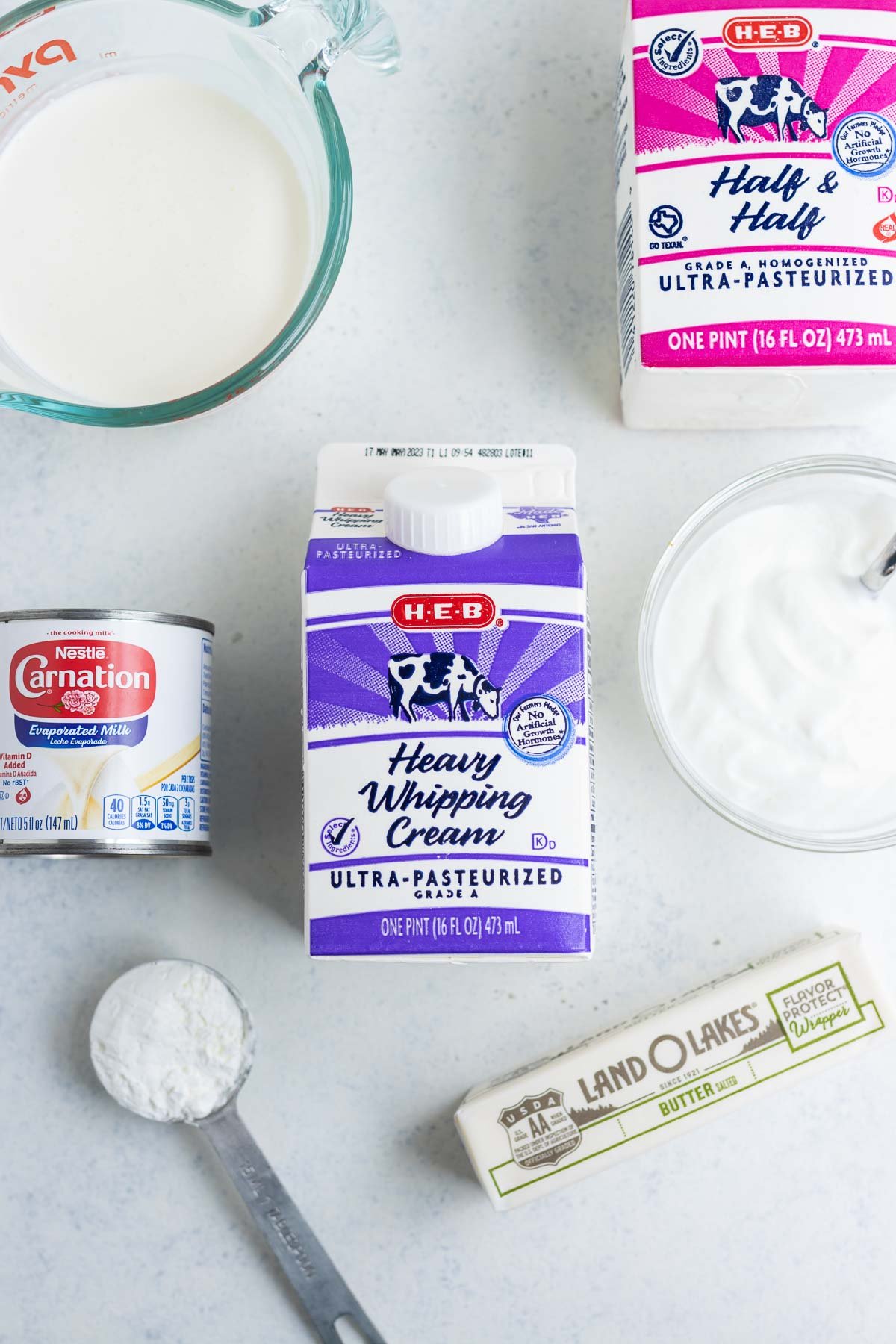 What is heavy whipping cream?
Heavy whipping cream is the thick element of milk that separates to the top because of its high fat content. It is made by skimming the fat layer of the liquid from the top of whole milk in a processing plant. During manufacturing, additives may be added like stabilizers, thickeners, and vitamins.
The Best Heavy Cream Substitutes
You'd be surprised at what constitutes a heavy whipping cream substitute, and dairy products are your best bet. Here are 9 great substitutes if you're ever in need:
Half and Half With & Without Butter
This is the best substitute because half and half is almost the real thing. It's made from a mixture of whole milk and cream that has a lower fat content, but still has richness. Adding butter increases the fat content to match the heavy cream, but it's okay if you don't want to add it in.
Before adding this substitute to your recipe, mix 2 tablespoons of melted butter with 1 cup of half and half. That makes a little over a cup of heavy cream substitute. This can be used in any recipe, sweet or savory.
Milk With & Without Butter
Milk with or without butter uses the same concept as half and half. Adding butter, once again, enriches your milk with enough fat to simulate heavy whipping cream. It's best to use unsalted butter with this one.
To make one cup of heavy cream, whisk ¼ cup of melted and then cooled butter with ¾ cup of whole milk. Using 1% or 2% milk will not have the same effect, as these milks have even less fat content. This substitute is best used when making cake or savory sauces, not ice cream or mousse.
Coconut Cream
Coconut cream is simply the best dairy-free substitute for many recipes that call for whipped toppings that require stiff peaks. It makes for an easy alternative and will add a slightly nutty, coconut flavor to your recipe.
Use a 1:1 ratio with this substitute. Really make sure you mix the contents of the coconut cream together before pouring into your dish. This substitute is the best for baked goods and curries.
Evaporated Milk
If you have evaporated milk on hand, this is a great option to use. This kind of milk has already been heated to remove much of its water content, so it has a thick consistency. You can add a dash of vanilla extract if you are missing the sweet aspect since it has a very neutral taste.
Use an equal amount of what the recipe calls for on this one. This substitute can be used in any dish, and does not alter the flavor.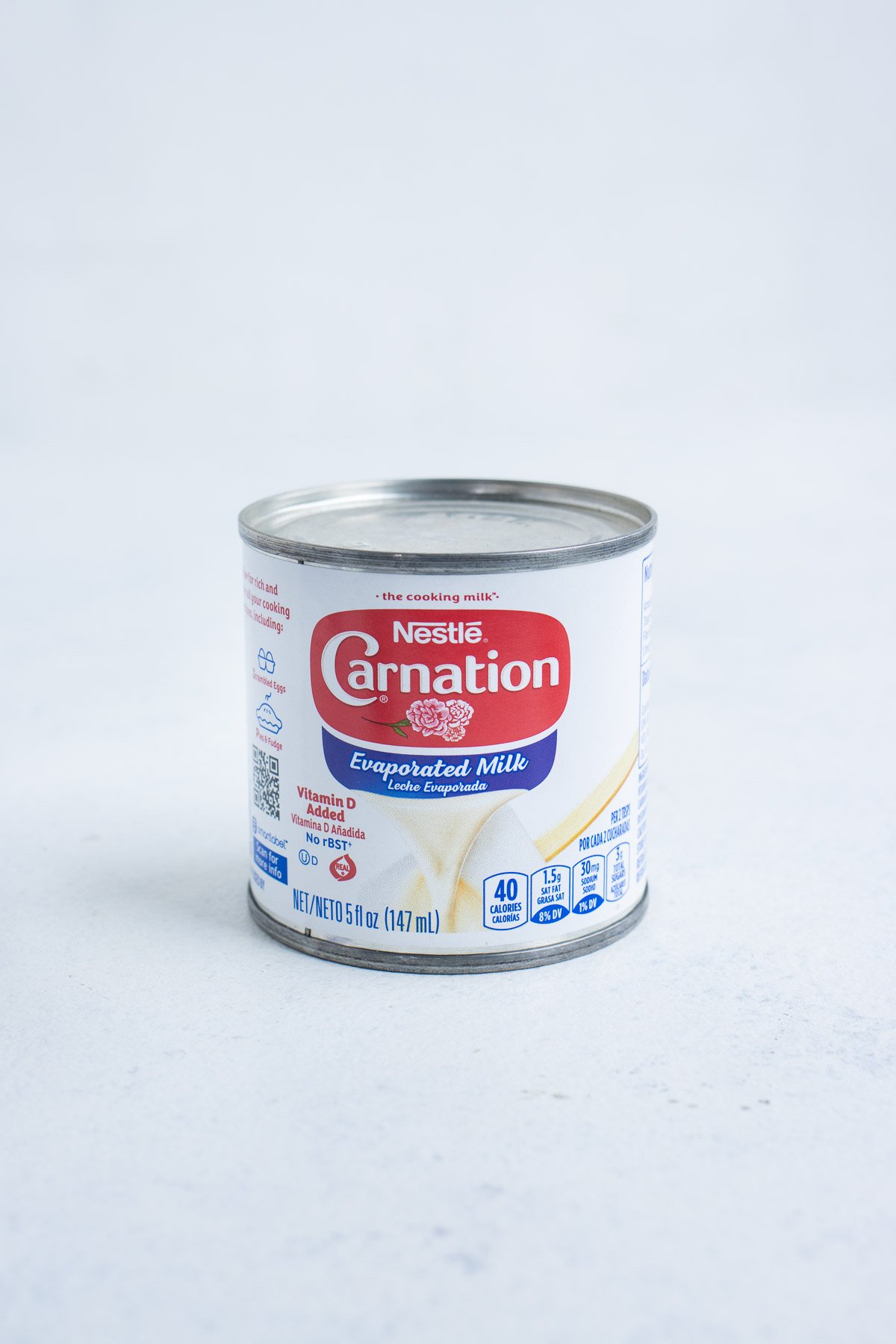 Greek Yogurt & Milk
Plain Greek yogurt is thick, and adds more protein to your recipe. Greek yogurt has a tangy component to it, but you can add a splash of whole milk to thin it out and reduce the tang. Using other yogurts with sugar additives will greatly alter your dish, so be aware of that.
You'll want to combine equal parts of Greek yogurt and whole milk with this one. For example, ½ cup of Greek yogurt and ½ cup of whole milk will give you one cup of heavy cream alternative. This substitute is perfect for baked goods and stews and sauces.
Milk with Cornstarch
Milk with cornstarch is going to give you a very similar consistency to heavy cream. This substitute is considered healthier. Because it has less fat, it also has fewer calories. Pairing cornstarch with milk thickens it up which is what you need to match the consistency of heavy cream.
Mix the milk and cornstarch together before adding to your dish. You'll add 2-3 tablespoons of cornstarch to one cup milk, letting it dissolve first. Then it's ready for your recipe. This is great with soups and baked goods.
Cottage Cheese
Cottage cheese is a great heavy cream alternative. Blend it up in a food processor before adding it to your dish, or you'll have a chunky outcome. The flavor won't differ and if you're worried about consistency, add a splash of milk to thin it out.
Use exactly what the recipe calls for once your cottage cheese is whipped or blended. It's great in savory dishes like pasta and creamy soups.
Sour Cream
Sour cream works just as well as Greek yogurt does. It has a very acidic taste, and it adds a lot of moisture which is why it is considered one of the best substitutes for heavy cream.
Use whatever the recipe calls for on this one, and you won't even need to thin it out. It's great for baking like muffins and sugar cookies, along with some sauces and stews.
Cream Cheese
Cream cheese can yield some of the best results if done properly. It does have a sharper flavor, but as with most substitutes, adding in some regular milk will help out with that.
Make sure your cream cheese is softened before using it, and thin it out with a few tablespoons of milk. Use the exact amount the recipe calls for, and you'll be good to go!
What is heavy whipping cream used for?
Heavy whipping cream is used for sweet and savory dishes alike. It adds a creamy texture and rich flavor to dishes like ice cream, custards, soups, pasta, and more.
What is the best heavy whipping cream substitute?
Half and half with butter is the best substitute for heavy whipping cream. Half and half isn't nearly as high in fat content as heavy cream, but that's where the butter comes in to fill in the gap. This combination is your best option because it has the closest taste and texture to heavy cream and works in either sweet or savory recipes.
What is the best dairy-free substitute for heavy whipping cream?
Coconut cream is the best dairy-free substitute for heavy whipping cream. Additionally, any kind of nut milk, oat milk, coconut milk, or hemp milk can be paired with dairy-free butter, lemon, or cornstarch. Look at the substitute list above to switch out any kind of dairy product with your chosen dairy-free milk, and you'll be good to go.
Recipes Using Heavy Whipping Cream & Substitutes
No heavy whipping cream on hand? No worries! You can test out some of the substitutes in this post with these recipes: