All of the Best Healthy Soup Recipes are gathered together in one place and are so simple, quick, and easy to make. From Instant Pot soups, one-pot stews, and slow cooker chilis, you will find plenty of options that fit your vegan, vegetarian, gluten-free, Paleo, and Whole30 diets!
Healthy Soup Recipes Season
Soup season is in full swing in our house and that means we're pulling out all of our favorite vegan soups, Instant Pot stews, and crockpot chilis.
Healthy soups make a great one dish meal that can be served for lunch or dinner.
You can easily meal prep them ahead of time, double the batch and freeze some for later, or make a huge amount to feed a crowd!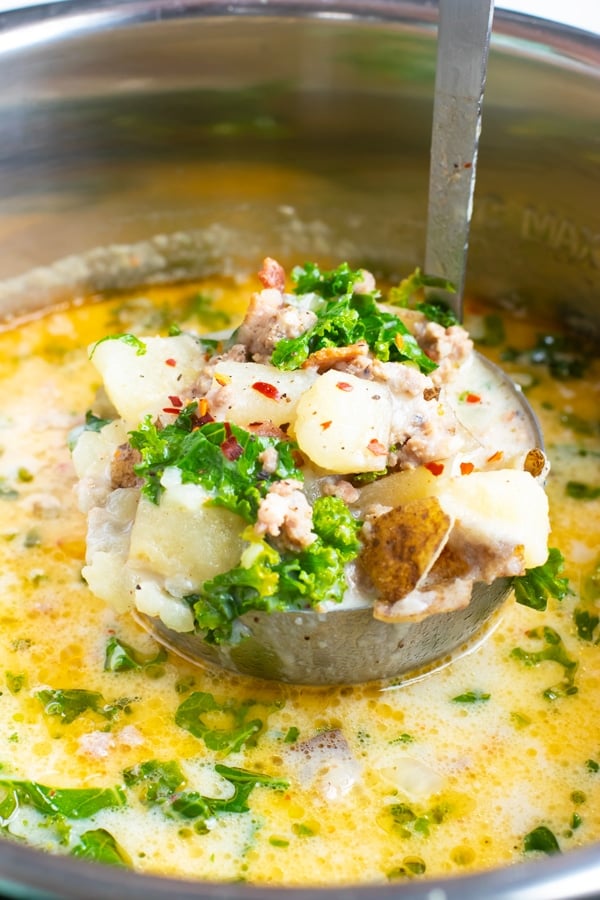 How to Cook
Soup is such a versatile dish in that you can make it in a Dutch oven, in an Instant Pot, puree it in a high-speed blender, or cook it in a Crockpot.
To get ultra creamy soups, you may also want to use a large food processor or an immersion, or stick, blender.
In general, the basic steps include:
Chop and prepare vegetables and proteins.
Sauté onions, bell peppers, carrots, and celery if needed.
Add ginger and garlic or any other aromatic and sauté for 1 minute.
Combine remaining seasoning ingredients, liquid or broth, and proteins.
Cover pot, Instant Pot, or Crockpot with a lid and cook until cooked through.
Each recipe below will vary, but this process above gives you the general idea.
Storing
When making soups, stews, and chilis there are a few questions you may have when it comes to serving and storing it:
How long will it last?
Soup will last in an airtight container in the refrigerator for up to 4 days.
Can I freeze soup?
Yes. They freeze exceptionally well and will last in a freezer-safe container for up to 4-6 months.
How do you reheat soup?
If reheating from the refrigerator, place it in a medium-sized pot on the stove over medium-low heat, cover, and cook until heated through. (About 5-10 minutes.)
Reheating soup from frozen will require you to defrost in the refrigerator first. Once it has thawed almost completely, reheat the soup as mentioned above.
How to thicken
Want to make your soup recipe a little thicker? No problem!
The best way to thicken is to create a starch slurry. Whisk together a bit of starch, such as cornstarch, with warm water and slowly add it until it reaches your desired consistency.
A few other ways to thicken your recipe is to add milk or cream, cheese, or pureed soaked cashews as pictured above.
Healthy Vegan Soup Recipes
Enjoy a big bowl of roasted butternut squash soup that is made with coconut milk and other Whole 30, vegan, dairy-free, and Paleo-friendly ingredients. This vegan butternut squash soup is full of oven-roasted and baked butternut squash and makes a wonderful main dish, appetizer, or side dish recipe.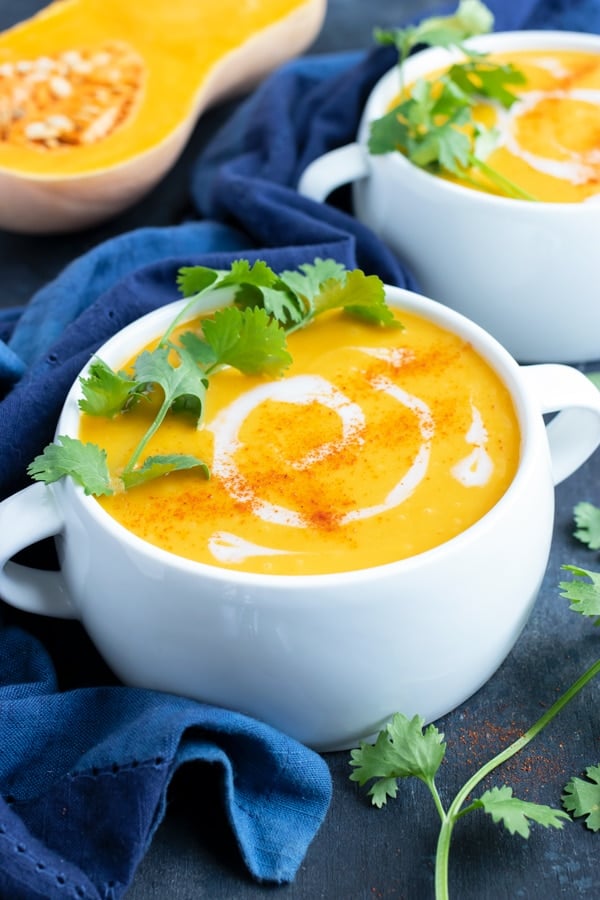 A healthy Cauliflower Soup recipe that is ultra creamy, loaded with cauliflower, and can easily be made vegan, and dairy-free. This easy cream of cauliflower soup requires no roasting of cauliflower and can be made in only one pot for a quick and delicious nutritious recipe!
Ultra filling, super nutritious, cream of asparagus soup is made vegan by using coconut milk instead of heavy cream. This healthy recipe can be served warm or chilled so you can enjoy your gluten-free and dairy-free cream of asparagus soup year-round!
Roasted Tomato Basil Soup is a quick and easy creamy soup recipe that is bursting with fresh tomato flavor! Meal prep this vegan, Paleo, and Whole30 tomato soup for an easy weekday lunch. You can also serve this healthy homemade tomato soup with a toasted baguette or grilled cheese for a filling plant-based dinner!
The naturally sweet and savory flavors of a roasted whole pumpkin get turned into a creamy and cozy soup that is lick-your-bowl-worthy! This Easy Pumpkin Soup recipe is made from a fresh pumpkin that is roasted in the oven and then blended together with coconut milk, herbs, and Fall spices. You can serve this gluten-free, Paleo, and vegan soup for a healthy appetizer at Thanksgiving or make it the main meal this Fall and Winter season.
Instant Pot Potato Corn Chowder is a quick and easy gluten-free, dairy-free, vegetarian and vegan soup recipe that is full of flavor! This nutritious soup recipe can be ready-to-eat in under 30 minutes!

This Easy Beet Soup recipe is made ultra creamy by using a dairy-free coconut milk and full of fresh garlic and ginger flavor. Load it up with your favorite dried herbs and serve it as a healthy appetizer, side dish, or even as the main course for dinner! This healthy vegan soup tastes incredible served warmed or even chilled.
Healthy Chicken Soup Recipes
Quick and easy gluten-free chicken noodle soup is the perfect remedy for the cold and flu season! In under 30-minutes, you will be sitting down to a bowl full of America's favorite classic soup recipe.
This slow cooker chicken tortilla soup makes a healthy and gluten free dinner recipe that can be thrown together easily during a busy week or meal prepped ahead of time! Make Crock Pot chicken tortilla soup for your family dinner tonight!
Chicken Vegetable Soup is an easy Instant Pot soup recipe that is full of nutritious carrots, celery, zucchini, and squash. The flavors of fresh rosemary, thyme, and sage with a touch of lemon juice make this Instant Pot chicken soup recipe one you will want to make all year round!
Healthy Stews and Chili Recipes
Instant Pot Beef Stew is a healthy, easy, and comforting soup recipe to make in the pressure cooker. Learn how to make a Whole30, gluten-free and dairy-free pressure cooker beef stew recipe that is full of the most tender beef stew meat and loaded with delicious vegetables!
Instant Pot Chicken Pumpkin Chili is a quick and easy chili recipe to bring in the Fall season!! Since this pumpkin chili recipe is made in the Instant Pot you can enjoy your healthy, dairy-free, and gluten free dinner recipe in a fraction of the time.
Instant Pot Turkey Chili is a quick, easy, and healthy ground turkey recipe. It is made with red kidney beans, diced tomatoes, and a homemade chili seasoning. This ground turkey chili is naturally gluten-free, dairy-free, and can be ready in 45 minutes!
A comforting and cozy recipe for slow cooker white chicken chili that will keep you warm and healthy during these cold winter months! This Crock-Pot chili recipe is gluten-free, soy-free, low-fat, and can easily be made dairy-free.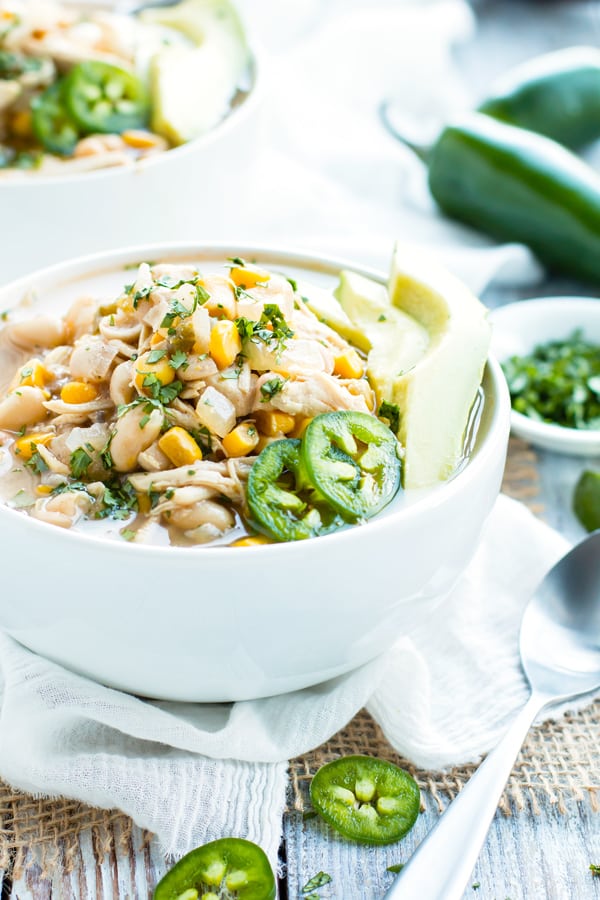 Snuggle up to a bowl full of this hearty Ground Turkey Sweet Potato Chili that is full of black beans, crushed tomatoes, corn, and tons of sweet and spicy flavor. Make a big batch of it for a small crowd on game day or freeze the leftovers for another easy Fall or Winter dinner. Even the picky kids and spouses in your household will fall in love with this sweet potato chili recipe!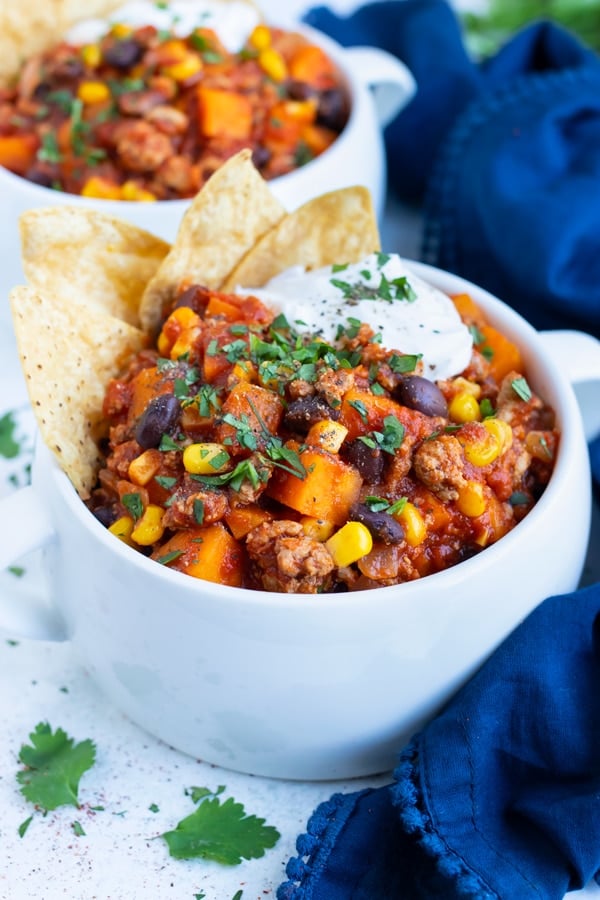 Other Healthy Soup Recipes
Shrimp Creole is a Louisiana classic healthy soup recipe that starts with the holy trinity of onion, bell pepper, and celery, is spiced with a bit of hot sauce, and then served over a bed of rice. This easy shrimp creole recipe is naturally gluten-free, dairy-free, and can be ready in under 45 minutes!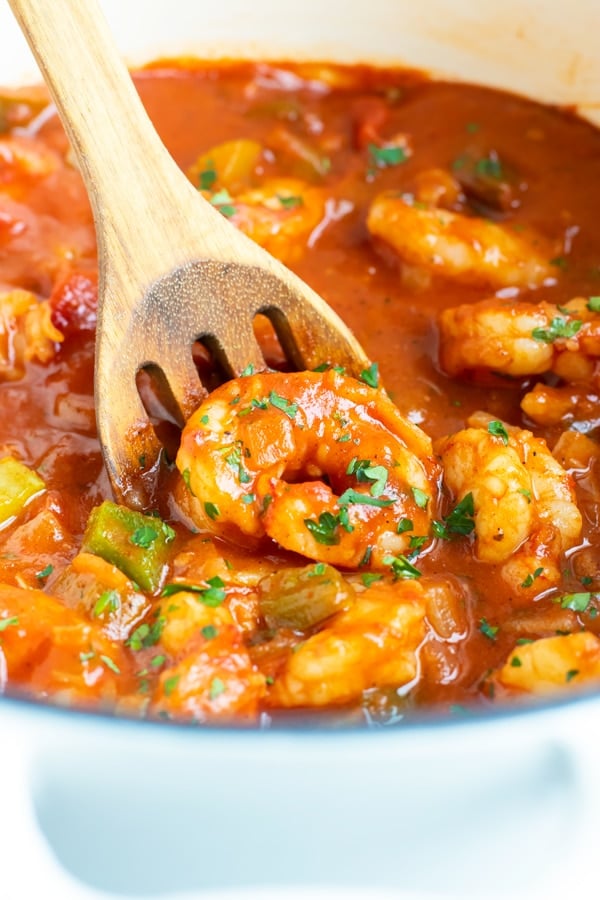 Cajun Sausage and Shrimp Gumbo recipe that is made the authentic way by beginning with a roux, adding the "holy trinity", and tossing in andouille sausage and fresh Gulf shrimp. This Cajun gumbo recipe is perfect for a Mardi Gras dinner party or enjoying year-round!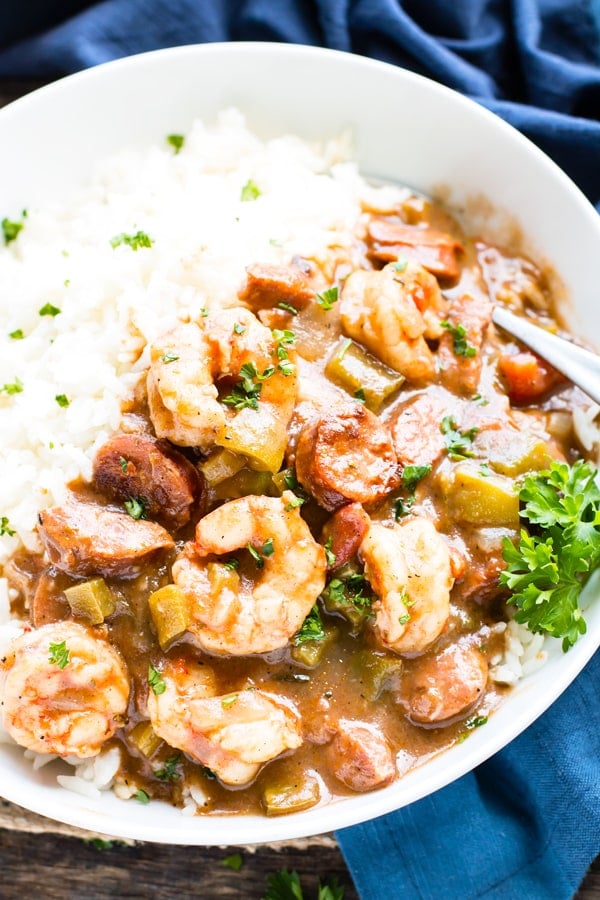 Zuppa Toscana Soup is a copycat recipe of the favorite Olive Garden classic. This zuppa toscana recipe is one of the best Instant Pot soup recipes and has instructions to make it in the Crock-Pot or on the stove. It is a healthy, gluten-free, dairy-free, and easy dinner recipe the whole family will love!