Trying to figure out the best apple cider vinegar substitute? This article breaks down the flavors and acidity of each option and how they will affect your dish. You'll also learn why acetic acid percentages matter for certain purposes. After reading this, you'll be ready to personalize your dishes to your exact cravings!
What is apple cider vinegar?
Apple cider vinegar's main ingredient is, of course, apples! The apples are crushed and squeezed to form a juice. Yeast is then added to the mixture which creates alcohol. In a second phase of fermentation, the alcohol is transformed into acetic acid, which gives vinegar its sharp and sour taste.
This ingredient adds a healthy and delicious flavor to many foods like salad dressings and marinades. For more information about apple cider vinegar and its health benefits and side effects, read this post that will answer all of your questions.
Best Substitutions for Apple Cider Vinegar
While this vinegar is very strong in flavor, it's not everyone's favorite.
When you are halfway through making a recipe and you don't have apple cider vinegar or don't like it, you can find a great substitute with this list below.
It is guaranteed that you have one of these options in your pantry or refrigerator. Vinegars of all types are such easy kitchen staples; they just sit there and never go bad!
It's important to remember to taste each of these alternatives before adding to make sure you like the flavor. Depending on the type, the coloring and flavor of these substitutes can slightly or drastically change certain aspects of your dish like overall taste and color.
1. Fresh Lemons
Lemons give you the exact acidity and similar taste of apple cider vinegar. Their color also blends so well with food because it's such a light yellow. It's the most common replacement, and it's guaranteed to be at any grocery store. One tablespoon will go a long way!
2. Fresh Limes
Lime juice is a prime alternative because you get strong acidity and fruity flavor all at once. You can match the amount 1:1 with apple cider vinegar.
3. Orange Juice
Orange juice has a burst of flavor that is both fruity, acidic, and tangy. Orange juice is one of the better apple cider vinegar substitutes because you can use the same amount your recipe calls for and the results taste excellent.
4. White Wine Vinegar
White wine vinegar's acidity is also a very suitable substitute. It lacks fruity flavor, so it would be a good idea to pair it with a stronger fruit juice. The ratio is the same with this one.
5. Balsamic Vinegar
This is a good substitute for salad dressings. It's also dark in color, so remember that as you bring your whole dish together. Because of its slight sweetness, you might want to use less than what the recipe asks for.
6. Apple Juice
This is one of the best substitutes because of its apple flavor. However, there's little to no acidity, and it's much sweeter. The color is also golden like its vinegar cousin, so that won't change anything. Depending on how sweet you'd like it, adding more or less than what the recipe calls for will make or break your dish.
7. Red Wine Vinegar
Red wine vinegar does not have a strong flavor but does add the fruity taste. The color will make your dish darker with this substitute. You'll want to add more than what the recipe calls for on this one.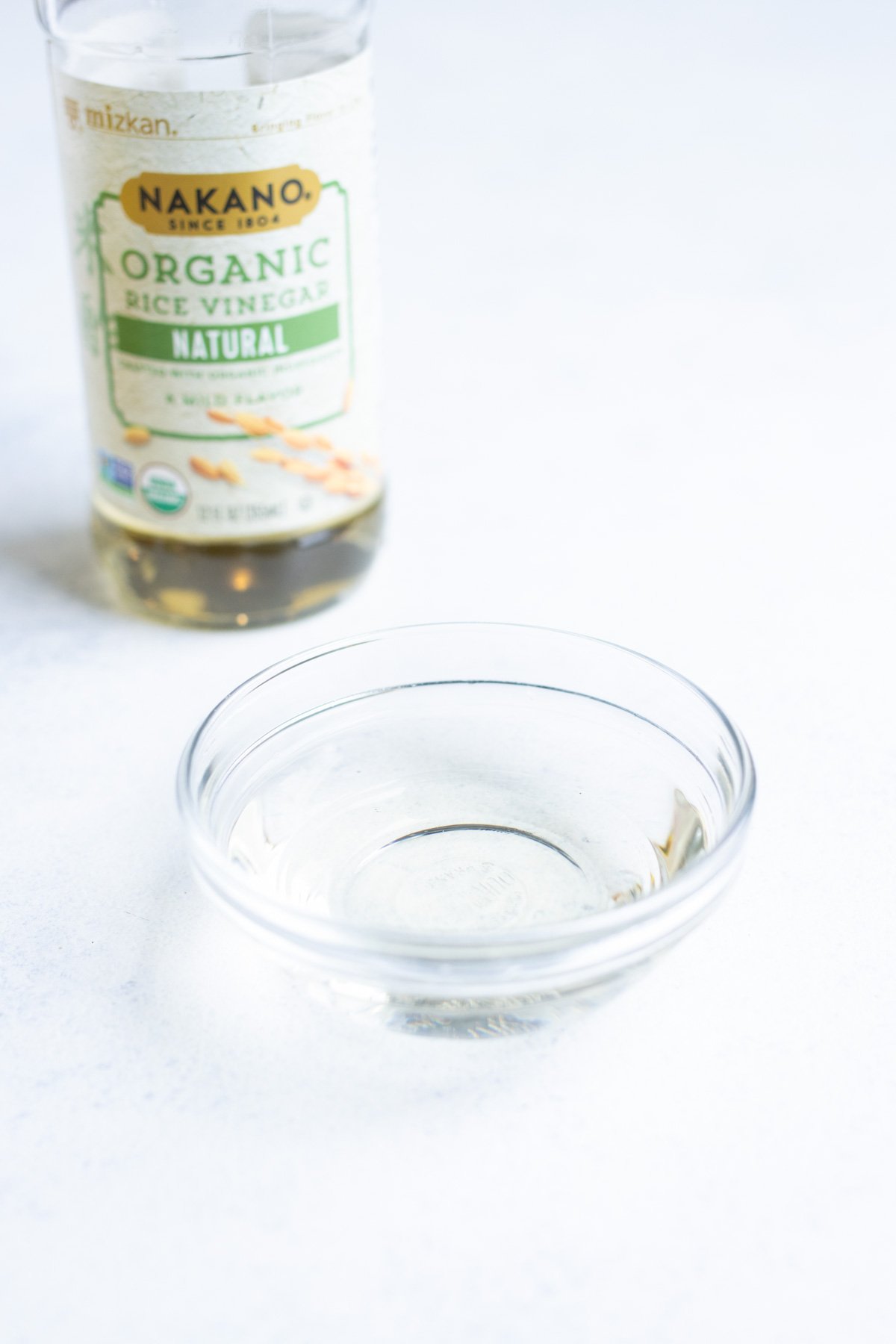 8. Rice Wine Vinegar
Rice wine vinegar is very popular amongst Asian cuisine, and it's less acidic and more fruity. Its color is light, so it won't make a difference in your overall presentation. Adding the same amount will work great with any dish.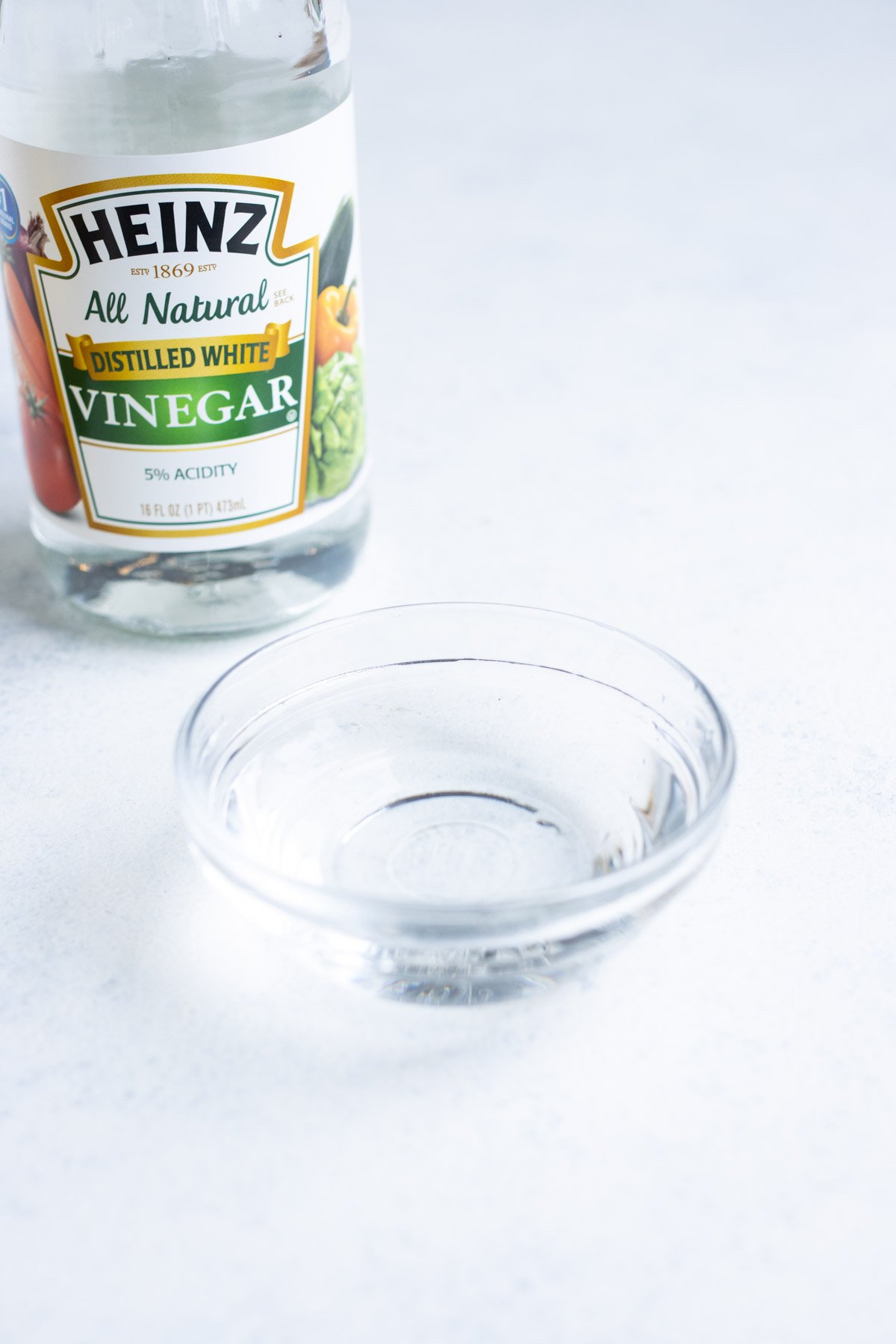 9. White Vinegar
This can be a good option because it does have a milder flavor but has the right amount of acidity. It's colorless, and you can pair it with a more fruity substitute to match the apple cider vinegar taste. Add the same amount plus the fruit juice to have that similar level of sharpness.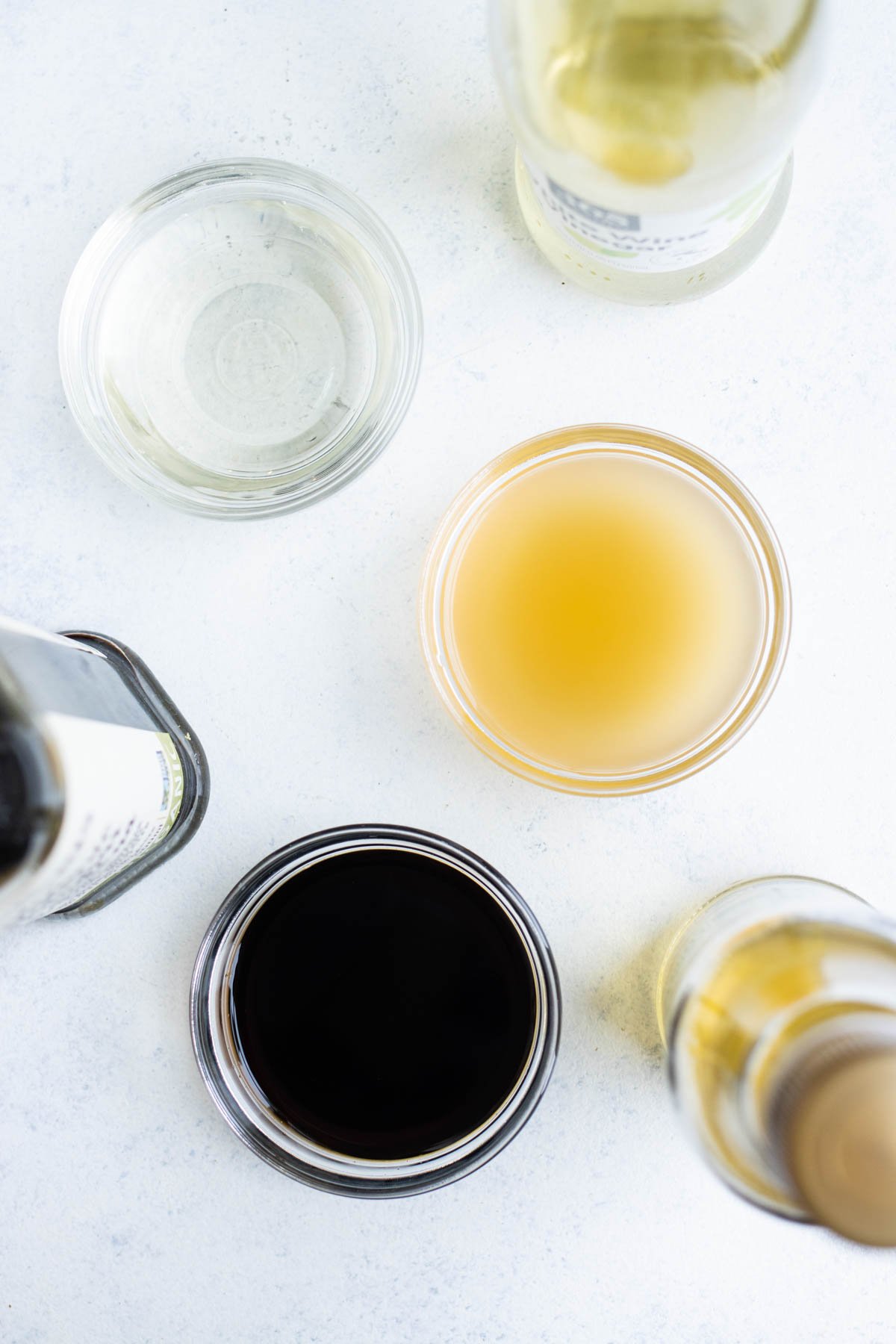 10. Champagne Vinegar
Champagne vinegar has a very soft taste and has similar acidity. This one can be used as an excellent substitute in soups, rice, stir fries, and sauces. You'll want to use double what the recipe calls for.
11. Sherry Vinegar
Sherry vinegar has a very distinct taste that is unlike apple cider vinegar, but still has the same acidic character. It might switch up the overall flavor of your dish. Either add the same amount or less with this one.
12. Grapefruit Juice
Grapefruit juice isn't the best alternative, but if you have it on hand it's better than nothing. It is not very acidic, but more bitter. You might want to use a little more than what the recipe calls for.
13. Malt Vinegar
Malt vinegar is not as popular, and it's made from barley so it has a yeasty flavor in common with apple cider vinegar. It does not have a fruity flavor, so adding the same amount or more will slightly change the overall taste of your dish.
14. Beer
This one definitely depends on the recipe, but beer could be a fun choice when you want to switch it up. Use triple the amount of mild beer when using this substitute in your dish.
At-A-Glance Substitute Ratios for Apple Cider Vinegar
Below is a table of substitute-to-apple cider vinegar ratios. Remember that you should always adjust the measurements to suit your taste preferences. That's the fun part—personalizing your dish to your exact needs!
| | |
| --- | --- |
| Substitution | Ratio of Apple Cider Vinegar : Substitution (Tbsp.) |
| Fresh Lemons | 1 : 1 |
| Fresh Limes | 1 : 1 |
| Orange Juice | 1 : 1 |
| White Wine Vinegar | 1 : 1 |
| Balsamic Vinegar | 1 : 1 |
| Apple Juice | 2 : 1 |
| Red Wine Vinegar | 1.5 : 1 |
| Rice Wine Vinegar | 1 : 1 |
| White Vinegar | 1 : 1 |
| Champagne Vinegar | 2 : 1 |
| Sherry Vinegar | 1 : 1 |
| Grapefruit Juice | 2 : 1 |
| Malt Vinegar | 1 : 1 |
| Beer | 3 : 1 |
How and when do I use certain substitutes?
Understanding apple cider vinegar's acetic acid percentage will help you decide which substitute is better for certain purposes. After looking at the below table of these percentages, read on to know which levels match what your dish calls for.
| | |
| --- | --- |
| Vinegar | Acetic Acid % |
| Apple Cider Vinegar | 5 – 6 |
| Malt Vinegar | 4 – 5 |
| Rice Wine Vinegar | 4 – 7 |
| Balsamic Vinegar | 6 – 7 |
| Red Wine Vinegar | 6 – 7 |
| White Wine Vinegar | 6 – 7 |
| Sherry Vinegar | 7 – 8 |
| Distilled White Vinegar | 5 – 10 |
Pickling
Choose a vinegar that has 4%+ acetic acid for a good alternative.
Baking
Pick either white vinegar or fresh citrus (lime or lemon). The ratio for these can be tricky, but if the recipe calls for 2 cups of apple cider vinegar, use 1 cup of the substitution.
Deglazing
Match a similar flavor with the meat that you're cooking. You'll want something with a 7-8% acetic acid to do this. Alternative alcohol-free options would be some sort of stock or broth.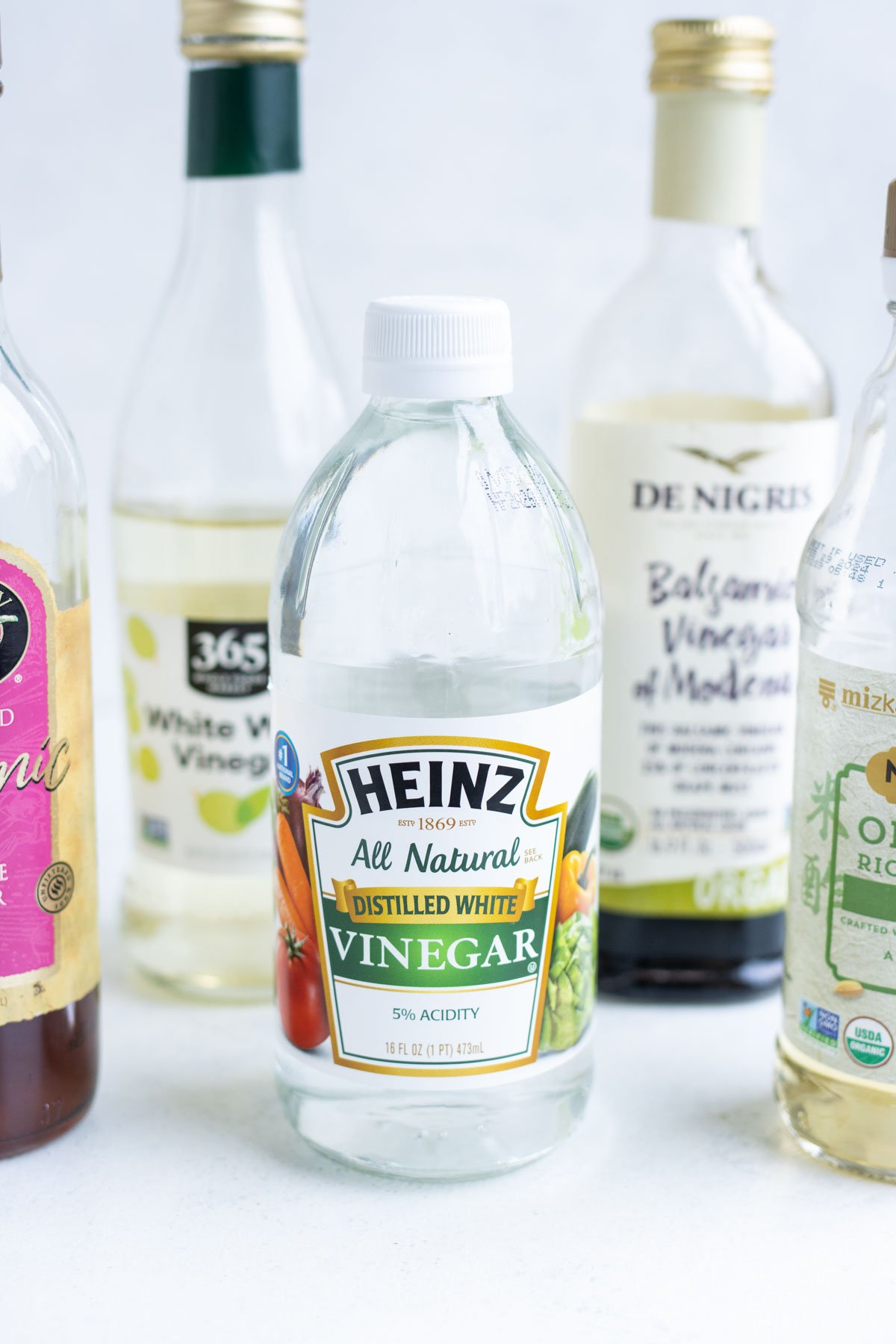 Recipes that Use Apple Cider Vinegar
Can you substitute anything for apple cider vinegar?
Red wine or white wine vinegars are the most common, but more options are out there depending on your taste preference.
Does apple cider vinegar clean just as well as white vinegar?
Both are effective natural cleaners. White vinegar is slightly more acidic which makes it a stronger cleaner.
What is the most neutral vinegar?
Distilled white vinegar.
What can I substitute for apple cider vinegar in baking?
Use white vinegar or lemon juice in a smaller amount.
Why use white vinegar instead of apple cider vinegar?
White vinegar is clearer and more acidic, making it the better option for pickling.