Ready for some easy zucchini recipes that will quickly turn into your favorite meals? These 25+ fresh zucchini recipes put a hearty spin on meals like classic lasagna, healthy zucchini bread, and marinara sauce for the summer season. After drooling over these best recipes, you'll soon realize how this versatile veggie can really up your game at any barbeque, potluck, or family meal!
Favorite Zucchini Recipes
Do you have too many zucchini in your summer garden, and don't know what to do with them? Well, you've come to the right place because I have over 25 delicious zucchini recipes that'll suit any dish and craving!
Plus, zucchinis are chock-full of good-for-you-nutrients. You better believe the 19 Health Benefits of Zucchini have me making zucchini and squash dishes as much as possible!
With 25+ recipes, you'll be able to cook with zucchini for any occasion: a hearty main course, easy side dish, or your new favorite baked dessert. Zucchini can be used in many different ways because its mild profile enhances the flavors of what you're adding to it. So, start the easy way and grab a basket-full of zucchini from your grocery store, your backyard, or farmers market—it's time to get cooking!
First things first: you'll want to start off with this Zucchini and Squash Casserole Recipe that'll fill your tastebuds with a crispy, Parmesan cheese and breadcrumb crust. Then, you might be craving a Simple Sautéed Zucchini and Yellow Squash Recipe that can be made in just 20 minutes. Finally, you'll be desperate to top off your zucchini kick with a Double Chocolate Zucchini Bread. It will be gone in a matter of minutes when you pull it out of the oven. And with those three recipes, we're JUST getting started!
The 25+ Best Zucchini Recipes
Read below for some of our favorite zucchini recipes!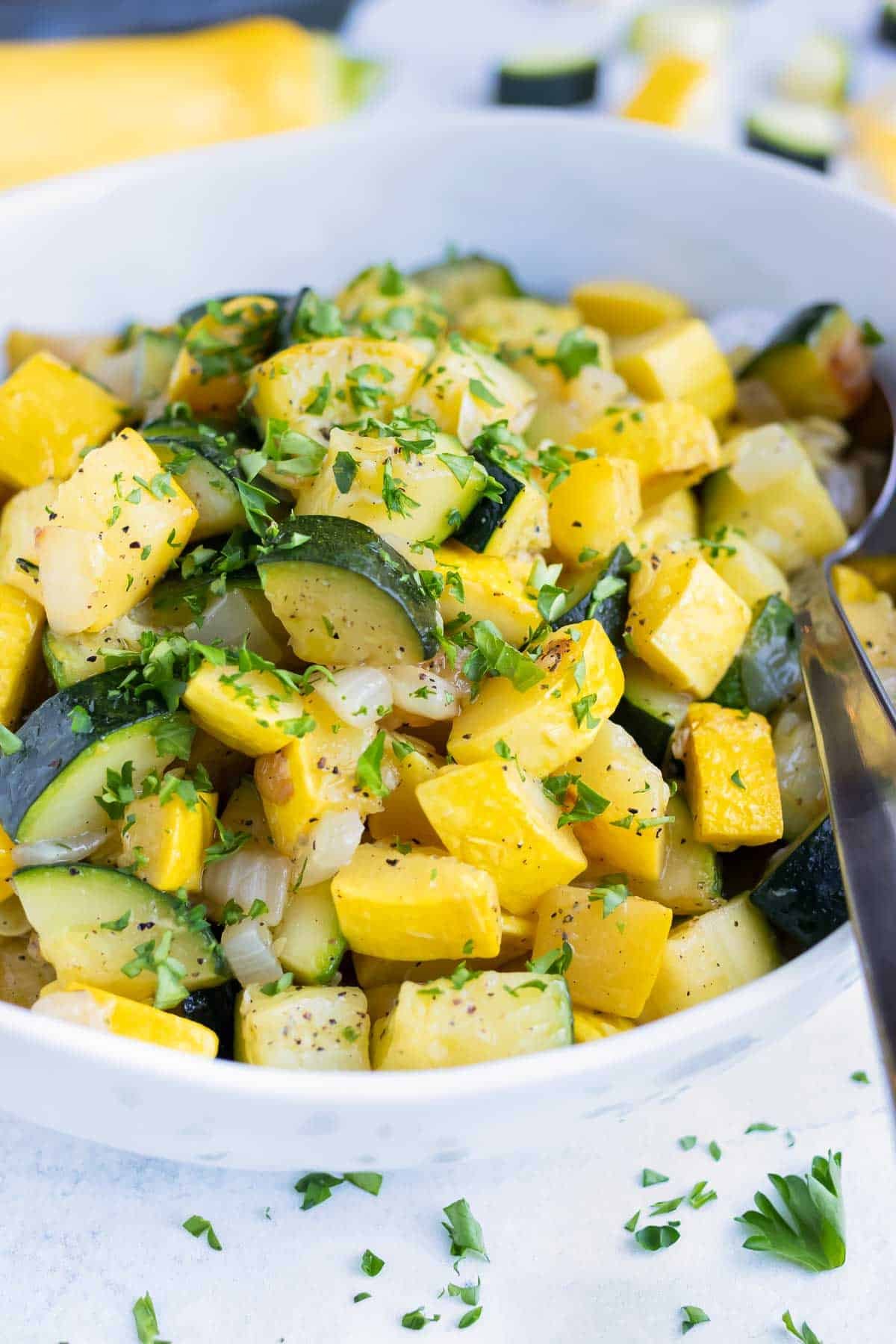 Sautéed Zucchini and Yellow Squash is a quick and easy recipe ready in just 20 minutes! Squash and onions are cooked in a skillet with oil for a low-carb side dish. This simple vegan and Whole30 Summer dish is one of the best zucchini and yellow squash recipes!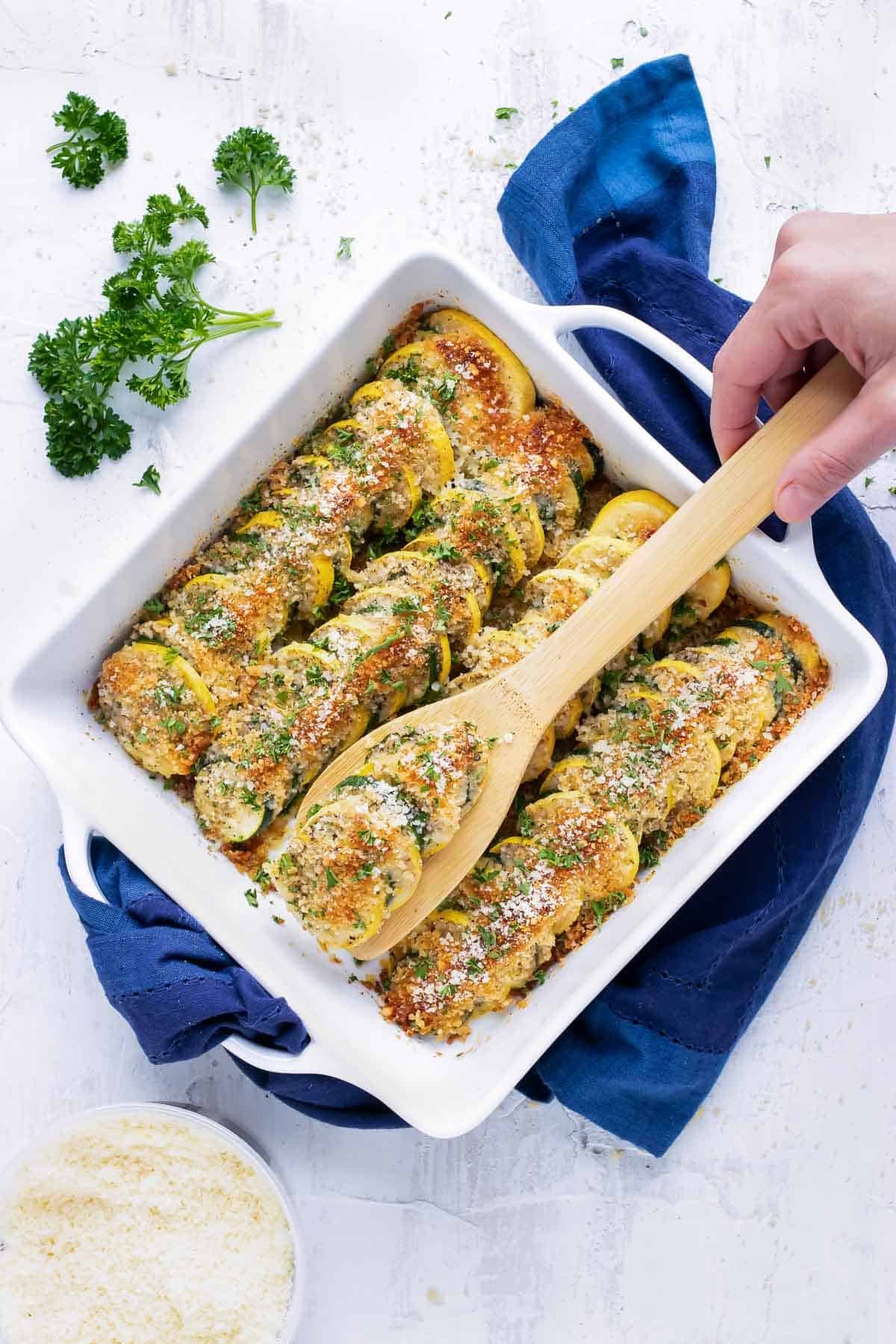 Healthy, simple, and fabulous, this Zucchini and Squash Casserole is the best healthy recipe for summer squash! Yellow squash and zucchini are baked in the oven to perfection with a crispy crust made from Parmesan cheese and breadcrumbs. This easy casserole is amazing for summer picnics and potlucks, and makes the perfect side dish for any holiday dinner!
Breaded Air Fryer Zucchini Chips are a quick and easy recipe for the best low-carb appetizer or side dish. Simply slice a zucchini, coat it in breadcrumbs, Parmesan cheese, and Italian seasoning, then air fry them to crispy goodness. Pair these chips with marinara or your favorite sauce and you have a healthy and kid-approved snack!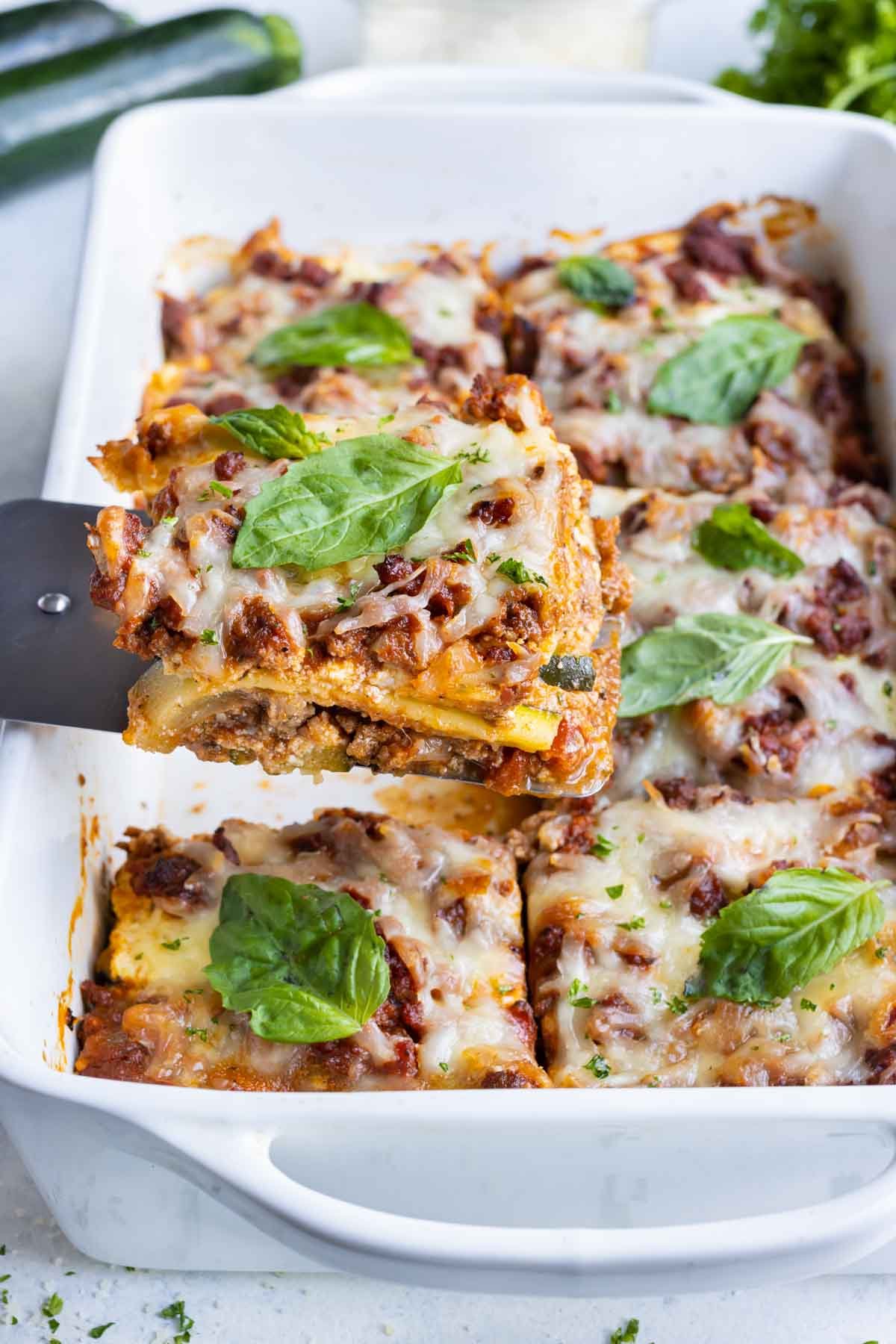 This keto Zucchini Lasagna recipe is an absolutely delicious, low-carb alternative to the traditional pasta version. Healthy zucchini, ground meat, hearty marinara sauce, creamy ricotta, Mozzarella, and Parmesan is everything you need for this kid-friendly meal. Once you know how to make this dish, it just might become your new favorite dinner!
Moist, decadent, and surprisingly healthy, this Double Chocolate Zucchini Bread recipe is out of this world! Grated zucchini, cocoa powder, and chocolate chips are mixed with a few ingredients to make the best gluten-free loaf. Serve this easy-to-make-vegan chocolatey bread for breakfast, a snack, or dessert!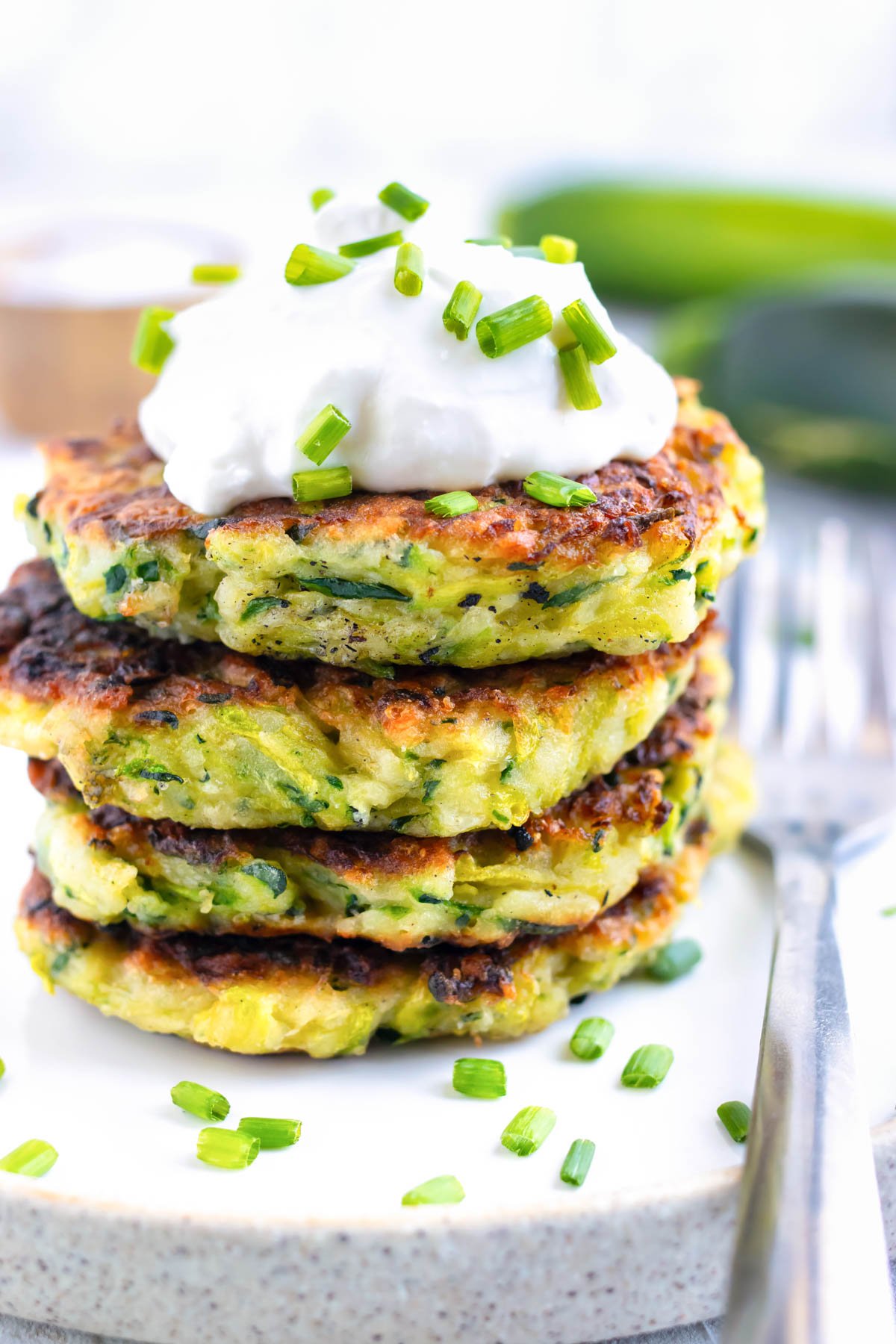 Crispy Zucchini Fritters are a healthy and delightful appetizer or side! Combine grated zucchini with Parmesan cheese and garlic, lightly pan-fry them, and then bake them in the oven. This quick and easy gluten-free and vegetarian dish is delicious with your favorite creamy sauce.
These healthy Zucchini Taco Boats are the perfect low-carb recipe when you're craving Mexican food. Zucchini is stuffed with ground beef or turkey, shredded cheese, and other Southwest flavors and baked into a cheesy keto dinner! Serve this delicious stuffed zucchini with spicy salsa, guacamole, or sour cream.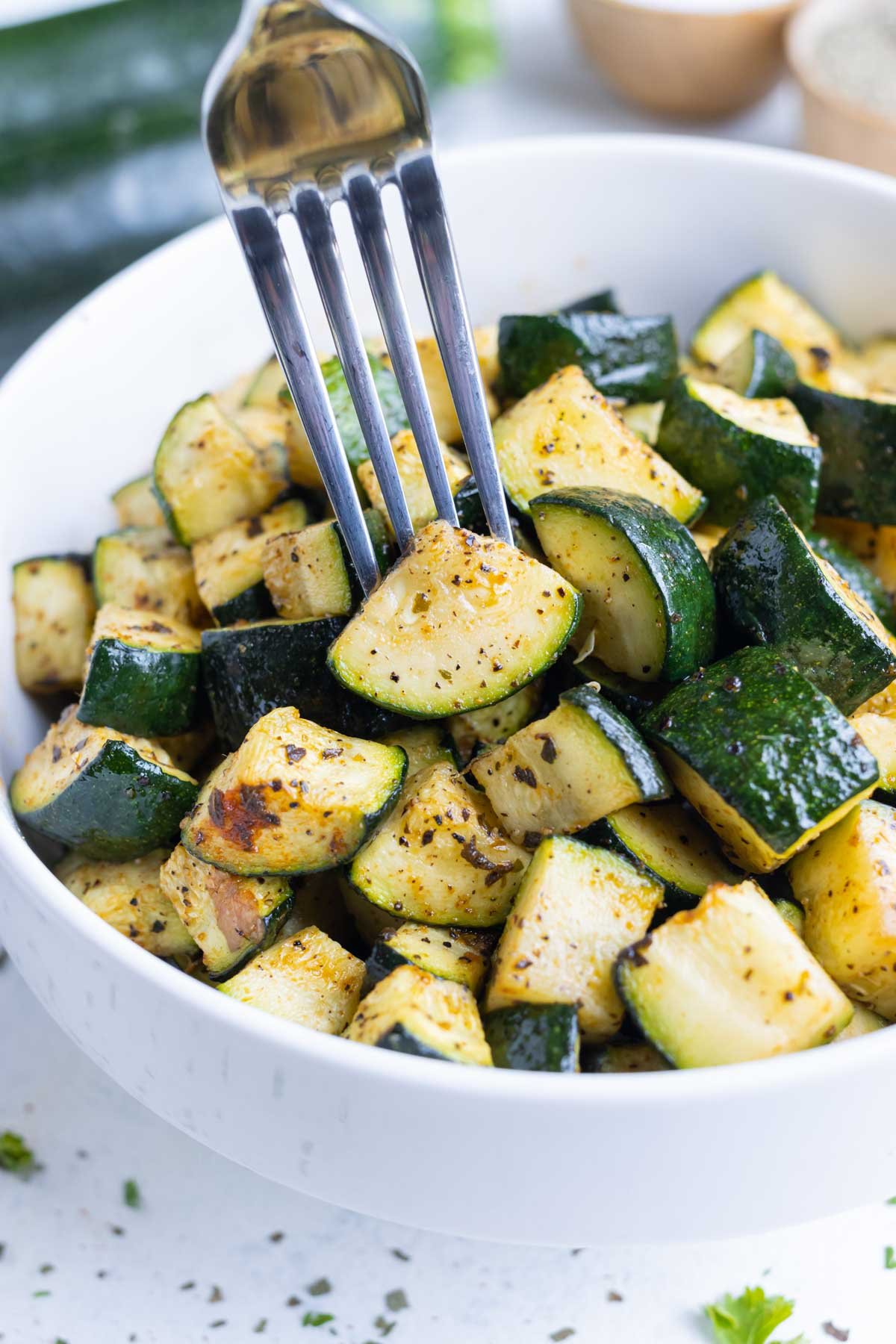 This quick and easy Air Fryer Zucchini Recipe is the perfect, low-carb side dish. No breading is needed, simply toss zucchini with oil and herbs and pop in the air fryer for crispy, roasted, and healthy veggies. Dinner just got a lot tastier with this simple vegetarian side.
Zucchini Brownies not only taste AMAZING, but they sneak in an extra serving of vegetables! Shredded zucchini is stirred into a flour, sugar, and cocoa mixture, then baked in the oven. This ooey, gooey, rich, delicious dessert is the best way to have your dessert, and eat it too.
These Baked Parmesan Zucchini Fries are the perfect kid-friendly recipe when you're looking for a healthy alternative to traditional fries. Simply dip zucchini sticks into flour, egg wash, and a Parmesan cheese and Italian breadcrumb mixture, then bake them in the oven for a crispy side. This quick and easy snack will be making a regular appearance in your kitchen all summer long!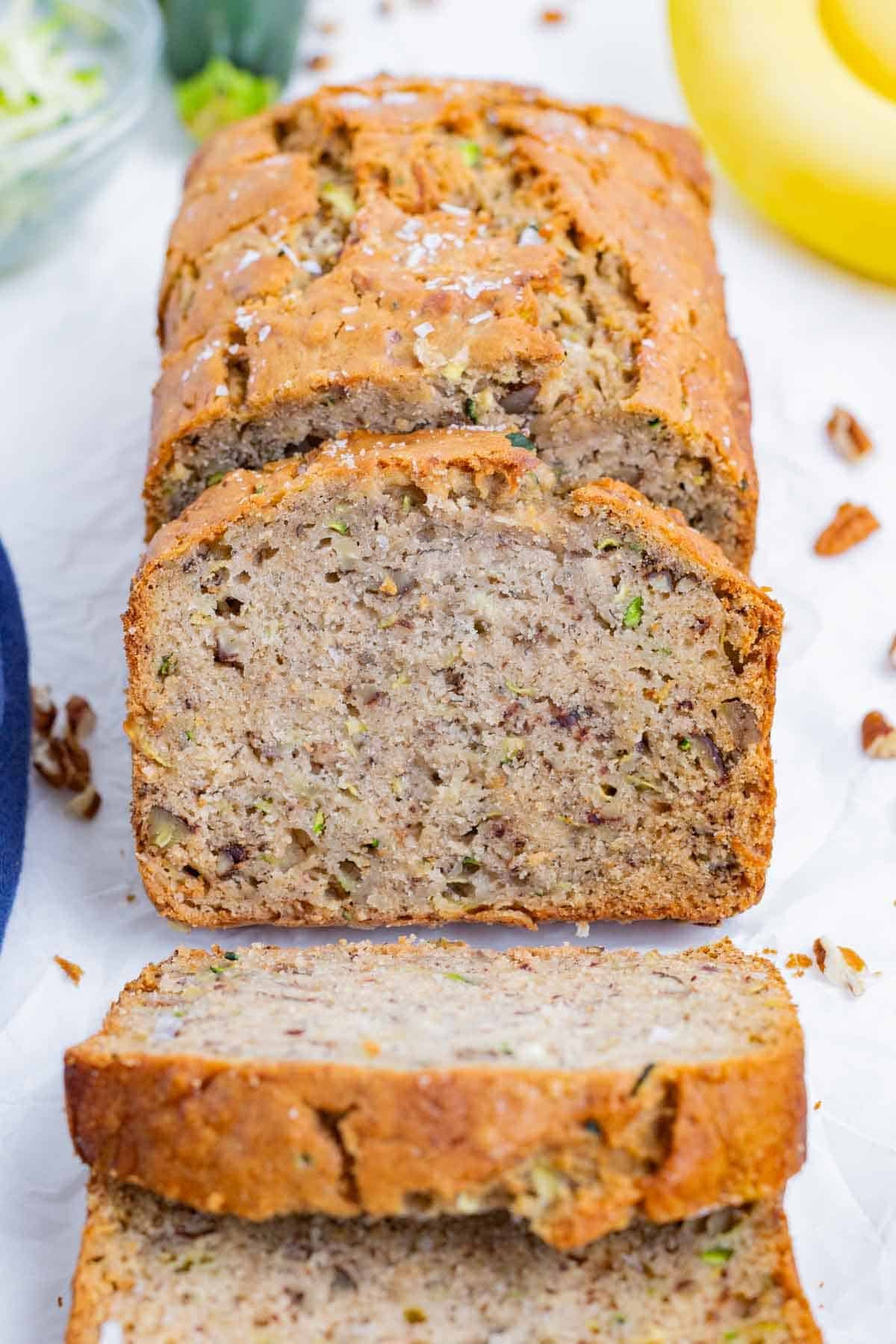 Irresistibly moist and tender, this Zucchini Banana Bread is the best of both worlds. Shredded zucchini and mashed banana is mixed into a spicy, nutty quick bread and baked to golden perfection. Serve up this healthy and easy loaf for breakfast or enjoy it as a snack whenever the craving strikes.
Though it's not a dessert, this Zucchini Pie recipe is a unique and tasty way to enjoy healthy squash all year, and you don't even need Bisquick. Zucchini slices are mixed into a flavorful, cheesy crust and baked in a pie tin. Serve up this savory side dish for a weeknight dinner.
Sautéed Zucchini and Yellow Squash is a quick and easy recipe ready in just 20 minutes! Squash and onions are cooked in a skillet with oil for a low-carb side dish. This simple vegan and Whole30 Summer dish is one of the best zucchini and yellow squash recipes!
Pasta Primavera with Lemon Garlic Butter is a quick and easy weeknight dinner recipe that is packed full of vegetables. Simply toss pasta, zucchini, tomatoes, squash, onions, bell peppers, and Parmesan cheese in a delicious butter sauce. This dish is the perfect dinner on a hot summer night or as a side at a BBQ!
Creamy and spicy Thai Green Chicken Curry is the best healthy recipe to cozy up with! Coconut milk and homemade curry paste create a thick base and add amazing flavor to chicken, zucchini, carrots, and peppers. Once you know how easy it is to make this 30-minute dinner, it will be on the menu every week!
Massaged Kale Salad is the perfect way to enjoy this healthy veggie without the hard, bitter taste. Finely chopped kale is tossed in a lime and lemon salad dressing along with avocado, zucchini, and bell peppers. This easy recipe is light, refreshing, and one of the best ways to boost your immune system with all of kale's health benefits!
Roasted vegetable pasta bake is LOADED with zucchini, summer squash, bell peppers, mushrooms, onions and then baked to a crispy golden perfection. This vegetarian and gluten-free pasta bake has always been a go-to dinner recipe in our house!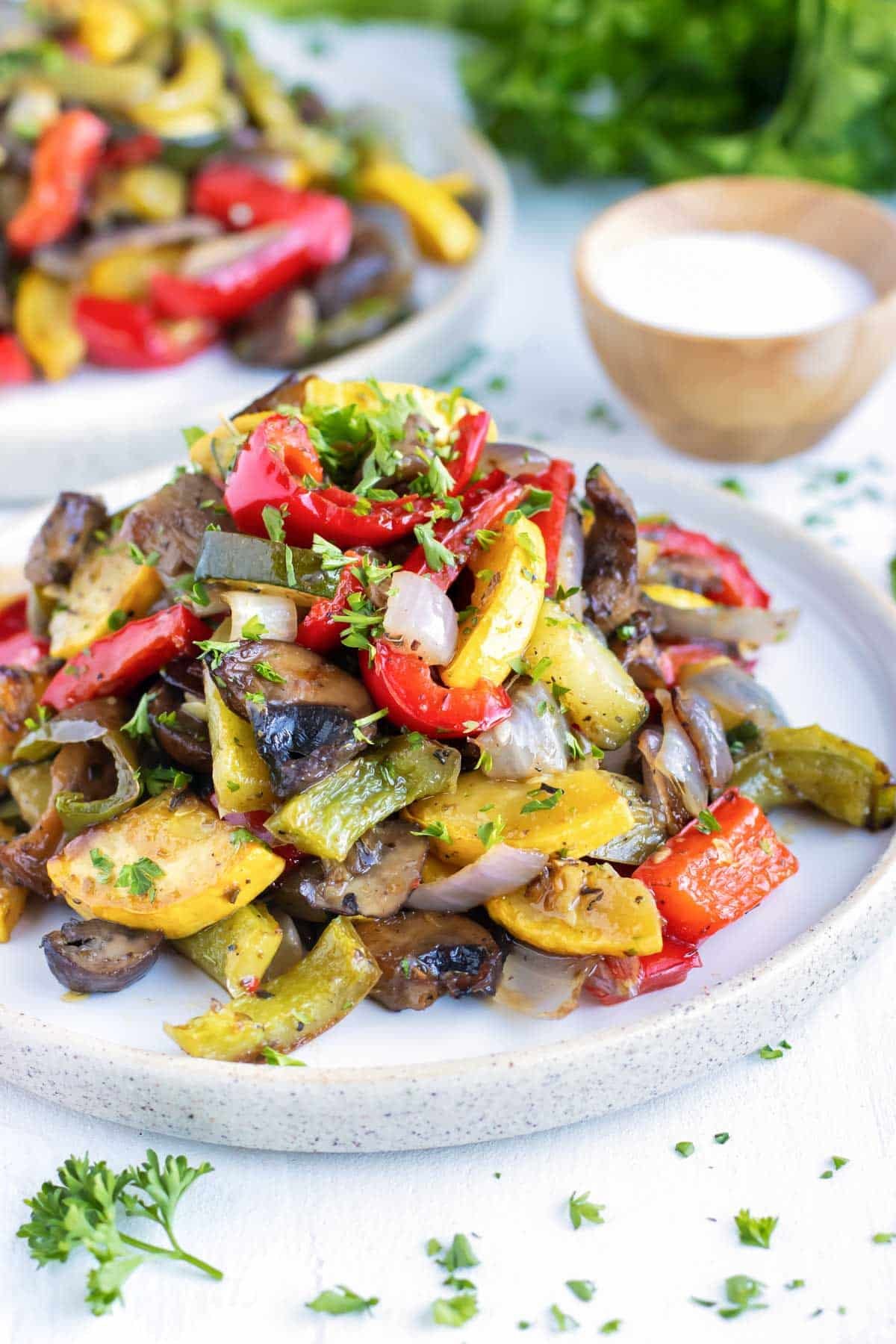 Italian Oven-Roasted Vegetables are out of this world easy while still being delicious. Simply season zucchini, onion, peppers, and mushrooms with herbs and spices and bake in the oven. You can completely customize this recipe to get a healthy side dish on the table fast any night of the week.
Sneak your veggies in at breakfast with this Healthy Lemon Zucchini Bread that is super moist, full of fresh lemon zest, and LOADED with grated zucchini squash. Learn how to make the best quick bread recipe that can easily be made with gluten-free flour, vegan ingredients, and makes a great summer dessert or snack cake.
Traditional lasagna gets a low-carb makeover in this easy Zucchini Lasagna Roll-Ups recipe. Sliced zucchini is filled with ground meat, ricotta, mozzarella, Parmesan, and Italian seasonings then baked in marinara sauce for an impressive keto dinner. With a simple salt trick avoid watery squash and serve the best gluten-free Italian meal!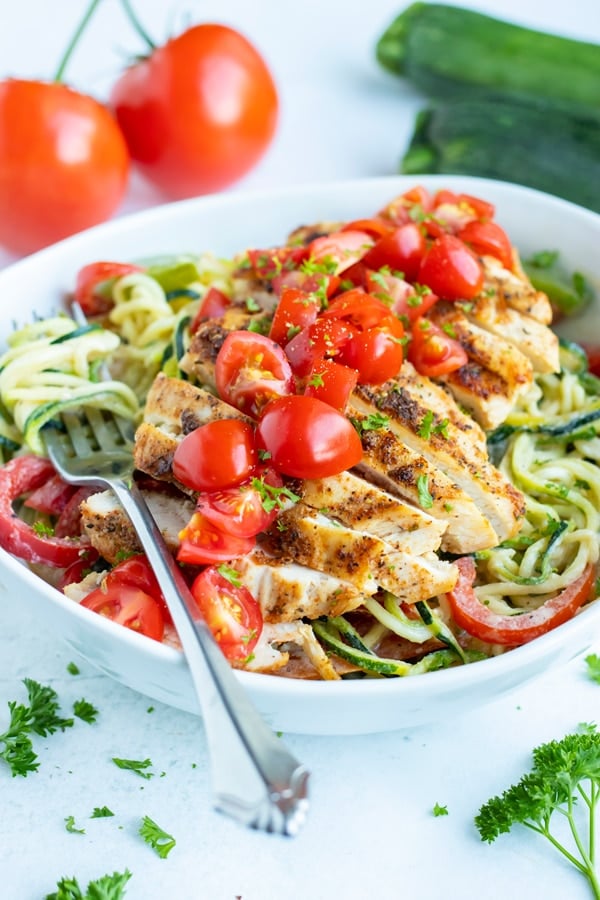 Cajun Chicken Zucchini Noodles are bursting with authentic Louisiana flavors in this low-carb, keto, and Whole30 zoodles recipe. Bell peppers, onions, and garlic are sautéed in a skillet, tossed with a creamy and dairy-free cashew alfredo sauce, and then served with seared blackened chicken breasts. You can also easily meal prep this healthy dish for any event!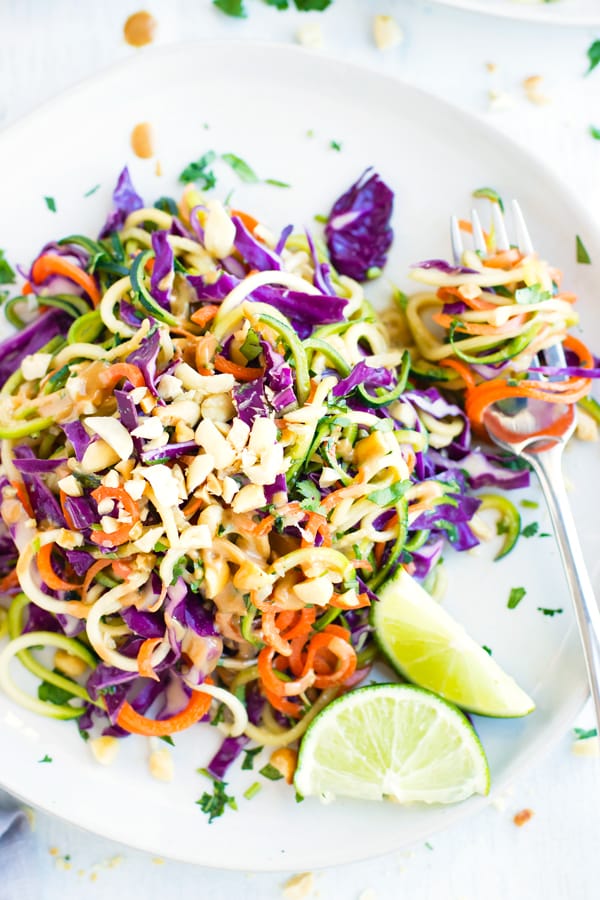 Fresh, crisp, and uberly nutritious, a Thai Zucchini Noodle Salad makes the perfect healthy lunch or potluck recipe for the warmer Spring and Summer months! This cold zucchini noodle salad is gluten-free, dairy-free, vegetarian, and vegan.
Learn how to make Zucchini Noodles with Pesto for a simple, healthy, low-carb, dairy-free, vegan, Whole30, and keto dinner recipe that you can throw together on a busy weeknight!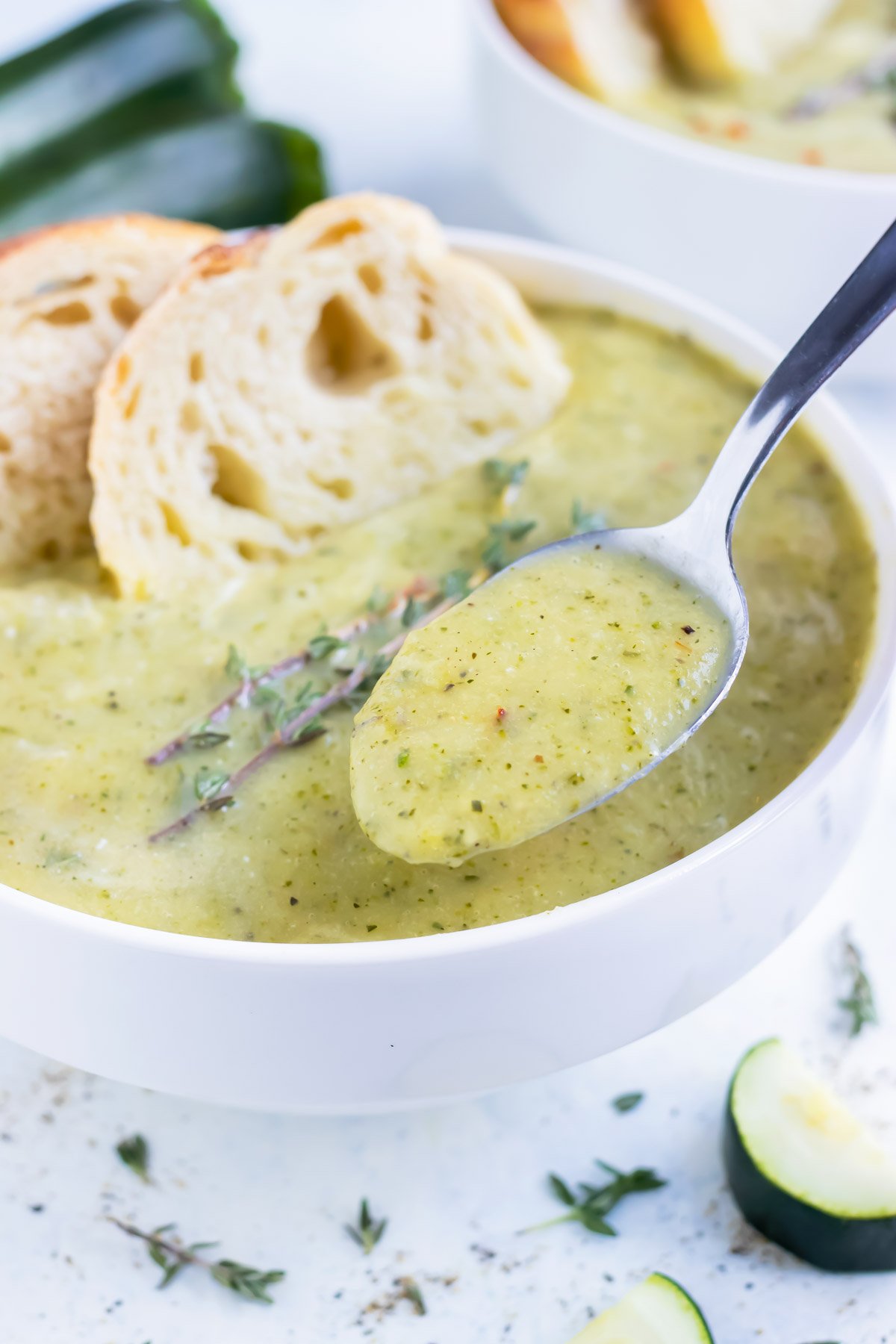 If you're looking for a creamy Zucchini Soup Recipe, then you are in the right place. Zucchini, onion, vegetable broth, Italian seasoning, and just a bit of yogurt are blended together for a healthy, vegetarian meal with a delightfully smooth texture. This simple, low-carb dish is ready in under 30 minutes, too!
It's time to use up all of those delicious summer squash growing in your garden by whipping up a batch of these Healthy Zucchini Muffins! Not only are these zucchini muffins bursting with fresh lemon flavor, but they are also gluten-free, grain-free, Paleo, refined sugar-free, and can easily be made vegan!
Chicken Vegetable Soup is a quick and easy Instant Pot soup recipe that is full of nutritious carrots, celery, zucchini, and squash. The flavors of fresh rosemary, thyme, and tarragon make this Instant Pot chicken soup recipe one you will want to make all year round!
Can you substitute yellow squash for zucchini in recipes?
Yes, using yellow squash and zucchini interchangeably or in combination with each other works great in recipes. While they look different in color, they both have the same mild flavor and slightly firm texture; it's quite difficult to taste a difference between the two.
Cooking zucchini and yellow squash require the same methods when sautéing, spiralizing, and grating. A great way to test this theory is to switch out the grated zucchini in your zucchini bread recipes with yellow squash, OR spiral both zucchini and yellow squash together when making zoodles. You'll be pleasantly surprised with how easy it is to sub in one for the other (here's a bit more about Zucchini versus Squash)!
Additionally, if you don't have zucchini or yellow squash when you need it, you can always try substituting either of them with eggplant, a summer squash like spaghetti squash, or even cucumber. Overall flavors might vary, so go by your taste preferences and the type of recipe you're cooking or baking!
If you're wanting to deep-dive on stuffed squash options, try out these 15+ Gluten-Free Stuffed Squash Recipes with either zucchini or the squashes the recipes call for. You'll soon realize that squash and zucchinis are your favorite vegetables all year round!
Zucchini Expert Tips & Tricks
You might be wondering: Is zucchini a squash? It's a natural question, given all the summer squash out there for us to enjoy during these hot summer months. Understanding the differences and similarities between squashes and zucchini will help you chop, grate, and spiral away at your zucchinis.
Speaking of spiraling… learn How to make zucchini noodles in this post. It's so fast, easy, and fun to incorporate these "noodles" into traditional and classic recipes.
Lastly, why not learn How to Freeze Zucchini so you can still enjoy it when it's not in season? It's my favorite way to revisit some of these bold summer flavors.